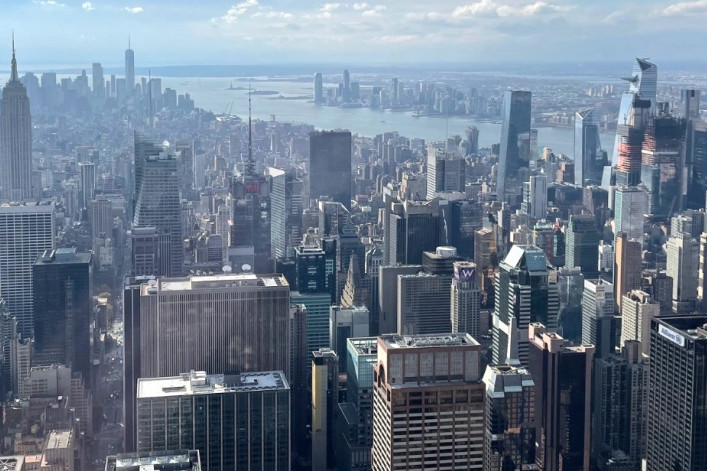 The unexpected events of last year had a profound effect on New York City and its rental and sales markets. As we head into 2021, even with the arrival of vaccines, the Covid-19 pandemic and its repercussions will continue to reshape the city's real estate.
In the new year, renters will continue to face less competition for apartments and see lower rents because so many New Yorkers have left. For tenants who have suffered job losses, the threat of eviction has been suspended thanks to a last minute effort, but there's still long-term uncertainty. As for buyers and sellers, they will be looking for answers about NYC's future and the cultural impact of the work-from-home shift. Both markets will see the imprint of the new Democratic supermajority in Albany and the Biden administration in Washington with a slew of expected legislation. 
Perhaps most importantly, the new vaccines are expected to bring back a sense of confidence and real estate activity, and eventually rising prices and rents.
Our 2021 forecast is designed so you can skip ahead to the section most relevant to you via the links below. However, because each segment of the NYC real estate market is interconnected, we recommend reading through the entire piece when you have the time.
So whether you plan on buying, selling, or renting a new place, here's what you need to know in order to achieve your real estate goals this year. 
If you rent, or plan to rent an apartment in NYC in the new year, you should know that renters hold all the cards, at least for now. 
That means you have an opportunity to move into a larger apartment or a building with amenities or a more desirable neighborhood—or all three. Plenty of renters have been using the pandemic as a now-or-never moment to find a place where they don't have to compromise on their apartment wish list. (But keep in mind this is likely a temporary situation: Rents could go up drastically if the city's fortunes recover.)
So for now, renters are in control. That's because in the second half of 2020, there was a record number of empty apartments and NYC landlords have been forced to compete for tenants by lowering rents and offering concessions like free months and paying the broker fee. Those efforts appear to be paying off, because when landlords figured out the right numbers to bring renters back to the city, Manhattan and Brooklyn both saw the most new leases signed for November (the most recent data available at publication time) in more than a dozen years
There's still a record number of empty apartments available in Manhattan and Brooklyn, meaning there's a good chance if you're apartment hunting, you will still be able to get a concession in the coming months. 
So it's a good idea to brush up on how concessions work: If you sign a one-year lease with concessions, when you renew the lease 12 months later, any free months go away, and the rent you pay switches from the net effective to the gross. On top of that, rent increases are based on the higher, gross rent. (If you are in a rent-stabilized apartment, you have more protections; market-rate tenants don't have the same rights.) 
The good news is you may still have some leverage even 12 months from now and be able to negotiate a deal with your landlord: Jonathan Miller, president and CEO of appraisal firm Miller Samuel, says that even with the recent uptick in leasing activity, landlords will still have to contend with lots of empty apartments in the market for many months to come.
One reason for this is that the real number of vacant apartments is likely more than what consumers see as available. Landlords are known to hold back a portion of their rentals from the market, a so-called shadow inventory. Current estimates suggest that one in five Manhattan apartments are sitting empty.
A major effort to stave off evictions 
For renters who've seen their income reduced as a result of the pandemic, a more pressing issue was the end of the eviction ban. However, the New York Legislature convened a last minute session right before the new year to pass the most robust anti-eviction bill in the U.S., which Governor Andrew Cuomo signed into law immediately.
Landlords are now barred from evicting most tenants for at least another 60 days in most cases. The law also protects some small landlords from foreclosure. According to the New York Times, previously filed eviction cases are on hold for at least 60 days, and landlords can not begin new eviction proceedings until at least May 1st.
And the Center for Disease Control's federal eviction moratorium, extended as part of the $900 billion stimulus package passed by Congress, will be in effect until the end of January.
On the Brick Underground Podcast, Andrew Scherer, visiting associate professor at New York Law School, points out housing courts simply can't handle the volume of eviction cases anticipated. That means anyone who hasn't been able to pay their rent face uncertainty but at least won't be immediately homeless. 
Some landlords have shown a willingness to come to an agreement with their tenants rather than resort to legal action and it's possible that will continue. Indeed, data from The Office of Court Administration suggests eviction case filings were actually down between July and November last year compared to the same period the year before—a sign landlords and tenants have been trying to work out solutions. 
Beyond that, the administration of president-elect Joe Biden and the Democratic supermajority in the New York State Senate may provide additional support for struggling tenants.
State Senator Brian Kavanagh says the plan for the Democratic supermajority in Albany is to "keep moving forward with ambitious progressive proposals." That includes working to ensure New Yorkers don't lose their homes as a result of Covid-19 and that no one is left with enormous rent bills. "It's going to require a lot of money and participation by the Federal government," he says.
Two key pieces of legislation to watch are the Emergency Housing Stability and Displacement Prevention Act, which would prevent eviction and foreclosure filings throughout the pandemic and for a year afterwards, and the Rent and Mortgage Cancellation Act of 2020, which would cancel rent for eligible tenants as well as mortgage payments for small homeowners affected by the pandemic, for the duration of the Covid-19 state of emergency, plus an additional 90 days.
More protections for renters
The state legislature is expected to further shore up renter protections through the Fair Housing laws that could increase penalties for discrimination; and possibly by revisiting the Good Cause eviction bill, which would give eviction protections to all tenants.  
"Covid is not a distraction—it is a fundamental challenge. We are trying to do something in New York that has not happened for a very long time—create a basic sense that everyone has access to a decent affordable home that is secure—and that is going to take a lot of work," Kavanagh says. 
One other issue that will be keenly anticipated by renters and brokers alike is a resolution from the court on who pays the broker fee when the landlord hires the broker. The practice in New York City has been for a renter to pay the landlord's broker's fee, ranging from one month's rent to 15 percent of the annual rent. 
Lawmakers tried to shift the responsibility for this cost back to the landlord in the Housing Stability and Tenant Protection Act passed in 2019. The new broker fee rule (which did not apply to fees for brokers hired by renters) was challenged in court, and hearings to provide a ruling were postponed during the pandemic. And during the pandemic, many landlords have been covering the fee as a concession, a practice expected to end when the rental market swings back to favor landlords. 
A final clarification on the fee from the court could be a major boon to renters.
If you're a buyer, the rollout of coronavirus vaccines will likely help end the uncertainty that may have kept you on the fence in 2020 and give you the confidence to make a decision on where and what to buy in 2021.
While NYC is not out of the woods yet, "the promise of vaccines, a new administration, and the potential repeal of the SALT cap have us very bullish on NYC real estate in the long term," says Seth Levin, an agent at Keller Williams NYC. He sees deals being available in vulnerable markets for at least a year or two more. "Higher price points and new development properties have levels of supply that will take multiple years to recalibrate back to normal levels," he says.
In general, the vaccine is expected to give NYC real estate the breakthrough it needs: As more people are vaccinated, businesses will reopen and more companies will give employees the option to work in the office, which in turn will encourage people to move to or return to NYC to buy or rent an apartment. Steven James, president and CEO of Douglas Elliman, expects buyers will step up to see properties and more deals will be made in anticipation that once things are better, prices will go up.
Still, it will take awhile to see a return to normal, considering the challenges of distributing the vaccine and vaccinating the general population. In an interview with NPR in early December, Dr. Anthony Fauci said the U.S. could see signs of herd immunity by late spring or early summer. He said that 75 to 80 percent of the population would need to be vaccinated in order to get the protection of herd immunity—but he recently revised that estimate in an interview with The New York Times to 70 to 90 percent.
At least there's one thing you probably don't have to worry about: Mortgage rates, which saw record lows in 2020, will remain low, which will help you upgrade into a larger space, an important requirement for many buyers who expect to be working from home at least part of the week—and need one or two home offices.
"The current pricing trends—and mortgage rates—have opened an opportunity for some buyers to buy and stretch—within reason—to buy a larger space than they would have been able to buy in early- to mid-2019," says Nicole Beauchamp, a real estate agent with Engel & Volkers. For example, buyers in the $1.5 million and under range have had the opportunity to stretch their dollars into a bigger space, and get a two bedroom, two bath, as opposed to a convertible apartment.
Nikki Field, a broker at Sotheby's International Realty, expects the city to bounce back as it did after 9/11 and the financial crisis, and she says buyers today, especially those interested in new development, are in a prime position.
New development, where buyers are more likely to get a deal from developers looking to unload a glut of new condos, takes longer to close. That has a lot of appeal for buyers who don't want to be in the city right now—but anticipate coming back eventually. 
"Never has there been so much inventory and such a limited buyer pool," Field says. That means buyers have less competition—but that will change. Foreign buyers have been out of the market, but she expects them to start "pouring into the market as they did after previous downturns."
Manhattan's recovery 
Manhattan saw a plunge in sales in both the second and third quarters, but by the ends of December, there was a burst of contract activity.
It's largely New Yorkers who are buying, according to Thomas Kutzman, co-CEO of real estate brokerage Prevu (a Brick Underground sponsor), who says many are first-time buyers taking advantage of low interest rates and families are trading up to have more space for juggling working and educating at home.
Kutzman says the election and vaccine news have contributed to a return in Manhattan buyer confidence and as a result, Manhattan is becoming more competitive. "There's a shrinking discount between the accepted offer and the listing price, and that window will continue to shrink," he says.
He sees families that would have bought a two bedroom are opting for a three bedroom, and families that would have looked at a three bedroom are going for a townhouse. "Covid has really changed and put a greater appreciation on people's homes," and as a result, "New Yorkers want bigger homes," Kutzman says.
Where are the bargains? 
If you're looking for a deal in Manhattan, your best bet is in Midtown. That's where apartment listings saw price cuts of 11 to 12 percent in November, according to data from UrbanDigs. Other neighborhoods to check out are Upper Manhattan and the Upper East Side, which saw price drops of at least 10 percent. Downtown Manhattan and the Upper West Side are seeing higher demand, so you're less likely to score a deal there. 
Condo prices were up sharply compared to co-ops in the third quarter, according to the Elliman Report, which also noted that smaller apartments in Manhattan saw the largest drop in the number of sales as buyers took advantage of price cuts to stretch into large apartments, so aiming for a small co-op is another way to get a deal.
In an effort to sell a glut of new, high-end condos, developers offered some of the steepest discounts ever in 2020. Ryan Serhant, CEO and founder of the real estate brokerage SERHANT, says he saw new construction deals at 30-40 percent off and sales in Manhattan he never thought possible. His advice on the Brick Underground Podcast: "If you see something you like, if you think it's still priced too high for what you want, or if you just can't afford it, who cares? Make an offer!"
Kutzman says deals on new condos can be very different, depending on the building you are looking at.
"While most developers are offering concessions on closing costs and incentives on common charges, there are some developers that have repriced their inventory of units and many that have not. It really depends on the developer how flexible they will ultimately be on price," he says.
He recommends buyers act in the next six months.
"With buyer confidence returning in Manhattan since the election and Covid vaccine, the window for buyers to achieve steep discounts for new development condos is likely to close quickly in the first half of 2021," he says. "You are already seeing developers being less negotiable than they were a month or two ago."
What to know about luxury pricing
If you're looking to buy a luxury apartment, defined as above $4 million, you should be aware that luxury resales fell into two camps last year—and that only a small portion of luxury sellers chopped prices.
On the one hand, some high-end sellers were desperate to sell during the pandemic because they just wanted out of the city and were willing to take a loss. Manhattan sellers above $4 million saw an average loss of 15 percent from the previous sale, according to data from UrbanDigs. But on the flip side—75 percent saw a profit.
In fact, the Manhattan median luxury sales price in the third quarter showed a 23 percent increase to $5,910,000 over the year-ago quarter, the first median sales increase in seven quarters. Listings shrank to their lowest level in nine years.
Listings decreased because many luxury sellers did not feel pressure to sell. After a small price cut or two, they could afford to wait or even take their place off the market. 
Many sellers of upscale apartments of $2 million and above were camped out in their second homes—the new co-primary home phenomenon—when vacation homes become primary residences, where every member of the family has a room to work from home or do online school. This was also true for pied-à-terre owners who were testing the waters and could wait to get their best offer.
Brooklyn's strength
Many companies are expected to shift to a hybrid work schedule in 2021, bringing employees in only a couple days out of the week and allowing them to work from home for the remainder. Without a daily commute, farther flung Brooklyn neighborhoods stand to benefit. After all, if you're a Brooklyn buyer who is not chained to a Manhattan desk everyday, you'll likely consider a neighborhood with a longer commute. 
The trend is already well underway, Kutzman says, and for that reason Brooklyn's Park Slope saw a lot of competition for properties. "Some folks wouldn't have considered it before because of the long commute." (Of course, many people do put up with a slog to Manhattan from Park Slope.)
Along with Park Slope, Brooklyn Heights, and Cobble Hill are seeing a limited supply of townhouses in the $3 to $5 million range, he says. "People are looking for more space and are trading in concrete for a tree-lined street."
Because of this demand, Brooklyn real estate did not suffer to the same extent as Manhattan last year. The median price for co-ops, condos, and one-to-three family houses in Brooklyn seemed to defy gravity last year, even though the number of sales tumbled in the third quarter. 
Jonathan Miller, president and CEO of appraisal firm Miller Samuel, described Brooklyn's teflon prices as "astonishing." While the number of sales fell 43 percent compared to the third quarter of 2019, Brooklyn's median sales price was $790,000—the same as a year ago, according to the Elliman Report by Miller.
Unlike Manhattan, though, Brooklyn saw a dramatic drop in the number of homes for sale, which could be a result of sellers deciding to put off making a move for now, for lack of buying options, Miller previously told Brick. That may be especially true if sellers are thinking of heading to the 'burbs.
Suburban backlog
NYC sellers had trouble finding or closing on places in the suburbs—which in turn jammed up would-be NYC buyers. New Yorkers looking to leave the city for places like Westchester, Putnam, and Dutchess County were hampered by rising prices, bidding wars, and low supply—mirroring other suburban markets nationally. They are now seeing slowing sales, according to Miller.
Looking ahead to 2021, there's going to be a backlog of sellers not able to move and post-possession clauses will become the norm, predicts Daniel Gershburg, a partner at the law firm of Konner Gershburg Melnick, who handles NYC real estate closings.
For buyers who are looking for a place to buy in Queens, you'll have your pick—and New Yorkers who no longer have to commute every day also have more flexibility to where to buy. Listings are way up—in the third quarter they hit the highest level in more than seven years. Prices have held their ground—in the third quarter, the median sales price for Queens was pretty much flat compared to the year-ago quarter at $599,000. That's likely because the number of sales plunged in the third quarter, the second largest slump in more than nine years.
Possible tax increases
If you're from outside of NYC and getting ready to buy a second home here, be aware that an annual pied-à-terre tax is back on the table as New York looks to plug a budget gap. The last iteration of the pied-à-terre tax was ditched last year in favor of the newly scaled mansion tax, but the it would likely target owners of condos and co-ops with assessed values of $300,000 or more. It's not clear precisely at what price point the tax would kick in, but Frederick Peters, CEO of Warburg Realty, writes in Forbes that "some have hypothesized that the proposed law could affect owners of apartments worth as little as $1.5 million, which buys a one or at best a two-bedroom flat in Manhattan."
Not surprisingly brokers are fiercely opposed to a pied-à-terre tax, saying it will dent an already crippled market. 
If it passes, prices may drop to lure buyers who would have to factor the annual tax into budgets. It's also possible work-from-home culture and the rise of co-primary homes may complicate what is considered a pied-à-terre.
Bigger mortgages available
The Federal Housing Finance Agency recently announced higher loan limits in 2021 for mortgages backed by Fannie Mae and Freddie Mac, which could give New York City buyers some more breathing room. 
"This potentially could allow more financing options for borrowers," says Brittney Baldwin, vice president and loan officer at National Cooperative Bank (a Brick Underground sponsor). "There may have been borrowers that may not have met jumbo financing guidelines but now may fit Fannie Mae and Freddie Mac lending guidelines," she says.
The move also will lift jumbo loan limits in 2021 to $822,375, up from $765,600 in 2020. For New York City buyers who need larger-sized loans, which is pretty typical considering prices here, this is potentially good news. But banks are having a hard time keeping up with loan demand.
The jumbo loan market is smaller than the one for conforming loans backed by Fannie and Freddie, so jumbo borrowers might need to shop around. And the move comes at a time when some banks are requiring bigger down payments—30 percent instead of 20 percent. However, "there are still banks who are willing to finance as little as a 10 percent down payment," Melissa L. Cohn, an independent mortgage broker with William Raveis Mortgage, told Brick previously.
Still, if more banks require bigger down payments, that means a New York City buyer could lose the buying power of a bigger loan.
A smoother transaction
One silver lining of the pandemic is that it pushed the NYC real estate industry to embrace 21st century technology, at least partly. 
While closings are still a mix of the virtual and physical, other parts of the process have become more high tech and efficient. There's now a greater reliance on video tours for listings, virtual co-op board interviews, and electronic filings. Even after the need for social distancing subsides, the shift to virtual formats is expected to remain—it's just much easier to wrangle co-op board members on a video conference than to gather them physically in one room.
And that makes for a smoother process for the New York City buyer.
If you're a seller, there are several indications that 2021 will be a better year for you than 2020, which likely had you biting your nails.
One bright spot could be President-elect Joe Biden's campaign trail promise to give first-time buyers a tax credit of up to $15,000, reviving a tax break that was part of the Housing and Economic Recovery Act signed by President George W. Bush in 2008 that ended in 2010.
The credit would become available to buyers at closing and while it could help get some buyers off the fence, there are two important caveats: It won't likely happen unless Democrats take control of the Senate via two Georgia run-off elections in January and $15,000 will only go so far in pricey NYC, benefiting a small segment of NYC buyers making deals on less expensive properties.
For sellers of pricier properties, there's the expectation that foreign and second-home buyers, who have stayed out of the city because of travel bans and concerns about the virus, will be back in force later this year. Nikki Field, a broker at Sotheby's International Realty, goes as far as saying they will be "the saviors" of the market. 
Seth Levin, an agent at Keller Williams NYC, says he's hearing from clients from across the U.S. and from Asia, the Middle East, and Europe."They see this as a rare buying opportunity. And they plan on betting big on the future of New York City," he says. In the meantime, "we do anticipate that the sub-$2 million market will benefit more significantly, and sooner, from the incremental return to normalcy."
That's because, as Levin explains, the below-$2 million segment is more tied to traditional, local buyers, who are impacted by interest rates. "They will also start making moves as work, school and life start to get closer to normal," he says.
In addition, a Biden administration is likely to do away with the SALT cap, the limit on itemized deductions for home mortgage interest and state and local taxes put in place by the Trump administration.
The impact of the SALT cap has been felt most heavily in high-tax cities like NYC, where sales have slowed. Some industry experts say buyers have shunned the NYC-metro area because of the tax, so it stands to reason that reversing it could benefit sellers.
A non-traditional selling calendar
As a seller, you may have either had your place on the market for some time or be wondering when would be the best time to list. 
The pandemic has upended the traditional real estate calendar. John Walkup, co-founder of the real estate analytics firm UrbanDigs, says you can't rely on past trends to time your sale. Normally a broker might suggest you wait to list until the spring when the weather improves, but with fewer people traveling this winter, it's thought deals might happen earlier in the year. 
"If you're not on the market now, why wait until March?" says Ryan Serhant, CEO and founder of the real estate brokerage SERHANT. He says buyers are out there and they're being aggressive because they're excited. He anticipates a lot of people who left NYC during the pandemic are going to come back and they're not going to want to rent. 
"They're going to want to take advantage of what they think is probably still a soft market and that's going to soak up a lot of inventory," he says. He predicts plenty of brokers will have to brush up on how to handle bidding wars—which he thinks will ramp up after falling to just 3 to 4 percent of transactions in 2020.
That would certainly be a welcome change of pace for New York City sellers.
Brick Underground articles occasionally include the expertise of, or information about, advertising partners when relevant to the story. We will never promote an advertiser's product without making the relationship clear to our readers.