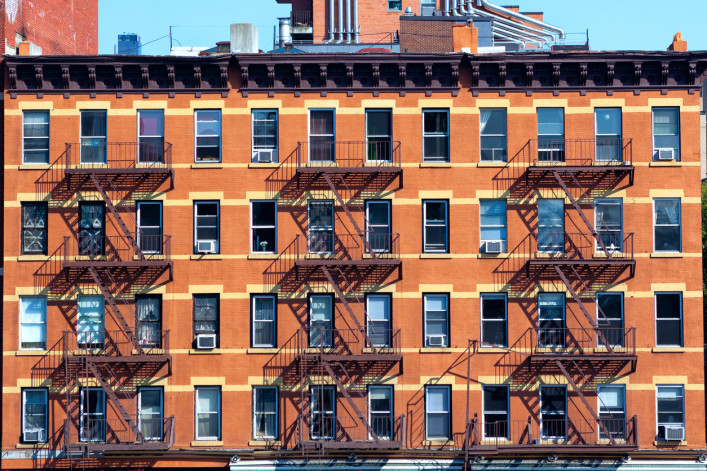 A two-thirds supermajority in the State Senate gives New York's Democrats considerable power. Since the mid-terms, Democrats have held the majority of seats but a supermajority allows Democrats to override any veto from Governor Andrew Cuomo should it be needed to get their agenda through.
State Senator Brian Kavanagh, who chairs the housing committee, believes November's election was a validation for Democrats and says New Yorkers can expect "a continuation of the progressive agenda that was already underway." 
However, that level of Democratic power is putting many in the New York real estate industry on edge. Earlier this week, The Real Deal reported three of the largest brokerages, Corcoran, Douglas Elliman, and Brown Harris Stevens, will be working together to lobby lawmakers on legislation that would impact selling and renting in NYC. 
There's plenty on the Albany Democrats' agenda, including an eviction moratorium, a push for universal rent control, efforts to strengthen fair housing laws, and the possible introduction of a pied-à-terre tax. 
Rent relief and further moratoriums on evictions
The biggest challenge for State Senators is the response to coronavirus. That includes efforts to keep New Yorkers safe from eviction amid the pandemic and there are two pieces of legislation in committee designed to help the city's renters.
The Emergency Housing Stability and Displacement Prevention Act would prevent all eviction and foreclosure filings throughout the pandemic and for a year afterwards. The Rent and Mortgage Cancellation Act of 2020 would cancel all rent for tenants, as well as mortgage payments for small homeowners, for the duration of the Covid-19 state of emergency, plus an additional 90 days.
"Equally important is that no one is losing their home long term and no one is left with enormous rent arrears as a result of Covid," Kavanagh says.
This will require federal funds from a stimulus package that has yet to be passed. 
Kavanagh is among many Democrats who have been advocating for substantial rent relief in any federal stimulus package. "We will continue to advocate for that—and then ensure that New York is in a position to spend that money and spend it wisely," he says, adding the priority is to avoid a long-term rental and homelessness crisis.
A plan for universal rent control
Last year, the Housing Stability and Tenant Protection Act increased many protections for tenants but didn't go as far as some activists had hoped to protect all renters from eviction, a measure called universal rent control.
The good cause eviction bill—which prevents tenants from being thrown out of their apartments unless there was good cause—is a major step towards universal rent control. Efforts to get it into law were sidelined as a result of the pandemic but the coronavirus has arguably made its goals that much more urgent.  
The bill is one that Kavanagh supports but he says he doesn't want to single it out as the only step Democrats might take in the future. "We are going to review the many tools at our disposal," he says.
He points out just before the pandemic hit there was legislation passed on code enforcement aimed at improving building safety for tenants and owners. Code enforcement, he says, "goes to the heart of how you protect tenants."
A pied-à-terre tax
A pied-à-terre tax, which would tax owners of second homes in New York City on an annual basis, is looking increasingly like it might become a reality. The most recent proposal targets owners of condos and co-ops with assessed values of $300,000 or more. Not surprisingly, brokers are fiercely opposed to it, saying it will cripple a market that's already on its knees.
One argument is that a pied-à-terre tax would put buyers off and slow deals, which would deter developers and that, in turn, would decrease the revenue for the city from other real estate taxes—revenue that is badly needed. 
"We are certainly going to need to generate additional revenue to get through this crisis," Kavanagh says. He points out that short term, the Senate will have to do "a broad tax package to increase revenue and longer term will have to evaluate all of these taxes" to figure out their public benefit. 
Moves to strengthen the laws around fair housing
The pandemic has laid bare wide ranging inequities in health and education in New York City and when it comes to housing, Kavanagh says he is working on a "broad package of legislation" to tackle discrimination against buyers or renters who are Black or from minority communities. Several hearings were held as a result of the Newsday investigation that found evidence of discrimination against non-white homebuyers on Long Island—something that is illegal under the Fair Housing Act. 
Under the reforms Kavanagh is proposing, which would effect the entire state, brokers could lose their license if they violate the law, penalties would be tougher, additional training would be offered and any locality that accepts state assistance would have an obligation to comply with affirmatively furthering fair housing. 
Clarity on the tenant-paid broker fee
In the past year, there's been a lot of confusion over the broker fee. Normally—when the rental market is competitive—and a landlord hires a broker to find a tenant, that tenant would be asked to pay the broker fee, typically one month's rent or up to 15 percent of the annual rental sum. 
Lawmakers tried to address the seeming unfairness of a renter paying a landlord's broker by including the issue in the Housing Stability and Tenant Protection Act passed in 2019. The law shifted the responsibility for this cost to the landlord. (The new law did not apply to fees for brokers hired by renters to find an apartment; those fees would still be a renter's responsibility.)
The new rule about landlord's broker fees was then challenged in court, so effectively there's been no change in the law and the tenant still pays this cost, unless (as we are seeing now) the landlord covers the fee as a concession. 
Could this issue be addressed again by lawmakers? Kavanagh says senators can review any part of the law but a decision on this will likely come from the courts.
He points out the change in the law "came from a strong desire to protect tenants from unreasonable costs." He doesn't think there is a lack of clarity, more that brokers are unhappy about it, adding he doesn't have "any expectation that that will be revisited legislatively."
Brick Underground articles occasionally include the expertise of, or information about, advertising partners when relevant to the story. We will never promote an advertiser's product without making the relationship clear to our readers.