Renovation
How much should you renovate your NYC apartment before selling it?
Getting a good price isn't the only goal, selling quickly is another reason to upgrade
Stress, inconvenience, and your construction timeline are important considerations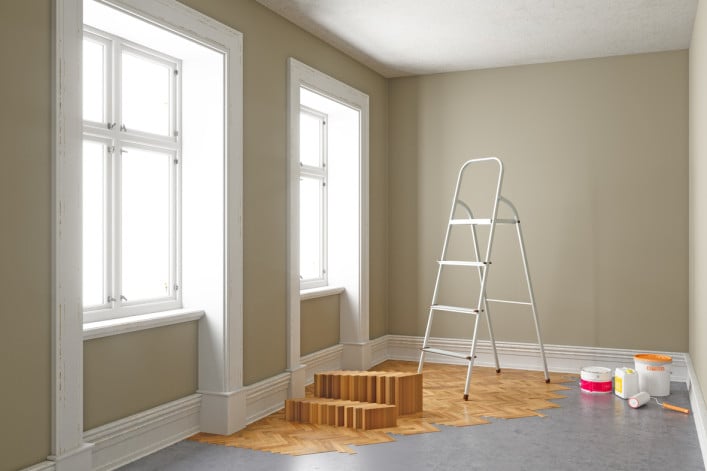 It's one thing to renovate your apartment or brownstone when you will be enjoying the results. But what about when the renovation is solely to make your property more appealing to buyers so you get a good price and stand out from other listings in the current (and competitive!) buyer's market? 
So the million-dollar question is: How much should you renovate before you sell? 
The answer depends on several factors. For starters, you need to consider the type of property you are selling, the condition it's in, and your total budget. What's more, getting a good price isn't the only end goal; selling quickly is another valid reason to renovate. 
---
[Editor's note: An earlier version of this post was published in September 2020. We are presenting it again with updated information for February 2023.]
---
Just as important is knowing what will resonate with buyers, who have come out of the last few years with a different set of wants, needs, and expectations, says Asher Lipman, founder of nycRenovationCoach, which advises New York City homeowners, buyers, and real estate agents on renovation issues. A renovated apartment typically commands what Lipman calls a convenience premium. 
"The main reason for the price bump is that many people either lack the time or vision, are concerned over hiring the 'right' people, or don't want to deal with the overall disruption and stress associated with renovations," he says.
Even in this environment of tight inventory and relatively high interest rates, he says the savvy seller, working with the right team, can create value and equity through their own renovation.
Assuming a renovation makes sense for your situation, Lipman says the questions that you need to weigh are: Do you renovate the whole apartment or only the kitchen and/or bathroom(s)? Do you do just a basic remodel or go for broke?
Read on for more intel regarding how much—or how little—renovation work you should do before selling. 
Avoid over-renovating when selling
Under-renovating is one mistake—overdoing it is even worse in terms of your wallet. How much, then, should you spend? Can you get away with cosmetic improvements (painting the walls and replacing that tired kitchen faucet) or are more extensive updates worth the investment? 
"This is a tough question because you need to know your market," says Jennifer Morris, principal of interior design studio JMorris Design. "If it's a hot market you can get away with less effort, but if it's sluggish you have to do the math on how much you hope to gain from updates and the cost of those updates." 
Case in point: Morris had a client whose brownstone was "terribly dated and brought the entire house down in value." After investing over $100,000 in high-end fixtures and appliances, it sold immediately. "She had owned the home for over 10 years so was already doubling her investment, so this expense made sense," Morris says. 
On the flip side, Morris is seeing buyers who prefer to do high-end renovation themselves.
"Many go-to features I am seeing, like radiant floor heating and home offices that might require millwork, will not exactly be what the new homeowner wants so the tile and cabinetry aren't driving them to buy a place." Her advice? "Leaving spaces clean and usable and with room for a new owner to make their imprint is more important."
Lipman says the first thing he looks at is the marketability of the unit and the expectations. For example, he's had clients who spent $30,000 on a kitchen upgrade and recouped $50,000 in the sales price.
When selling a starter or mid-range apartment, it usually makes sense to do at least a basic update—you can refresh a kitchen inexpensively by changing the surfaces, putting in a new undermount sink and faucet, painting the cabinets, and swapping in new hardware. "It shows completely differently," Lipman says.
But the cost of a more involved pre-sale renovation can still often be baked into the purchase precisely because it makes having an updated home effectively achievable by first-time buyers or anyone who is stretching to afford the purchase. In other words, your listing will be attractive to buyers who are not in a position to do a renovation on their own and you will arguably be expanding your market.
The same thinking applies to someone buying in a co-op or condo where there are stringent rules that could make renovation a nightmare and therefore buyers would arguably be willing to pay a premium for your own sprucing-up. 
Indeed, "If you are smart about the renovation, that might be enough to convince buyers to close on the deal, even if they plan to eventually rip it out and do it all over again," Lipman says. 
There are just as many buyers who will see value in not ever having to deal with the boards and the logistics and finding contractors, so long as the space is clean and functional. 
Be sure to fix major issues 
Single-family houses and brownstones with habitability or structural issues—a hole in the roof, a broken-down boiler, or a cracked foundation—must be renovated for a buyer to be able to obtain a mortgage. 
Cash buyers don't need a mortgage, which means a bank isn't going to send an inspector over, but you're limiting yourself to a smaller pool of buyers. And cash buyers can always hire their own inspector who will discover the problem(s).
Focus on the kitchen and bathrooms 
Renovating for a sale generally does not mean gut-renovating your entire place. Unless you have a luxury property, you will not recoup that level of investment.
Instead, kitchen and bathroom renovations will give you the highest ROI. And if you have to pick one or the other, go with the kitchen. 
Need proof? Consider how your kitchen and bathrooms will photograph. If they're not attractive—and unless buyers want a serious reno project on their hands—they'll skip your listing. 
And you simply don't have the option of not showing these all-important spaces in listing photos. Buyers are wary when there are no images of the kitchen and at least one bathroom. "To me, that's a red flag that signals I'm obviously going to need to renovate," Lipman says. 
At a minimum, Morris advises clients to create "a clean, open feel." She says that might mean swapping outdated (or grimy) appliances, applying fresh paint on skim-coated walls, or just doing a serious de-clutter.
Think twice before adding another bedroom
If you're thinking of doing a reno to squeeze another bedroom into your apartment (something Lipman encounters all the time), consider it carefully. You need to brush up on the requirements for a legal bedroom in NYC. Is the length or width of the room less than eight feet? You can try to price it as a legit bedroom but you stand to lose out to a property that's priced more realistically.
"A well-laid-out one bedroom will sell for more than a chopped-up two bedroom," Lipman says. "Only embark on this level of renovation for your own use." 
A home office is a selling point
In the wake of the pandemic, many people need well-thought-out work-from-home options and are going to be willing to pay to have those already figured out. (Especially if they do double duty as kids' playrooms, another wish-list feature of families.)
Virtual meetings remain a viable option in other aspects of our lives, too—like parent-teacher conferences and nonprofit board meetings. "Thus, the need for a 'Zoom room' or at least a separate quiet space remains a top priority for most buyers," Lipman says.
Don't underestimate the stress factor
You may want to avoid undergoing the inevitable stress and strain of renovation if there are any personal issues—say, you're retiring or someone has died—even if you recognize you might be leaving money on the table. 
"Living in the space while renovating adds a whole other level of complexity," Lipman says. You can bypass a kitchen renovation by eating out and deal without one of the bathrooms, but you'll have to empty the apartment (and live elsewhere) while replacing the floors. Factor that into your equation and ask yourself how much you (and your family) are willing to endure.
Pro Tip:
Is now the right time to sell? There's an easy way to find out. By discreetly "pre-marketing" your co-op, condo, or brownstone on The Agency's data-driven pre-marketing platform, you can get a realistic idea of what today's buyers are willing to pay before publicly listing your home. There's no charge to participate and no obligation to enter into a traditional listing agreement. Get started>>
Factor in the construction timeline
Obtaining the requisite board approvals for renovations is not a done deal—co-op boards can drag their feet for multiple reasons, so consider yourself forewarned. 
The same goes for getting permits from the city's Department of Buildings to ensure the work is up to code. 
Meaning whether you proceed or not often depends on how quickly you want to put your place on the market. "We can usually whittle down the construction time, but these outside factors have a bigger influence on the timeline," Lipman says.
Appeal to a wide audience
Renovating for anyone other than yourself is tricky. There's plenty of advice telling you to go with only the most neutral upgrades to attract the broadest audience. Otherwise, that ornate kitchen backsplash or ultra-modern bathroom vanity will be a deal breaker. 
Lipman, who works with a lot of condos and co-op owners in Manhattan, agrees that over-the-top modifications could make an apartment harder to sell, but also suggests avoiding some of the most well-trodden paths in design, like being too bland.
"It's all-too-common for someone who is looking at a renovated apartment to say, 'Why did they do the boring white kitchen? If I'm going to change it anyway, why would I pay for it?'" That's why Lipman cautions against a generic renovation. 
Not that you should confuse timeless with humdrum. Stainless steel appliances and subway tiles are pretty much always in fashion. 
The key for Lipman is to do things that are out of the box and offer buyers some added value. For example, in a kitchen upgrade, you could put toe-kick drawers below the cabinets. And instead of expensive marble (or outdated granite), consider using synthetic materials like quartz and porcelain, which are gaining popularity thanks to improved technology. They are also more durable and come in all sorts of finishes that replicate natural stone. (Or try these splurges in a bathroom reno.)
Lipman has had clients who spent $30,000 on a kitchen upgrade and recouped $50,000 in the sale price.
After all, "a good-enough renovation might put you over the hurdle of buyers who simply can't envision living with a really dated '70s bathroom," Lipman says. 
Similarly, you could renovate a dated kitchen inexpensively by changing the surfaces, putting in a new undermount sink and faucet, painting the cabinets, and swapping in new hardware. "It shows completely differently," he says.
Consider staging instead of upgrading
Remember that renovating is not your only option. "Staging your property can go a long way," Morris says. "Assume a budget of at least $10,000 in NYC for this."
Mihal Gartenberg, a broker at Coldwell Banker Warburg, is also a proponent of staging, saying there are a lot of small things sellers can do to make a huge difference. Absolutely make all the small repairs and clean thoroughly—and wash the windows too until they're sparkly. 
If your floors are in bad shape, Gartenberg says to consider having them refinished, though she stops short of recommending replacing the countertops. 
And whether or not sellers need to renovate, she encourages painting as a small cost renovation that can make a big difference. "Start by getting rid of all the extra holes in the wall as well as extraneous wires and cables from past telephone and cable installations, and paint the walls a nice, bright white. It makes a very big difference to buyers and allows them to see the home in the best light," she says. 
Doing this will set you apart from other sellers, too—and then buyers won't have to paint before they move in. (Or if they want to paint it another shade, at least you've given them a major head start.)
Other quick and not-so-expensive projects: Reglazing a tub and tile, installing mini split ACs, and adding new fronts to your cabinets.
What renovations you can easily recoup 
As a seller, you have to think about how much you can add to the sales price by renovating. That might mean getting back dollar-for-dollar (or more) what you put into the upgrade—something Lipman says can certainly happen in higher-end sales. 
For an idea of what a renovation might do to your asking price, look at comparable sales in the area and check out price histories on sites like StreetEasy. Compare recent sales of as-is versus renovated properties. Your broker should also be aware of the market, so work together to come up with a plan that makes sense for your situation. 
After all, "a good-enough renovation might put you over the hurdle of buyers who simply can't envision living with a really dated '70s bathroom," Lipman says. 
Even when a renovation fails to increase the final sale price, it can certainly move an apartment faster. It might be worth selling it in a week for a slightly lower (but still profitable) figure than to hold out for a higher offer. It's a buyer's market, and there's a good deal of unsold inventory.
You'll also save money in carrying costs, plus properties that sit on the market tend to appear stale—or worse, like there's something wrong with it. 
"Everyone is on StreetEasy and if they see anything that's listed for more than 90 to 100 days they think it must be overpriced," Lipman says. (Scroll down for a more detailed discussion of spending and pricing).  
And should you ultimately forego doing any renovations, you'll just need to drop the asking price accordingly—and market it as a great fixer-upper
Previous versions of this post contained reporting and writing by Nathan Tempey.
Brick Underground articles occasionally include the expertise of, or information about, advertising partners when relevant to the story. We will never promote an advertiser's product without making the relationship clear to our readers.