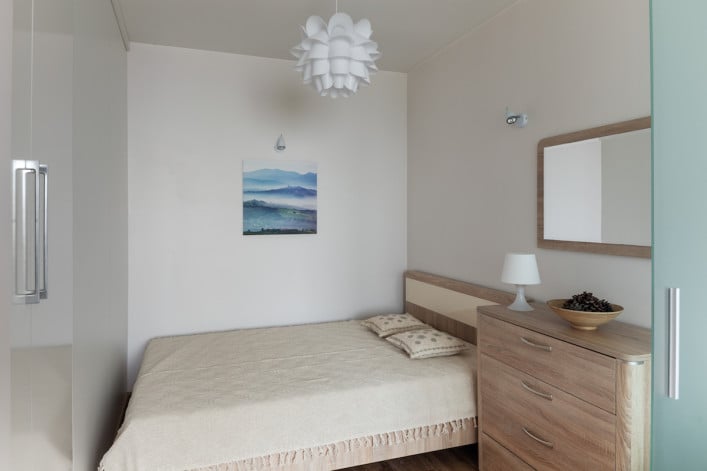 We've all heard the jokes and real-life tales of tiny living spaces and closet-like bedrooms in New York City, but did you know that there are dimensions for what constitutes a legal bedroom in NYC? 
Size matters, not just because you need room to breathe, or space to put your things, or indeed a place to work these days. There are health and safety considerations that go into defining a legal bedroom, and you should know that some apartment listings will call a space a bedroom—or sleeping area—when it is too too small to be up to code.
---
[Editor's note: A previous version of the article ran in November 2018. We are presenting again with updated information for February 2022.]
---
Similarly, if you are considering a studio, which you're being told can be converted into a one bedroom, you need to know the regulations regarding bedroom size. The crucial number to keep in mind is 8 feet. According to the city's Building Code, a bedroom in NYC is legal if it has:
• a minimum of 8 feet in both length and width (to avoid long, skinny rooms) plus a minimum area of 80 square feet
• a minimum ceiling height of 8 feet (with some exceptions)
• at least one window opening to a street, yard or other outdoor space (skylights are acceptable in certain zoning districts) 
• two means of egress, or exit, either a window or door accessible from the inside without using keys or tools
In addition, the room cannot be used as a passage to another room. 
There are some exceptions: If the bedroom is in a basement, the ceiling height must be at least 7 feet. If there is a sloped ceiling, two-thirds of the room must have a minimum ceiling height of 7 feet. If the apartment has three or more bedrooms, half may have a minimum dimension of 7 feet.
Any change to the layout of an apartment requires a new certificate of occupancy so if you plan on increasing the number of bedrooms in your apartment this is another important consideration in addition to making sure the bedrooms meet the legal size and safety requirements. 
If you're renting, you should also check if the apartment or room meets the legal dwelling requirements by having fire and carbon monoxide detectors, two ways of getting out, access to natural light or ventilation, and a window. Other clues as to whether the space is legal: Electricity cannot be supplied via an extension cord and the door cannot be locked with a padlock.
In other states and cities, a legal bedroom must include a closet, but that's—very sadly—not the case in New York. 
How common are illegal bedrooms in NYC?
Aleksandra Scepanovic, managing director of Ideal Properties Group, says she does come across illegal bedrooms. "At times [they are] created by an illegal division of existing bedrooms, living rooms or other large rooms in a home into smaller units," she says. For example, an illegal partition can create leftover or newly created space that is sometimes left without a window or does not meet the minimum width for a bedroom
Illegal bedrooms are not uncommon in areas like the Financial District or neighborhoods where commercial space has been turned into residential housing leaving so-called "flex" space in some apartments. 
Commercial-use buildings have different code requirements—they can have fewer windows than residential buildings—so the flex spaces in these buildings are often marketed as home offices or dens. Rory Bolger, a broker with Brown Harris Stevens, also sees them used as closets or media rooms. 
"In reality, a lot of people sleep in these areas as well, but they cannot legally be considered a bedroom," he says, adding: "A good general rule of thumb is 'no door, no exterior-facing window, no bedroom.'"   
Over the years, some tenants have also used pressurized walls in their apartments to break up the space and provide more privacy, but this is often done at the expense of legal requirements.
—Earlier versions of this article contained reporting and writing by Nikki M. Mascali.
Brick Underground articles occasionally include the expertise of, or information about, advertising partners when relevant to the story. We will never promote an advertiser's product without making the relationship clear to our readers.