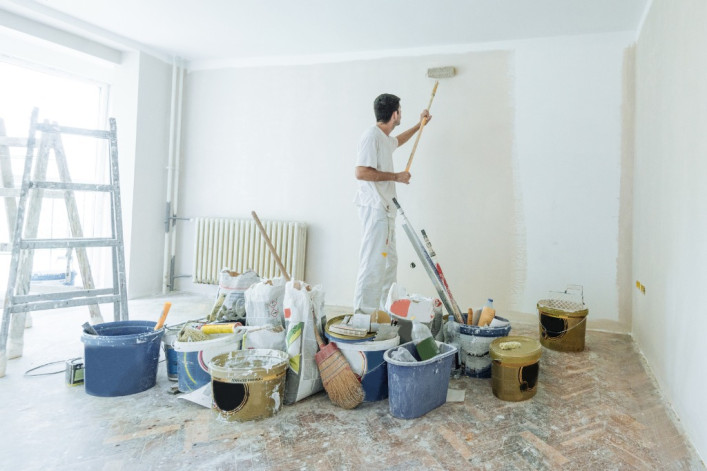 If you're selling a place in New York City, you may have come across an offer from a real estate firm for a no-fee renovation loan. Three of the largest brokerages, Corcoran, Brown Harris Stevens, and Compass now offer these loans, also called home preparation services, so you can make upgrades to your place and repay once you close. 
They don't make any promises, but the goal is to help you sell quicker and at a higher price if you use a firm's own staging and renovation services. Sellers may be looking for that edge, since the pandemic has added time and expense to renovations, making buyers more likely to close on NYC apartments that are already fully up to date. 
To state the obvious, these loans are only available to sellers, who get the convenience of having the home preparation and sale process combined, plus the bonus of paying for upgrades with the money from the sale. 
Matt Leone, the chief marketing officer at Brown Harris Stevens, says a full-service brokerage increasingly needs to offer these types of end-to-end services.
"It allows the client to expedite the next phase in their life and have as stress-free a process as possible," he says. Brown Harris Stevens launched their program, Curate by BHS in December and Leone says it is helping the company win listings and defer expenses for sellers, which can put them in a better position to buy their next property.
"If you're looking at your bank account and $100,000 is taken from it for home preparation services, it can potentially hurt your ability to gain access to your next home, so using our service with a deferred payment—out of the sale proceeds when it closes—is very popular," he says. 
Eli Sklar, senior loan consultant at LoanDepot, points out that the home preparation services being offered by real estate firms are not renovation loans in the traditional sense.
"They are offering just to stage the home and renovate it as a small percentage of the listing price," he says. Eligibility for the program depends on the cost of the work relative to the listing price. "The brokerages are not going to lend more than the value of the property," Sklar says.
A typical renovation loan from a licensed mortgage lender is well above $150,000, Sklar says. There are combined loans under the conforming limitations of Fannie Mae (which is $822,375) and then there is construction financing, which is usually well above $822,375. These types of loans involve risk to the lender and as the risk increases, so does the rate. 
How it works
If you're a seller, the goal is typically to go from listing to closing in as short a time as possible. Currently, properties are spending more than 100 days on the market. If you decide your place needs upgrades in order to sell, you'll have to identify the work that needs to be done, calculate the budget you want to spend, and then work with your agent or broker-provided project manager to get the renovations done. The cost is deducted from the selling price.
The services are relatively new so there isn't yet much data on these programs. Sellers will have to work out the relative value of the work being done.
"If $150,000 equates to bringing up the value by $300,000 so the client is netting additional monies," Sklar says, it may be worthwhile. A seller might also feel they will only be able to sell the property with upgrades. It will all depend on the apartment or house and the individual circumstances.
If you decide not to sell or fail to sell your apartment, payment for the work is in most cases due within 12 months of the upgrades being completed, depending on the brokerage you use. 
For a look at some of the differences, here's Brick's roundup of real estate firms offering home preparation services in NYC.
RealVitalize is the home preparation service offered by Corcoran. It launched in March 2021.
Partner: Angi (Formerly Angie's List, which was acquired by HomeAdvisor) 
How it works: When you want to access Corcoran's preparation and renovation services, you'll be connected with a local professional through Angi. Each project is assigned an Angi project consultant who manages the improvements with vetted professionals from their network. Your agent focuses on marketing and selling the property. 
What's covered: The renovation work can include kitchen and bathroom upgrades, landscaping, staging, appliance purchase and installation, carpentry, carpet cleaning and installation, cleaning services, curb appeal enhancements, drywall and insulation, electrical upgrades, handyman services, painting, plumbing, staging, as well as wall and ceiling repair.
Who can use the service: Anyone working with a Corcoran broker in NYC is eligible, however renovation services and interest-free financing is capped at $50,000.
Payment: When the home closes, the costs are paid back from the proceeds without any interest or fees. If the work is completed but the listing expires or you cancel the listing agreement, you need to pay back expenses within 15 days. If the listing doesn't sell after 12 months on the market, the seller has 15 days to pay back the expenses.
Brown Harris Stevens merged with Halstead last year and launched Curate by BHS in December 2020.
Partner: Zoom Casa, a Delaware-based company, provides the contractors and vendors for the service. 
How it works: You and your BHS agent discuss the upgrades that will help you sell and decide on a budget. You are assigned a project manager and together you select vendors from insured and vetted providers. The work begins, your project manager oversees things, and once the projects are complete, you put your home on the market. 
What's covered: Cleaning and decluttering, storage, moving and packing, replacing countertops, plumbing, electrical work and lighting, masonry, flooring, carpentry, roofing and chimney work, pool and spa repair, staging, interior design and painting as well as landscaping and fencing, pest control, oil tank removal, mold, asbestos, and radon remediation, as well as repairs to water systems. 
Add ons: BHS offers short-term financing in the form of a bridge loan to help homeowners purchase a new home while they wait for their current home to sell. Bridge loans typically have a higher rates than other types of loans because of the risk involved. BHS has arrangements with lenders which will provide the bridge loan with rates that are only available for BHS clients. 
Who can use the service: There is no price minimum for properties and it's not just for sellers, you can also use Curate to upgrade a place you are buying. The work scope is based on expected return on investment and is approved on a case by case basis.
Payment: Payment is due upon the close of escrow or 12 months from completion of the work or services rendered, whichever occurs first. 
Compass launched their Concierge program in 2018.
Partner: Compass doesn't advertise having a partner for this program. 
How it works: You and your agents work together to decide which services could increase the value of your property and establish a budget for the work. The agent and client decide together which vendors to use. A compass agent will help you engage vendors and commission the work. 
What's covered: Dozens of home improvements services can be arranged including, floor repair, carpet cleaning and replacement, staging, deep cleaning, decluttering, cosmetic renovations, interior and exterior painting, HVAC repair, moving and storage, pest control, custom closet work, fencing, electrical work, kitchen and bathroom improvements, pool repairs, water heating and plumbing repairs, sewer inspections and remediation. Seller side inspections and evaluations can also be arranged.
Add ons: Compass bridge loan services are available through a third party. Loan eligibility isn't guaranteed.
Who can use the service: Any seller using a Compass broker is eligible to use the service. 
Payment: You pay for the services either once your home sells, you terminate the listing agreement with Compass or within 12 months of your Concierge start date. 
Brick Underground articles occasionally include the expertise of, or information about, advertising partners when relevant to the story. We will never promote an advertiser's product without making the relationship clear to our readers.