Best of Brick
11 tough co-op board interview questions—and how to answer them
These days you can expect more questions about your job stability and income
Potential pitfalls include whether you plan on renovating or how often you socialize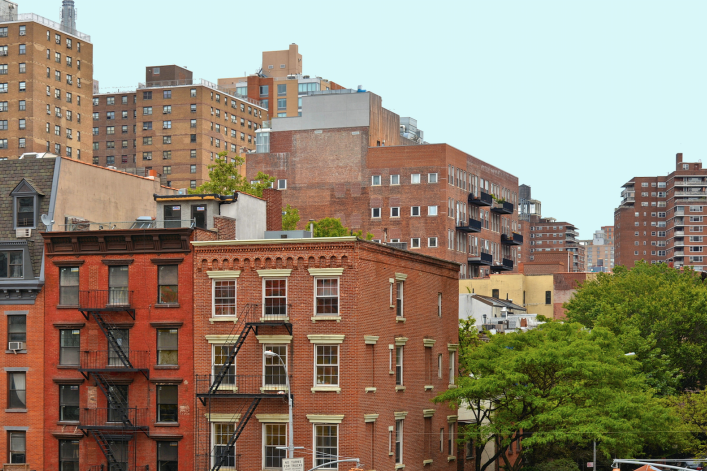 The scrutiny of a co-op board interview can ratchet up the tension when you're buying in New York City. Facing myriad questions about your finances and personal habits can be daunting—particularly because boards can reject a potential buyer without giving a reason (although state legislators would like to change this).
Your best bet is to be thoroughly prepared for this important part of the co-op buying process by anticipating what you will be asked. 
In many cases your interview will probably be online rather than in person. Board members and buyers alike say being able to schedule a video conference, rather than try to find a suitable date and time to convene in person, is much more convenient. However, this format presents its own challenges and you shouldn't skimp on preparation. 
---
[Editor's Note: A previous version of the article was published in March 2022. We are presenting it again here as part of our winter Best of Brick week.]
---
Familiarize yourself with the online platform being used, be aware of your background, mute your phone, and position the camera to your advantage. Dean Roberts, an attorney at Norris McLaughlin, says he's amazed at how many unpleasant things he's seen or heard in the background of interviews. "You do not want to have someone flushing the toilet or two kids screaming at one another during the interview process," he says. 
He also recommends you use a real background that's visually appealing. "In general I think boards are put off by fake backgrounds and wonder what's really going on behind the green screen," he says. So don't set up your interview with a fake Caribbean island. On the other hand, make sure your background doesn't offer a view of clutter or dirty laundry.
Even though the format of the interview may well be online, much of the content is the same as it has always been—although as a result of the disruption of the past two years you can probably expect more questions about your job stability and income. Keep in mind, however, that for all the anxiety the co-op board interview can generate, the vast majority of rejections are based on application packages, with the bad news delivered well before a co-op board interview would even be scheduled.
"The buyer is about 95 percent there by the time they get to the board interview," says Rachel Altschuler, a broker at Douglas Elliman. "So the interview is really more of a meet-and-greet."
Attorney Steve Wagner is a partner at Adam Leitman Bailey (FYI, a Brick sponsor) and a previous chair of the admissions committee on his co-op board. He says that the interview goal is straightforward: "You want to see they are who they say they are and there are no bad vibes," he says.
Still, it's an important introduction. For some first-hand accounts of real-life board interviews, check out Brick Underground's co-op board interview series, which highlights how these are (usually) mere formalities.
Even though your chances of approval by the time you've reached the interview are excellent, you don't want to spoil anything by saying something that will make a board uneasy.
It's possible there may be some awkward questions, like whether you have renovations in mind or how often you socialize. We've asked real estate brokers and lawyers—former board members among them—for tips on how to answer some of these curveballs. And remember, "keep answers simple and short. Less is more," Altschuler says.
1. How secure is your job?
Board members will most likely be trying to get a sense of your overall job security.
"A buyer's job security will be an increased focus for most boards these days so this is not the time to discuss any existential crisis about your work," says Therese Bateman, a broker at Level Group. "There's no need to cause unnecessary alarm with throwaway lines." Instead, she recommends being upbeat about your role and not giving away too many details. 
One byproduct of the pandemic is that the concept of working from home is now expected at least a few days a week. "Rather than being an issue, board members and applicants are often exchanging stories about it," Roberts says. 
2. Why are you downsizing?
This is a common question, though not one that applicants necessarily expect. (And, of course, only applies if you are actually downsizing). You may have fewer family members living at home, or maybe you are trying to trim expenses. If it's the latter, keep it to yourself. Focus on space, not money.
Brokers say co-op board members don't want to hear that you are moving to save money. It's better to say that you're empty nesters
3. Are you planning a renovation?
Hearing about any renovation plans can be a concern to board members. Supply chain issues and labor shortages have made the renovation process more fraught and board members will typically want to understand the scope of the work and whether you can afford to carry a second place while the work is being done. 
"It is best to omit details of your proposed renovation until after closing," Bateman says. For one thing, you never know who may live adjacent to your apartment and might dread the disturbance of a renovation. 
While you want to be truthful—obviously an estate purchase will require upgrading—it is best to instead say, "We are taking one step at a time and have no immediate renovation plans," she says.
4. What are your political beliefs or with which political party are you affiliated?
While this question is completely legal, it might be unexpected and throw you off your game. "Just be honest," Wagner says. And keep your response short and simple. It's better to steer the conversation away from this subject in a co-op board interview.
In addition, brokers recommend buyers prepare reference letters that don't have too much of a political bent to it. 
5. Are you interested in serving on the board?
Again, neutrality is your best approach on this issue, brokers say. Your answer will ideally be along the lines: "If the board or the building thought that I could make an important contribution, I would certainly be open to discussing it." It is best not to give the impression you are aiming for a position on the board.
Some application packages might ask you directly if you have any background or skills that may be useful to the board, in which case, it's fine to list expertise that might not be readily apparent from other parts of your board package.
6. Do you have parties or entertain often?
This question is quite common—and it's not a popularity test. The board wants to gauge whether your socializing will be disruptive. Your best answer might be to say you enjoy having occasional dinners with close friends and leave it at that.
7. What do you do in your spare time?
While it seems innocent enough, this question can trip buyers up. Bateman has three easy suggestions when fielding this one: "Keep it clean, keep it simple, and keep it quiet," meaning now is not the time to tell the board about your plans for learning the clarinet or your annual Halloween party.
8. Why did you choose this apartment/neighborhood?
"This is an opportunity to be complimentary," Bateman says. "Don't bog down your response with a blow-by-blow description of the 30 apartments that you saw before this one, or that it is the only one you could afford."
This also isn't an invitation to overshare. There are times when boards don't phrase a question as a question, and that can take people off guard. Brokers advise clients to be cordial and not chatty.
9. What was your last interaction with an attorney?
"The best answer is, of course, 'My lawyer brother-in-law and I had Thanksgiving dinner together,' but if you do have something behind you, be honest," Roberts says. He suggests you temper your answer, though. "Go with something like, 'I was unjustly sued by someone, we were able to resolve it quickly and cleanly and fortunately I've never had any legal involvement since."
You want to give a clean, simple explanation that proves you are reasonable and weren't the source of the problem. But remember, "Litigation is not a scarlet letter, especially for certain businesses," Roberts says.
It's worth doing an online search of your name before an interview to see what information comes up. Be prepared to answer questions related to the results.
10. Why are there some inconsistencies in your application?
In some cases buyers have an assistant fill out their application for them and that might introduce inconsistencies. You want to head this off, Wagner says. "It's a good idea to read through the application before the interview to make sure that everything looks legit. And be prepared to answer any questions you think it may have elicited," he says.
Usually, some financial questions arise, like how much money a person has, especially if their assets are a combination of several businesses or a trust.
"For example, if you receive $60,000 a year from a trust, be sure to explain that the trust allows you to invade the principal if that's how you're planning on paying for the apartment," Wagner says.
And if you don't know the answer to a question, try not to seem flustered. Just say you don't know the answer, and that you'll get back to them as soon as you've spoken to your accountant, Wagner says.
11. Do you have any questions?
While in other forums it is often useful to have questions at the ready as a demonstration of your interest, you really shouldn't raise them during a co-op interview.
Boring is good. A co-op interview is not a job interview—people do not have to fall in love with you. For instance, when the board asks you if you have any questions, say, "None that I can think of right now, but I'll be sure to get back to you if any should occur." It is never about keeping the conversation going, as it might be at a job interview.
Finally, never ask about the board's decision at the time of your interview. Instead, say something like, "We look forward to hearing from you."
Earlier versions of this article contained reporting and writing by Joann Jovinelly and Lucy Cohen Blatter.
Brick Underground articles occasionally include the expertise of, or information about, advertising partners when relevant to the story. We will never promote an advertiser's product without making the relationship clear to our readers.