The Search
Moving to NYC after college? Here's how to do it
Recent grads should start looking for apartments 30 to 45 days before you move in
Use a guarantor to qualify if your annual salary doesn't meet the standard of 40 times the monthly rent
Get your paperwork (bank statements, reference letters, proof of employment) together before applying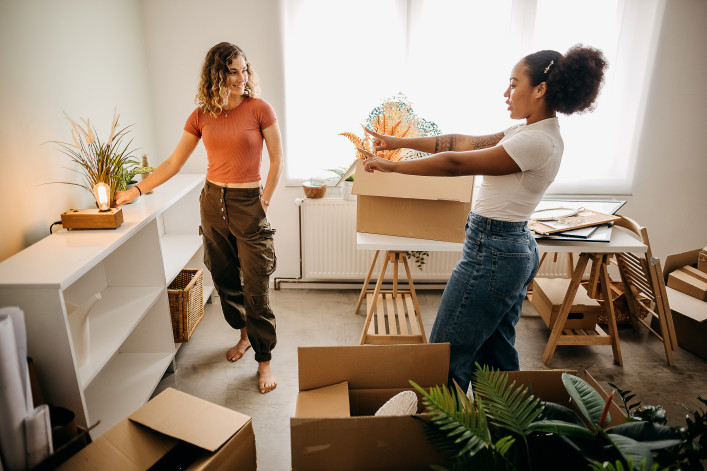 StefaNicolik via Getty Images
New York City has long been a popular landing place for recent college grads, so if that's your plan you should know that you will face a lot of competition for apartments. Of course, it's not just recent graduates who are combing NYC for a place to live—you are also competing with other newcomers who may be more established in their jobs.
And if you're thinking NYC landlords are desperate for renters—guess again. The low rents and deals of the pandemic era are over. Rents are hitting new records every month, concessions like free months are rare, and applications from multiple hopeful renters and even bidding wars are the norm. Yes, you read that right—there are bidding wars for rentals.
Regardless of the type of rental you want, you can put yourself in a better position to score an apartment by getting your paperwork in order and doing some online reconnaissance on where you want to live before you hit the sidewalk. Here's how to do all of that.
Pro Tip:
Avoid the complications of guarantors completely when you opt for a flexible furnished rental apartment from Blueground. With fully equipped apartments, they never require guests to use a guarantor or cosigner! Plus, it's a simple, hassle-free process to find and book your new home with Blueground.
---
[Editor's note: A previous version of this story ran in April 2022 and has been updated with new information for March 2023.]
---
What it takes to qualify for a rental
Let's get this one out of the way: It takes a lot to qualify financially for a standard rental apartment in NYC. The bar is set higher than perhaps any other city.
For starters, most landlords require that your annual earnings equal at least 40 times the monthly rent, which can be a tall order on a postgrad's salary. (That means you'd make at least $80,000 a year to get a $ 2,000-a-month apartment.)
You'll also need to have a good credit score, generally 680 or higher. (On this front, make sure your name has been removed from any utility bills associated with your former college housing, so your credit isn't affected by any delinquency after you move out.)
If you or your roommates don't collectively meet these qualifications, you might need to get what's known as a guarantor—a financially stable party (usually a parent) who guarantees to the landlord that they will pay the rent if you don't or can't. In addition to credit score and income requirements, guarantors are usually required to have an income of at least 80 times the rent (so they can pay your rent and their own housing expenses), and many landlords insist that they live within the tri-state area (New York, New Jersey, or Connecticut) so its easier for them to collect money if things go south.
If you don't have someone who's willing or able to act as a guarantor (or if one qualifying parent is reluctant to act as the guarantor for you and your roommates), there are services such as Insurent (FYI, a Brick sponsor) that, for a fee, will act as guarantor.
"The vast majority of people moving to New York do not have a qualified individual guarantor with an annual income at 75 to 90 times the monthly rent, and a lot of parents don't want to be legally on the hook," says Charles Schoenau, managing director at Insurent, which requires that renters make 27.5 times the rent (versus the landlord's 40-times requirement) to qualify, or have 50 times the rent in liquid assets from here and/or abroad. Insurent also qualifies U.S. and international students as well as non-U.S. renters relocating to the U.S. 
Insurent will also qualify non-employed renters with their parents having an annual income of only 50 times the gross monthly rent or 80 times the monthly rent in the bank or stock market. Guaranty fees for a one-year lease average 65 to 80 percent of one month's rent for U.S. renters and 90 to 110 percent of one month's rent for non-U.S. renters without U.S. credit scores for a 12- to 15-month lease. Insurent is accepted in over 9,000 rental buildings representing over 800,000 rental units.
Pro Tip:
Need help finding the perfect starter apartment in the right neighborhood—or a landlord inclined to be flexible about guarantors, work history, rental history, or "flexing" your space with temporary walls?  Place your search into the capable hands of The Agency, a tech-savvy real estate brokerage founded by a pair of Yale grads in response to the frustrating apartment-search experiences of classmates and colleagues. Bonus: The agents at The Agency are not only a delight to deal with, they will charge a broker's fee of 10 percent of a year's rent on open listings instead of the usual 12 to 15 percent if you sign up here. 
If none of these solutions is an option, consider looking for a sublet or a room in someone else's apartment as opposed to taking out a brand-new lease yourself. 
Navigating the roommate situation
Unless you're starting a lucrative banking gig right out of college (lucky you), chances are you'll need some roommates to help pay the rent.
If you're apartment hunting with someone, Kathleen LaMagna, an agent at Compass who has helped many college grads find their first NYC apartment, recommends having a frank conversation about expectations, lifestyle choices, and finances.   
"It's important that everybody is on the same page (including guarantors) before you start your search. Otherwise, unanticipated differences in expectations could lead to the demise of roommate arrangements," she says.
You definitely want to talk about things like budget, cleaning, smoking, and socializing at home. For other important conversation topics, check out "The 21 best questions to ask potential roommates." And if you need a roommate, these websites are a good place to start your search.
Bear in mind that renting an apartment with roommates will also affect your guarantor situation.
"Parents think that when they sign on as a guarantor, it's similar to living in a dorm, where they're only guaranteeing their child's portion of the cost," LaMagna says. "But the truth is that when you sign on as a guarantor, you sign on to guarantee the entirety of the lease."
Some—but not all—landlords are willing to take multiple guarantors, which can help even out the risk. Pooling funds together to pay for a single institutional guarantor (see above) can also be a good solution. If you plan to use guarantors, you and your roommates should have a frank discussion with everyone involved about what the financial responsibility will be, and how much everyone is willing to take on. (And if you decide to leave the apartment before the lease is up, for goodness' sakes, do whatever you need to do to get your name off the lease, or you'll wind up legally and financially responsible for an apartment you no longer live in.) And it's always smart to get your own renter's insurance policy. 
Handling the apartment search
Although you might feel pressure to get a jump on apartment hunting, don't expect to find one too far in advance. New York City is a fast-moving market, and most landlords don't list available apartments until around a month before they are available. You can start browsing listings early to get a sense of what's out there and what neighborhoods you can afford, but don't expect to find your future apartment any earlier than a month before you move in.
"Generally, I always tell college grads to start looking 30 to 45 days before they need to move," says Lisa Li Moye, a broker at Compass. "So if you need a place by June 1st, start in mid-April."
As you start your search online, one big thing to keep in mind is that many apartments come with a broker's fee attached, even if you found it through a listing and not explicitly with the help of a broker. In slower rental markets with lots of vacancies, a landlord may cover the broker's fee as a concession to entice you to sign a lease. Look for "owner pays" or "OP" on the listing. But that's not the case in the current red-hot rental market.
The standard broker's fee is between 12 to 15 percent of the entire year's rent, and if you definitely want to avoid shelling out that fee, there are a number of places online where you can filter your search to specify no-fee or low-fee apartments—these eight no-fee search sites are a good place to search. It's also worth going the word-of-mouth route, spreading the word on social media that you're in need of an apartment.
If you're able to pay the fee, however, you might want to consider working with a specific broker to help find the right place for you. This can give you a leg up, especially if you're new to the city; brokers know the NYC market well and can tailor the search to your budget. They can help you put together a successful application, too. One of the big things a broker will save you is time—though at a cost.
You may be wondering how to rent an apartment before you even get here. Lots of newcomers rent apartments based on listing photos and videos, but there are some pitfalls and the potential for scams. Some photos are exceptionally, and often deliberately, deceiving. If at all possible, it's worth making at least one trip to the city to scope out apartments.
Barring that, it's wise to have an intermediary housing solution when you arrive, be it an Airbnb, a friend's couch, or an extended-stay hotel. And don't be daunted by the short timeline—it will take work, but finding an apartment within the span of a single weekend is not only possible, but common.
And if you're looking with roommates, don't try to divide and conquer with apartment viewings. "You don't want to have one roommate coming in, securing an apartment, and then it turns out the other one doesn't like it," says Melaine Lessey, a broker at LL Real Estate Services.
"There is an increased demand for rentals during this time of the year as a result of recent college graduates relocating for work. Be prepared to act quickly once you have located an apartment and have all your documents already uploaded and ready to submit," she says. 
Another tip: Remember to play it smart when you're scheduling appointments to look at apartments. If something seems off about an apartment or an agent, go with your gut. Meet the agent in a public place, take a friend to an open house, and never put down any money without seeing the apartment first. For tips on spotting scams and fake listings, check out "How to stay safe while apartment hunting in NYC" and "How to tell if a NYC rental listing is too good to be true."
Calculating how much you'll pay
Sometimes, in an effort to entice potential renters, landlords or management companies will advertise one or two months' "free rent" with a lease signing. Some landlords spread the discount over the term of the lease in what's called the net effective rent or the advertised rent, but the net effective rent is less than the amount you will actually have to pay—known as your gross rent—during your non-free months.
Be clear on what you'll actually pay each month by using the Brick Underground Gross Rent Calculator, below. Simply input the net effective rent, the length of the lease, and the number of free months being offered.
Brick Underground's
Gross Rent Calculator
What's this?
Some New York City landlords offer a free month (or more) at the beginning or end of a lease. The advertised rent is the net effective rent.  The net effective rent is less than the amount you will actually have to pay --- known as your gross rent --- during your non-free months.
Brick Underground's Gross Rent Calculator enables you to easily calculate your gross rent, make quick apples-to-apples comparisons between apartments and avoid expensive surprises. All you'll need to figure out your gross rent is 1) the net effective rent, 2) the length of your lease, and 3) how many free months your landlord is offering.  [Hint: Bookmark this page for easy reference!]
To learn more about net effective versus gross rents, read What does 'net effective rent' mean?.
Months
Months
If the landlord is offering partial months free, enter it with a decimal point. For example, 6 weeks free rent should be entered as 1.5 months.
You should also be aware that landlords can no longer ask for first and last month's rent, in addition to a security deposit. 
"Due to the new laws passed in 2019, landlords can not ask for money in excess of the first month's rent and one month's security deposit," Moye says. 
Picking a neighborhood
Almost as important as the apartment itself, the neighborhood you end up living in can make or break your experience as a New Yorker.
Your best bet is to tap your social networks and find out where people live and what they do or don't like about the area. Brick Underground has lots of articles on choosing a neighborhood, including, "Manhattan vs. Brooklyn: How to choose when you're moving to NYC," and "15 things real New Yorkers look for in a new neighborhood." 
It's important to consider practical matters, too, like transportation.
"I recommend that graduates decide which train they need to be close to," Moye says. "What's most convenient for work, grad school, whatever they decide to do. Figure out the easiest way to get to where you need to go—for instance, don't move to the Upper East Side if you know you'll be working in Chelsea."
Unless money is no object, rents also likely play a big role in where you end up living, so start cruising listings in your price range and take note if the majority of them seem to be popping up in the same few neighborhoods over and over again.
"Do your research online, then spend a good day going to different neighborhoods you think you might be interested in to see how you feel in each space," LaMagna says.
Besides transportation, take in factors like conveniences such as grocery stores, drug stores, delis, restaurants, and nightlife scene, if that's important to you. For stats on things like crime, pests, and general cleanliness, it also doesn't hurt to do some online research—here are some ways to start your sleuthing on the neighborhood in general and the building in particular.
And while every renter will be looking for something a little different—and have different needs as far as their commute—here's a list of neighborhoods that are most affordable for fresh-out-of-college renters in each borough. Don't forget to do some research on the building and the landlord. 
Considering the co-living option
If you don't mind having roommates, and find the idea of tracking down an apartment, furnishing it, setting up utilities, and all the myriad parts that go into renting here especially daunting, you might consider co-living.
Not familiar with the concept? Think of co-living arrangements as a grown-up version of dorm-style living, where you can pay one flat fee for a bedroom in a shared, furnished apartment, inclusive of utilities and other amenities. Social programming and events are often included in co-living arrangements—which can be a bonus if you're new to the city and don't know a lot of people. Sound intriguing? Check out Brick Underground's guide to co-living in New York City. 
You can read first-hand accounts of what it's like to "co-live" here and here. (Keep in mind there are some gray legal areas to apartment sharing. This post breaks down what you should know to protect yourself.) 
Putting in your application
Landlords will expect you to hand over a lot of paperwork when you apply for an apartment. Here's a full list of required documents, but generally, expect to provide a copy of a photo ID; two of your most recent pay stubs or, if you're just starting a job, a letter of employment; your last two years of tax returns; three months' worth of bank statements; proof of other funds like stocks; and personal reference letters. Your roommates will need to have all this information handy too, as well as any potential guarantors.
It's best to have all that paperwork assembled and ready to go before you even start your search because apartments get snapped up quickly, and you'll want to submit an application on the spot if you see a place you like. 
Know that the 2019 changes to the rent laws capped rental application fees at $20. Though if you rent in a condo or co-op, you can be charged higher fees.
A tip from Lessey: "I advise my clients to organize and combine all their documents into one pdf, which can be easily done using Adobe Acrobat." This way you have that ready when you apply for an apartment. 
Easing move-in day
Once you've locked down your lease and have a moving date in mind, you'd do well to secure movers or a U-Haul in advance, as they tend to get all booked up at busy times. (The weekend before the first of the month, which is the day when many leases start, tends to be a very popular time to move. You can also generally get a lower rate if you book early.)
If you're using movers to transport your belongings from another city, it's usually cheaper to hire someone from your origin city rather than a New York-based company. Here are some tips on getting the best rate from a moving company.
Be sure to double-check to see if your new building has any particular move-in policies. For example, some elevator buildings will only allow move-ins during weekdays between 9 a.m. and 5 p.m., to minimize inconveniencing other tenants.
One last word to the wise: Moving scams have been known to happen in NYC, so if anyone asks you to pay for the entirety of the move up front, find a different company.
Also this: Welcome to New York!
—Earlier versions of this article contained reporting and writing by Virginia K. Smith.
Brick Underground articles occasionally include the expertise of, or information about, advertising partners when relevant to the story. We will never promote an advertiser's product without making the relationship clear to our readers.