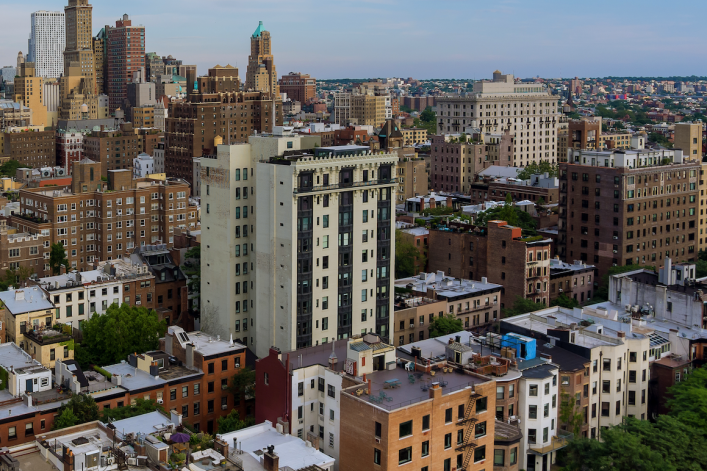 Bidding wars for rental apartments are a sign of just how competitive the New York City rental market has become. If you're searching for a rental right now, you may have already lost an apartment in a bidding war and are deeply frustrated. You may have lots of questions, like whether this is even allowed or how much you have to bid to win. 
It's a good idea to understand how these negotiations work and what you can do to put yourself in a better position to land an apartment.
Rental bidding wars are a symptom of the rapidly shifting market, one which has swung from historic apartment availability to a record low vacancy rate of 1.32 percent, according to data from the most recent Elliman Report. 
"With such little inventory that's out there you are bound to see bidding wars," says Gary Malin, chief operating officer at Corcoran. 
---
[Editor's note: This article was originally published in March 2022. We are presenting it again here as part of our summer Best of Brick week.]
---
Below are some answers to questions about bidding wars for rentals so you can stay on top of the competition.
1. Are bidding wars for rentals allowed? 
The simple answer is yes. There are a few different types of rental housing in the city but the easiest type to find are market-rate apartments. They make up just over 40 percent of the city's rentals and are privately owned and unregulated, which means the landlord can charge whatever the market will allow. These are the apartments where you'll find bidding wars. 
Six months ago it was renters in historically popular areas who were outbidding each other for apartments but that fairly localized phenomenon has grown. Brian Hourigan, managing director at BOND New York says, "regardless of neighborhood and price point, there's strong competition for any well-priced vacancy in a well-run building."
Erin Wheelock, a broker at Keller Williams NYC, has dealt with at least three bidding wars in the past few weeks and says they are happening in a broad range of apartments with asking rents from $2,200 to $45,000.
Last month, one in five Manhattan lease signings involved a bidding war, according to data from the Elliman Report. Wheelock estimates that's now closer to three out of five.
Landlords of rent-regulated apartments can't hike rents in the same way but these types of apartments are much more difficult to find.
2. When do you offer more for a rental?
If you attend a very busy open house, you'll already have a sense the apartment is popular. "As soon as the landlord gets more than one offer they have the leverage," Wheelock says.  
The actual timing of a request for higher bids depends on how the landlord or management company operates. If a landlord receives multiple applications on the first day the apartment is available, they'll probably ask for best and final offers from everyone and approve a renter based on those offers and the strength of the supporting application. 
Some landlords will only process one application at a time, but if they know there are multiple backup applications they might ask a prospective renter to increase their offer. Other landlords or brokers will submit multiple applications at once. 
"You can assume that the point at which a landlord would ask for a better offer would be after you have submitted your application but before you have been approved," says Evan Osur, an agent at Living New York.
That can leave some renters uncomfortable, with a feeling that a landlord could be making a calculation from their application that they can pay more. Brokers say this is unlikely. You may deal directly with a landlord, but in many cases you are dealing with a representative for the landlord and if these agents or brokers see that the apartment can generate a higher rent for the landlord they will try to get it, but it is not based on your particular finances.
Also, "the landlord will never create a lease, have you sign, and then subsequently increase the price," Osur says. 
3. How much more should you offer for a rental?
The percentage increase in the rent you offer will depend on whether the asking rent is under market. That's where some research comes in handy—try to find out what similar apartments in the same area are renting for by searching a listings website. If the asking rent is low, you may choose to offer more.
The rent increase you offer will vary depending on whether it is a studio asking $1,700 or a much pricier place. If you're willing and able to pay more, Wheelock's advice is to increase the rent by an amount plus a little extra: For example she suggests offering $530 instead of $500. This is what will put you ahead of the competition. "That little extra bit can be make or break," she says. 
Osur says a reasonable increase in this market is typically between 2 to 5 percent of the advertised rent.
"You can always tell if something is in high demand by looking at the saves to days on market ratio on StreetEasy–that's always a good barometer," he says. So, if the rental has been saved by 170 users in a week, you might consider increasing your offer at the higher percentage. 
Another approach is to offer just a bit over the asking rent, Hourigan says. "Perhaps $25 or $50 as more of a symbolic gesture," he says, particularly if you feel your application and financial qualifications will place you high in terms of consideration.
One other factor to consider is what the apartment is worth to you. Recognizing that continuing your apartment search can have an emotional toll, Wheelock asks: "How much is it worth to not have to deal with this process anymore?" That—and your budget— should be your guide. 
5. Is a rental bidding war a sign of a bad landlord? 
If you get into a tense bidding war when you're buying an apartment at least you don't expect to have a relationship with the seller when you're done with the deal. That's not the same for a rental. 
"Most of the time the landlord has a representative to make sure the owner isn't the bad guy," Wheelock says. If you're uncomfortable with how the process is being managed you can, of course, walk away.
Even though a bidding war for a rental can be uncomfortable, it's probably more important to determine whether the landlord is someone who responds to questions or maintenance concerns with speed and efficiency.
"Open and transparent communication is what typically makes renters feel like they have a landlord who cares and they can trust," Osur says.
5. How do I avoid a bidding war for a rental?
To beat out the competition, you want to make sure you have a strong application that's ready to go and be first in the door. Don't wait til the weekend to visit an open house—try getting in there earlier on a Thursday or Friday. Being fast and first, however, may not be enough.
One tip to put you ahead of the competition is to offer to start the lease early. Can you move within a few days of seeing the apartment? Landlords don't want their apartments sitting empty.
"The typical market allows for anywhere between 15 to 30 days for the expected move-in date of a new tenant, an applicant can sometimes trade an immediate occupancy for their application being considered first," Hourigan says.
The summer is normally the busiest time in the rental market and that means landlords usually want leases to start and end between May and August. If an applicant in the winter months is open to a 16 or 18 month lease term they can sometimes leverage that flexibility. 
With so much demand there are fewer concessions these days, which means no-fee rentals are more rare. But if you do come across an apartment where the landlord is paying the broker's fee, one tactic to win their favor is to offer to pay that fee.
6. What are the alternatives to rental bidding wars?
If the strategies above still have you tearing your hair out, consider whether your finances can be stretched in other ways. One alternative is buying. If your main obstacle is coming up with the required 10 to 20 percent down payment, there are some first-time buyer loans and programs available to New Yorkers, including mortgages that only require 3 percent down. 
If a hybrid work schedule allows you flexibility on location within the city, Upper Manhattan is your best bet for a deal if you don't want to head to the outer boroughs. "If your budget is $3,500 for a one bedroom Downtown, try Uptown, you'll have a budget that may be able to go over ask," Wheelock says. 
If you're already renting in New York, it might be worth negotiating a lease renewal rather than moving out. Certainly don't move to spite your landlord over a rent increase. Keep it polite and point out that you've been a good tenant and paid your rent on time. 
7. Does it help to have a broker?
In a market like this, having a broker can give you an edge, Malin says. A good broker knows where the deals are, knows what comparable apartments are renting for, and can guide you on how much to increase your offer and negotiate on your behalf. At the very least a broker can prepare you for what to expect in the current market. 
"You're only in the market today because you need to be in the market today. They are in the market every day and they understand what's going on," he says. A broker might have relationships with owners who have apartments that are yet to list or know of apartments in a building you might not have considered, he explains. They are also the ones getting alerts and they can get you in to see apartments before the competition.
If you're trying to avoid using a broker so you don't have to pay the broker fee, that might not be sensible. "Given that most people live in their apartments for more than one year, to get so hyper-focused on the broker fee at times, you'll end up missing the forest for the trees," Malin says. 
8. Are rental bidding wars here
to stay?
When landlords had apartments sitting empty during the pandemic, many agreed to sign leases that were longer than the typical 12 months. As those longer leases start coming up for renewal and people move out it's possible this hyper-competitive market will ease.
The summer, however, is typically even more competitive and we are already seeing many tenants in shock over rent increases of between 30 and 60 percent. Malin says understanding seasonal rental pressures is important: "If you do have flexibility, there's no harm in waiting out the market but if you are hoping that by May things will be better—given the time of year— that's not likely. If you can wait until September, that's a whole different story," he says.
If you're looking for an indicator, Malin suggests keeping an eye on the vacancy rate. "In New York City, the difference between a 1.5 percent vacancy rate in terms of bidding wars and price negotiability versus 2.5 percent is significant." 
Something else to watch out for is the good cause eviction bill. Housing activists say this would be one of the best protections for tenants—legislation that increases protections for market-rate tenants ensuring everyone has a right to a lease renewal unless there is good cause. It would also cap rent increases.
However, there's only a slim chance of the law passing this year—opposition to it includes landlords who don't want government regulation of private property.
Brick Underground articles occasionally include the expertise of, or information about, advertising partners when relevant to the story. We will never promote an advertiser's product without making the relationship clear to our readers.