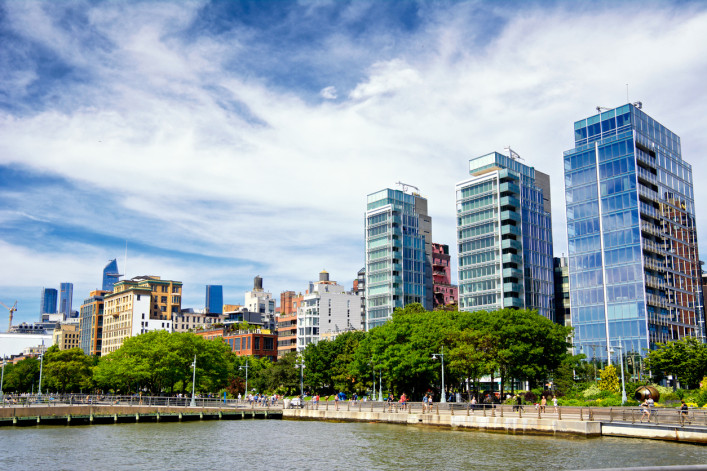 It's not an exaggeration to say that even if you have bought real estate in another city, if you're buying for the first time in New York City, it's likely you still won't be prepared for how complicated and expensive it is.
That's what Ayanna Miller found when she bought in NYC for the first time. She was no newbie, having bought five times already in cities like Houston and Atlanta. Still, as she recently recounted for Brick's series on newcomers to NYC, "buying in New York makes you feel like you know nothing about home buying."
She found so many differences here, such as having to use a real estate lawyer and pay mansion and transfer taxes. The competition to get to contract was particularly upsetting, especially when a seller used her offer as leverage to get a better offer.
"This process is not for the faint of heart," she says, describing how she was "heartbroken" after that first deal fell through. But like a true New Yorker, she persevered, landing her dream: A Brooklyn brownstone.
Real estate brokers and lawyers say the NYC market is just a very different animal, and first-time buyers are shocked by the same things over and over, like the intrusiveness of the co-op board application process and closing costs. And that's just for starters.
Still, first-time NYC buyers are having a moment. The first quarter saw a record share of first-time buyers, 41.9 percent, according to an informal survey by Douglas Elliman. The seven-year average is a 36.7 percent market share for first-time buyers.
With prices down 4 to 5 percent for Manhattan co-ops and condos, and interest rates remaining low, many long-time NYC renters and out-of-towners who have dreamed about moving here see this as a now-or-never opportunity to buy.
Read on for how buying in NYC is different so you won't be shellshocked—or maybe just a little less so.
You pay a lot for very small spaces
Let's get this out of the way: Price points here are very different. Or to put it another way, "You can buy a studio for what you would pay for a mansion in New Jersey," says Kobi Lahav, director of sales at Living NY. (The median price for a Manhattan studio co-op in the first quarter was $419,000. For a condo, it was $525,000, according to the Elliman Report).
Even more surprising to first-time buyers, Lahav says, are what apartment buyers have to pay for maintenance or common charges—and that's on top of mortgage payments.
(A quick primer: When you buy a co-op, you become a shareholder in a corporation, and you pay a monthly maintenance fee that pays for the building's operating costs, the building's mortgage, and (unlike condos) your property taxes. When you buy a condo, you own your place, and pay a monthly common charge that covers the upkeep of common areas and amenities. You pay your own property tax separately.
Bottom line? Your monthlies can run from a low of several hundred dollars a month to a range of $1,000 to $2,000 or much more if you're buying a high-end apartment.
In a nutshell: "Monthly carrying costs for properties are insane," Lahav says.
Pro Tip:
Whether you decide to buy a co-op or condo, did you know you can receive a buyer's rebate from your broker? Buying with Prevu you'll pocket a rebate of two-thirds of the commission paid to the buyer's broker at closing. On a $1.5 million condo, you'd receive up to $30,000. Click here to learn about Prevu's Smart Buyer Rebate.
The power of a co-op board
One of the top complaints of people buying in NYC is the invasiveness of the co-op application process. (Condos have some rules—such as the right of first refusal, but are generally easier to buy in. They're just more expensive on average.)
It can be very startling, especially for buyers who are highly successful and big earners, to have to make a case for themselves to a co-op board. In fact—it can be shock to find out it's not just about how much you earn. You could be a billionaire "and they can still reject you if they don't like you," Lahav says.
What's more, co-op boards don't need to tell you why they are rejecting you. They don't need to give any explanation unless there's a claim of discrimination. (That may change if a new state bill is successful.)
All told, the process of getting reference letters, presenting your finances, and going before a board is alien to buyers from other parts of the country.
There are so many headaches when you're buying in a co-op (weird assessments, your renters getting rejected, renovation wait lists)—and so Lahav also reminds buyers that co-ops are strict for a reason: They're looking out for their shareholders' interests—which, if you pass muster, will be yours as well.
You need a lawyer when you buy here
As Miller and other newcomers have found out—you need a team when you are buying here—and one of those key players is a real estate lawyer.
States like California and Texas don't use attorneys to do real estate deals, says Kevin Sneddon, an agent at Compass. But in NYC, "the first thing we do is recommend a lawyer," he says. It's so much more complicated here and because of the amount of due diligence required, "you really an attorney here to protect you." He says a real estate lawyer fee in NYC can start at $3,000 and increases for more complicated deals.
Using a lawyer is crucial if you're buying in a new development, says Shaun Pappas—he's a lawyer with Starr Associates. That's because when you're buying new construction, you really don't know when the apartment is going to be ready and you need to protect yourself, he says.
"The worse thing is putting down a 20 percent deposit and thinking you're moving in right away," he says. With new development, "you're at the whim of the market and the construction schedule and now, the pandemic."
In the condo prospectus, there are timelines that are usually significantly further out than what a buyer expects. "We try to negotiate a reasonable deadline" so if the developer can't deliver the apartment by a set date, "the buyer can get their money back," Pappas says.
And these days, banks are scrutinizing new developments with greater restrictions—which means buyers may need to protect their deposits with a contingency.
Pappas says that banks are requiring about a third of units be under contract before they will lend and want evidence that they are closed. Some may ask for proof that the building is a mix of owners and investors. Attorneys help you navigate these restrictions.
You likely need a broker too
If you have bought somewhere else and didn't use a broker, it might seem strange to have to use one now, but the NYC real estate market is a lot to wrap your brain around. Using a broker can help you find a shortcut to what you want, since a broker can help explain the difference between different types of buildings and help find what fits your needs, for example, if you're debating condos vs. co-ops, buildings with amenities vs. non-amentias, elevator vs. non elevator, etc. Brokers tell Brick they spend a lot of time essentially delivering a crash course on the NYC real estate market.
Seth Levin, a broker with Keller Williams NYC, says clients will send him listings that are seemingly comparable, but one will be $2 million and the other will be $4 million. It falls to him to explain how a view will impact the price, as does the level of finish, amenities, and cachet of a building.
He recounts the time he was working with an international buyer who was very successful and could not believe his desired price point meant he had to sacrifice the number of bathrooms he wanted.
"This is a city of tradeoffs," Levin says. "Unless you're buying a $40 million penthouse, there are going to be some compromises."
NYC's ultra-competitive market
First-time buyers may also be shocked by how aggressive you need to be to get to contract.
"Here, we do our due diligence first," says Daniel Blatman, an agent with Triplemint, "so if you decide something is wrong with building, like you find out the building is not in great financial health, and that it does in fact have an assessment, and there is indeed a 2 percent flip tax and maintenance went up 6 percent"—despite being told the contrary—you can avoid an expensive mistake.
"All this happens before the buyer is in contract," he explains, "because it is very challenging to get out of contract." In other places, once you get an accepted offer, you are locked in.
And this is the point in the deal where newcomers like Miller get tripped up: Even if you have a contract in hand—even if you have signed your contract—it is not a done deal until the seller signs their contract. Sellers can even send out two different contracts (and they do) with the thinking that one buyer may back out. Or they may be angling for a better offer.
"It's kind of the Wild West," Blatman says.
The shock of closing costs and post-closing liquidity
First-time New York buyers may find closing costs "insane," as Blatman describes them. He ticks off the list: You need to budget for the recording tax, attorney fee, title insurance, and application fee—which can run from $500 to $700 and Blatman says it "can be as high as two grand." The mansion tax, which despite its name can apply to a one-bedroom apartment—if it costs $1 million or more. The tax starts at 1 percent on co-op, condo and townhouse sales of $1 million to $1.999 million—and rises in stages to 3.9 percent on prices of $25 million or above.
For post-closing liquidity—brokers say every co-op building is different. Some may want to see a year's worth of mortgage and maintenance in an escrow account, some may want to see up to two years.
"It's the most challenging thing to explain—head spinning, in fact," Sneddon says. "The world of NYC co-ops is the most daunting and frustrating for first-time buyers."
Co-ops also have rules about debt-to-income ratios, which shows how much debt you can afford on a monthly basis. Some buildings want to see housing costs no higher than one third of a buyer's gross income—others want a much lower ratio, like 26 to 28 percent.
Then there is the big kahuna, the down payment. The stricter NYC co-op buildings are generally the pricier ones that require bigger down payments of 30 percent, compared to the more standard 20 or 25 percent. However, a 50 percent down payment for a co-op is not unheard of. Some rarified buildings don't even allow financing at all.
Vickey Barron, a broker at Compass, can attest to the extreme challenges of the luxury market for first-time buyers. She was a house flipper before she relocated to NYC from California and had a rough entry as a buyer here years ago, despite her extensive experience.
"I had the down payment from a sale in California and put a bid on an apartment [on Park Avenue in 60s]. The listing broker told me, 'This building will never take your offer seriously,'" Barron recounts. She thought the broker was joking, after all, Barron was offering full price and had the required 50 percent down. But she didn't have quite enough left over after the purchase.
She was told, "Darling, this building requires two and half times the purchase price—liquid."
"If I had two and half times the purchase price, I wouldn't be buying a place with a kitchen the size of stamp," Barron says. "I felt like the biggest loser, so rejected." What was shocking to her at the time was the fact that in California—the process is so much simpler: If you have the purchase price—you could buy a place without needing so much in the bank after you close.
Barron says that she worked with buyers who were prepared to pay $4.5 million for an apartment on 76th Street in a building that required 50 percent down. They would have had an amount equivalent to the purchase price left over after the sale—but the building required two-times the purchase price in post-closing liquidity.
"When I tell people in California and Colorado these stories, they have a hard time believing me," she says.
Get in line for a renovation
Another big surprise for buyers here: How tricky it is to renovate in co-ops and some condos—and the process is even more complicated now because of the pandemic.
In other cities, "if you want to renovate—you just call a contractor," Barron says. In NYC co-op buildings you have to navigate an obstacle course: You need board approval and will have sign an alteration agreement—which is a contract of sorts outlining timelines, insurance, and other aspects of the work. Depending on type of the work, you may need a permit from the Department of Buildings and will have to use professionals who are licensed and insured—and probably more expensive.
You may buy in a building that has rules preventing work from being done during the summer, or limiting the times and days the work can be done. Because of the pandemic, buildings are limiting the number of projects taking place at the same time and the number of workers who can be in the building.
That means if you buy in a building and there are others waiting to renovate, you will need to get in line. It could be years before you actually end up renovating.
All of this is probably more than enough to make you wonder why more people don't throw in the towel on buying in NYC. Amazingly there are enough buyers who want to live here so badly that they will put up with the headaches, and the brokers quoted here are also the biggest cheerleaders for buying in NYC and the merits of owning your sliver of the city—despite the many nightmares they've witnessed.
At least knowing what you are signing up for when you intend to buy in NYC will put you ahead in the game.
Brick Underground articles occasionally include the expertise of, or information about, advertising partners when relevant to the story. We will never promote an advertiser's product without making the relationship clear to our readers.