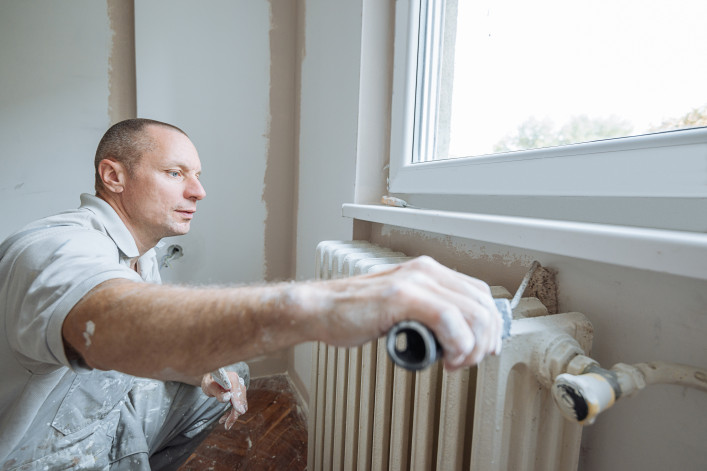 If you're buying an apartment in NYC and have plans to renovate, it's worth keeping in mind that what you envision for your place might come up against obstacles that either add time to your project or limit its scope. That's because in a dense city like New York, there are rules and restrictions you'll need to comply with, mostly to protect the people living around you.
It can be frustrating when you're the one wanting to wield the power tools, but the same rules also protect you from your own reno-happy neighbors.
You might be familiar with "wet-over-dry" rules, but did you know your renovation might be put on hold by a waitlist for work in your building? This can be "devastating for buyers," says Vickey Barron, a broker with Compass who has put together a full day course for brokers to help them educate buyers on some of the issues they'll face if they plan to renovate. 
Here's what to keep in mind before you sign a contract for an apartment that needs major upgrades. 
1. You might be added to a renovation waitlist
Barron recalls an estate sale near Washington Square where the building had a four-year waitlist for renovations. 
"Some buildings will only allow one renovation at a time or no more than two or three at a time," she says. If a buyer has made plans to live with a friend or relative while the work is carried out, it can be a major setback to find out the work needs to be put on hold for months or even years. These kinds of delays happen "more frequently than not," says Barron.
Perhaps more common are restrictions that you can only renovate between 10 a.m. and 4 p.m. or during certain periods of the year, from March to October, for example. Your timeline might also be affected if the elevator is going to be worked on for an extended period. If that's the case, "workers won't have access to the apartment to get materials up and down to get the work done," says Barron.
All these issues relating to the timeline of the renovation are questions that need to be answered before you start making plans.
2. Wet over dry restrictions can get in the way
The wet-over-dry rule in a NYC building can dictate the layout of your renovation. It comes into play if you want to install a bathroom or relocate kitchen appliances and is a building's way of preventing owners or tenant shareholders from putting in new wet areas, including washing machines, directly above a dry area like a bedroom or living room—all in an effort to prevent flooding.  
Elizabeth Kee, a broker with CORE, acknowledges everyone likes to custom create their spaces but says in NYC, rules like wet-over-dry mean it's not always possible. "Physically it might be possible but there are some things you are never able to accomplish, no matter how much money you have," she says. 
Be careful not to make assumptions about what you can do. Barron says buyers might see one unit in a building with a washer/dryer and assume they can buy a similar unit and install a washer/dryer if there isn't one. That's not always the case. "It may have been grandfathered in or they may have voted since then that they no longer allow it," says Barron. 
3. Alteration agreements can be onerous
An alteration agreement is a contract spelling out the board's requirements for your condo or co-op renovation. It's also an acknowledgment that it will affect not just you, but your neighbors too. Barron says, "Putting in an alteration agreement can be more stressful than putting a board package together." 
Even so, it's an important document and if your work goes beyond the boundaries of the agreement, the board can stop the work adding to both the stress and cost of the project. 
4. Your board needs to sign the permit
If your renovation work involves demolition or the moving of mechanical, plumbing, or electrical lines, you need a permit from the Department of Buildings. You may be surprised to find out that this will require the signature of your co-op or condo board. 
You will face fines if you don't have the correct permits. Barron says even if your building takes a relaxed approach to renovations, if you don't get the right permits for the work, you will be stung when you try to sell. You'll have to correct the situation or possibly rip out the upgrades you've already paid for. 
5. You'll need a Certificate of Insurance
The Certificate of Insurance tells you the company you are using to do your work or deliver your materials has an insurance policy that covers liability and loss up to the insurance limits required by your building. That means if anything happens while the work is being done, the cost of repairs or of an accident is covered. It's your job to make sure your contractor submits the certificate to the management company.
New Yorkers are often surprised and frustrated by the amount of paperwork needed to pull off their apartment renovation, and the Certificate of Insurance is yet one more bit of paper, but as Peter von Simson, CEO of New Bedford Management tells Brick Underground, "the truth is, the confirmation of coverage of a contractor protects the unit owner most of all."
Brick Underground articles occasionally include the expertise of, or information about, advertising partners when relevant to the story. We will never promote an advertiser's product without making the relationship clear to our readers.