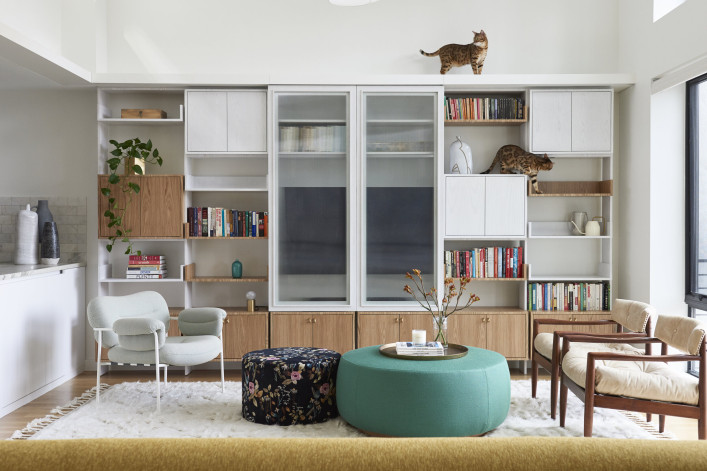 Being a pet parent can certainly add an additional layer of consideration to any renovation plans, especially for New York City apartments and townhouses—where space is at a premium. Know that you are far from alone, and there's a smart solution for (almost) every situation.
With more people getting pets and spending time at home over the past year-plus, there's been a huge surge in searches around "pet-friendly renovations," according to UK-based Wren Kitchens (which has a showroom in Milford, CT). Specifically, "dog bed ideas for the kitchen" has risen by a whopping 2,700 percent. Wowza. 
Count me in. My own glued-to-the-hip German shorthaired pointer puppy has a habit of lounging at my feet as I do meal prep, creating a real tripping hazard if I am not extra vigilant. That seems to be a common pet peeve, but not the only one. A friend shared that she "hates" her slick white tile floor for being a magnet for her dog's hair; another griped about having to share her bathroom with her kitty's "horrible" litter box. 
Brick Underground to the rescue! We gathered pro tips and tricks for taming the peskiest pet conundrums without cramping your style. And a little heads up: As you dig into the details, you'll find plenty mention of "integration" and "multifunction"—both words to add to your own design brief. (All will be revealed!)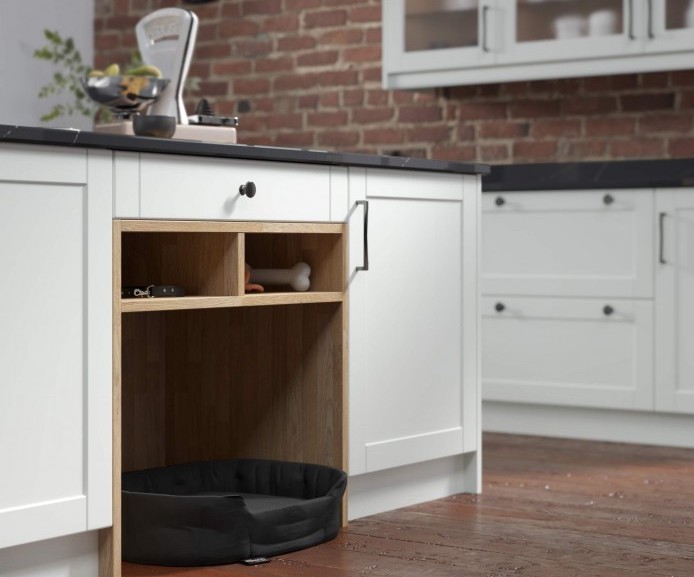 Carve out a pet bed nook in the kitchen 
Yes, there is such a thing as a built-in pet bed nook for the kitchen. Indeed, "pet accommodations and custom millwork are closely tied," says Alexandra Barker, founder of Barker Associates Architecture Office. You may only be limited by your imagination and your budget—and your willingness to compromise on your own storage space.
Kitchen design companies like Wren Kitchens now offer islands and cabinets (above and below) with nooks for a pet bed as well as storage for all your pet paraphernalia.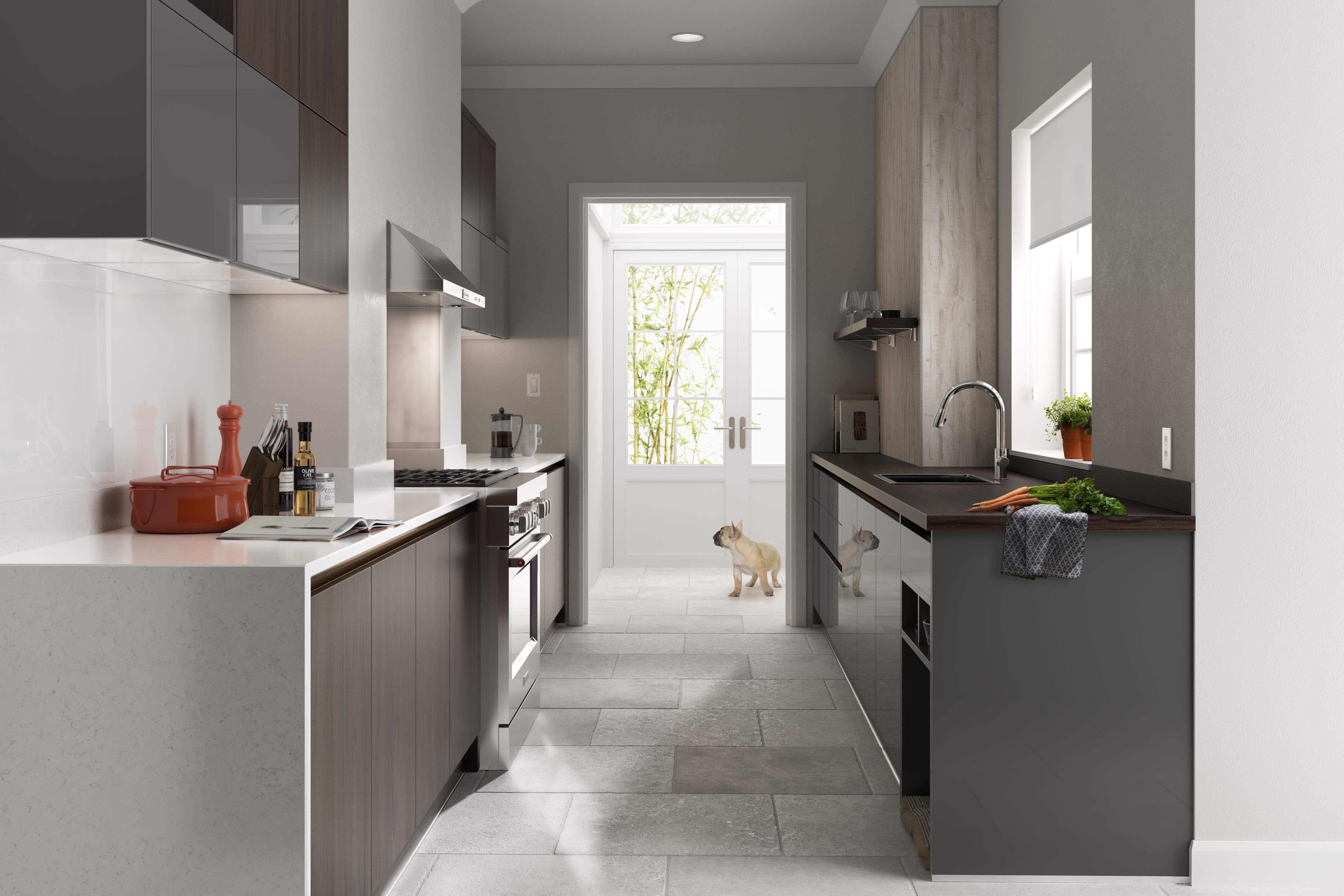 A spokesperson for the company told Brick that all integrated pet beds come in a variation of sizes to best fit the layout of the kitchen (even narrow kitchens like the one above), size of the pet, and lifestyle of the family. The most popular cabinets have pull-out bins that would typically be used for trash but are a great option for storing kibble. 
And thanks to the preference for open floorplan living, it's possible to park the pet bed in an adjacent area—and free up precious cabinetry.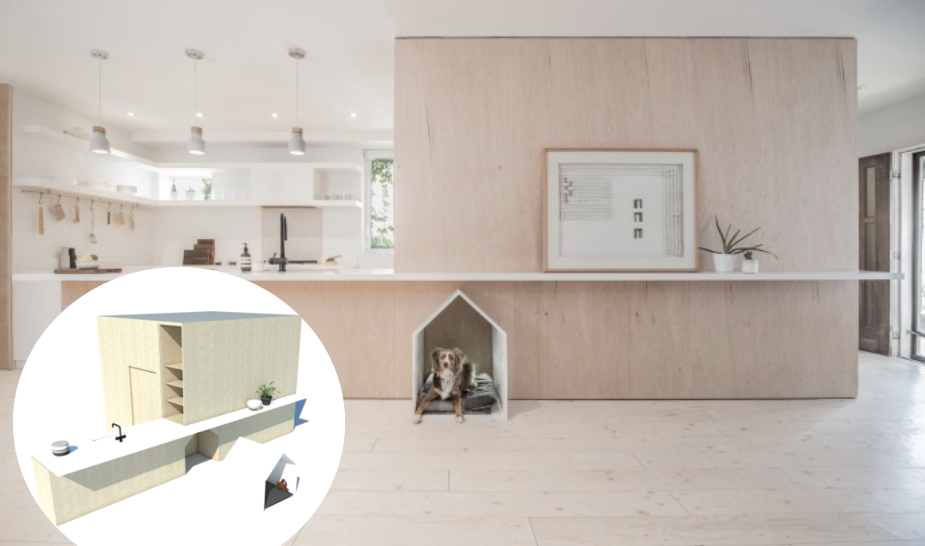 That's what the Toronto-based architectural and design firm StudioAC did for clients who requested a designated spot for a dog bed integrated into the design of their kitchen (above). The firm told Brick that the plywood structure (which holds a foyer, closet, stairs, and part of the kitchen) provided "an opportunity to create a moment of delight and fun while also making better use of the overall floor plan." The prototypical dog house form was finished in white paint "so it can pop against the plywood mass it lives in." The entire dog house can even slide out when desired (inset).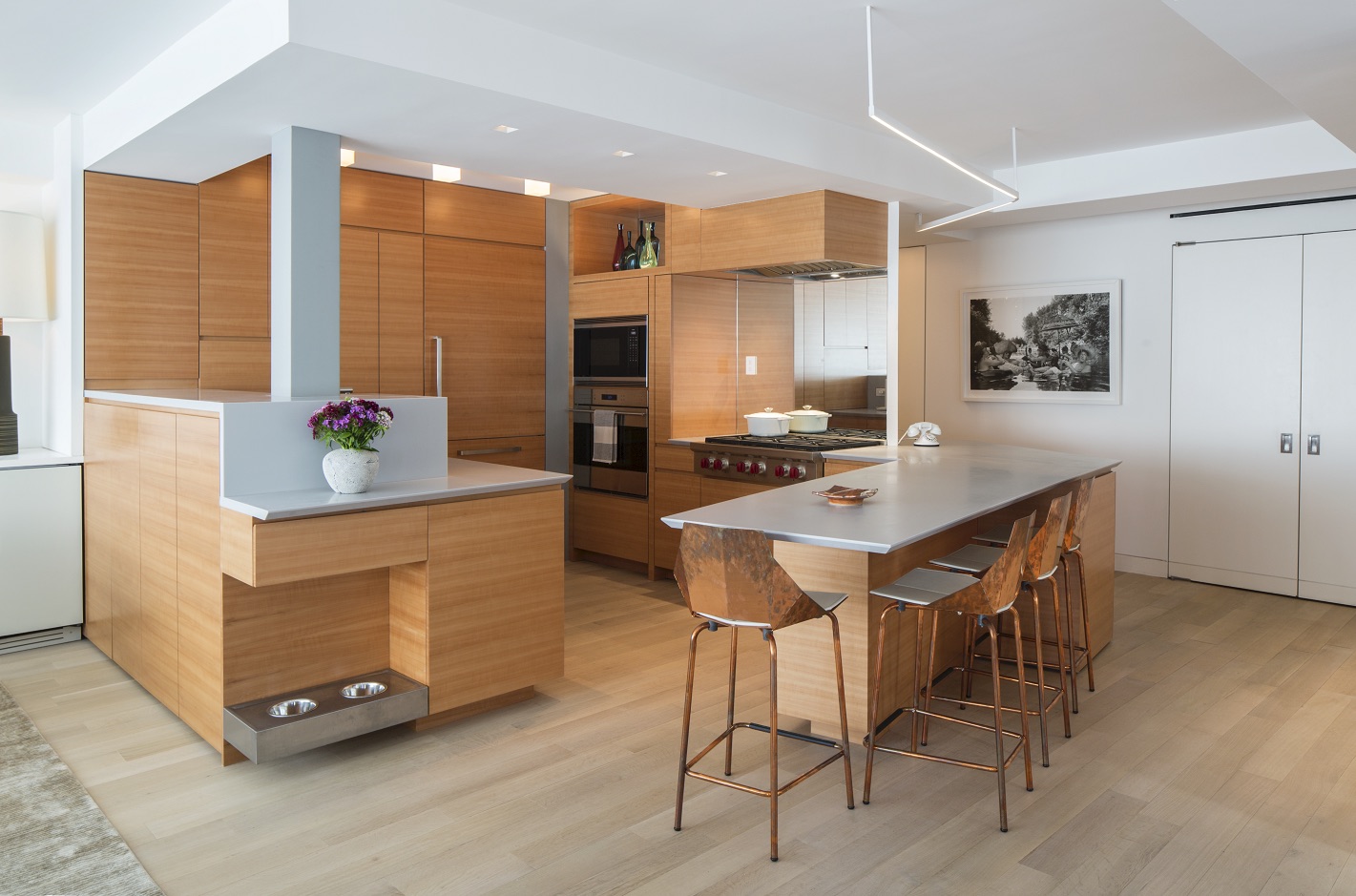 Include a built-in feeding station
Even if you can't factor in a pet bed nook, odds are you can at least carve out a niche for the bowls—anything to keep them off the floor and out of the way.
"We've made it a staple in almost all of our private residences to properly integrate the dog bowl feeding station," says Matthew Bremer, AIA, founder and principal of Architecture in Formation, a NYC-based full-service architecture and design firm. One recent example includes the Greenwich Village apartment combination (above).
Other ideas include putting the toe-kick area or lower drawer of kitchen cabinets to work as a custom pet station that you can pull out only when needed—you'll still need to provide 24/7 access to another water bowl. 
Bremer for instance designed a nifty Corian drawer that pulls out and retracts to be fully concealed, with room for dog food storage within the drawer behind the feeding station.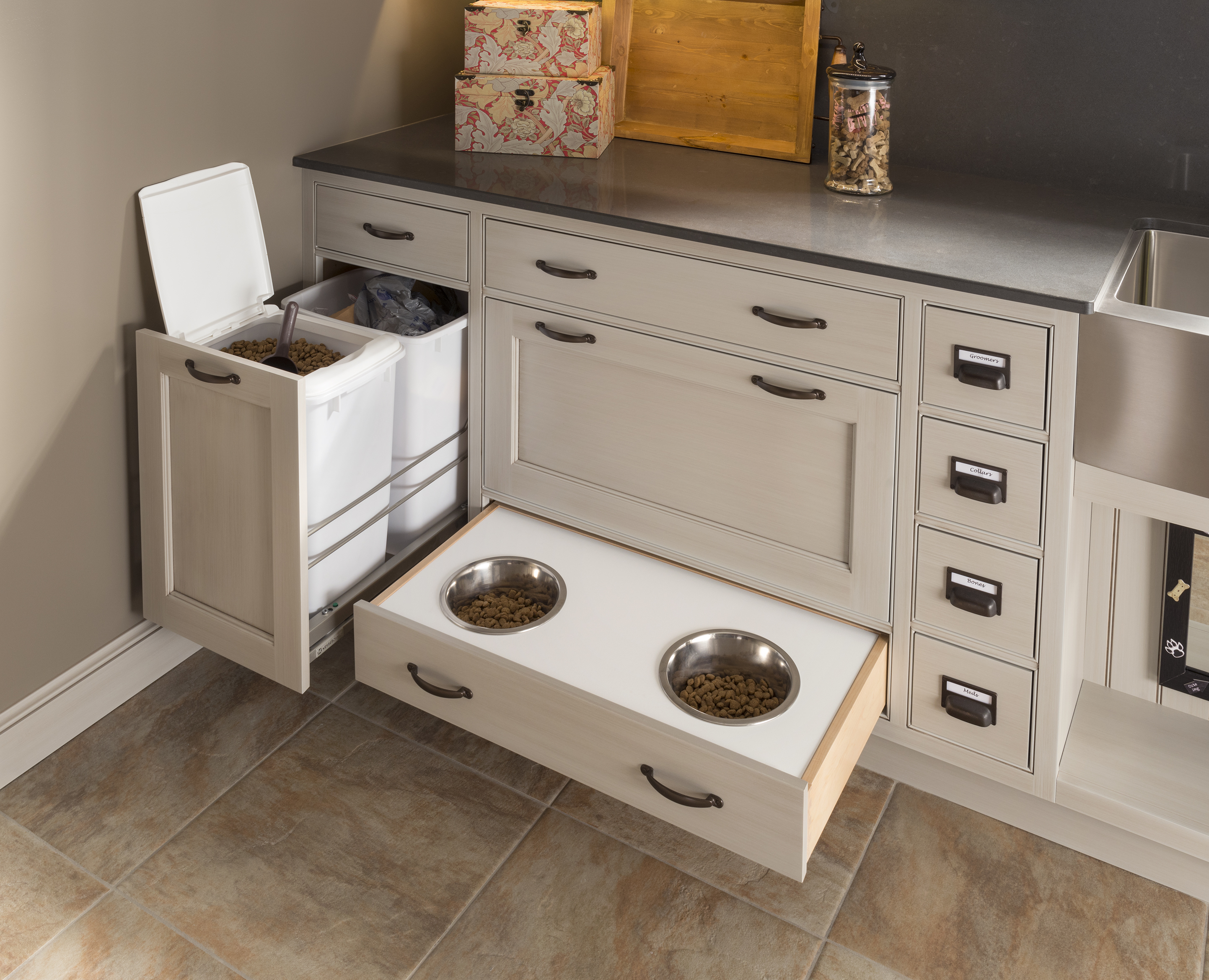 You can even go all out by creating a "pet parlor" such as by PA-based Wood-Mode Fine Custom Cabinetry (above). It features both a feeding and grooming station, ample storage, and a pet water fountain (not shown).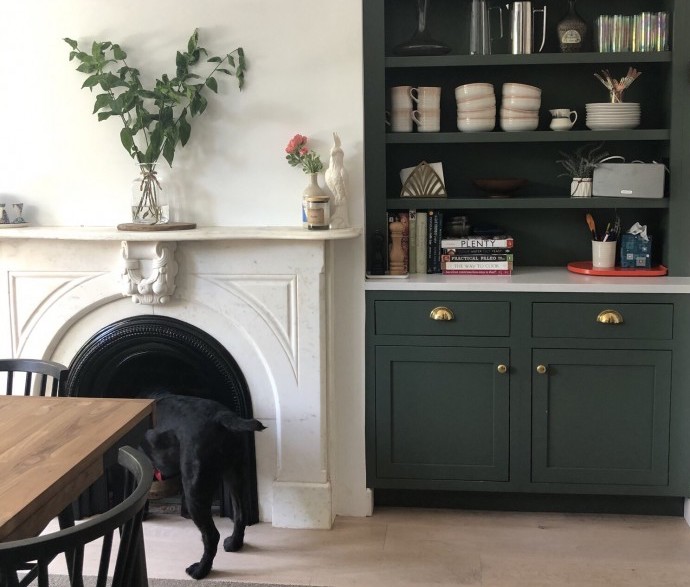 And here's an aha! moment: A fireplace (no longer in use!) makes a natural nook for pet bowls or beds, as in the eat-in kitchen of a Park Slope brownstone (above) by Park Slope Kitchen Gallery (above).
Should none of the above work in your space, elevated bowls (like this modern bent plywood model) make it easier to keep the floor underneath clean. Or go with a wall-mounted (aka floating) pet feeder.

Integrate the dog crate
Those institutional-looking crates can be a necessary nuisance, but there are ways to make peace with them. You can find matching covers and inserts (like the Jax & Bone Crate Cover Up Set in indigo linen from Mark & Graham; $199 for medium) to soften the look. But the crate will still have a footprint.
Better yet, Barker is building a crate into some cabinetry "so it's not this object floating in the space." The sliding doors will mostly be open and then have an attractive mesh screen so it looks more like a piece of furniture than a cage sitting in your room. 
In a similar vein, Kimberly Handler, principal of Kimberly Handler Designs in Greenwich, CT, built a custom dog crate with brass wire mesh into the lower portion of a freestanding wall of shelves that also serves as a room divider. 
"Not everyone can afford to go this route, so no judgment for having a crate out in the open," Barker says. 
Just look for stylish ones that do double duty as a side table or a plant stand; there are lots of modern wooden crates in a range of prices, such as by Fable ($395) and Rock Star Puppy ($1,299). 
(For other pet bed ideas, check out Brick Underground's "Stylish pet beds that will look good in your New York City apartment.")
Hide the litter box behind a wall
Oh the ongoing challenge of dealing with the kitty privy. The usual m.o. is to put the litter box in a laundry room or bathroom with a cut-out in the door for the cat to gain access. 
But as Nathan Cuttle, principal and design director of Studio Nato, a Brooklyn-based design firm, points out, those cut-outs are not that aesthetically pleasing. What's more, if you decide to no longer keep the litter box there you either have to live with a kitty cut-out in the door or to replace the door entirely. And quality doors don't come cheap. 
Instead, for a clean and contemporary way to contain the litter box, he cut a hole in the wall that leads to the pantry (complete with a trash shoot) where the litter box is kept.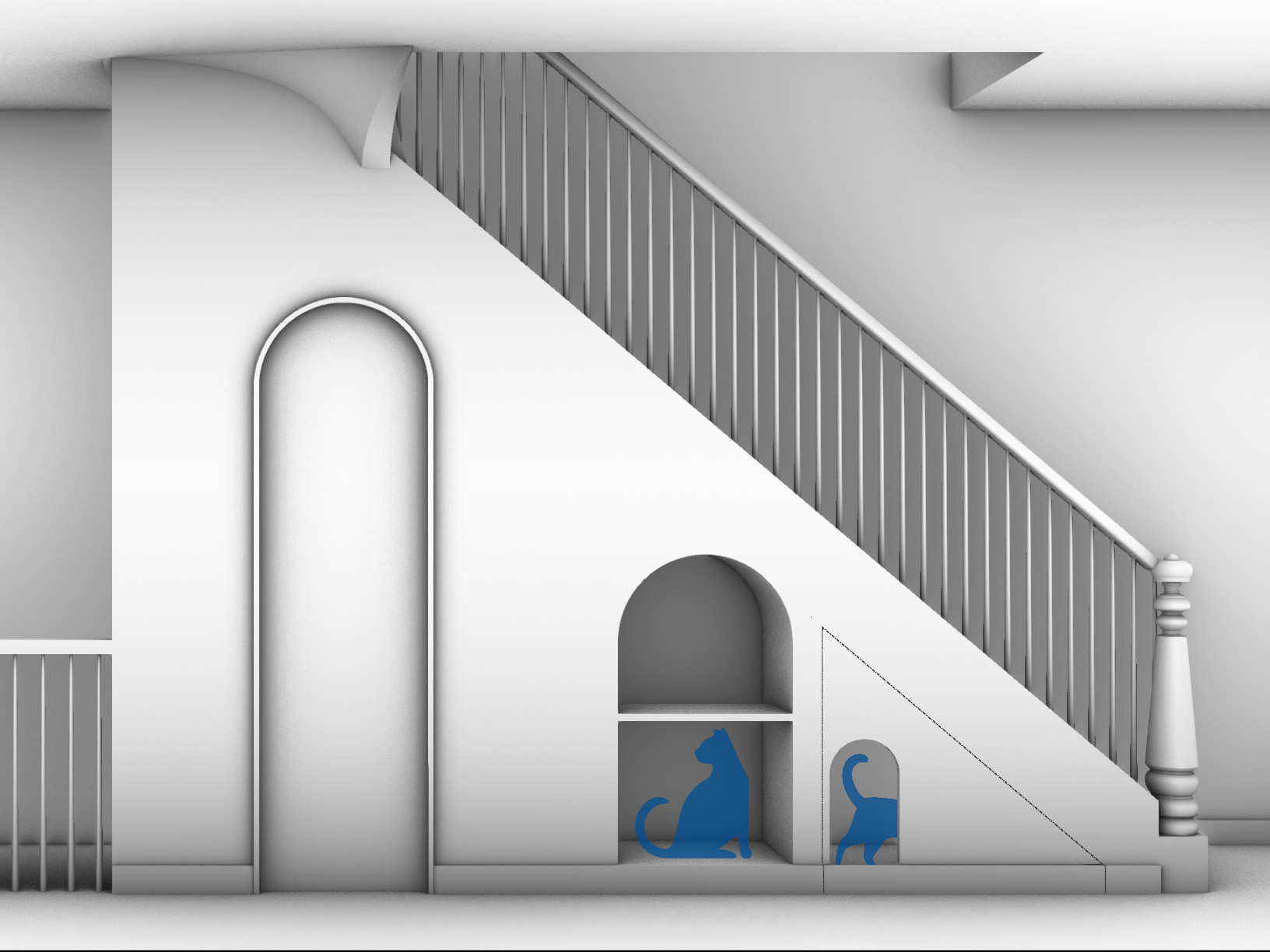 For a current project involving multiple animals and two young kids, Barker is making use of the triangle under the stairs—an often underutilized space—for a litter box nook at the narrow end and a separate cat lounge area. (There is also a human bathroom at the taller end.) About 90 degrees from there is a window seat for people to hang out. "In this and other ways I am trying to create spaces that are scaled for everybody," she says. 
Carl Shenton, principal of Shenton Architects, credits the owner of a modern penthouse apartment on Fifth Avenue with the idea of hiding the cat's litter box within a custom cabinet off the hallway (above) that had a door with a cut-out. "It was an interesting solution that I would not have thought of without the client's input—a way to keep the new, wide plank oak flooring free of clutter," he says.
Short of doing custom millwork, you can also find spiffy furniture pieces in which to hide litter boxes on Etsy and from Tuft+Paw (the owners are cat parents).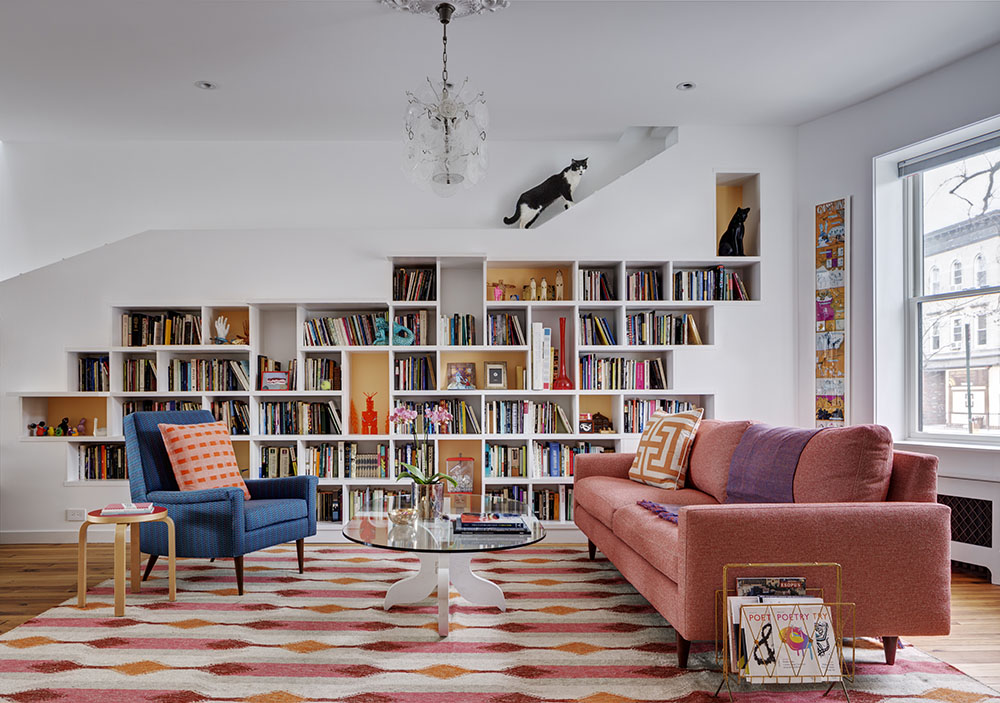 Build a cat 'climber' into a bookcase
If you are looking for an alternative to those carpet-covered cat trees from the pet store, try this seamless solution: Integrate a cat's climbing habit into a bookcase. 
For the book-loving clients of a Brooklyn rowhouse who wanted to accommodate their two shy but inquisitive cats, Barker devised a wall-long bookshelf that borders the 20-by-50-foot parlor floor living area. The units are configured around what she calls cat circulation routes, with holes in some of the shelves that the cats can climb through to reach a continuous open ledge—and escape upstairs to get away from unexpected guests.
"Books and cats go so well together," she says. Her whole thought was that if there were no cats there you wouldn't realize it was for cats. The owners apparently agreed: They told her: "We'll see if the cats like it, and if they don't, it's still a great bookshelf."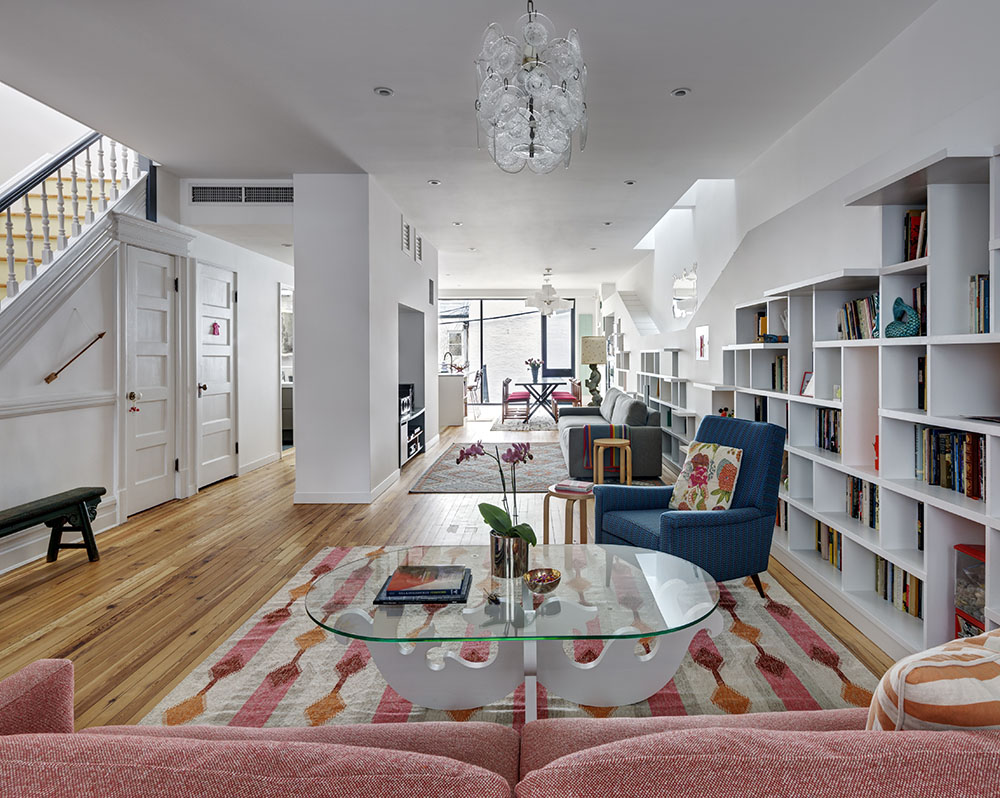 Barker says they spent a lot of time figuring out what material would allow the cats to climb the sloped surfaces, which provide access to the upstairs at either end. She ended up installing thin wooden strips—like what you do for ramps in chicken coops. "Those work perfectly," she says.
Cuttle took inspiration from Barker's bookcase when he was approached by the owners of a brand new Prospect Heights penthouse (aka Bengaltopia, shown below and at top). The young family of three owned a pair of Bengal cats (a much more active breed apparently) and were concerned that if the cats were bored they would destroy everything. "So we needed to find fun ways for them to move around the space and stay active," he says.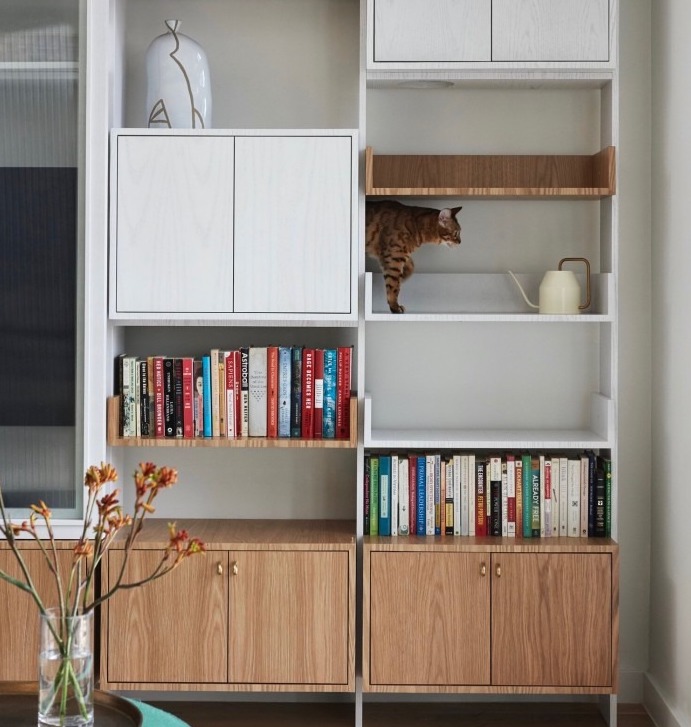 They also didn't want it to look like a cat project per se—the goal was also to hide the TV. So after studying the cats' behavior and determining how high they can jump (answer: six feet), he designed a custom media console for the double-height space in the living room such that the cat can jump onto a shelf and enter into a cabinet, then pop out of that cabinet and eventually reach a mezzanine level that goes around the entire space. 
"We were very discreet about how we integrated those elements to keep them hidden and added sliding doors so the owners can control the flow, for example when watching a movie," Cuttle says.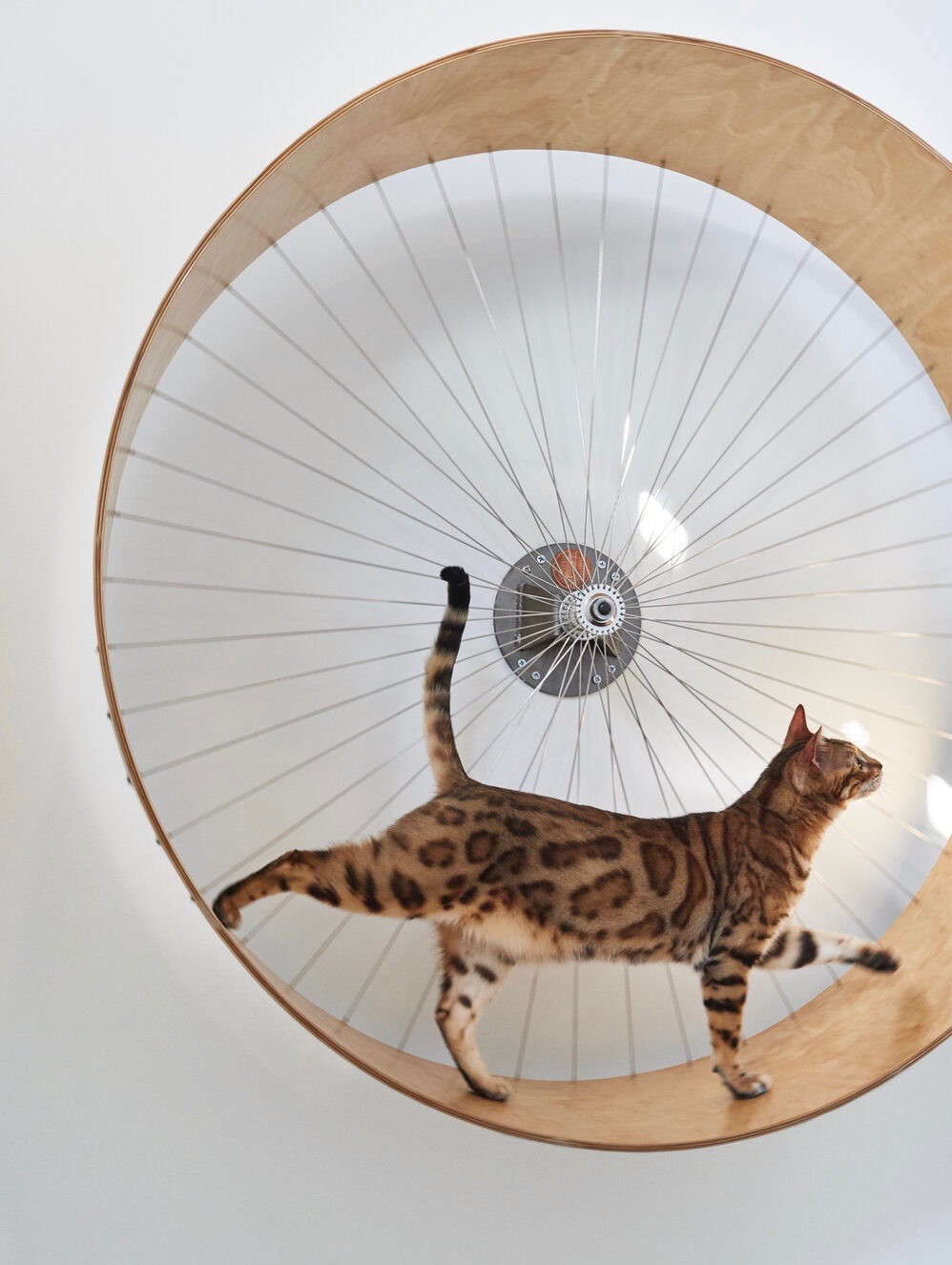 He also designed a custom cat wheel to replace their other one, describing it as almost like a piece of art on the wall that you can see as you walk up the stairs. 
(Check out the minimalist Hoiru Cat Wheel—at $999, it's not cheap but it is a big step up from the pet-store models.)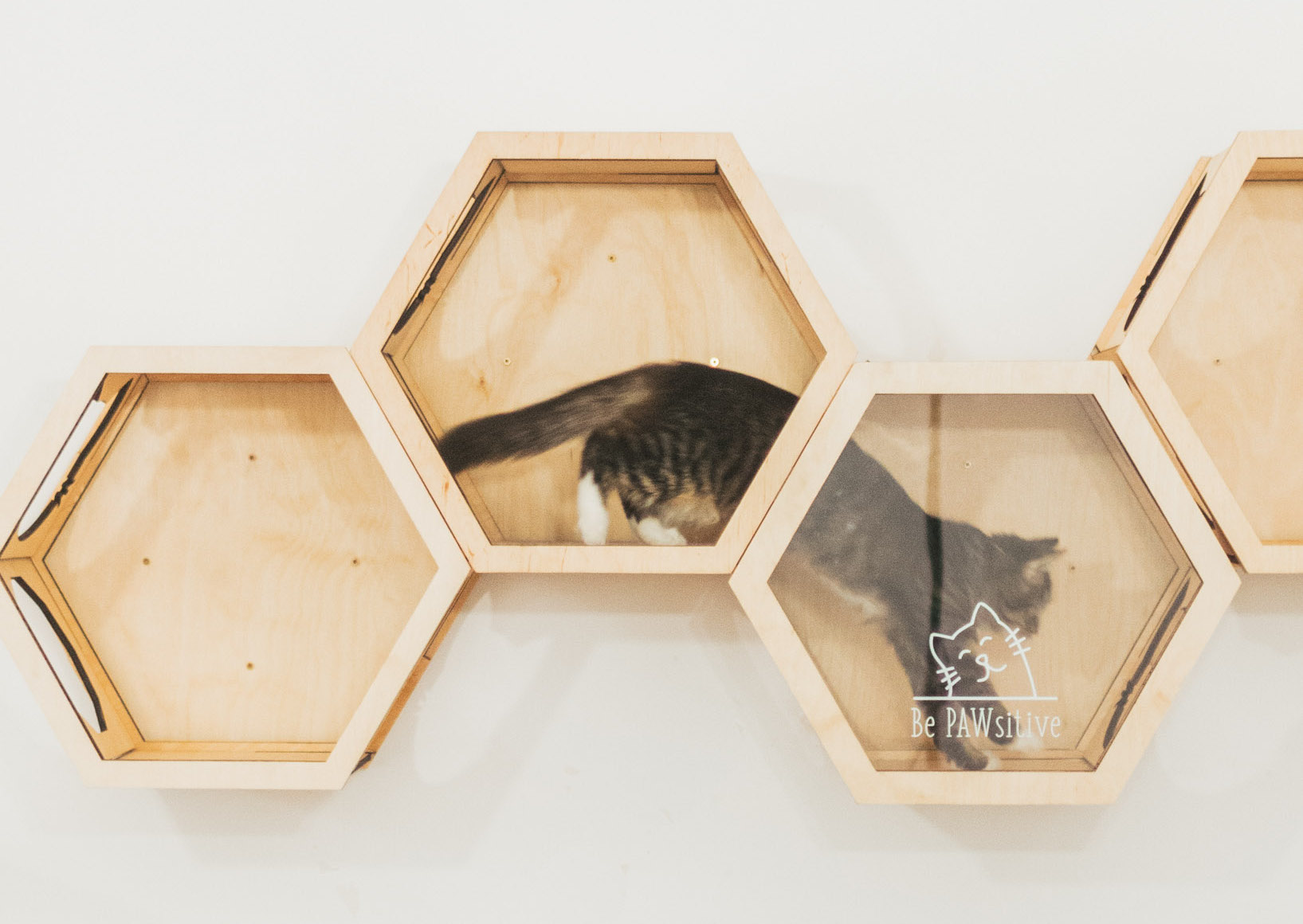 A less-extreme solution is to purchase cat climbers that double as decor, including this hexagonal catwalk (starting at $59) by CatsMode on Etsy.  
Even Urban Outfitters has gotten into the cat game with its multilevel climbing tower ($399).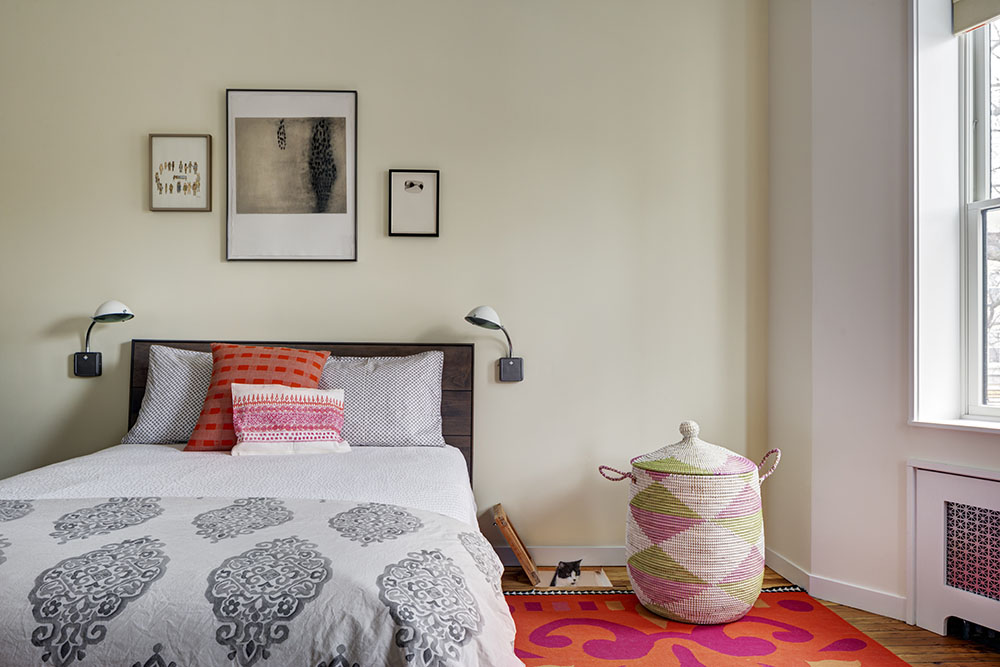 Keep some pet-free zones
It's a good idea to reserve some humans-only areas. You can stash your favorite nubby boucle wool chair here, for example, or entertain guests who have pet allergies (or aversions). 
Barker says the owners of the Brooklyn rowhouse kept the cats from entering the below-grade level; they can also close the hinged trap doors that lead from the sloped ledge whenever they want privacy in their upstairs bedroom (above) or artist studio.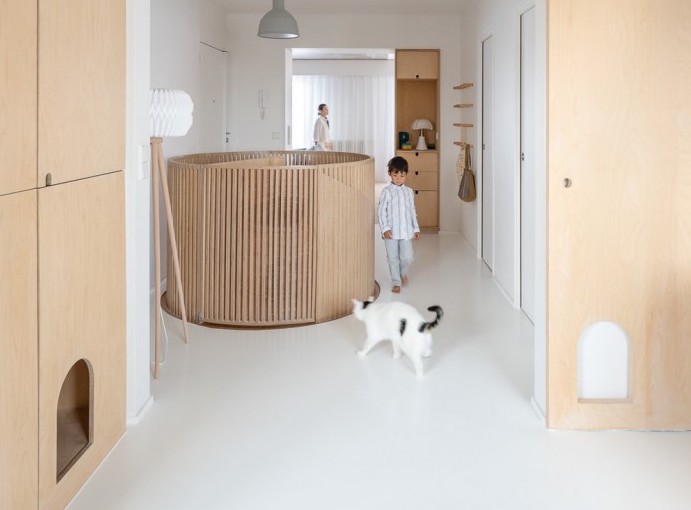 For a young family in Paris, SABO, an architecture and design firm with offices in Brooklyn and Paris, designed the two-level apartment such that the cat is allowed free reign on the main floor but is blocked from the bedrooms below by a curved door in the wooden spiral staircase (above). Small openings within the built-in birch plywood partitions and cabinets allow the cat to easily pass through even if the kitchen space has been closed off (below).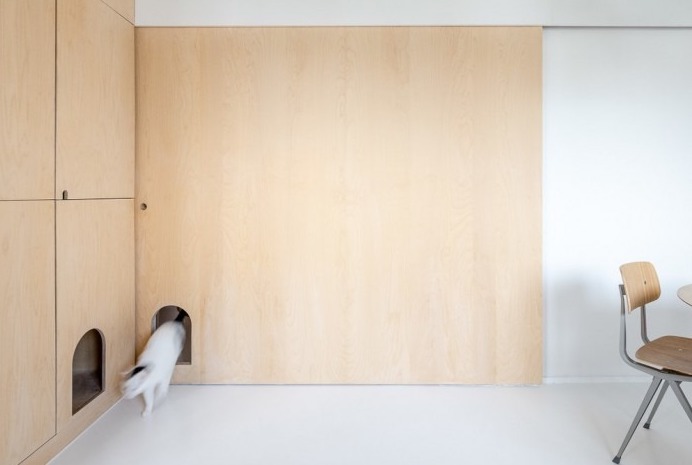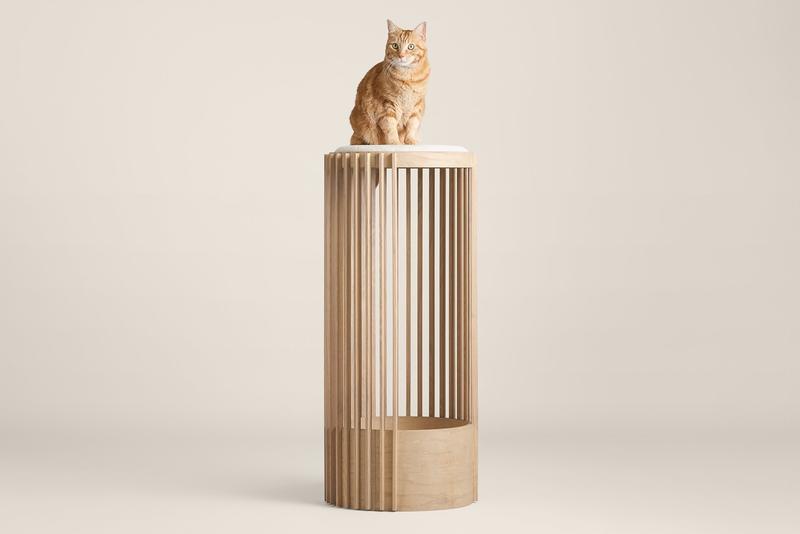 Et voila! The Grove cat tower ($599) with comfy perch is like a scaled-down version of those swell stairs.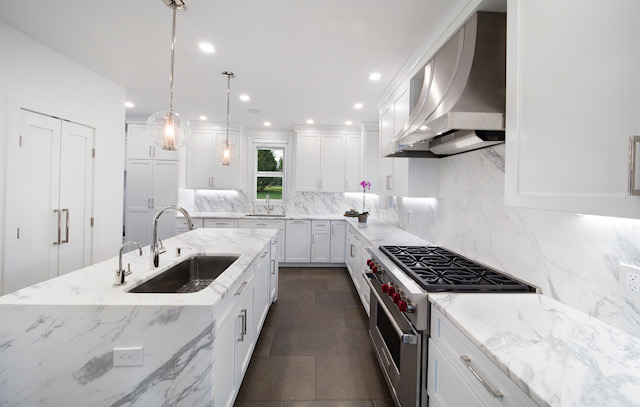 Be mindful of materials
Nothing is 100 percent pet proof, but the general recommendation is to look for materials that are easy to clean and can stand up well to paw scratches from prowling felines and counter-surfing canines.
The spokesperson from Wren Kitchens says that its quartz worktops are scratch and stain resistant—perfect for prowling felines and counter-surfing canines. (Read more about quartz and other alternatives to natural stone.)  
Michal Abehsera, architectural sales representative for Artistic Tile, a NJ-based purveyor of high-quality stone, says she will usually steer people who are super nervous about pets—or who want their homes to remain impeccable—toward porcelain tile because it is impervious to liquid. (It is also budget-friendly at around $10 per square foot.) You can choose porcelain that is made to look like wood or stone. She says Foundation Grey Field Tile, Balkan Beige Field Tile, and Beach House collection are especially good for homes with pets. 
Otherwise, she and all others interviewed here advise not to shy away from using marble or other natural stone if that's what you truly like. As long as it is sealed it will buy you time before you have to wipe up accidents or spills so they don't penetrate. (The general rule is to have it resealed every three to five years, though Abehsera says many people don't do that.) Plus natural stone can be refinished and restored down the road, whereas Abehsera finds that porcelain tile is often tied to trends and gets ripped out after about five years. 
Abehsera herself got a pandemic puppy and was concerned that he would ruin the limestone floors and marble surfaces (all from Artistic Tile) in her own kitchen (above), but despite the usual potty-training mishaps, she says they are free of stains. "Natural stone is beautiful and you can really appreciate how it ages over time," she says.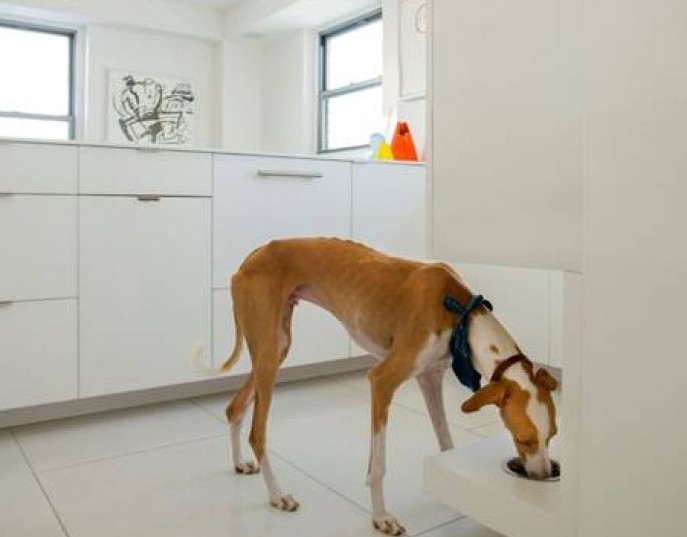 Bremer is big fan of the 18-by-36-inch terrazzo tiles from Stone Source ("I love them!"), which he put in the kitchen of a Grand Concourse apartment (above). 
And as you can see from many of the photos, pet owners often draw the line when it comes to sticking to a white color scheme, which does indeed act as a magnet for pet hair. If the shedding is driving you to distraction, go with a mid-tone or darker shade; a multi-colored stone will better hide that than a solid shade.
Know that polished and honed materials such as marble and granite are more easily scratched, while slate and limestone have a rougher texture and will better mask those marks.
When using wood flooring—after all, it's timeless and at least for townhouses the authentic choice—you'll want to consider the type of wood. Barker put walnut flooring in one project and that ended up a big no-no. "I didn't know they were about to adopt a pitbull so when I went back it was all scratched up," she says.  
Maple is harder but not you can't stain it and it doesn't have that pretty figure like white oak, which is Baker's go-to flooring. Besides, you can always put down coverings—though her new kitty likes to sharpen her claws on them. (More on textiles below.)
Two options that are touted as particularly pet proof include luxury vinyl flooring (LVF), available in both planks and tiles to replicate the look of wood and stone. According to Manhattan-based Sota Floors, you can simply replace a damaged plank or tile rather than the entire floor. The new breed of laminates is also billed as standing up to scuffs and scratches (and come with a 20-year warranty in case your pet goes to town).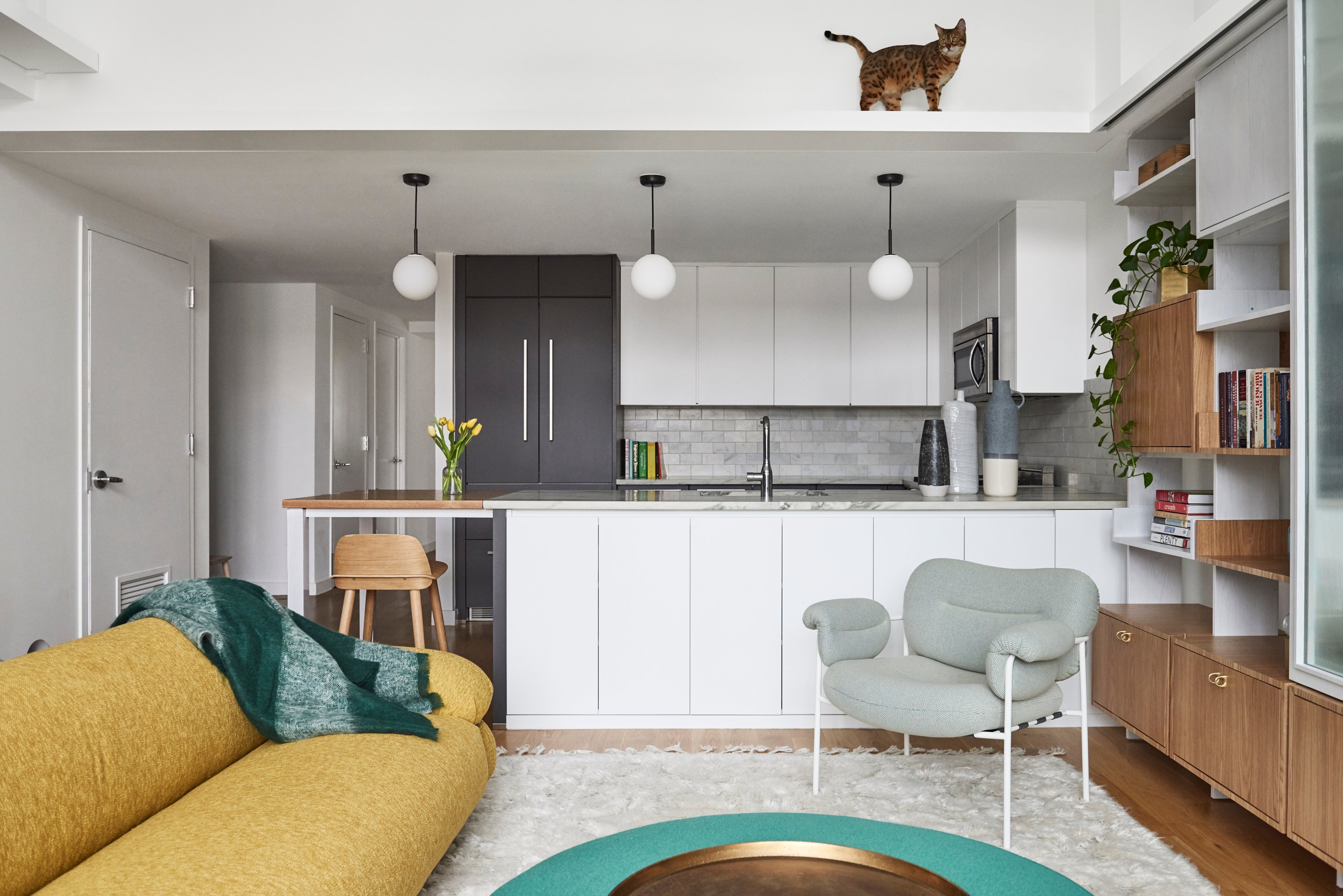 Choose textiles wisely
Rugs and upholstery are always a challenge, especially with cats and young puppies. 
Barker (a cat owner herself) says her default is leather because it is easy to clean and practical. It is also less attractive for scratching, though marks are inevitable. "The first scratch is something you want to cry over but after the 500th it's like, 'look at this texture!' That's similar to my whole countertop argument—live with the scratches."
Cuttle says his intention for the Prospect Heights project (above) was to deter the Bengal cats from pulling everything apart, as the high-end furnishings included a mix of contemporary and vintage pieces. So no poufs or throw pillows that look like a yarn ball, or thicken woven stuff that cats can catch their nails on. The tighter the weave the more resilient it will be—think felt, chenille, herringbone, and even synthetic velvet, preferably in a shade that's similar to your pet (or at least not on the opposite end of the spectrum); intricate patterns are especially great at hiding any mars. 
So-called performance fabrics are widely available now at the likes of Joybird, Interior Define, and Burrow, which touts them as inherently scratch and stain resistant, Easiest-to-clean outdoor fabrics, such as by Sunbrella, have made their way indoors too.
And what with all the piddles and retching and cat-scratching, floor coverings really take a beating. Consider indoor/outdoor rugs, such as by Dash & Albert, and pet-friendly carpet tiles by Flor—you can swap out just one or two tiles as needed. Cowhides work too.
In the end, you may have to accept the extra wear and tear that comes with sharing our homes with animals. Cuttle's former puppy licked a spot on the rug where someone had dropped something tasty (and undetected) until there was a gaping hole.
But the father of two toddlers keeps things in perspective. "Our spaces are meant to be enjoyed and experienced, and being too delicate about it would be sad," he says. "The home is telling its own story over time, and the cat and the dog and the kids are adding to the story of the space." So sit, stay, and roll with it.
Brick Underground articles occasionally include the expertise of, or information about, advertising partners when relevant to the story. We will never promote an advertiser's product without making the relationship clear to our readers.