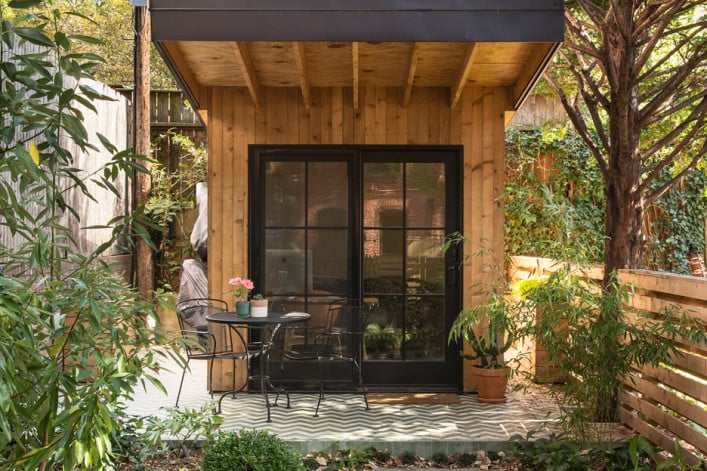 Being stuck at home for over a year has many New Yorkers pining for a space that's removed from everything else—and for the fortunate folks who have a backyard, building a separate shed or studio outside can be the solution.
One Brooklyn couple had dreamed of building something in their backyard for years. The lockdown prompted them to finally take action. 
"We had to do something," says Micheline Russell-Brown, who lives with her family of four in a relatively large ground-level unit of a three-story brownstone in Park Slope. No longer able to commute and travel for work like before, her wife wanted a quiet home office, away from the homeschooling and the sound of Russell-Brown's sewing machine (she's a textile artist). You get the drill. 
So after noticing a new studio in a neighbor's backyard, she did some sleuthing and tracked down the contractor, who put the total build cost at $20,000 to $30,000 for the basic shell (a number substantiated by this reporter). The architect-owner then finished it out on his own for an undisclosed price. Sure enough, you can work with an architect to design a space from scratch just as you would any other addition or renovation. 
Russell-Brown also reached out to a prefab company, who replied via emailed that it did not deliver to NYC, purportedly due to the difficulty in getting access to the yards (and the necessary permits). 
Brick Underground to the rescue! We unearthed real-deal, custom-built studios by NYC architects that you can use as inspiration for your own space—seeing is believing! We also tracked down a handful of prefab companies who indeed deliver to NYC—and without the hassle and expense of hiring a crane. 
---
[Editor's note: This is Part II of a series. Check out Part I to understand the rules and regulations for building a shed or studio in your NYC backyard. You need to know the permitting requirements so you stay on the right side of the Department of Buildings.]
---
Going the custom-built route
It can be hard to spot these hidden treasures unless you know to look for them, but once they are on your radar you will start seeing them—especially in the yards of Brooklyn brownstones. 
The ones here are just a sampling of what you can achieve in a tiny footprint.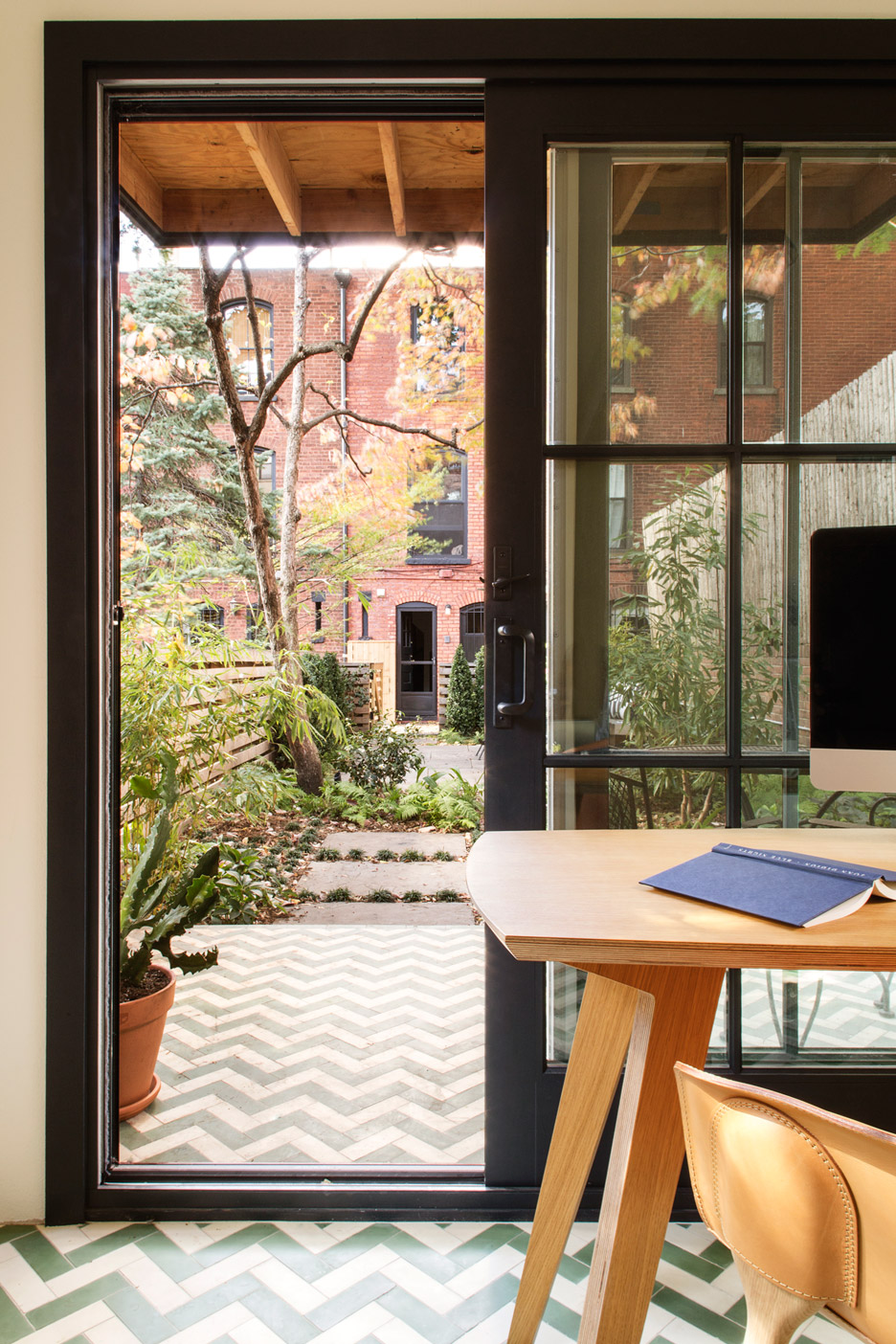 Elizabeth Roberts, principal of Elizabeth Roberts Architects, built a micro writer's studio with an extended eave in the backyard of a Brooklyn townhouse on Warren Place (above; see exterior at top). The sliding French doors provide a view to the garden and help the tight quarters feel anything but, as does using the same flooring inside and on the attached deck, for a neat visual trick.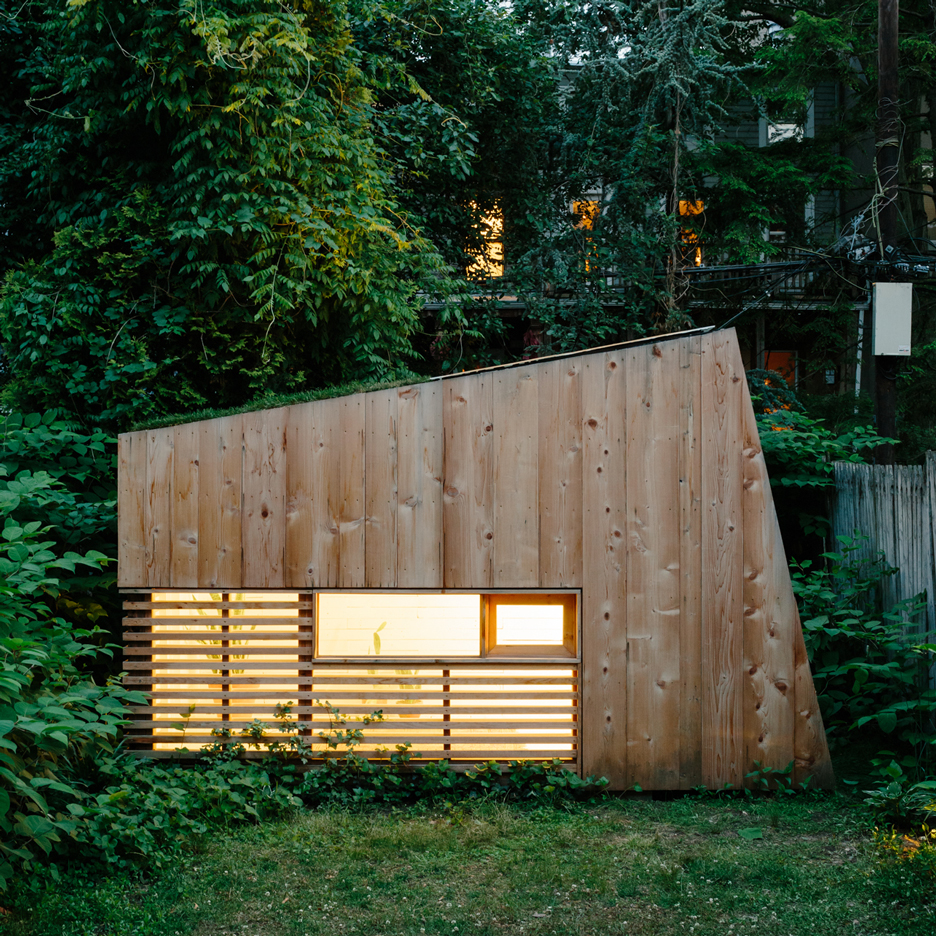 Nick Hunt, co-founder of Hunt Architecture, built a 55-square-foot garden studio in his own Boerum Hill backyard (above) after obtaining approval from his landlord. (He has since moved to Austin, TX.) The salvaged-wood-clad structure was equipped with a skylight and partial green roof (a feature Russell-Brown is hoping for). Hunt says the low horizontal slats offer views outside when seated but block nosy neighbors from peering in. The structure sits on a cinder-block foundation.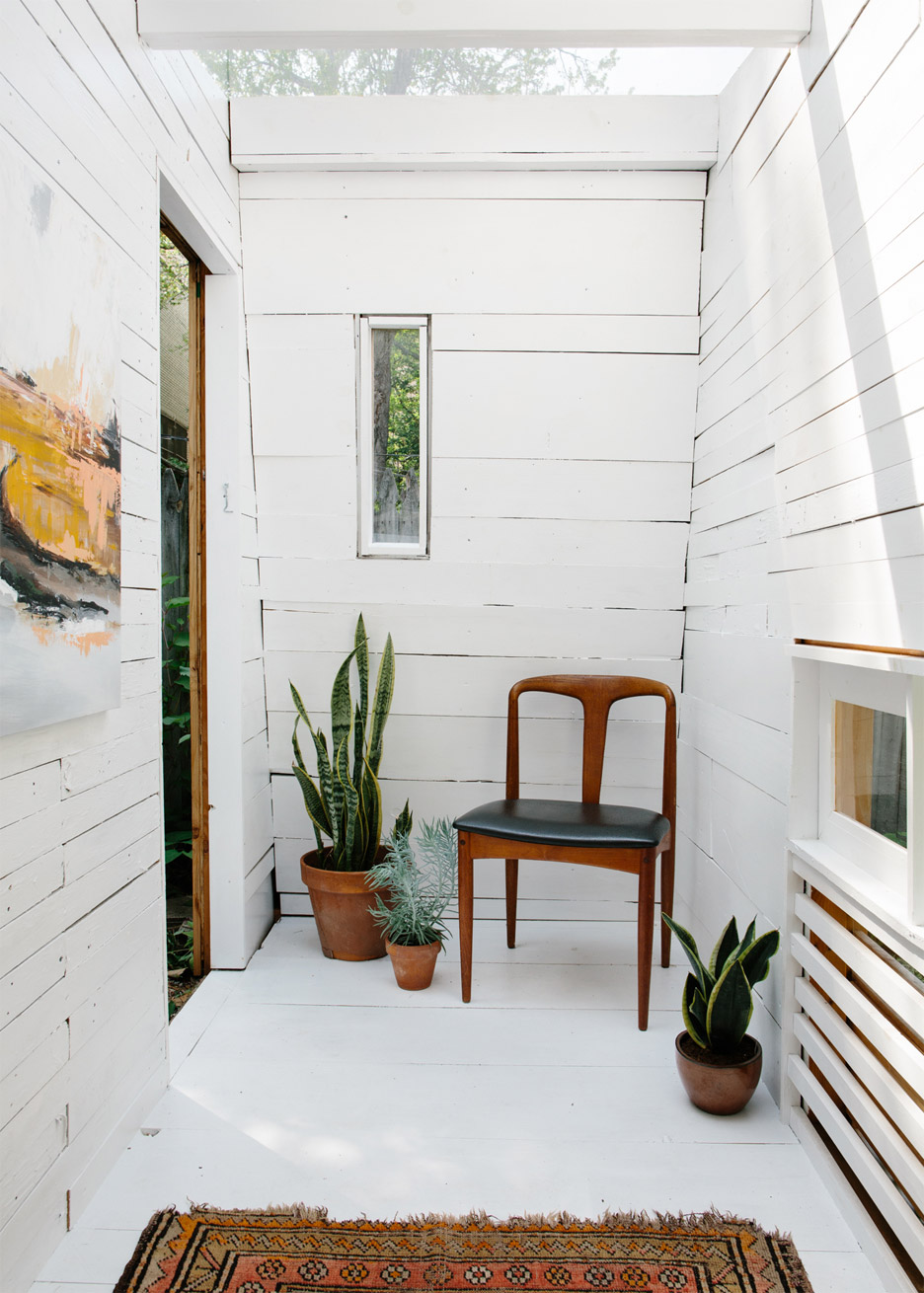 The interior walls are fitted out with old fence pickets, all painted a bright white to keep the scaled-down space bright and airy.
Not all architects are totally on board with adding a brand new studio, however. Alexandra Barker, principal of Barker Associates Architecture Office, says she ended up not doing a backyard addition for one client because it was "a lot of hassle for a small-budget project." The cons for her include making it noncombustible (non-wood) if it is within three feet of the property line and the usual lack of plumbing.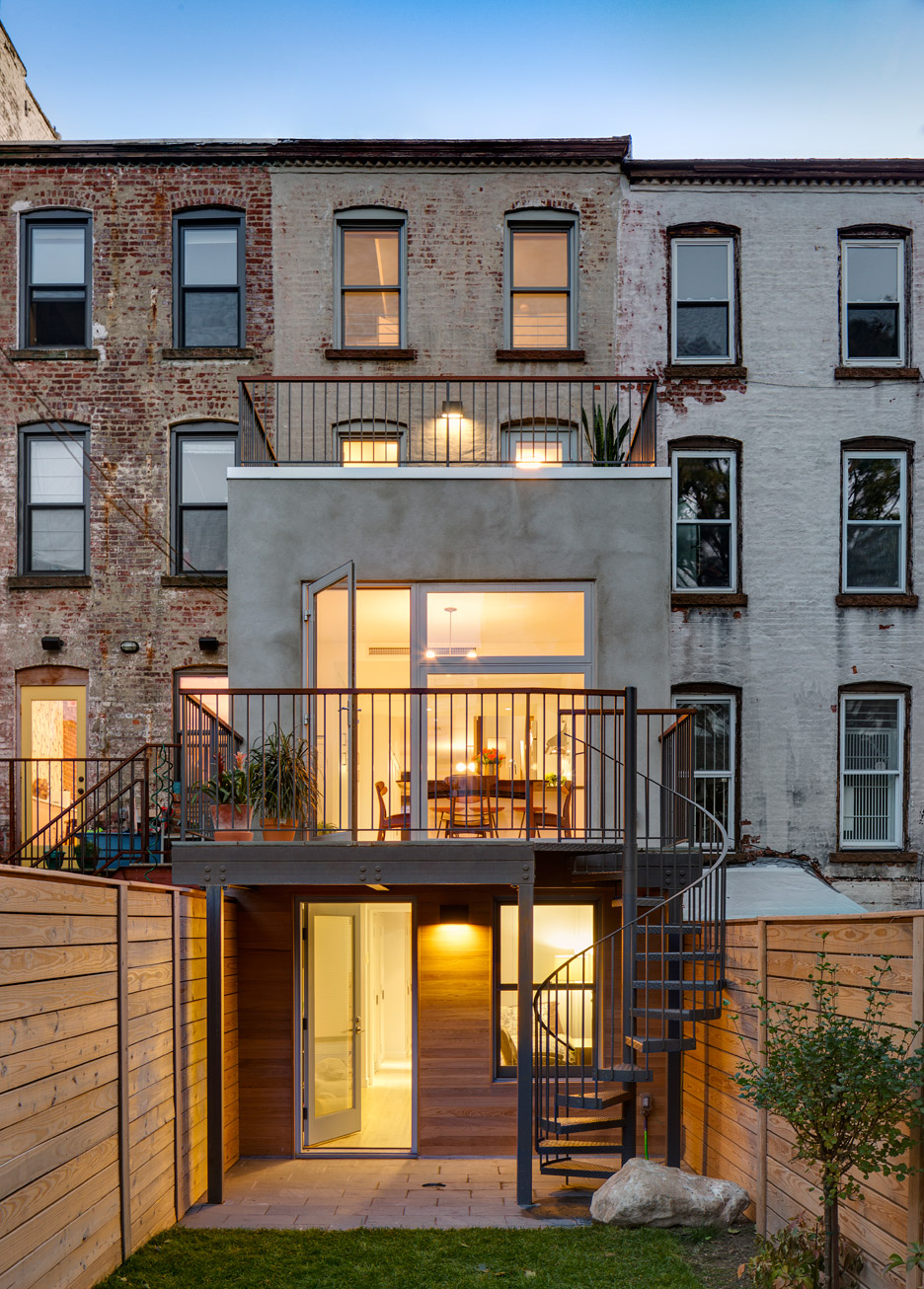 Instead, "you have more possibilities for the configuration of an extension with respect to height, plumbing, size, etc. so I would probably encourage doing that instead of a shed if someone was weighing the two options," she says. For example, the extension of a Brooklyn brownstone (above) overlooks the garden and is flooded from light from the expansive glazed glass.
That said, Barker is in the process of converting a former storage shed into a home music studio for another client, thereby putting an existing structure to better use.
Trucking in a prefab studio
For such pint-size spaces, prefab sheds and studios come in a wide range of styles—most companies offer custom options like cedar or metal siding, transom windows, double-slide doors, skylights, extended eaves, and roof designs.
By no means exhaustive, the companies here (in alpha order) all confirmed that they deliver to NYC. Some even handle the installation, sending along their own crew to do the work. For the rest you will need to hire a contractor and licensed electrician—plan for a week to do that job to the tune of $15,000 or more.
In all cases what's being shipped are flat-packs of the prefabricated parts rather than the pre-assembled structure and are able to be carried by hand. After placing your order, you can coordinate with your sales rep to determine how best to get the panels into your yard—whether that's through a gate or walking them through your home (it's happened). 
Most structures are designed to sit on grade (level) ground, but some require a slab foundation; you will need to handle the site prep work before taking delivery. Most also come with heating and cooling options; for those that don't you can go with a mini split ductless system.
Unless otherwise noted you will be responsible for obtaining any necessary permits, though all companies will work with you to provide the specs and other documentation.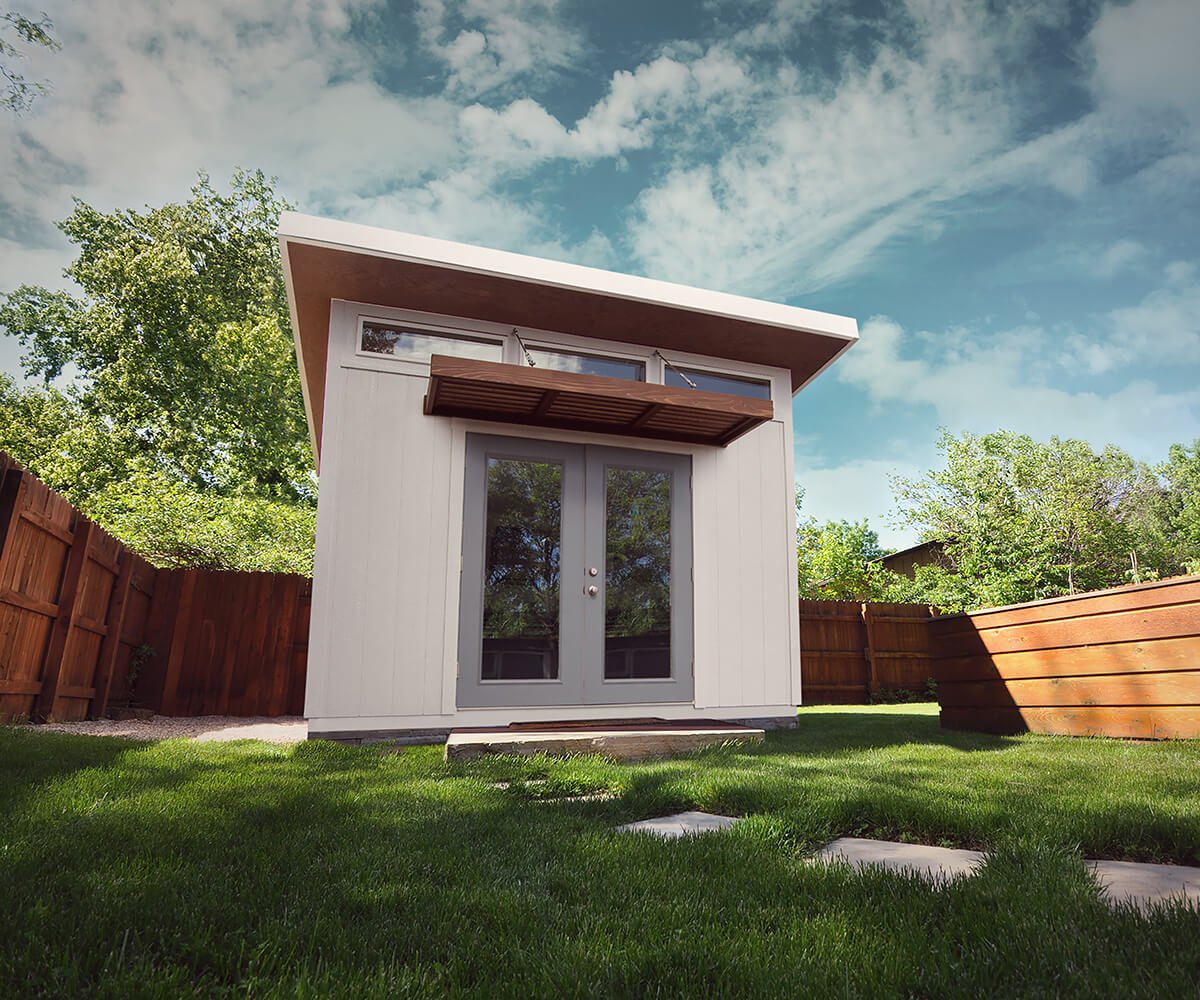 The starting price for its 12-by-8-by-10.5-foot Studio Office Shed (above) is $11,999 primed or $12,407 painted, depending on your choice of custom options. You can tack on a "permit package" whereby they obtain all the necessary state and local permits for an additional $299 (a veritable bargain given NYC's labyrinthian process). 
The interior is only finished to the studs. So once it is installed you will still need to work with a local contractor to finish it to your liking with drywall or sheetrock or other wall material. 
A marketing manager confirmed that delivery and installation are included in the purchase price within 50 miles of a servicing branch, which for NYC would be Deerpark, NY. The company sends its own team to carry all the pieces by hand. A concrete slab is recommended but not required so long as the ground is level within 6 inches; you can purchase a leveling package for $139 if necessary.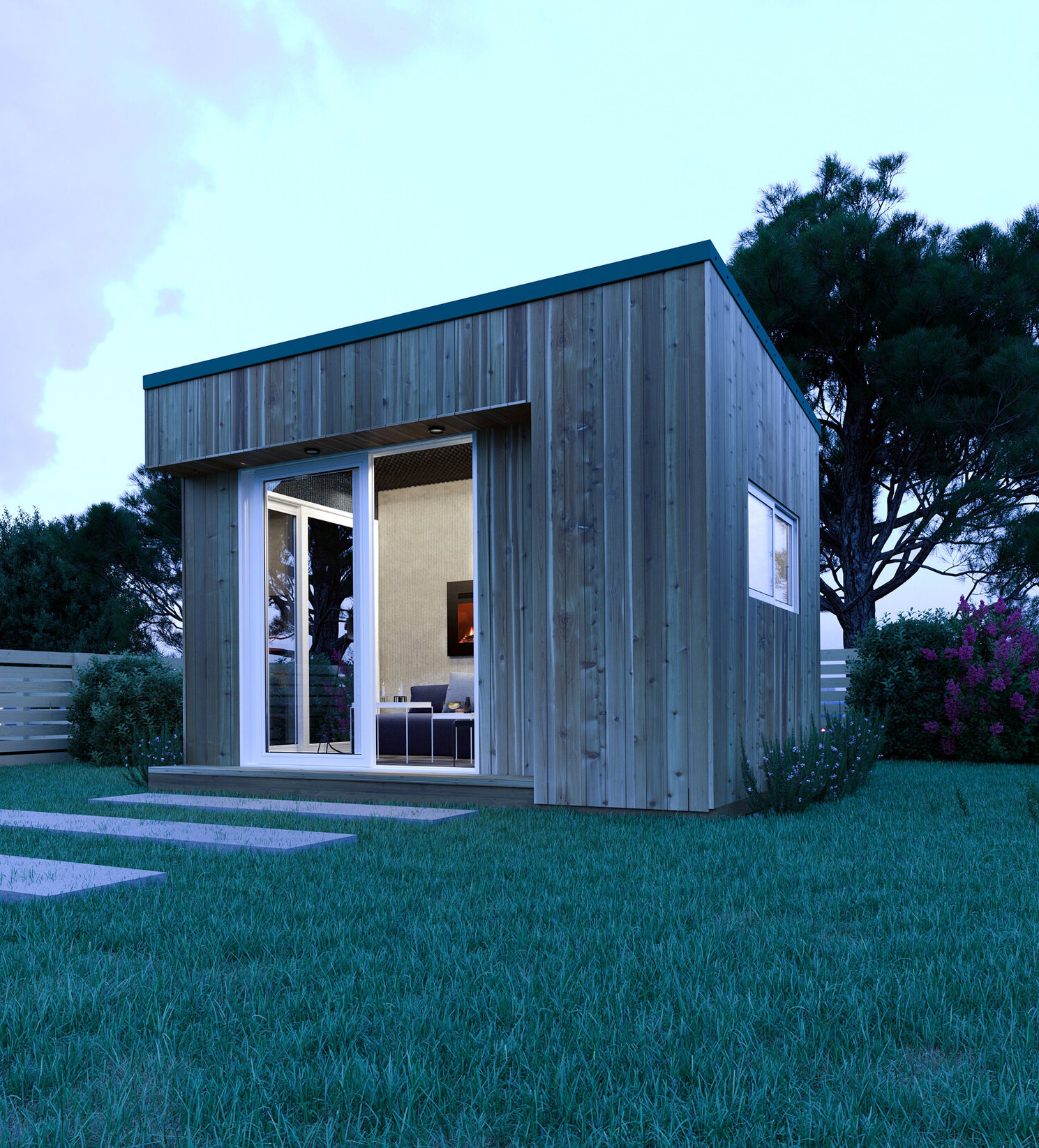 Founder Peter Oriolo says the company shifted from tiny homes to a new branding focus on turnkey home offices with the shift to working from home last June. "Tech companies are not going back," he says. The first three models were shipped to Easthampton and upstate; nothing yet to NYC but there's no reason why you can't be the first.
Its primary product is a fully finished, preassembled 12-by-8-by-9.6-foot pod called The Twelve that takes one hour to install. That pod weighs two tons and is usually hoisted by forklift or small crane but the company also offers precut pods that can be assembled on site. The list price for both is $24,900 and includes A/C and electrical heating. (Oriolo explains it takes as much time and effort to shrink-wrap all the different parts as it does to do the pre-assembly.) 
Delivery for the assembled pod is around $2.50 per mile from Mt. Pleasant, MI and 25 to 30 percent less for the unassembled parts. You will need to have your own contractor do the installation (no foundation required). 
These can also be installed on your roof, if that's your "yard." The unassembled parts are carried up the freight elevator! (Sorry, no walkups.)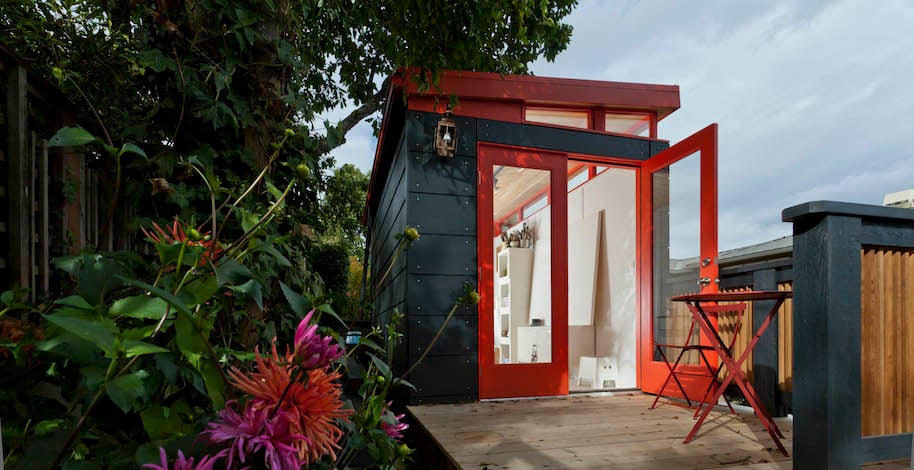 According to general manager Timothy Vack, the most popular options are the 10-by-12-foot models, which have an average price of around $30,000. The company also offers small (8 foot, above) and large (12 foot) studio sheds. Pricing varies widely depending on design options—for example, you could choose a $20,000 folding door which would almost double the price of the shed.
Also, when it comes to the cost of installation, "the larger the structure, and the larger the windows and doors, the more challenging it will be—exponentially," Vack says.
Delivery is currently around $1.80 per mile but Vack sees that going up as fuel prices continue to rise. You will need to hire your own crew to do the installation (a foundation is not necessary if you go with the optional panelized floor system). Vack say backyard access can be challenging, but sometimes it is possible to make the panels smaller and easier to hand carry. (He counts having to use a crane only a couple times and only for the larger units.) 
According to the website, Modern Sheds are 100 permittable in NYC and your rep will work with you to customize the structure to meet NYC requirements.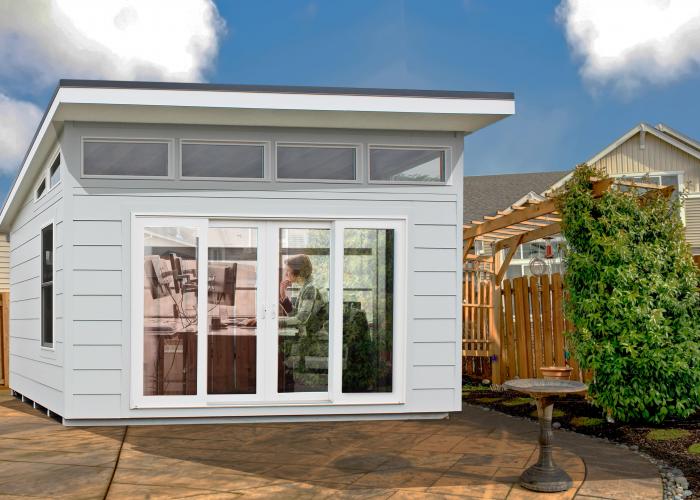 A spokesperson for this family-owned Amish-Menonite business out of PA says it has installed many sheds and studios in NYC before (even more on Long Island), sending its own crew to do the assembly as most need to be built on site and will be priced out depending on your options and site specs. (No foundation is required.)
The Modern Studio 1 and Urban 360 models come in three widths (8, 10, and 12 feet) and lots of different lengths and therefore pricing, ranging from $9,617 to $28,434. The one shown above has a starting price of $20,172.
As with Heartland Sheds, the interior is only finished to the studs and you will need to have a contractor finish the job. 
Expect to pay between $600 and $700 for delivery and to tack on an additional 35 to 40 percent of the base price (listed on the website) for the installation.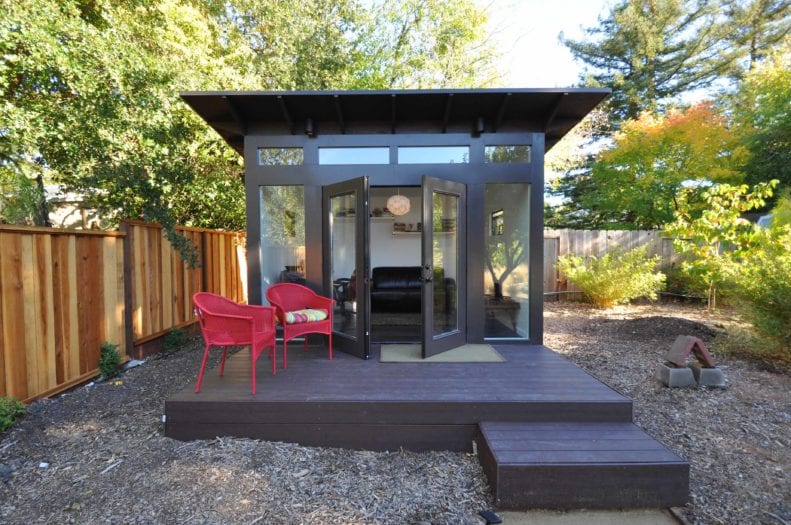 The Signature Series is a quick-ship model and can be shipped as soon as four to six weeks. Rates would depend on model and size but prices start at $10,910 and go up to $22,895 plus delivery and installation. 
Founder and creative director Jeremy Nova says the company has shipped a variety of different models to NYC and has qualified installation partners there. The flat-packed panelized kit is designed to be handled by a two-person crew.
"We have done installations requiring creative ways to get panels into the backyard, including carrying the panels through the house as the lot was only 18 feet wide and there was no side access to the yard." (It has also been able to carry the panels up the freight elevator for rooftop installations.)
Delivery is quoted as a flat rate by zip code depending on the size of the studio; you can also get an individual quote if specialized handling is required.
Nova says a typical all-in cost (including delivery and installation) would be $25,000 to $30,000.
Studio Shed products are designed to be placed on either a poured concrete slab or installed with a self-supported joisted floor system similar to a deck.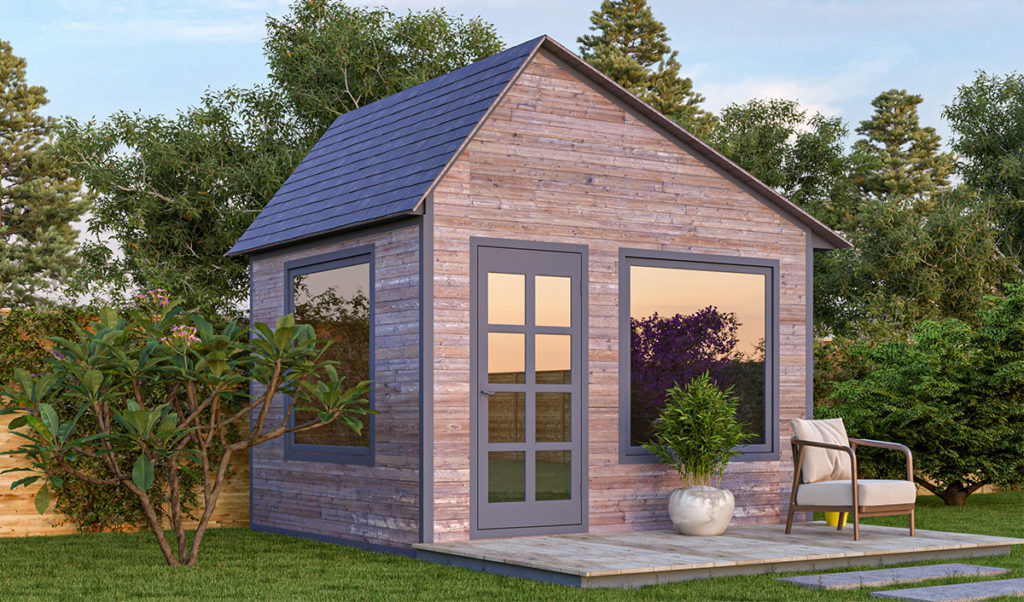 If you're the DIY type
You can get free plans for dozens of different sheds—including five office sheds—from Shed Plans, which also offers a "premium" package for $25 to $30 that streamlines the process with material and tool lists, additional blueprints, and tech support. Sizes range from 8 by 12 feet to 10 by 12 feet; the one above is 10 by 12 feet.
Build it yourself or hire a contractor to do the heavy lifting. Either way, you are saving thousands of dollars on the design phase. And the styles are pretty nifty and stand up to some of the prefab options.
Brick Underground articles occasionally include the expertise of, or information about, advertising partners when relevant to the story. We will never promote an advertiser's product without making the relationship clear to our readers.