Inside Stories
I've been a NYC doorman for 22 years. This is what I think about holiday tipping
Wine or cookies are nice, but a tip in cash is preferred
He suggests $100+ for a doorman, $75 for a super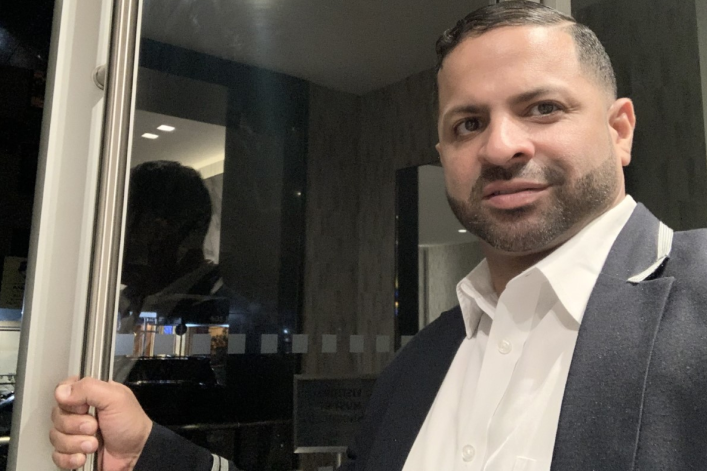 A longtime doorman (22 years!) in a mid-level rental building on the Upper East Side (who asked to be anonymous, for reasons that will soon be obvious) shared his thoughts with Brick on holiday tipping. If you're new to tipping, or wondering if you should up your game, read on for his perspective. For even more detail, check out Brick Underground's newly updated Holiday Tipping Guide.
First, a little about where I work: There are over 100 units in the building, ranging in size from 500-square-foot studios to 1,500-square-foot-plus three bedrooms. The building has a 24-hour staffed lobby with three shifts of doormen who are responsible for manning the door, handling deliveries, and managing the package room.
The daytime doorman gets the packages from UPS, USPS, and FedEx and must write the apartment number on them and then put them in the right cubby in the package room. Then when tenants ask for their packages, or the doorman sees the tenant, they alert the tenant they have packages waiting and hand them off.
The building also has several porters, handymen, and a super who lives on the property.  There is a parking garage on its lower level as well but it doesn't have an attendant. 
---
[Editor's Note: Brick Underground's Inside Stories feature first-person accounts of interesting, real-life New York City real estate experiences. Have a story to share? Drop us an email. We respect all requests for anonymity.]
---
What he thinks of renters who skimp on holiday tips
Out of all the units, I'd say only about three don't typically tip, so less than five percent of residents forego tipping.
One of our biggest pet peeves are people who receive plenty of packages all year long and then only tip $20 or $25. The same goes for tenants who ask for favors consistently, such hold keys for them, be buzzed when the mail arrives, or have their photos taken if they're all dressed up to go somewhere and want a photo for social media.
What he thinks of the very small and very large tips
I think the smallest tip I ever got was $10 and the biggest was $1,000. There are several big families that always give between $250-$500 per staff member each season. 
There's a big misconception about holiday tipping that all doormen make a killing during the holiday season. It's true most doormen make extra tax-free cash around the holidays, but the ones in tony luxury high rises on Park and Fifth avenues take home the real bacon. Those of us in less luxurious areas of the city will make less. 
Another misconception is that anything given to us by residents is a plus because technically tipping is not required. In reality, it is just the polite thing to do, and a bit of gratitude in the form of a tip in cash isn't too much to ask for after a full year of dedicated service. 
What he thinks of alternatives to holiday tipping
While we certainly appreciate a bottle of wine or holiday cookies as a gift, it's still appreciated if a card is attached with a bit of cash as well. 
How to calculate your holiday tip from a doorman's perspective
Most staff members don't care about the tenant's apartment size, how much rent they pay, or how many people occupy the unit. What is most important to us when determining if a tip is good or not is the number of packages received, number of favors asked for or how many nonsensical complaints were made during the year, because sometimes tenants will complain the doorman wasn't quick enough to open the door or didn't send a delivery guy up promptly enough.
A good rule of thumb is that if you think the tip might be too small, it probably is. You'd be surprised what an extra $25 means to us.  
Here are my suggestions:
Super/resident manager: $75-$175
Doormen/concierge: $100+
Porters: $25-$50
Handymen: $50-$75
What he thinks of how renters tip him
Around the first week of December the building usually decorates the lobby and gives each resident a holiday card with the names and titles of all staff members. 
Generally, people will put cash inside a card and envelope and hand it to us. Most tenants prefer to personally hand the envelopes to each doorman. We don't care how we get the tip—directly from the resident or left with staff are both fine. When a tenant writes a note expressing their appreciation, that really makes our day and we go out of our way to offer even better service.
I have lots of stories about tipping—too many to mention. Some of the more outrageous ones include receiving tips for helping residents get dressed—they live alone and need dresses zipped up or jewelry fastened; feeding pet snakes when the owners are on vacation; and "hush tipping."
Hush tipping is a tip to keep silent about a tenant's behavior. Maybe they smoke and they're not supposed to, or maybe they want me to say a tenant isn't home when they are, things like that. A tip is a nice way of saying thank you for keeping mum in that situation. 
Brick Underground articles occasionally include the expertise of, or information about, advertising partners when relevant to the story. We will never promote an advertiser's product without making the relationship clear to our readers.