The results of Brick Underground's 2016 Holiday Tipping poll, like those of previous years, confirms that renters as a group do tend to tip less than owners.
More than half (60 percent) of the 701 renters in doorman buildings who took our poll said they tipped no more than $500 total last year, compared to 40 percent of 371 owners in doorman buildings.
At the other end of the tipping spectrum, owners beat out renters to qualify as Big Tippers by 10 full percentage points: 28 percent of owners in doorman buildings hand out $1,000 or more, compared to 18 percent of renters with doormen.
Here are the results for doorman buildings visualized: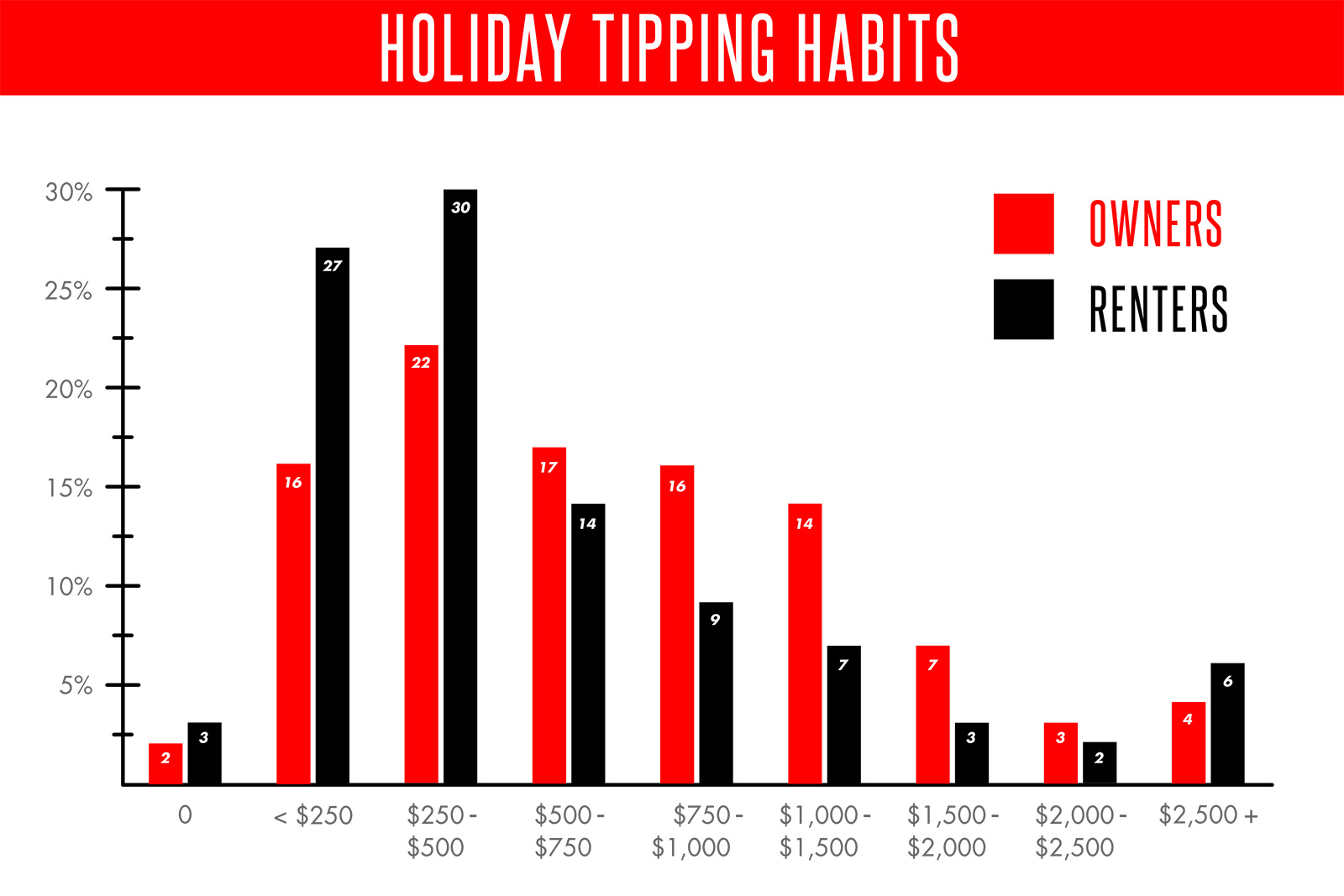 As we've speculated previously, several factors may contribute to the gratuity divide:  
Transience: Renters move more often than owners and may be reluctant to invest much in people they may not know very long.
Wealth: Owners may have more disposable income then renters. 
Renter mentality: Renters may believe that bonuses should be paid by the landlord, whereas owners are the landlord.
Owner mentality: Owners are concerned about property values and may believe that if they take care of staff, the staff will take better care of the building.
We asked New Yorkers in both categories—owners and renters—to explain their views on the renter-owner divide. Here's a sampling of what they had to say:
OWNERS
"We're more inclined to be a little more generous [than renters] because of the permanence of the staff. We have a fabulous staff."-Helen and Neil, Upper East Side
"I think owners feel closer to the people who work in the building."-Anonymous, Carnegie Hill
"I probably tip more than if I rented. Renting is more transient. There is less permanence."-Brad, Midtown
"I tip more now than when I was renting, mostly because when I ask for service I actually get it!" -Jackie, Upper West Side
"As an owner, I certainly tip more. I want them to take good care of the building. When I rented I didn't care... It was a walk-up, prewar rental, and I was a medical resident, so I was just scraping by. It's kind of like, would you tip your landlord if you were a college student?"-Jim, Upper West Side
"As an owner, the co-op meeting included discussions about what the doorman was paid —their salary is part of co-op fees. Because I knew the doorman and was responsible for his salary and aware of his health benefits, etc. I gave it much more thought... because as a shareholder we actually employed him, so I felt more responsibility and connection to the guy."-Rachel, Middle Village
RENTERS
"I think owners are more concerned about good tipping because they'll stay put longer."-Kara, Gramercy
"I'm a renter in the process of becoming an owner, so it's important to make a good impression. I'll tip better than normal this year."-Thomas, Upper East Side
"I don't feel pressured to tip, especially now because I'm moving before the end of the year."-Roger, Gramercy
"I don't think it should matter if someone's an owner or a renter. It depends on the work of the individual. Some are good, some are brain dead. -Walter, Carnegie Hill
"Owners tend to make more money and ask for more frequent services."-Peter, Upper East Side
"Don't owners tip better than renters? I think I tip well, but I'm not sure all my friends who rent also tip well. By contrast, though, everyone I know who owns, tips."-Jane, Upper West Side
"Owners should always tip. When you rent, it's more of an option unless you're a pain-in-the-arse tenant."-Casey, Upper East Side
"I think the main reason renters tip less is just because they're more transient. They don't feel as committed to the building because they may be leaving soon. That said, I always tip!"-Lucy, Upper East Side
"Owners have a  vested interest in maintaining the building, whereas renters feel it is not their building. it belongs to the owner to whom they feel no particular responsibility."-Eileen, Upper West Side