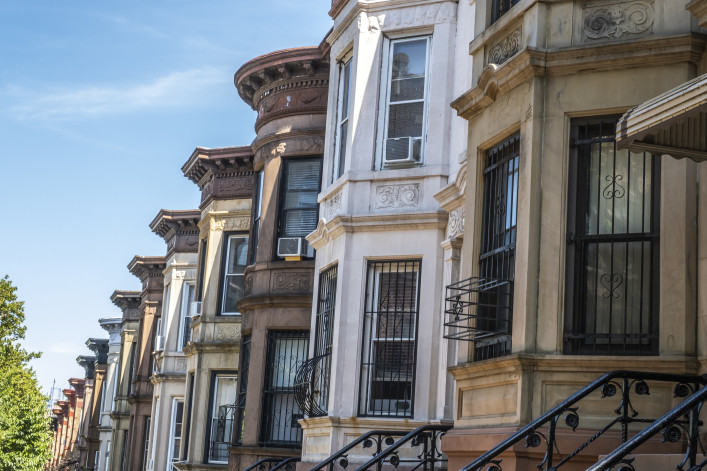 If you live in an apartment building, you know how convenient it is to call the super when you need something fixed. In a townhouse, it's a bit more complicated.
A townhouse, with abundant privacy and space, has been a hot commodity during the pandemic. Brokers in Brooklyn say a lot of brownstone sales activity is being driven by Manhattanites looking for houses with dedicated office and dining space so they can really spread out for working from home. However, one of the downsides of owning a townhouse is that it's all on you when something goes wrong. 
That has many new owners at a loss when the dishwasher backs up or the hot water tank fails. You'll also be responsible for snow removal—and you're also liable if someone slips and falls in front of your house—and you need to be familiar with garbage and recycling collection schedules. 
---
[Editor's note: A previous version of this post was published in March 2021. We are presenting it again in case you missed it.]
---
Brooklyn resident Dana Luria bought a townhouse in Park Slope six months before the pandemic hit. Her maintenance options ranged from DIY to paying for services from local providers. She says pooling information with other property owners in the neighborhood has been particularly helpful.
Don't wait until you move in to get organized
The advice from Josh Blackman, principal of the Brooklyn property management company Brownstone Property Group, is to get organized before you even close on the sale of your townhouse. He suggests getting a property inspection and then "take heed of recommendations made by the inspector." You might even want to consider adding additional inspections for issues like termites and the chimney, he says.
Some of the mechanicals—like the boiler or hot water tank—may be decades old and out of warranty. "Being informed before you purchase helps you anticipate and prepare emotionally and financially when things go wrong," he says. 
Tap your broker for information
Don't close out your relationship with your broker before you've mined them for local intel on who to call when you have a maintenance issue.
"Your knowledgeable agent can be a great resource before you buy and when something goes wrong," Blackman says. He points out the seller might also be happy to give you a list of the service people, like electricians and plumbers, they have used over the years.
Lindsay Barton Barrett, a broker at Douglas Elliman, says her team typically recommends a handy man to their clients. She says the most useful services are usually snow removal, garbage, and recycling—so breaking down boxes and bringing cans to the curb.
"We also feel having a knowledgeable contractor who is readily available to come by or discuss issues you don't know how to handle is very helpful," she says. 
Make a note of subcontractor details
If you're planning any renovations, ask your contractor for the details of the subcontractors they are using, like the plumber and electrician. When there's a leak under the kitchen sink you'll have the added benefit of working with someone who is familiar with your place.
Blackman says even if you're not renovating immediately, you might have a plumber check if there is a back-flow prevention valve on the sewer line and consider installing a sump pump in the basement. "Check the roof, check the plumbing, check for leaks on radiators valves," he says. 
After Luria bought her townhouse in Brooklyn, she made a point of taking the contact details of subcontractors who worked on her renovation. "Being able to contact the subs directly has been particularly helpful, especially with the plumber who comes by every few months," she says. 
Share information with your neighbors
Luria also started a Google doc with the details of local maintenance teams, which she complied and shared with neighbors who own on her block. "It's a list of all the service providers that people use and like and I know a lot of our friends use it regularly," she says. 
Local community groups—whether it's via listervs or social media—can he a helpful resource for trusted providers in your neighborhood. 
There are subscription maintenance services
If maintenance issues intimidate you, consider paying a company to cover your needs. Several companies offer maintenance services that you can pay for on a monthly basis. Foot Soldiers offers exterior maintenance, trash sorting and recycling, backyard clearing, and will plant or add mulch to tree pits.
Another important service offered is snow removal. Townhouse owners are responsible for snow and ice removal, so it's something you want to be prepared for in advance, owner Barnabas Uba Shakur says. "If you call for snow removal services when the snow is in the forecast or on the ground, you are going to pay. Plan in the warm season to find a company for your snow removal needs."
Uba Shakur says his team always documents their work with photos and are fully insured. 
The team at Brownstone Property Group also provides property management, renovation, and maintenance services. "Just because you live in a building doesn't mean you want to do everything yourself," Blackman says. He, like Uba Shakar, has seen the needs of townhouse owners increase over the past year.
"We have clients who retain our team's services so that they have someone to call and manage the problems that will eventually arise so that they can focus on their family and work," Blackman says. 
Learn some basic maintenance 
There are always going to be times when you need to call on certified and fully insured professionals. However, it's not a bad idea to learn basic maintenance skills—for example, how to relight the pilot light on your hot water heater, Blackman says. 
Brick Underground articles occasionally include the expertise of, or information about, advertising partners when relevant to the story. We will never promote an advertiser's product without making the relationship clear to our readers.