Best of Brick
How much does moving to the suburbs cost vs. staying in NYC?
Real estate prices in the suburbs can be 25-50 percent cheaper
Suburban living requires the additional cost of a car or two
Property taxes are steep but you won't pay NYC's high income tax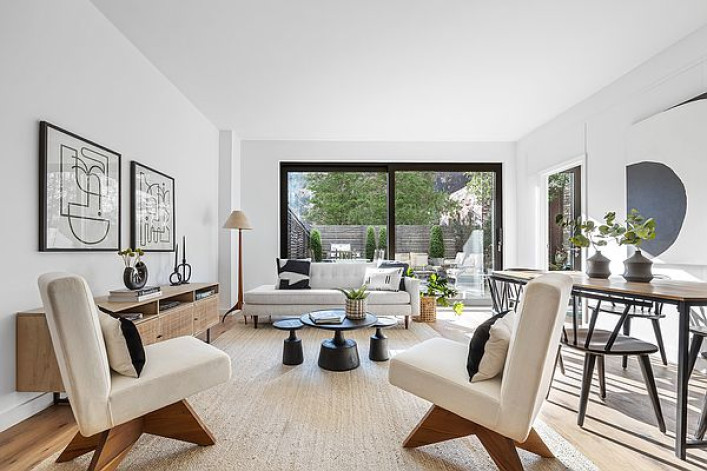 Figuring out whether to move to the suburbs or stay put is a perennial conversation for many New York City families and it usually focuses on housing costs and commute times. While the pandemic presented new reasons to head to the suburbs—primarily for private outdoor space and an escape from high-density apartment living—the economics of a move to the suburbs vs. life in NYC remains a prime consideration. 
Keep in mind it's "very personal and not one-size-fits-all," says Jennifer Ross, an agent at Compass who has helped dozens of New Yorkers make the move to the suburbs.
Here are some estimates to help you get a sense of the cost of moving to burbs vs. staying in NYC.
---
[Editor's note: An earlier version of this post was published in July 2020. We are presenting it with updated information for December 2022.]
---
1) Prices in the suburbs can be 25-50 percent less than the city
In the suburbs, you can increase your square footage while getting more bang for your buck. That's what appeals to many buyers, particularly those with growing families chasing a seemingly elusive dream of being able to buy a three-bedroom, two-bath apartment in New York City. 
The average price per square foot for a condo in Brooklyn was $1,035 for the last quarter, according to The Elliman Report. In Montclair, it's $377. 
When it comes to square footage, Shawn Elliott, a broker at Nest Seekers International, says the suburbs win out every time. "You can get double the square footage in the suburbs for half the price of the city," he says, putting the savings at somewhere between 25-50 percent if you buy in the suburbs versus the city.  
"On Long Island you could easily find something that goes for under $600 per square foot," he says—adding that the suburban houses he's selling are typically on multiple acres and have tennis courts, pools, wine cellars, and garages. By comparison, the average price per square foot in Manhattan was $1,618 in the third quarter, according to data from The Elliman Report.
Ross says it's still possible to buy a home in the suburbs at an $800,000 or $900,000 price point, depending on the neighborhood, but a three-bedroom apartment in the city is closer to $2.5 million. 
2) Maintenance and upkeep costs are higher in the suburbs
Of course all that outdoor space—even if it doesn't include a tennis court or a pool—is going to require upkeep. Lawn maintenance, home repairs, snow removal—all these need to be budgeted for. "Anytime you buy a house there are potential repairs and yard work," Ross says.
That's what Paul Smith (a pseudonym) found out. Three years ago, he and his wife moved from the Upper West Side to Westport, Connecticut, in search of space and good schools for their two kids. They sold their three-bedroom, two-bath apartment and bought a five-bedroom, four-bath house on one acre with a pool. The property is a 10-minute drive from the beach. 
Smith estimates pool maintenance costs around $3,000 per year and says he spends about $10,000 a year on landscaping, which includes lawn mowing, snow shoveling, and fall and spring clean ups. He knows neighbors who spend up to $50,000 a year on their yards. These are numbers that make $3,000 in common charges or maintenance fees for a condo or co-op look like a relative bargain. 
In a large, suburban single-family house there will also be higher costs for utilities. Annual heating and cooling amounts to $600 a month for Smith. 
Simon Brady, a certified financial planner and founder of Anglia Advisors, made the move from Brooklyn to Long Island in the mid-'90s and says he was totally unprepared for the high cost of just existing in the suburbs. The responsibility and cost of gutter maintenance and roof repairs will make you pay much more attention to weather reports, he says.
And even if you like to do your own gardening, "peer pressure or dirty looks from the neighbors will eventually force you to pay a landscaper" for more professional results, Brady says.
You also need to consider the additional couches, chairs, tables, beds, lamps, shelves, bathroom fixtures, and backyard furniture, and grill you'll need. "That's thousands of dollars right there," Brady says.
Or more like tens of thousands of dollars: Smith says he spent $28,000 on furniture at Restoration Hardware when he moved from his 1,200-square-foot apartment to his 4,000-square-foot house. 
3) Suburban living requires the additional cost of a car—or two
According to AAA, the average annual cost of car ownership reached $10,728 this year, or $894 a month. Fuel prices are the most significant factor but this is a big increase compared to previous years (In 2020, cost of car ownership was $9,282 annually). 
If you plan on making the leap from a no-car family to a two-car family in the suburbs, you're looking at an additional $20,000 or more a year. If you already own a car, you may find insurance is cheaper in the suburbs. Smith says his premiums halved when he moved to Connecticut.
There are some suburbs that are more walkable than others and that makes a difference for the number of cars you plan on parking in your driveway. Ross identifies Larchmont, Pelham, and some of the river towns like Hastings and Dobbs Ferry as more walkable than others.
In New Jersey, those types of neighborhoods are Montclair, Maplewood, Summit, and Chatham.
In Connecticut, there are neighborhoods in Greenwich and Westport where you can walk to stores, schools or the train station. 
4) The commute is more expensive from the suburbs
If you'll need to commute into the city, it's worth considering the cost of the journey and the time it will take. A 80-mile round trip from Westchester to Manhattan will cost more than $1,000 per month for gas if you choose to drive alone. If you take Metro-North, your monthly costs are in the range of $150-$200, depending on where you live and how often you commute. For those who going into the city less often, thanks to work-from-home flexibility, these commuting costs may be significantly less. 
Ross says a lot of her clients pay for parking garages in the city at a cost of around $500-$600 per month and the move to the suburbs removes that cost. "It's not like you are saving that money when you move to the suburbs but it's spent in other buckets," she says.
5) Property taxes are typically higher in the suburbs
State and local budget decisions will affect your property tax payments. Another important factor is whether the area has a robust commercial district. In NYC, the average effective tax rate is less than 1 percent. It is calculated by dividing your total tax by your taxable income. In the suburbs the average effective tax rate is often above 2 percent. Davon Barrett, a certified financial planner at Francis Financial, points out it can vary a lot depending on the school district.
You can figure out property tax rates via local government websites. On average, you should expect to pay from $9,000 to $20,000. Smith paid $30,000 in annual taxes and maintenance in the city and now pays $20,000 a year for property tax alone. 
But these higher property taxes can be offset if you're switching kids from private city schools to public suburban ones. Ross had clients with three kids who are paying $80,000 in property tax on their expensive new suburban place but say they are happy to do so because they are no longer paying $150,000 in private school fees. 
6) Moving out of NYC can lower your income tax bill
Another silver lining, Ross says, is that if you move outside NYC you will no longer pay city income taxes. Depending on your income and tax bracket, the savings can be substantial, for example, more than $30,000 if you earn $800,000 a year. 
7) Home insurance can be more expensive in the suburbs??
Home insurance will vary depending on the risk associated with your suburban home, Barrett says. He says the annual premium usually falls within the range of $1,200 to $2,000 per year but that can vary. 
"You can have two identical houses but if one is on the beachfront it's going to cost more because there is more risk with that home," he says. 
Barrett has helped dozens of clients weighing up a move to the suburbs. "While the city's convenient, you can't put a price on space and fresh air," he says. He points out the same rule of thumb holds true for both the city and the suburbs that you shouldn't exceed 30 percent of your income on the primary interest of your mortgage and the taxes and insurance.
8) Activities for families are often less competitive in the suburbs
In addition, Ross points out that nursery school and activities for children also tend to be a lot less expensive in the suburbs. "The cost of every part of living is more expensive but it is a less expensive consideration to be in the suburbs," Ross says.
She says gym classes and sports activities for kids are less expensive in the suburbs, as are preschools.
Demand for properties in the Long Island suburbs—like almost every suburb in the New York City metro area—surged during the pandemic. "Suburbs like Long Island are known for having excellent public school systems, whereas in Manhattan, to send your child to [private school] requires another $60,000 per year. Even on Long Island, private schools are at most half the cost of those in the city," Elliot says. 
Brick Underground articles occasionally include the expertise of, or information about, advertising partners when relevant to the story. We will never promote an advertiser's product without making the relationship clear to our readers.