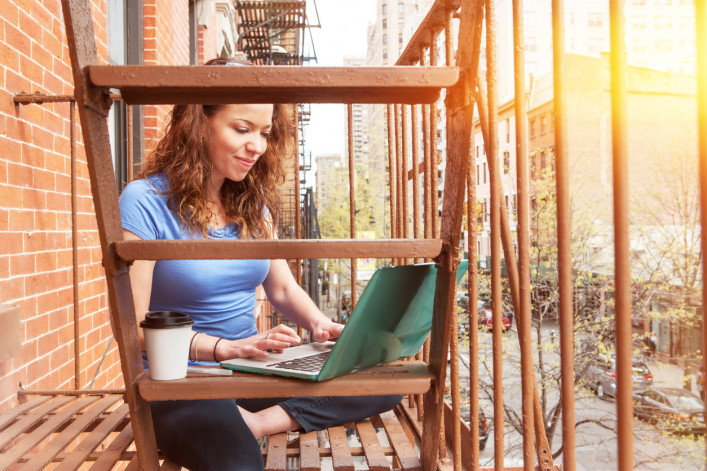 It can take a while to make sense of how to navigate New York City's complicated rental market and now that the pandemic has pushed much of the search online, doing your homework on a new place is more important than ever.  
One way you can do that is read reviews of your apartment building (yes, reviews of buildings, and even apartments, are a thing). Reading reviews from other renters can help give you some inside knowledge before you commit to a new apartment. Building ratings aren't necessarily new—Apartment Ratings, which is also a listing site, has been doing this since 2000—and there are several new platforms that say they provide even more in-depth scorecards on the city's apartments and buildings, such as Openigloo, RentCity, bitResi, and GoHomeNY.
Transparency for renters
Allia Mohamad is the co-founder of the apartment review app, Openigloo, and when she moved to NYC, she says she didn't know much about how renting in NYC worked. In her second apartment, her heat stopped working mid-winter and she realized she needed to do a better job at finding a place where landlords cared about their renters. 
"I knew they were out there and I wanted a platform to help find them," she says.
Openigloo asks users to rate their buildings on a variety of factors like water pressure, cleanliness, pest control, and the responsiveness of the landlord. You can also leave comments about what you liked and didn't like about the building as well as what might improve the rental experience. Mohamad says early feedback from users is prompting the team to consider adding more rating criteria like garbage management and how likely you are to get your security deposit back quickly. 
Pro Tip:
Looking for a landlord with a good reputation--and a rental agent you can trust? Put your search in the hands of The Agency, a tech-savvy real estate brokerage and Brick Underground partner. Founded by a pair of Yale grads in response to the frustrating apartment-search experiences of classmates and colleagues, The Agency will charge a broker's fee of 10 percent of a year's rent instead of the usual 12 to 15 percent if the apartment is an "open" listing and you sign up here. Bonus: The agents at The Agency are a delight to deal with.
When you rent in NYC you give the landlord a lot of information about yourself and very often you've only visited the apartment for 10 or 15 minutes.
"Nowhere else in our life do we expend that much money based on such little information in such a short amount of time," says Brandon Procak, CEO of another building review platform, RentCity. 
Enhancing publicly available data tr
You may be familiar with sites like Localize and RentLogic, which use publicly available data to establish ratings for buildings. They include factors like crime and building violations and in the case of Localize, also provide listings. RentLogic claims to have ratings for more than one million multi-family residential properties across the five boroughs but doesn't include user reviews. 
That's what some of the newer sites are trying to address. RentCity uses publicly available data to provide a default rating for 650,000 buildings in New York City and Procak says as users leave reviews, the ratings become increasingly accurate.
"When the reviewer inputs their overall rating, that gets incorporated into the algorithm so it's live and constantly updating as people continue to use the site," he says. 
Procak says the goal for RentCity is to become the trusted source for renters, allowing them to identify buildings with good user ratings. He is partnering with other companies that cater to renters, like movers and art rental companies, to monetize the site. "There's a lifecycle around moving and we want to add value for renters," he says. 
Specific ratings for apartments
One of the newest review platforms, bitResi, which launched over the summer, relies entirely on user reviews about specific apartments. The app's founder, Julian Felch, says what sets bitResi apart is its specificity. "The primary point of the app is apartment level rating," he says. He may add public data at some point in the future as well.
Tenants rate their apartments by answering 15 questions on a sliding scale and there's an opportunity to leave comments at the end of the survey. The building rating is an average of all the individual apartment ratings. 
Adding value for landlords
Some of the sites anticipate partnerships with landlords as their user numbers grow. Felch sees bitResi as a resource for custom marketing for landlords who could use some of the positive feedback in their listings. With the vacancy rate rising and landlords struggling to fill apartments, the timing of his launch might be ideal. "This is definitely a tool with which landlords can differentiate themselves and make their marketing better and more precise," Felch says. 
While some of the sites only allow for one-way ratings, a recent update to RentCity allows for dialogue, both between a departing tenant and a prospective one and also with the landlord. "Now when someone leaves a rating, another prospective tenant can comment on that review to ask follow up questions. Also landlords and property managers can respond directly to reviews though the commenting feature," Procak says. 
Another site hoping to lead in the building review space is GoHomeNY. Justin Lam set the site up more than a year ago and it now has more than 3,000 reviews. Instead of boxes to check, users are encouraged to write whatever they like about their building. The site doesn't use public data.
Lam points out that renting in NYC is a very expensive transaction, "so there's a lot of value in a site that helps you navigate that transaction. The leader will be the one with the most data—which is the most building information and the most genuine reviews so it's a race to get that."
The thorny issue of the rental broker fee
For Lam, monetizing GoHomeNY isn't yet a priority but he admits part of his motivation for the site was to take a swipe at the rental broker fee, which he calls "obscene." The broker fee for rentals can be up to 15 percent of the annual rent unless you find a landlord willing to pay this cost. 
The broker fee for rentals is under scrutiny after Department of State guidance suggested landlords rather than tenants should be paying it (unless the tenant is hiring the broker themselves). Brokerages filed a lawsuit and now there's a fight to establish who should be paying what. The outcome has been delayed by the pandemic. 
The success of one or more of these building review sites may put a dent in the argument for renters paying broker fees. If you can find the apartment online and evaluate it accurately through user reviews, the role of the broker in the transaction is arguably diminished.
Lam says ultimately the monetization of GoHomeNY might be through a finder's fee, partnering with a developer to find tenants.
Brick Underground articles occasionally include the expertise of, or information about, advertising partners when relevant to the story. We will never promote an advertiser's product without making the relationship clear to our readers.