Roommates + Landlords
Your rental checklist: 18 things to watch out for when signing a lease in NYC
Verify the rent and make sure you're not being overcharged for the security deposit
Understand the rules about rental insurance, air conditioners, pets, and subletting
If you have questions ask the broker or landlord for clarification before you sign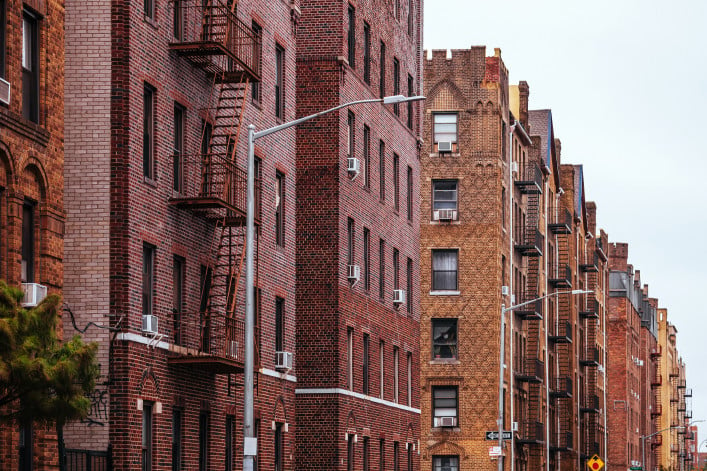 iStock/Getty Images Plus via Getty Images
When you move to a new rental apartment in New York City, you may be tempted to skim or—let's be honest—skip reading the lease. It's all basic boilerplate text, you can always look at it later if something comes up, right? Bad idea. 
Your lease may not be the most scintillating document but you still need to read it closely. It's a legal document, obligating you to specific terms and conditions. 
"It's essential to read that document and have someone with more experience—not necessarily a lawyer, but it could be the renter's parents—look at it as well," says Gary Malin, chief operating officer at The Corcoran Group.
Some landlords have drafted thousands of leases and are not willing to negotiate the terms but Malin says it never hurts to ask to make some small changes. If the apartment has been on the market a while or the requested change is minor or reasonable the landlord "may be willing to make an adjustment," he says. 
---
[Editor's note: A previous version of this article was published in February 2023. We are presenting it again with updated information for May 2023.]
---
When it comes to a lease, the leverage you have depends on who the market favors at the time. In a competitive market, you'll often have to accept what the landlord offers you. In a market with high vacancies, you'll have more leverage when negotiating.
Here's what to look out for, including the policies on renewals and roommates, your liability for insurance and whether you are paying for any utilities. 
1. Verify the rent and the dates you are agreeing to
Make sure the rent you agreed to is actually stipulated in the lease, with the start and end date correctly stated. If your rental has come with a concession—like a month of free rent—make sure you understand how that affects what you will be paying each month. It might mean you don't pay the rent for the last month of the lease, or it is factored into a discount off your monthly payments. 
Many landlords still largely rely on standard lease forms, which are often designed to protect the landlord more than the tenant. 
The advice is: Don't rush through the lease-signing process. You'll want to make sure the details are accurate. "People are sometimes in a hurry, and mistakes get made," Malin says. 
Double check the address and apartment number. Check on which date each month the rent is due. Be aware that a rent payment is considered late if it is received five days or more after the due date. Landlords can charge a penalty for late rent—it will be spelled out in your lease as well. There may also be a reference to the broker fee, and who is paying it so make sure this is not a surprise. 
If you have a question, ask the broker or landlord to clarify the answer before you sign to avoid any confusion in the future.
2. Make sure the security deposit is correctly calculated
Make sure the security deposit amount is stated correctly on the lease. Thanks to landmark rent reforms in 2019, the security deposit is capped at one month's rent so you cannot be asked to pay additional rent in advance. "Make sure the lease complies with current requirements," says attorney Michael Landsman, co-managing partner at Holm & O'Hara. 
Under current rules, if you request an inspection of the apartment to document its condition before you move in, you must be given a walkthrough to observe the condition of the unit and any existing damage. 
When you move out, you can also request a walkthrough and the landlord needs to give you an itemized statement of any charges within 14 days, or he or she could be liable for damages up to twice the amount of the deposit. Normal wear and tear is expected and refers to the kind of deterioration due to normal use that isn't negligent or careless. 
The deposit must also be returned to you, minus any itemized cost for damage, within 14 days of you vacating the apartment.
3. Confirm the renewal clauses and renewal policies
If your lease has an option to renew for one or more years, check to see if there is an escalation clause. This would raise the rent in subsequent years and is typically based on a fixed dollar amount, a percentage of the first year's rent, or cost of living increases. 
A year can go by very quickly, so if you already know you want to spend more than a year there, try to negotiate your future rent now and set the increase for the second or third year so you know it will be a reasonable rate, and you are less at risk of a bigger hike, he advises.
If you've lived in your apartment for one year, your landlord must give you at least 30 days notice if they plan to raise the rent by 5 percent or more, or if they plan on not renewing your lease. 
Review the renewal terms carefully. If it states you need to give a renewal notice 90 days in advance by certified mail, simply calling the landlord's office and telling them you want to renew won't cut it. Instead of the agreed upon 3 percent increase, he may come back with an 8 percent increase, saying you didn't give proper certified mail notice. The same applies for termination, or opt-out provisions. 
Also, if you landed a rent-stabilized apartment (Congrats!), you're entitled to a lease renewal every year, except in a few circumstances, like if you broke the rules of your lease. Also your landlord can only increase your rent by the percentages set by the Rent Guidelines Board. One other benefit of rent-stabilized apartments is that the lease renewal must be on the same terms and conditions as the original lease.
This topic came up recently during Brick Underground Office Hours—a live Q&A with tenant attorney Sam Himmelstein, a partner at Himmelstein, McConnell, Gribbin and Joseph (and a Brick Underground sponsor). To find out about our next event subscribe to our newsletter. 
4. Make sure fees and costs are reciprocal
A lease drafted by a landlord may have a provision saying that if the tenant fails in their obligation—like defaulting on the rent—the landlord can be reimbursed for any legal fees and expenses in trying to resolve the situation and recoup the money.
"What they don't provide for is a reciprocal right for the tenants—so if the landlord fails to do something the tenant has to go out-of-pocket and is not entitled to fees," Landsman says.
If asked, he says, most landlords will agree to a clause saying fees and costs are reciprocal. "It's a two-way street—if you're paying a fair market rental rate, you should be entitled to a fair and reasonable playing field," he says. 
5. Have a clear notice provision in the lease
Another important detail is to know how your landlord wants to be contacted if there's a problem, whether that's a leak, a rodent infestation, or a lack of hot water. "Those clauses have to be clear so if there is ever a dispute, the other side knows precisely what they need to do to put the other side on notice," Landsman says.
Knowing how you are expected to communicate with your landlord is important if you end up having problems you want resolved. Emails or phone messages can be missed and delay repairs. If the notice provision says communication needs to be done by certified mail, that's how you should reach out to them. A landlord needs to be given an opportunity to make repairs if there's a complaint, but the complaint also needs to be made in the appropriate way. 
6. Check the lease for a break clause 
Most leases do not contain a break clause—you are expected to be in the apartment for the duration of the lease—but you should still review to see if there's any reference to what happens if you need to leave early. 
Landlords are required to make a reasonable effort to re-rent your apartment if you need to leave before your lease ends but there's a risk that you'll be on the hook for the rest of the term if another tenant doesn't take your place.
7. Be clear who pays for utilities
Some landlords—especially in buildings where apartments aren't separately metered or sub-metered—may include utilities in the rent. But usually only the water and heat are included.
"Ask what is included, and make sure the lease clearly states who is responsible for what," Malin says.
8. Understand the requirements for rental insurance 
It's especially important to have insurance if you are renting from a condo or co-op owner. The buildings will often have rules about insurance coverage, and while the building policy or landlord's policy might cover some things, they likely won't cover everything, like your possessions. 
"The landlord's insurance does not, despite what many people believe, cover the tenant," says apartment insurance broker Jeffrey Schneider, president of Gotham Brokerage. The tenant must insure their own property against fire, theft, and water damage, and also must carry their own personal liability coverage, which protects them if they are sued for negligence—starting a fire that destroys part of the building or, more commonly, letting a tub or sink overflow and damaging the apartment below them.
Coverage can include accidentally leaving the sink on or flushing the toilet and having it overflow. Ask the building management what level of insurance is required. 
9. Make sure your landlord allows pets
Not everyone loves animals, and having a dog or a cat can be a potential obstacle—especially if you plan on getting one after you move in. If this is the case, make sure the lease explicitly allows pets so the landlord won't withhold his or her consent when you decide to bring home your new best friend.
If you already have a pet, ideally you have already discussed this with your landlord or the broker and your landlord grants you permission in the lease. (The approval could look like this: Tenant may keep pets in the premises provided tenant obtains the prior written consent of owner. Owner hereby consents to the following pet(s): One dog.)
Either way, you need to "ensure you comply with pet rules and policies, and that the pet is disclosed," Malin says. 
Even if pets are allowed, be sure to find out whether there is a weight or breed restriction to avoid any problems. And just because your puppy was under the weight limit when you got him doesn't mean it can exceed that as it becomes full grown. 
"Most owners will ask the breed, not just the weight, because they know that puppies grow," Malin adds. "The best way to avoid friction is to be upfront."
Some landlords have eased their restrictions on large dog breeds and are more lenient toward pets in general to entice new renters who got a pet during the pandemic. So, you might have an easier time finding a rental that allows your pooch, but just make sure it's outlined in the lease.
In condo and co-op rentals, review the corporate bylaws to ensure what the rules are regarding pets. For more information, read Brick's best advice on having pets in NYC.
And, if you have an emotional-support pet or service dog, you are allowed to have a pet regardless of what your lease says. Just be prepared to provide the documentation. 
10. Read the lease for rules about air conditioners
Some landlords may restrict the number of AC units you can have—or prohibit them altogether—due to outdated wiring in the building, or safety issues, or because the building is landmarked.
In older buildings or co-ops, you may be charged a fee to have air conditioners. This is generally to offset the additional cost of the electricity used. A landlord could also charge a fee for seasonal installation and removal.
Even where ACs are allowed, you may need to hire someone else to install the units. 
11. Be clear about access to outdoor space
If you have the use of outdoor space, whether it's a terrace, garden, or rooftop, make sure it's in your lease. The clause should include where the space is, who has rights to it, whether it is shared with others, who is responsible for maintenance, and who is responsible for damages. 
If you're subletting from an owner whose apartment has a terrace, be sure you're clear about who is responsible for maintaining it while you're living there.
It's important to have this spelled out in the lease, because if it is not, you might not be entitled to a rent abatement if the space becomes unusable for some reason. On the other hand, the lease may explicitly say that you should not access the roof. Make sure you check out all of the terms in your lease regarding what you can—and cannot—do on the balcony, terrace or other outside space. 
12. Know your subletting, roommate, and visitor rights
Most standard rental leases require landlord approval to sublet, so you will likely need the landlord's consent to do so. However, a landlord cannot unreasonably withhold consent.
That said, if you are going to leave the apartment permanently and want someone to take over your lease, this is called an assignment. The landlord can refuse an assignment, but if your request is unreasonably denied, you are allowed to cancel the lease. 
If there is a possibility you will need to leave before your lease is up, you should discuss this with the landlord ahead of time to determine whether he or she will want you to go through the formalities or whether you can just terminate. You may also be able to work this out with a landlord before the lease is signed.
As far as roommates and significant others, you are allowed to have at least one additional occupant living with you while you're there, even if the lease is just in your name as long as you notify the landlord. However, you are still financially liable for the entire rent. "If your subtenant doesn't pay, you still need to pay," Malin says.
Know that if you make any deals with a roommate, such as their agreeing to pay more for a larger bedroom space or to use their security deposit for the last month's rent, it's up to you to get that in writing separately from the lease with your landlord. If the apartment is rent stabilized, you cannot sublet and if you are sharing the place, the rent must be divided equally between the number of occupants. This means splitting the rent 50/50 if there are two of you in the apartment, regardless of the size of the rooms. 
"Tenants can be evicted from 'profiting' off of the apartment if they are overcharging roommates," says Jennifer Rozen, managing attorney at Rozen Law Group. 
13. Look out for repair obligations 
Most leases have a clause saying a tenant cannot do alterations without the landlord's written consent. This means, if you make unauthorized changes to the apartment, you may be told to replace what's been changed. Cosmetic work like painting might be easily remedied but major alterations would typically be a breach of the tenancy agreement. 
If the landlord has agreed in advance to let you make improvements or alterations to the apartment, make sure you get this in writing in the lease. Otherwise, you will be responsible for the cost of returning the apartment to its original condition. 
Rozen always recommends tenants do a walk through of the apartment before signing the lease, during which you can take note of conditions that need to be addressed. "Ask the landlord to incorporate the list of items to be addressed in the lease so that their obligation to paint or fix things is clear," she says. If the landlord fails to address the issues, you can ask for a reasonable rent abatement "until the repairs are performed," she says.  
You should also look out for any clause that shifts repair responsibilities onto the tenant. In NYC, a landlord has an obligation under the warranty of habitability to make sure your living conditions aren't dangerous or hazardous. Any clause in the lease which modifies this right will typically be unenforceable. 
Tenants aren't entitled to upgrades during a tenancy but the landlord must maintain the prior level of service—especially in rent-stabilized apartments—so if there's a breakage that isn't your responsibility, you should challenge a lease that transfers the cost of repairs onto the tenant.
14. Understand the rules about noise and quiet hours
Some buildings might require tenants to take precautions regarding noise, such as having a certain amount of the floor covered by carpets. "Look to see if there are any obligations," Malin says.
You should also check the building's quiet hours, and find out whether you're allowed to play loud instruments or host large parties, which can cause a lot of noise for your neighbors. 
15. Know the rules about showings when your lease ends
It's not uncommon for landlords to include a provision to show your apartment to prospective tenants near the end of the lease. It's the landlord's business to keep the space rented, after all. However, the exact terms of the arrangement should be looked at closely.
You may want to limit it to certain days and hours, and make yourself available. If they're showing it without you, you might want a third party there, like a broker.
Although it is uncommon, damages can occur while the apartment is being shown, and you want the landlord to be responsible for that. 
16. Check the supplemental riders to the lease
Often your lease will come with additional pages called supplemental riders. These may include requirements that allow landlords to inspect for lead paint or install window guards in units where there are children 10 and under. Also, most times landlords will include a rider with the building's bedbug history. These are standard additions to the lease. 
17. Be clear about maintenance increases and assessments
For anyone renting from a condo or co-op owner: In addition to monthly maintenance fees, many co-ops charge the owner a subletting fee. Make sure you know who will pay these costs if the charges increase.
In most cases, these costs are rolled into the rent but if either fee gets increased in the middle of a sublease, or if the building adds a monthly assessment, you will want to make sure you won't be liable for the extra charges. Make sure this is clearly stated in the lease.
18. Be sure the lease documents apartment contents if necessary
If the apartment is furnished, the lease should also contain a list of all furniture that is to be included, as well as a confirmation that all of these items are in place when the lease begins. 
Some short-term rental companies offer furnished rentals to be used as a workplace, for example a therapist's office or a room for an independent consultant. The lease terms for these spaces will look different.
Most are month to month, and include cleaning services and utilities. Still, review the same clauses as you would for an unfurnished rental.
Brick Underground articles occasionally include the expertise of, or information about, advertising partners when relevant to the story. We will never promote an advertiser's product without making the relationship clear to our readers.