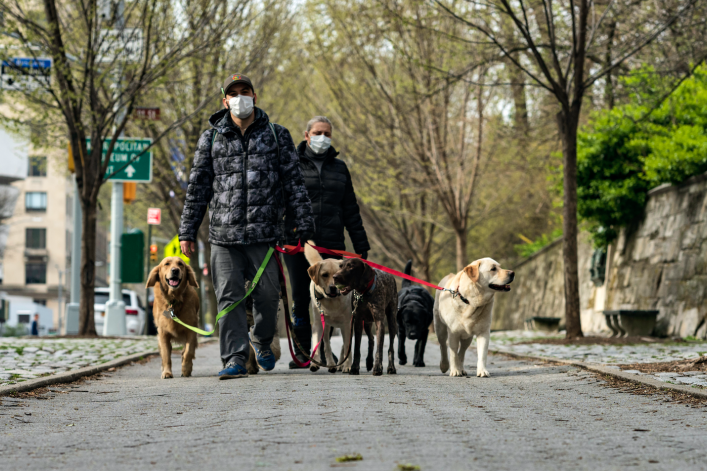 Owning a pet in New York City used to be something that very often could preclude you from getting an apartment if the owner didn't permit animals. But now, as landlords struggle to fill vacant apartments—and pet adoption has soared during the pandemic—that's changing in some buildings.
"Landlords have been looking for creative ways beyond rent reductions and free months to incentivize the retention of current tenants while also attracting new renters," says Brian P. Hourigan, managing director of BOND New York. 
One obvious solution is for management companies to re-examine, and in many cases, relax, their pet policies. This is good news for New Yorkers who plan on moving and already have a pet or want to get one.
Still, owning a pet in the city is not for the faint of heart. Read on for our best advice on living with pets in NYC. 
---
[Editor's note: An earlier version of this article was published in July 2018. It is presented here with updated information for January 2021.]
---
Apartment building pet rules
Even though landlords in NYC are being more lenient about pets, not every building will accept them. Management companies and co-op boards are more likely to allow cats as opposed to dogs, and there are some buildings that ban both. Keep in mind that while landlords are showing flexibility, some breeds and mixes—like pit bulls and rottweilers—won't be allowed.
This is usually because they don't want the liability if someone gets hurt or because they want to avoid any additional wear and tear from a pet. If you're planning to rent with your pet, be sure to get your paperwork in order and be upfront about your dog's breed when inquiring about insurance coverage. Read: "What you need to know about living and renting in NYC with a pit bull."
It's not uncommon for buildings to change their policy on pets if they need to attract more tenants as they do right now. Check out: "Looking for a NYC rental that allows large dogs? It just got easier."
This can always change back though. When a building goes from pet-friendly to a no-pet policy, usually existing pets will get grandfathered in, but not always. Here's the advice given to one reader who asked, "My co-op is changing its rules about pets. I'm a dog owner. What can I do?"
If you're on the board of a co-op or condo and it falls to you to prepare the pet policy, read this: "No pet policy? No problem. How to write one for your building." 
Becoming a pet owner
Shelters have seen a surge in demand during the pandemic but animals are still available at the city-run Animal Care Centers of NYC, which takes in strays and abandoned pets. Before you sign any adoption papers some of your first considerations will be whether your roommates or family members support the move. For more info, here's "4 key questions to ask before you live with a pet in NYC."
If you plan on getting a puppy, you'll need to know what size they will grow to and whether you have enough time for regular walks. You'll want to check out "9 questions you MUST ask before getting a dog in NYC."
It's also helpful to make an assessment of your neighborhood before you commit to taking in a dog. Being close to a park that allows off-leash walking can help an active dog get the exercise it needs. The Upper East Side is a great choice for dog owners but areas in the outer boroughs are close contenders among "8 of the best NYC neighborhoods for dogs."
Hankering for something more exotic? Birds are a popular choice. See "7 strange pets you can (maybe) keep in or around your NYC apartment." 
And if you're worried your parrot might be too much for the neighbors, here's hoping you live near someone as generous as one East Village resident who says, "I live next to a neighbor who screams all the time, but we love her."
Dog walking
One of the reasons for a rise in pet ownership is that more people are working from home. For some New Yorkers, ditching the commute allowed time to care for pets, as was the case in for one Brooklyn family who told their tale here: "Home all the time: Our pandemic lifestyle is a bonanza for our dog." 
However, being in your apartment all day doesn't always mean you have time on your hands to walk your dog. If that's the case a dog walker is the solution. Walkers being pulled by a dozen leashed dogs make for great Instagram posts, but there's more to this profession than meets the eye. For what you need to know, check out "Hiring a dog walker. Here are the questions to ask and the answers you want to hear." 
Being a good pet owner (and neighbor)
Once you bring your pet home to your apartment, it's time to make sure they adjust well to their new home. Cats are more affected by your apartment's environment than you think. Even when you have lots of experience you can still be surprised by how they react to changes. Read "Brick Underground's best advice for living in a NYC apartment with a cat (or two)."
Getting along with the new neighbors can also cause a bit of drama. Rescue dogs might still be skittish around strangers and dogs of any age can be anxious when their owner leaves the apartment. For more advice, check out "Meet Fido: How to introduce your new pet to the neighbors—and keep the peace."
Service animals
Regardless of whether a building is pet-friendly or not, federal, state and city discrimination laws all say that housing providers, including condo and co-op boards, must reasonably accommodate assistance animals for disabled residents. This includes emotional support animals. For more, read this: "A request for a service animal in a pet-free building: 3 steps to take." 
Pet products
There's no shortage of products when it comes to preparing your place for your pet. Here's "How to pet-proof your NYC apartment." 
Many pet stores currently offer curb-side pickup and delivery to your apartment and if you're new to pet ownership, I guarantee you'll soon be seeking out your buddy's favorite foods and toys. Read "The best pet food and supply delivery programs during the coronavirus crisis: Chewy, Petflow, BarkBox, Smalls, & more.
Earlier versions of this article contained reporting and writing by Donna M. Airoldi.
Brick Underground articles occasionally include the expertise of, or information about, advertising partners when relevant to the story. We will never promote an advertiser's product without making the relationship clear to our readers.