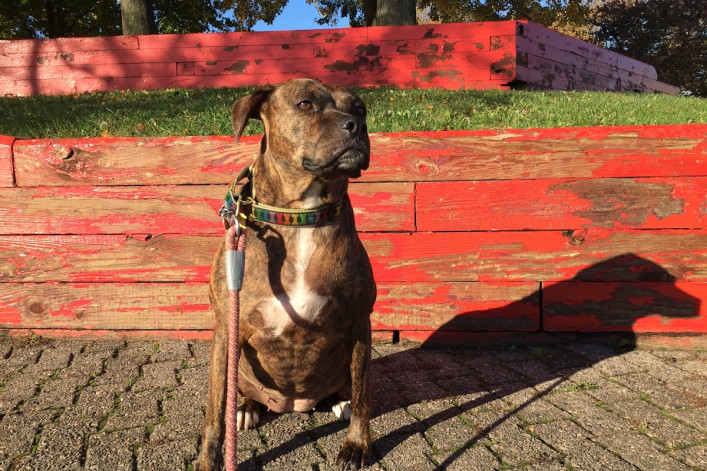 Despite all the traffic and concrete, New York City can be a great place to live with a dog. There is a surprising amount of parks across the five boroughs, tons of dog runs, and, most importantly, plenty of pet-friendly apartments. 
In fact, some buildings offer pets amenities that would make humans jealous, such as the covered and heated outdoor dog run on the 12th floor of 555TEN, or the indoor dog park at 252 East 57th St. 
While I adore living on Roosevelt Island, both of those perks sound like a slice of heaven this time of year, especially as the mother of Kona, a dog who despises rain, snow, and high winds—and straight-up refuses to go out in inclement weather. 
True story: Kona completely shuts down in winter, hibernating under her blanket (see below) while periodically getting up to peer out the window. If it's still bad out, she'll go right back to sleep until the weather clears up.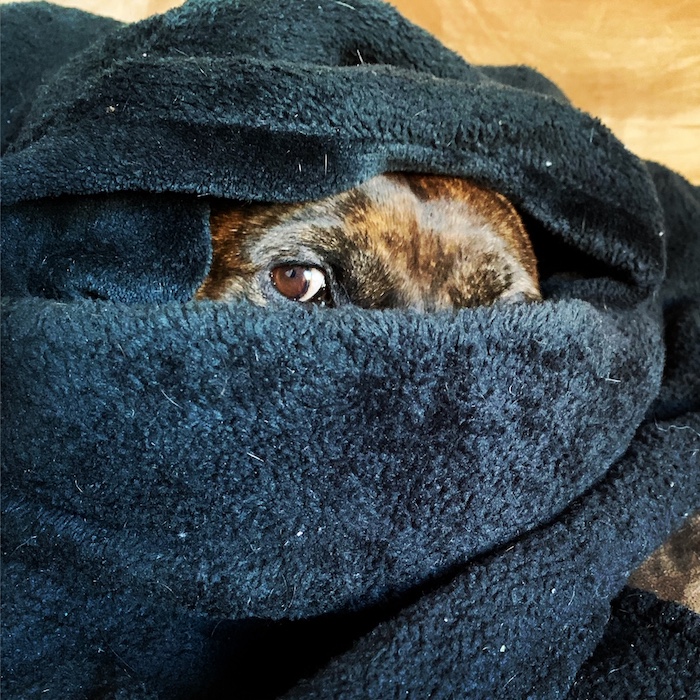 You might think this sensitive behavior is more typical of a tiny breed like a Chihuahua or Yorkie. Nope. My Kona, who is a rescued pit bull, is one of the most feared—and sadly misunderstood—breeds around. 
While countless advocates have made great strides in recent years to show how un-vicious the majority of pit bulls are, living and walking with one in and around my building means I'm educating my neighbors on a near-daily basis. 
Read on to find out what I've learned about living in NYC with a pit bull since Kona joined our family in the fall of 2017. 
What is a pit bull?
While I use "pit bull" to describe her, the phrase actually refers to a type of dog that may be one or a mix of these breeds: American bulldog, American pit bull terrier, American Staffordshire terrier, Staffordshire bull terrier, or English bull terrier, says Best Friends Animal Society. 
Like many rescuers, we don't know Kona's exact breed, but she is similar both physically and temperamentally to most of those breeds above. 
"While dog breeders and other enthusiasts may debate the pit bull label ad nauseam in their circles, the issue becomes important to the public when antiquated laws, ordinances, insurance policies, military housing, and rental leases exclude 'pit bulls,'" Best Friends writes on its web site. 
Are pit bulls allowed in NYC?
While some cities and towns in New York State do have breed-specific laws, there is no outright pit bull ban in NYC. However, in February 2010, NYCHA banned pit bulls, Doberman pinschers, and Rottweilers (full breed or mixed), from its developments. 
Additionally, other pet-friendly NYC apartment buildings may have weight or breed restrictions of their own, so check the fine print in your lease or purchase agreement. 
Our Roosevelt Island building, for example, has a no-pet policy, but we were cleared as Kona is my husband's legal service dog, who detects when he's going to have a blackout or another debilitating symptom from a medical condition, and they had no issue with Kona being a pit bull. (Plus, the policy seems pretty loose as there are dozens of other dogs of all types in our complex.) 
Dog training is key to being a good neighbor
Some buildings may also welcome dogs of varying breeds and sizes, but require them to undergo behavior training or other evaluations. 
"We ensure our four-legged residents will be good neighbors with advanced temperament testing through our partnership with pet care experts, Throw Me A Bone, which also offers a portfolio of training, walking, grooming, sitting, and vet services," says Anna Zarro, a consultant at Extell Development Company, which owns 555TEN. 
The practice is something Cydney Cross, co-founder and president of Out of the Pits, a 25-year-old Albany-based nonprofit dedicated to changing the public's perception of the breed, agrees with. 
"People want a good canine citizen, so I think that's a really good thing," she says. "Pit bulls were America's favorite dog back in the day, and our mission is to restore them back to that stance."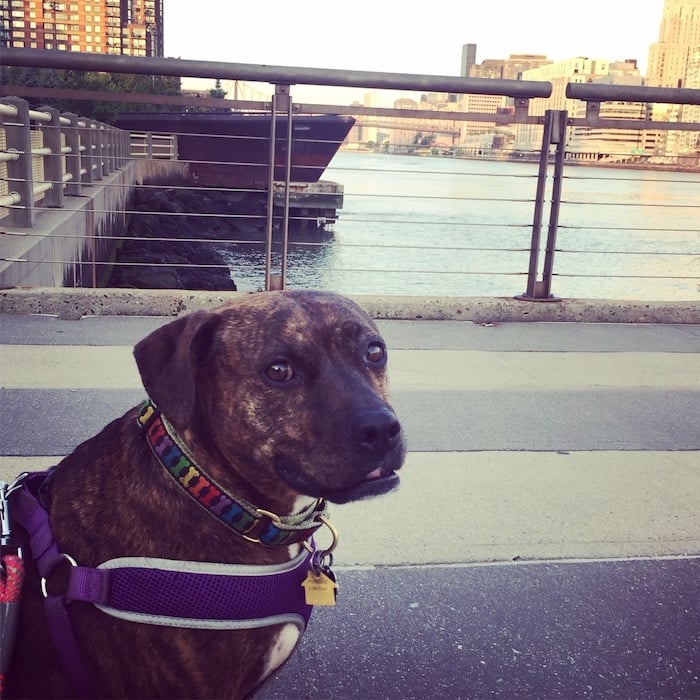 "She's friendly" 
Kona is beloved by many of our neighbors and doormen, and she makes friends everywhere she goes, but especially in the elevator where she has a captive audience. If someone gets in and doesn't pay attention to her, she will stare forlornly at them.
While most know she's a big mush, seeing a chunky pit bull in the hallway or elevator sometimes does startle people, and I see their eyes get wide or they'll take a step back. 
To reassure them, I say, "She's friendly," or ask, "Is it OK if we get in with you?" which are both good starting points, says Cross.  
"What I always try to do is educate, don't alienate. I think a lot of time that people have dogs other people misconstrue as scary, they get defensive," she says. "If people who have the dog don't become offended, it can lighten the moment up, and you can say, 'Oh, you looked at her, now you have to pet her.'"
Just this week, a resident I'd never seen before got in with us and immediately asked, "How did you teach her to not be vicious?" Though my blood immediately boiled at his automatic assumption, I remembered Cross' words, took a deep breath, and said, "The majority of her breed isn't vicious or dangerous, and she was not raised that way. Her name is Kona. Want to give her her treat?" 
In the six months since we've moved into our building, there's been maybe three times that someone refused to ride with Kona. People generally love to be in her presence, comment on her colorful sweaters, or let her sniff their bags because she's terribly nosy.
One of the things I'm most proud of is the fact that Kona helped one of our maintenance workers overcome his longtime fear of dogs. Over time, and at his own pace, he's gone from sort-of cowering when he sees us coming to giving her occasional pets to now dropping on the ground to accept her kisses every time she sees him.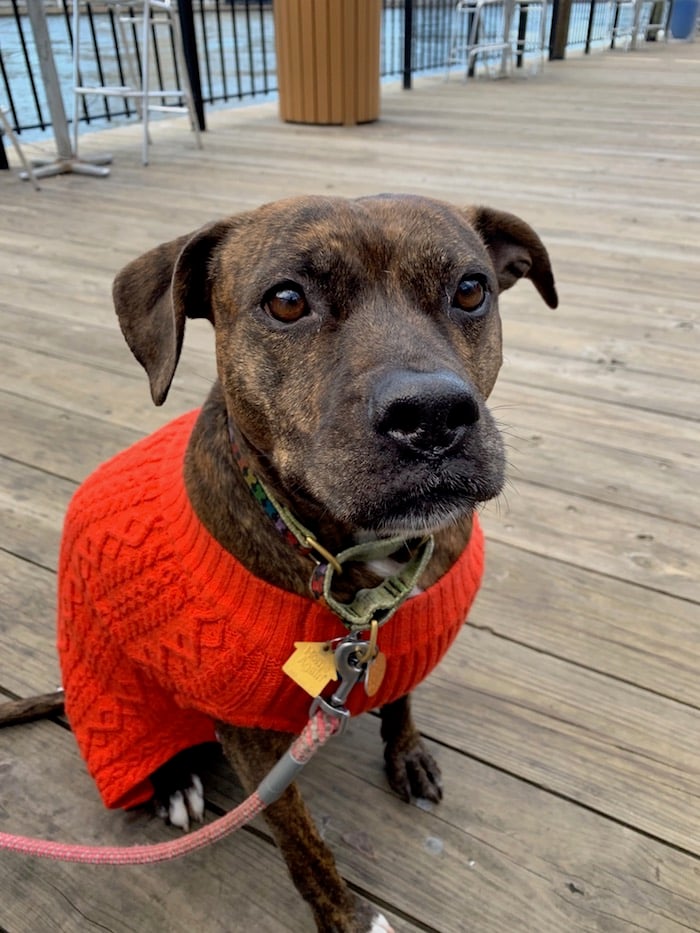 Changing pit bull perceptions 
While the 2007 dog fighting investigation involving NFL quarterback Michael Vick certainly helped fuel misconceptions about pit bulls, it actually "made a big difference for us," Cross says. "No one really realized there was dog fighting, and the case began changing the tide for law enforcement and people in general. More people began taking up the cry that these dogs are the victims—not the problem."
 
Thanks in part to work by advocates like Cross, breed-specific legislation across the country has declined. Because of that, it may be easier for pittie owners to obtain pet liability coverage through renter's insurance (or their policy if they own a condo or co-op). 
"I've seen it get somewhat better," says Jeff Schneider, president of Gotham Brokerage, an insurance brokerage and Brick Underground sponsor. "If I have an issue, and can't write [a policy], I'll usually refer them to another company and tell them to call me if they have a problem, and they often do not." 
Schneider urges pet owners to be up front about their dog's breed when inquiring about coverage, and while companies in the New York metro region will cover dog bite liability, "you should ask because there are certain breeds they won't write a policy for."  
Some insurers, like State Farm for example, is not breed-specific as it believes that "under the right circumstances, any dog might bite, regardless of breed," according to its website. 
"If a dog has earned its good citizen or therapy dog certification, companies that would not cover, will," Cross says. "They're leaning more toward recognizing them as individuals." 
Brick Underground articles occasionally include the expertise of, or information about, advertising partners when relevant to the story. We will never promote an advertiser's product without making the relationship clear to our readers.