While finding a pet-friendly apartment is a challenge, don't forget that if your four-legged friend is of the canine variety, you'll also want to choose your neighborhood wisely. After all, no one wants to finally lock down a dog-friendly home, only to find that the nearest park is a 20-minute walk away and doesn't even have an off-leash area.
With this in mind, Brick Underground dug through the data to discover some of the most Fido-friendly New York neighborhoods. One big change from when we last did this report: The outer boroughs, home to lots of new developments, are courting pet owners in a significant way, so areas like Downtown Brooklyn and Long Island City make the list. Meanwhile, Midtown fell off. 
---
[Editor's note: An earlier version of this post was published in October 2015, and was updated with new information in October 2019.]
---
Nancy Wu, an economist at StreetEasy, crunched the numbers for us, looking at the percentage of buildings per neighborhood and borough currently listed as "pet-friendly" on the site. (One note on methodology: For the purposes of this research, the StreetEasy team only looked at buildings with at least five units, which takes single-family buildings and duplexes out of the running. So neighborhoods around Prospect Park, a popular place for dogs, didn't make the cut.)
Pro Tip:
Need help finding a pup-friendly neighborhood your dog will love as much as you do? Or landing an apartment in a rental, co-op or condo building that welcomes dogs? Put your search into the expert hands of The Agency, whose agents have helped hundreds of pets and their owners find the perfect New York City apartment. Sign up here, and they will charge a broker's fee of 10 percent of a year's rent on open listings versus the usual 12 to 15 percent. Bonus: The agents at The Agency are a delight to deal with.
"What struck us about this list is that there's not just one borough where all of the pet-friendly buildings are concentrated," says Wu. "Neighborhoods across each of the boroughs offer living options for residents with pets. Many of the areas that rank among the top neighborhoods—including Long Island City, Downtown Brooklyn and Battery Park City—also offer waterfront access, making it easy for pet owners to take advantage of the city's green space and dog parks along the water." 
In addition to StreetEasy's data, we also looked at dog-friendly public parks (you can search by zip code, borough, and amenities here), as well as the number of pet stores and services listed per neighborhood on Yelp, to get a more complete picture of the factors that'll affect you (and your dog) in your day-to-day. (For instance, 77 percent of listings in Stuy Town are pet-friendly, but the complex's rather Draconian no-dogs-on-the-grass policy nixed them from the running.)
If your favorite neighborhood doesn't make the cut, don't despair: It's likely that StreetEasy's numbers underestimate the number of buildings that might welcome your dog. Some listing agents don't check the "pet-friendly" box when they list on the site, and might add specifics about pet policy within the listing itself.
Still, if you're just starting your search and you've got a furry best friend in tow, these are some of the most reliable 'hoods to head to: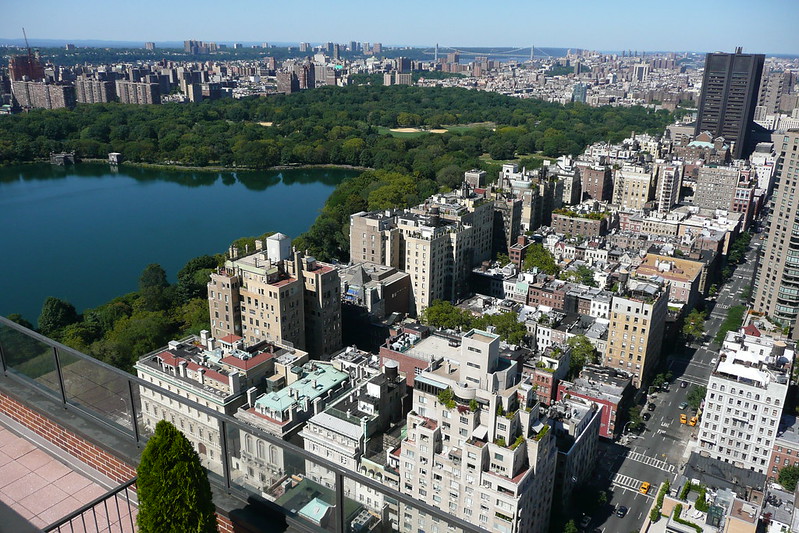 Upper East Side 
Four years ago, we declared this the most dog-friendly neighborhood in NYC, and while it remains a top spot, thanks to services and parks, the Upper East Side is getting some serious competition from other areas.  
"The share of pet friendly buildings in the Upper East Side this year was 10 percent, so not far off from what it was a couple years ago," says Wu. "While the Upper East Side has mostly remained the same in terms of pet-friendliness, a lot of new developments have cropped up in outer boroughs, which are typically pet friendly, likely causing the scales to tip in favor of other areas outside of Manhattan." 
As you might expect, the dog-friendly park situation Uptown is good, whether you're closer to Central Park, which has 23 areas where dogs can run off-leash (before 9 a.m. and after 9 p.m.), as well as more than a dozen dog fountains. East Side parks include  Andrew Haswell Green Park and Carl Schurz Park, which is closer to the river. A search for pet-related businesses on the Upper East Side turns up 24 catering to animal lovers, from vets to groomers to daycare and general pet supplies. The well-worn cliche of Upper East Siders clutching their adorable, well-manicured pooches appears safe.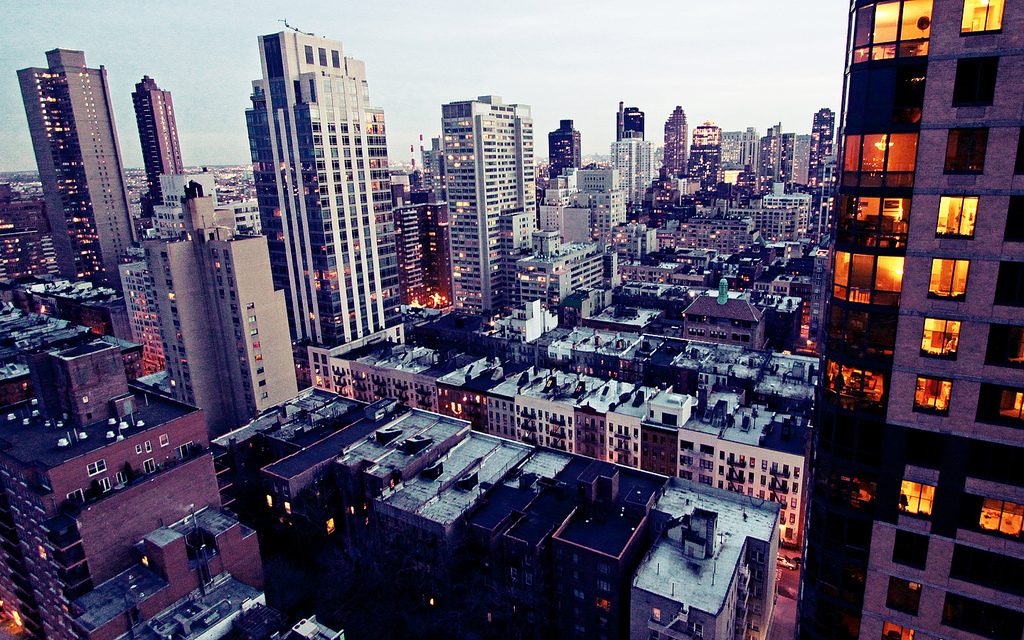 Upper West Side 
Another option aided by its easy access to Central Park: the Upper West Side, which is also flanked on the west by Riverside Park. Add to that about 32 pet-related businesses (some are niche, serving bird owners) and this is one of the larger Manhattan sub-markets geared towards dog owners. Plus, the dog runs! Riverside Park has plenty of active ones where not just your pet, but you, too, can make fast friends, and the dog run in Morningside Park is also popular.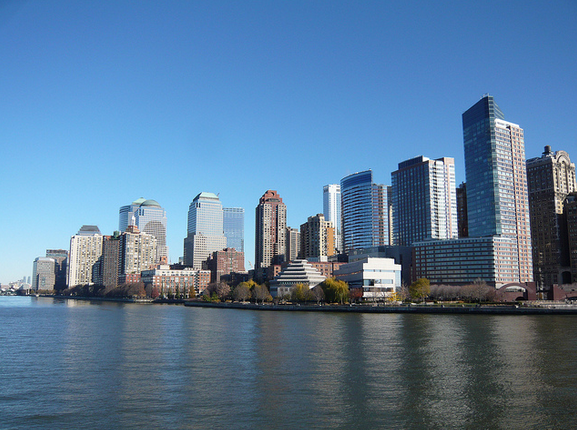 Lower Manhattan 
As developers try to cater to wealthy—and animal-loving—buyers, more new condos and luxury rentals are skewing pet-friendly. So it's not entirely surprising, then, that new construction-heavy neighborhoods in Lower Manhattan tend to score well on the pet-friendliness scale. Specifically, 36 percent of Battery Park City listings are billed as pet-friendly, along with 25 percent in the Financial District (a six percent increase from the last time we checked). The big news downtown is in Tribeca, where the number of pet-friendly buildings increased 20 percent, from eight to 28. 
These downtown neighborhoods do well on the retail front, with numerous business catering to pet-owners and dogs—including of course, high-end options like purveyors of organic dog food in Tribeca. However, keep in mind that green space is rather lacking down here. Unless your building happens to have a pet-friendly, shared lawn (many do), or you're within an easy walk of options like Battery Park City's Kowsky Dog Plaza or the Tribeca Dog Park, you may do best with a smaller breed that doesn't need hours of outdoor exercise everyday.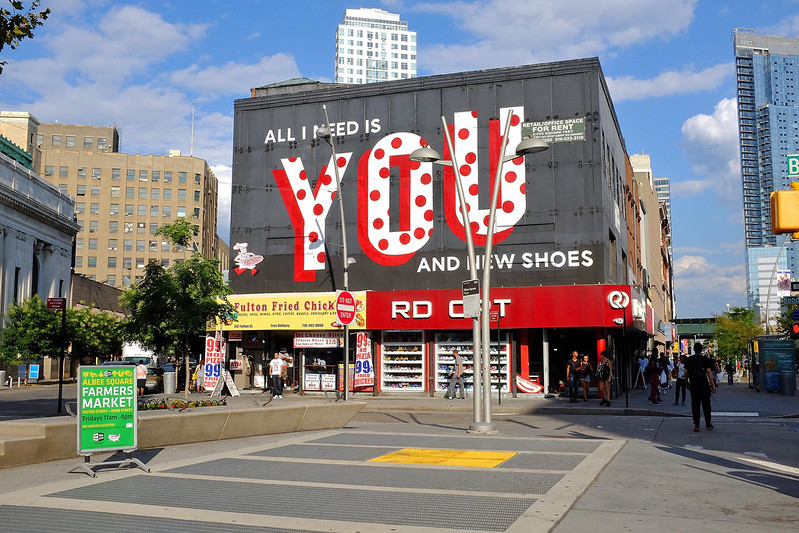 Downtown Brooklyn 
An example of a neighborhood making its debut on this list because of new development, 33 percent of Downtown Brooklyn's buildings are pet-friendly. (Natch: both Brooklyn Point and Ava DoBro have on-site pet spas.) Dog owners benefit from proximity to Brooklyn Bridge Park, which in addition to providing a lovely spot for a walk, has dog runs on either end of the waterside green space. The area is well-served by businesses both here and in the nearby neighborhoods of Brooklyn Heights, Cobble Hill, and Boerum Hill. (Options include large chains, independent businesses, and numerous vets.)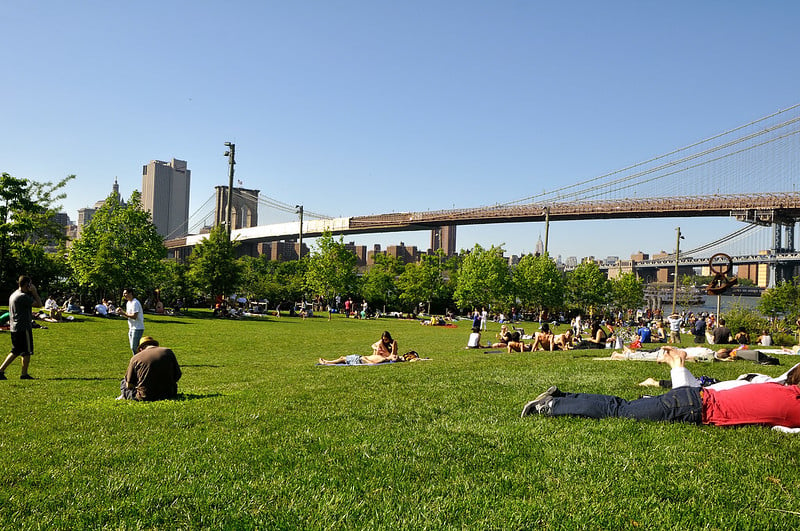 Dumbo
​Like downtown Brooklyn, Dumbo also benefits from a high number of pet-friendly new development, as well as waterfront park access. So 22 percent of listings in the neighborhood are classified as pet-friendly, and dog owners can choose between the dog runs at  Brooklyn Bridge Park as well as the popular Hillside Dog Park. The latter, in addition to offering a large, partially-shaded expanse to run and play, has a small dog area as well. And even in the relatively small, isolated 'hood, Yelp's stats show a serviceable number of doggy day cares, pet stores, and dog walking services.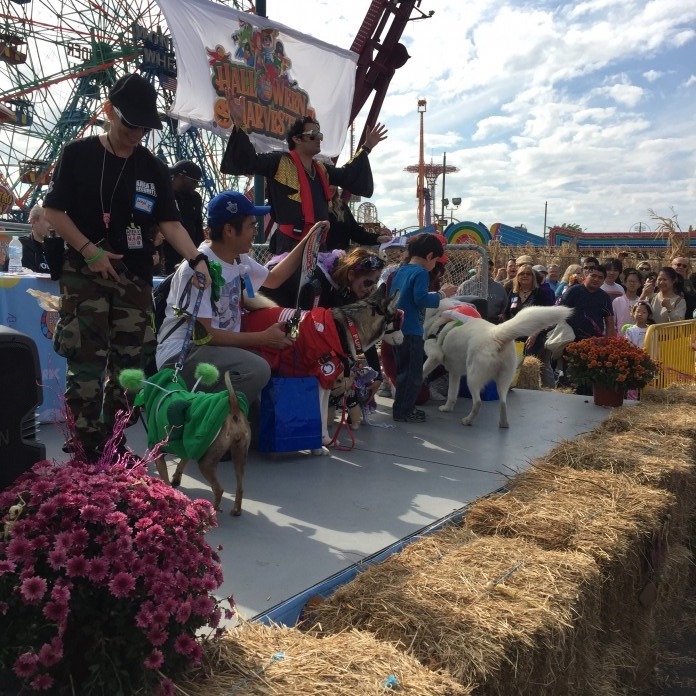 Coney Island 
The Brooklyn neighborhood deeper into the borough that makes the list is Coney Island, bumping Windsor Terrace. Does the latter have proximity to Prospect Park? Yes, but the seaside area's housing inventory is an impressive 40 percent pet-friendly. Asser Levy Park, located in the Coney Island Complex, has dog-friendly areas, and other popular spots for fun with Fido—that admittedly, you need to travel to— include dog runs at Manhattan Beach Park and Dyker Beach Park and an off-leash area at Dyker Beach. (This is the spot to be for sand-loving owners and pups.) The tradeoff for lots of pet-friendly housing stock here is a deficit of services; for dog-related merch and care, you're heading to Sheepshead Bay, Gravesend, and beyond.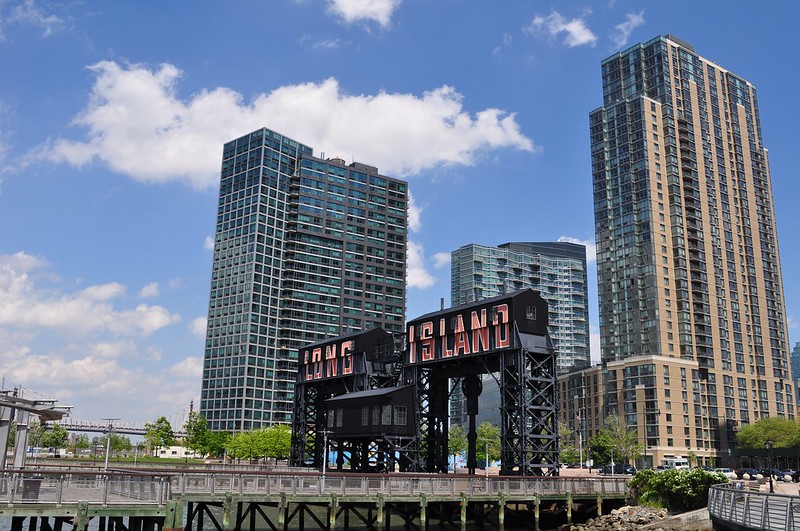 Long Island City
Another newcomer coming in strong thanks to new development, Long Island City bumps its neighbor, Hunters Point from the list. Here, 25 percent of buildings in the neighborhood are pet-friendly, compared to the now-anemic figure of five percent in Hunters Point in 2015. (Amazingly, LIC's numbers were literally next to nothing previously, at two percent.) The area has a 24-hour dog run in Gantry Plaza State Park, which joins the Murray Dog Run, the Murray Playground, and the Vernon Boulevard Dog Park among the neighborhood's numerous options for outdoor activities. Additionally, in late 2018, Gantry Plaza State Park revised its no-dogs policy to allow dogs on leash on paved pathways. While the neighborhood itself is not bursting with pet-friendly businesses (although the aptly-named Dog Island City is there), between options in Hunters Point, Astoria, and even the Upper East Side where many residents pass through or work, it is well-served.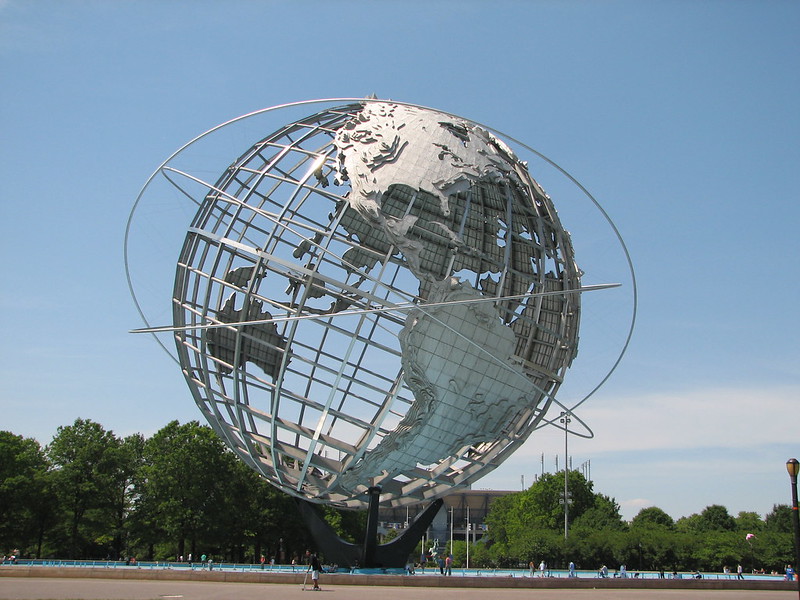 Corona
Further into Queens is a real heavyweight—indeed, the champion—when it comes to housing that is pet-friendly. Corona tops the list with 84 percent of its inventory listed as welcoming four-legged friends, so it would be hard not to include this neighborhood. The park options? Not great—as in, not many—but what saves it is the significant asset of Flushing Meadows Corona Park, home to the iconic fairgrounds of the 1964 World's Fair (including the Unisphere). In addition to lots of open green space for strolling, the park has an area for off-leash fun. 
Brick Underground articles occasionally include the expertise of, or information about, advertising partners when relevant to the story. We will never promote an advertiser's product without making the relationship clear to our readers.