NYC Pet Tales
Hiring a NYC dog walker? Here are the questions to ask and the answers you want to hear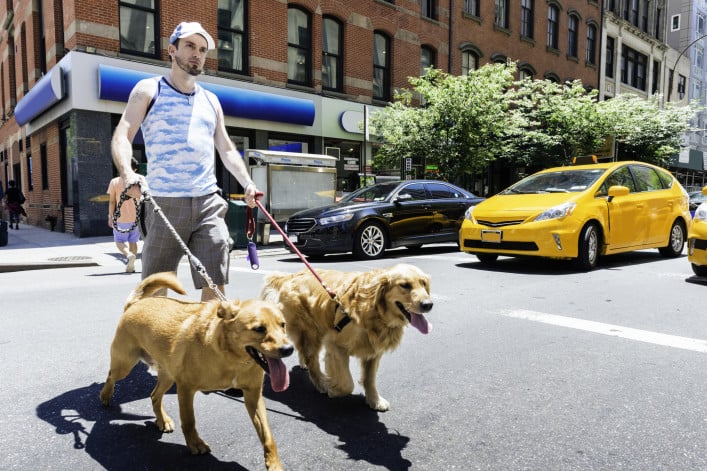 If you're new to owning a dog in New York City, and you work full time, chances are you're going to hire a dog walker to take your beloved pup out for some fresh air and exercise.
But not every dog-walking business follows the same practices, and it is a good idea to be clear on what you can expect, especially when navigating some of the trickier parts of dog ownership in NYC (namely, interacting with other dogs and dealing with strict co-op or condo building rules). We asked Adam Light and Mike Lavora, co-founders of Throw Me a Bone, an in-home pet care provider, for the questions you should ask—and the answers you want to hear—when interviewing a potential dog walker or dog-walking business owner. Read on for the (ahem) scoop. 
How many dogs are walked at same time?
While plenty of dog walkers do walk groups of dogs, Light says that they "don't believe in walking more than three dogs at one time because it becomes very difficult for one person to handle four+ dogs together, regardless of size and temperament."
Whenever one of the company's dog walkers has a large pack (5 or more dogs being walked at once) there's always a minimum of two people walking those dogs, he says. When one person walks four or more dogs alone, "it becomes a significant liability and it's simply dangerous to do so, especially in a busy/hectic city like New York."
He says the chances of something going wrong, such as a dog getting out of his/her collar or harness or two or more dogs getting into an altercation, significantly increases. 
But all the same, there are plenty of dog walkers in NYC who do walk groups of dogs without incident. It's still a good idea to ask how many will be walked and be reassured that the dogs in their care are friendly and get along well with one another.
Where will you walk my dog?
What you want to hear is that the dog walker is going to try to walk your dog in parks or along the river, if possible. 
"Their goal should always be to give them as much time off the streets as possible," Light says.
Many buildings don't let dog walkers bring non-resident dogs into the building when picking up/dropping off your dog. Will my dog ever be left tied up outside?
Light recommends dog walkers walk these dogs privately. "They should never leave any of their dogs unattended," he says.
Is there availability for extra walks if I'm staying out late after work? How much advance notice is required and will it be the same rate?
Light says that your dog walker should be available to you whenever you need a last-minute walk in the evening. "They will most likely charge an additional $5-$10 for services provided after 6 p.m. and, generally, should not need more than one hour advance notice."
How far in advance do I need to cancel a walk to avoid being charged?
You want a dog walker that will not charge you for a cancellation that's made at least 12 hours prior to the scheduled service, Light says.
Do you go to off-leash hours in NYC parks?
"All dog walkers have different opinions when it comes to allowing dogs off leash. At Throw Me A Bone, we have a 'no off-leash' policy when it comes to public dog parks," Lavora says. "We feel that the potential of injury or loss of a dog just isn't worth the risk."
How do you handle misbehaving or aggressive dogs?
"Your dog walker should recommend positive reinforcement training," Lavora says. "If your dog is showing some undesirable behavior, they should refer you to a positive reinforcement trainer that will work with you, side-by-side, to get your dog to a better/happier place."
How do you deal with dogs that are skittish about noise, traffic, or have other sensitivities to being on the street?
Ideally, your dog walker should have experience working with dogs that move to NYC from suburban or rural areas and have never dealt with the stimuli that comes with this town, Lavora says. 
"The most important thing to do is take it slow with these dogs and allow them as much time as they need to acclimate to their new surroundings. Whenever possible, spend time with them in a quiet park or somewhere that's less congested than the city sidewalks and streets," he says.
It seems to rain all the time these days in NYC—do you go out in all weather?
"Our dogs and clients depend on us, so as long as they need to go outside to take care of business, we'll be there to walk them regardless of rain, snow, or extreme temps," Lavora says.
If it is really bad out, they can reduce the amount of time spent outside and play with your dog inside the apartment. 
"You should find a dog walker that feels the same way about the services that they provide their clients," he says.
Brick Underground articles occasionally include the expertise of, or information about, advertising partners when relevant to the story. We will never promote an advertiser's product without making the relationship clear to our readers.