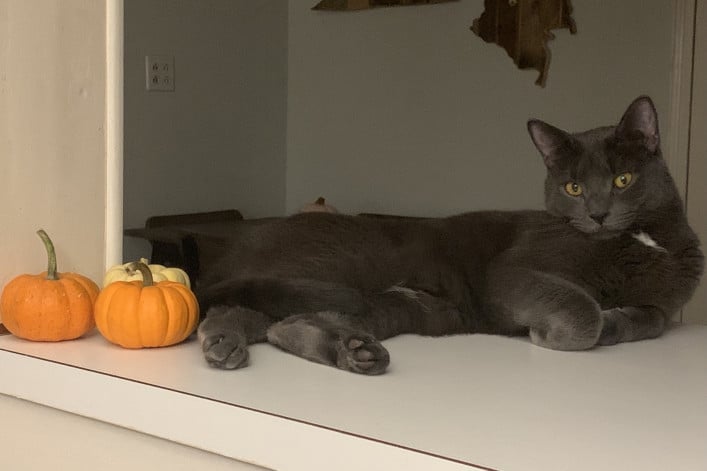 Austin Havens-Bowen for Brick Underground 
My boyfriend and I thought we knew everything there is to know about being cat dads. After all, we have survived living with two cats in a studio apartment. But when we got a new neighbor with a cat, and our cat started acting bizarrely, we realized there's always something to learn when you're a pet owner in a NYC apartment.
To be sure, when it comes to cat problems, we have seen a lot. We conquered feline asthma and a cat that liked to turn on our gas stove (tip: buy child-proof knob covers). We dealt with playing in the middle of the night, and a cat hanging half-way out the bathroom window (another tip: always keep the window screen down). But we never imagined that our pet problem would be someone else's cat.
When our cat Binx started hanging out by the front door, meowing and moaning constantly, we didn't know what to think. Was he trying to tell us something? Did he want to escape? He was licking himself so much he got an infection. We took him to the vet, and after a week on an antibiotic, Binx's infection went away, but he still hung out by the front door—making a racket.
Then it happened: We heard meowing, but our cats were sleeping. That's when we realized our new neighbors had a cat, and it was likely a female in heat, which was triggering Binx. Mystery solved.
But it goes to show that there are plenty of challenges of being pet owner in NYC—even when you have lots of experience. Here's Brick's best advice on living in a NYC apartment with a cat (or two). 
Soothe your anxious, aggressive, or bored cat
A cat's life can be dull in a small New York City apartment, so it's important to provide them with ways to get the most out of their lives (even if they do have nine). Making your apartment more exciting for your feline can help. Here's a suggestion: Make sure that your cat can see out of your windows. 
"If there's a window that actually looks out at something other than a wall that can make for great kitty TV," Mary Molloy, a certified dog trainer and dog and cat behavioral consultant and founder of Nirvana Tails, told Brick in the past. Active play sessions and playing cat music can also help. For more on how to relieve your cat's angst, read: 4 crucial tactics for calming down your anxious or aggressive NYC apartment cat. If podcasts are your thing, listen to Brick's podcast episode with Molloy: Soothing your anxious or bored cat. 
Cat-proof your small space 
Just like with children, having a cat in your New York City apartment is going to require some workarounds. It might mean putting plastic knob covers on your gas stove so they don't accidentally turn them on or placing your houseplants out of reach. (Although if you have my luck, you might have to give up on houseplants if you want a cat—our cats manage to always get to them—and destroy them.) 
If you live on a high floor, you will want to guard against high-rise syndrome—where cats cannot gauge how far they are from the ground and leap out of a window—and install window screens. You should also clear your space of exposed wires, and protecting furnishings that you don't want to be used as a scratching post. For more on how to cat-proof your apartment, read: How to pet-proof your NYC apartment. 
Find cat beds that look good
Your NYC apartment is probably a bit small so finding space for a litter box, scratching post, food and water bowls, toys, and a cat bed can seem impossible, especially if you want most of that out of sight. 
But, there are some chic cat bed options that you won't want to hide. There are even cat beds that double as a night stand. For help finding the most attractive l cat bed for your apartment, check out: Stylish pet beds that will look good in your New York City apartment. 
Skip heavy bags of litter and food 
It won't take long to realize the joys of having a cat, but they aren't as low-maintenance as you might think. Cat food is not the only thing that you're going to have to buy on a regular basis—there's also cat litter. Carrying heavy bags back to your apartment can be daunting, and you might not have enough room in your NYC apartment for bulk purchases.
That's where cat food and supply delivery programs can help. Many companies like Chewy will even give you a discount if you set up an automatic shipment schedule, saving you money and time. There are also cat-specific food delivery options like Smalls that deliver customized meals for your cat. To read more about what delivery services there are, check out: The best pet food and supply delivery programs during the coronavirus crisis: Chewy, Petflow, BarkBox, Smalls, & more.
Brick Underground articles occasionally include the expertise of, or information about, advertising partners when relevant to the story. We will never promote an advertiser's product without making the relationship clear to our readers.