The Market
9 signs that a short-term rental is a scam
Scammers are more active in a competitive rental market with low inventory and high demand
Beware of listings that don't provide the street address or have a too-good-to-be-true rent
Always ask to review the lease to confirm sublets are explicitly allowed—and that it's not a fake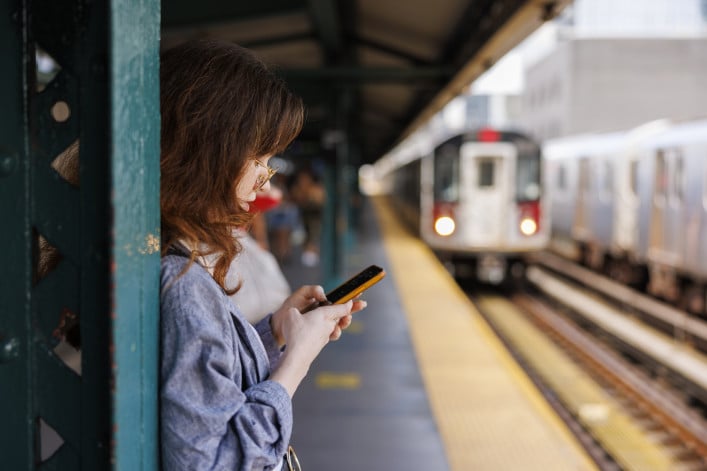 Alex Potemkin via Getty Images
Imagine signing a three-month lease to sublet an apartment in New York City, only to be kicked out after two weeks because subletting is not allowed in the building. Or paying a security deposit to reserve an apartment listing that turns out to be fake—and suddenly the email address you've been using to contact the so-called owner is no longer working. 
When the rental market has a lot of competition for apartments—as is the case in NYC now—scammers come out in force to take advantage of desperate renters. 
"Scammers are very well aware of market dynamics. When things are quiet, the scammers are quiet. When things are busy, the scammers come out to play and make more attempts," says Philip Horigan, founder of Leasebreak, a short-term rental listings site. "Unfortunately, this is also when renters are at their wit's end, losing out one apartment after another, and are more prone to falling victim to a scam."  
Horigan says they have seen a significant uptick in scams over the recent past. "You almost have to think like a scammer in order to catch them, and I'm always amazed by how much work they put into making a listing look authentic," he says. He should know: Leasebreak vets all listings, and he often hears from renters who have had a bad experience elsewhere.
---
[Editor's Note: A previous version of this article was published in May 2022. We are presenting it here with updated information for May 2023.]
---
In one case, a would-be renter found a listing where the email address matched the owner's name (unbeknownst to the owner), the lease appeared to be legitimate, and there was a licensed broker involved—but it was all a scam.
"After about 20 emails, the scammer says, 'Sorry, the current tenant won't let us in to show the apartment, and this is NYC, so we have other people vying for the apartment, and the only way we can reserve it for you is if you put some money down in advance to hold it,'" Horigan says. He advised the renter to back out ASAP. Asking for money to hold an apartment sight unseen is a major red flag.
Pro Tip:
With Blueground, you'll shave weeks off finding and furnishing your new home. From studios to two-bedroom spaces, each of our turnkey apartments is thoughtfully designed and fully equipped from top to bottom. We provide a hassle-free experience and the flexibility to stay as long as you want — 30 days, a year, or longer. During your stay? You'll enjoy reliable support through our app, where you can request everything from a home cleaning to extra towels. Check out over 500 unique apartments in Williamsburg, Midtown, and other top NYC areas and compare prices here.
Understanding the nuances of the NYC real estate landscape will also cue you to other potential warning signs. Specifically, many apartments in NYC are in co-op buildings, which very rarely permit short-term leases. Condo buildings cannot prohibit leasing, but they can require minimum and maximum lease terms, so they may have rules against vacation rentals. Additionally, renting an entire apartment (when the owner is not present) for fewer than 30 days is always illegal in NYC, despite the availability of many such apartments on Airbnb and similar short-term rental sites.
When you're hunting for a short-term rental, it might not seem fair, but the burden is on you to make sure that any sublet does not violate a building's or landlord's rules. Before you sign the dotted line—or fork over any money—read the following time-tested tips from NYC real estate experts on how to spot a scam. 
Clues that a short-term rental isn't legit
Follow your gut—if it doesn't feel right, it probably isn't. Horigan, who puts any questionable listings under review until they are cleared, lists the following red flags. (He says if you have any questions about the validity of a listing, you can email Leasebreak for feedback.) 
1. The listing doesn't include the street address
"Scammers hate websites that use real addresses because it means that the public can do their own homework on it," Horigan says. If it's a doorman building, speak to the doorman if you can—they know everything. Horigan says lots of scams have been caught this way. "The doorman will say, 'Yeah we've been getting calls about that unit, but it's definitely not available.'"
2. The rent is too good to be true
For a reality check, look up other rentals in the same building or similar units on sites like StreetEasy. Don't succumb to wishful thinking. 
3. There's a sketchy email address or brokerage affiliation
If the listing is from a real estate agent, make sure the email address is from a company rather than a personal Gmail account. Also, check the brokerage website to make sure the broker is actually employed there. Also, confirm the broker is licensed by the state. 
Horigan advises paying very careful attention to the initial response email—often, scammers will respond to your inquiry by creating a brand new email chain with a new subject line—even something general like "UES apartment"—rather than using the "reply" option. "This allows the scammer to email you from their preferred email address, which is probably already blocked by a lot of websites. It also lets the scammer "cover their tracks" and makes it hard for websites to easily remove their scam listings."
4. They create a false sense of security
Don't assume that connecting frequently via text, phone, or WhatsApp means the person on the other end is not a scammer. "They can coax you into a comfort level, and at some point, you trust them," Horigan says.
Some renters assume scammers only post on free sites. It's not true—scammers will pay to post a listing or even feature it. "The money they can make scamming you is way more than it costs to post and feature," Horigan says. Plus, by appearing on paid listings sites, they gain trust and credibility.  
5. You're not able to see the apartment in person
You or someone you trust should be able to physically see an apartment before putting money down. "The scammers will always come up with some excuse for why you can't see it, but it's not worth the risk," Horigan says. 
6. They use high-pressure tactics
Any kind of pressure to "hold" the apartment before you view it because they have other "interested parties" about to sign is a red flag. Proceed cautiously.
7. They refuse to show you a lease
Always ask to review the lease. There is never a reason why that cannot happen. But because leases can be faked, Horigan advises checking directly with the landlord to make sure it's the real deal.  
Why is this important? You want to confirm that the apartment owner and the building (or landlord) permit short-term leases, or that the tenant's lease permits subleasing—and, if so, whether it requires the landlord's written approval. And thank to NYC's new Local Law 18, owners and boards can now add their building to a list of buildings that ban short-term rentals, making it very clear where sublets are not allowed.
"If the person won't show the lease to you, chances are it doesn't expressly state in the lease that subleasing is permitted," says Elizabeth Kee, a broker at CORE. Or it could explicitly rule it out. "Never lease an apartment without a written agreement signed by all parties," she says.
Reputable brokers will have relationships with owners and be familiar with boards and building management companies and know their policies.
8. Or—they show you a fake lease
Veteran agents will also be able to spot a scam from the lease itself, which might be a sham. "There are really only two or three standard leases that are used by most landlords, and many scammers do not know this," Horigan says. "Sure, there are a few real landlords that have their own customized leases, but these are few and far between."  
According to Horigan, sometimes the people who are renting out their apartments in NYC simply don't know the rules—and even though they are not trying to scam you, they might be subletting the apartment in a way that could get you evicted. One example involved a renter in a condo who was trying to sublet his unit for a month or two. "No way would that be allowed when he wasn't even the owner," Horigan says. 
And beware: You may come across owners who are looking to sublet their condo for a few months while they are away in the summer. That may or may not be allowed, depending on the building's house rules, which every owner is required to abide by. Again, it's worth asking them to provide you with written confirmation approving the sublet.
9. An agent suddenly appears after you talk to the owner
Sometimes an apartment is listed directly by an owner or landlord, and then all of a sudden, you are dealing with someone who claims to be a broker. Usually, they pick a very common name (e.g., John Smith) because there is almost certainly a broker licensed with that name. This makes it harder to prove the broker is not real. 
"Ask yourself why wasn't the apartment listed by a broker to begin with. If the landlord is paying the broker, why is the landlord spending time/money/energy advertising it?" Horigan asks. If it doesn't add up, it may be a scam.
Also, know that under the rent laws in NYC, a rental landlord is not allowed to charge more than $20 for an application/credit check or take more than the equivalent of one month's rent as a security deposit. (Here's what you can do if either of these things happen.)
Where to find a legal short-term rental
Kee recommends hiring a licensed real estate agent who specializes in short-term rentals or to use a reputable short-term rental agency or listing site, such as Apt212 and Leasebreak. "They screen for buildings where the landlord permits short-term rentals," she says. 
Philip Lang, co-founder of real estate brokerage The Agency, says furnished rental companies like Blueground and Furnished Quarters are geared toward the corporate travel market and provide flexible leases. Two other national rental companies with significant inventory that may units out on a short-term basis are Equity Residential and Related Luxury Rentals.
Consider extended-stay options like AKA and Sonder, or perhaps a spare room in an occupied apartment through a vacation-rental site like Airbnb and VRBO.
Finally, for a turn-key approach to renting, you could consider one of the 15 or so co-living companies in NYC, some of which allow minimum stays as short as 30 days. 
These and other options are all covered in "An Insider's Guide to Finding a Short-Term Furnished Rental in NYC."
Why are short-term rentals tricky for landlords? 
If the term is less than 90 days, the person renting out the unit may be considered a "hotel operator" (as is the case with Airbnb and VRBO) and would be required to pay a hotel tax plus a daily hotel unit fee to the city. 
Once someone occupies an apartment for more than 30 days, they have some of the rights of a regular tenant—even if they are in the unit illegally. As Kee puts it, "Evicting a tenant for nonpayment or a hold-over (staying beyond a lease term) can be costly, and tenant's rights are fiercely protected in NYC." 
With a legitimate short-term rental, you should expect to be screened in the same thorough way as for a long-term lease. This is especially true in light of the rent laws, which prohibit security deposits greater than the equivalent of one month's rent—which used to be the way landlords would protect themselves against someone, for example, with a poor credit history.
Horigan says an owner he works with regularly always requires a credit check, bank statements, letter of employment, and tax returns even if a renter is staying only one month. 
If you don't experience similar vetting, question why. If you were an owner, wouldn't you want to vet a renter thoroughly before handing over the keys to your apartment?  
Brick Underground articles occasionally include the expertise of, or information about, advertising partners when relevant to the story. We will never promote an advertiser's product without making the relationship clear to our readers.