The Search
An insider's guide to finding a short-term, furnished apartment rental in NYC
Furnished rentals are significantly cheaper than comparable NYC hotel stays
But NYC short-term rental laws and building rules make listings difficult to find
Consider short-term agencies, corporate housing, and extended-stay accommodations
Finding a rental apartment in New York City is notoriously hard—and finding a short-term, furnished rental here is even harder. It's a dilemma you may face if you're relocating here for work or if you are renovating. Other reasons you might need provisional housing abound: Maybe you're a visiting professor or your kids are attending college here, or you might be receiving medical treatment or providing care for a family member or friend. And so on.
No matter the scenario, the challenge is inevitably the same: How do you find accommodations that are legal, economically feasible, and offer the comforts of a real (if temporary) home?
"One of the most common requests we get as brokers in NYC is for short-term furnished rentals," says Tara King-Brown, a broker at Corcoran. "This runs the gamut of price points, neighborhoods, and clientele."
That said, "Sometimes brokers are aware of short-term rentals, however, it's not a general practice," says Karen Kostiw, an agent at Coldwell Banker Warburg.
---
[Editor's note: An earlier version of this article was published in April 2022. We are presenting it again with updated information for January 2023.]
---
What's behind this Catch-22?  It's tricky to find apartments available for short-term stays due to NYC laws, which prohibit rentals for fewer than 30 days. And buildings—especially co-ops and condos—don't want to have a revolving-door environment. Plus they would be subject to city and state hotel taxes for short subleases. (These factors are unpacked below.)
Rest assured, viable options exist. "We usually direct clients to hotels for weekly requests, corporate stay options for 30 days to six months, and rental or condo buildings for six-to-12-month lease terms," King-Brown says.
Rely on Brick to unpack that guidance and walk you through the potential pitfalls so you can avoid the typical hassles and headaches. You'll also find a round-up of short-term rental agencies to help you save time and effort in finding the right place for your NYC stay. Read on.
What are the laws for short-term rentals? 
For starters, NYC prohibits rentals for less than 30 days when the host is not present, even if the host owns or lives in the building. Short-term rentals are only allowed if the host remains in the same unit as guests, and no more than two guests are permitted.
And Local Law 18, which went into effect in January 2023, is expected to significantly reduce availability—as in by a quarter of all listings. 
"Local Law 18 mandates that short-term rentals are registered with the city and abide by specific safety requirements, and that the premises are not used for illegal operations," Kostiw says.
What's more: "Given that the housing stock is low in NYC, officials are tightening the laws. There are additional plans to crack down on illegal short-term rentals, including by Airbnb and VRBO—and the fines will be higher," she adds. 
Then there are the economic disincentives. Landlords (including renters who are subleasing a unit) are supposed to pay a 5.85 percent hotel tax plus a daily hotel unit fee of $1.50 to the city for leases that are less than 90 days. The same applies to "room re-marketers" such as Airbnb, Home Away, and VRBO.
You'll also want to steer clear of illegal listings and stay on the right side of the law when it comes to those platforms. Otherwise, you may find yourself being escorted out of your prepaid, nonrefundable apartment (er, basement unit) before your visit is over.
What are rules for co-ops, condos, and rental buildings?
While buildings must abide by city law prohibiting rentals for fewer than 30 days, they can go beyond that threshold rule by setting their own, more stringent stipulations. And co-op and condo boards tend to double down on subletting in general.
"Most NYC co-ops do not permit short-term leases," says Neil B. Garfinkel, a real estate attorney with Abrams Garfinkel Margolis Bergson. "These entities do not want to promote a transient hotel-like environment, that's the bottom line."
According to King-Brown, condos generally require a six-month (or longer) minimum lease term, and you might have to receive building approval by completing an extensive, weeks-long board package.
"Condo boards and residents work to avoid short-term turnover of any kind as they feel it deteriorates the quality and experience of the building," King-Brown says, with one caveat: Owners are often allowed to have a "guest" stay for up to 30 days at a time without submitting a full board package if you are a friend or family member and not being charged rent. 
Kostiw cautions that rental buildings often impose their own restrictions on short-term rentals.
She advises reviewing the building's policy and conferring with the managing agent before signing any short-term lease. "It's also a good idea to have a personal lawyer that will ensure that the agreement is legitimate, and meets New York rental tenant laws."
How can you spot a scam?
Unfortunately, there are many scams associated with short-term rentals. The easiest way to avoid them? Consider the source. Unless you're working with a reputable firm or agent, proceed with caution.
Be especially aware of postings by tenants rather than the landlord. Don't be afraid to ask questions to make sure a renter has the ability to sublet the apartment. You also have every right to speak directly to the landlord. If the answer is no, walk away.
Go with your gut: If a listing looks too good to be true, it most likely is. Size up the photos, floor plan, and price. Skip any that don't have all three of these elements (and be wary of fake photos). 
Kostiw offers this cautionary tale in which a prospective renter of a short-term rental did some sleuthing, saw the apartment had recently been sold, and contacted her as the selling agent to confirm if the apartment was legitimately available for rent or if it was a scam.
"It was a scam, of course. The apartment was not for rent, and the list price was much too low for a three-bedroom unit," she says. 
What's more, furnished rentals are always going to be more expensive than unfurnished, so beware of any unreasonably low rates. Always compare the price to similar apartments. 
What are some short-term rental solutions?
For one turn-key approach to renting a furnished apartment, consider co-living companies. Many offer minimum stays as short as 30 days and a number allow residents to hop from property to property.
Another option is to work with agencies that specialize in furnished short-term stays.
Some of these enterprises—like Blueground (fyi, a Brick sponsor) and Outpost Club—were founded by folks who say they were frustrated by their own extended-stay experiences. These networks of furnished rental options are based on a hospitality business model, so you are dealing with an investor-backed business instead of individuals.
Keep in mind that even though furnished rentals come at steeper prices than unfurnished rentals, you'll be recognizing significant savings over a lengthy hotel stay (at an average of $235 per night times 30 days). You'll also need to avoid doing damage to the furnishings or end up having repair or replacement costs deducted from your security deposit. On the other hand, extended-stay hotel residences offer more flexibility in case you don't want to commit to a full-month visit.
As with any rental, you will find the greatest inventory—and highest rental rates—from June through September, so if possible, take advantage of price drops (but lower supply) from December through March. 
Being flexible also helps. You may have to make compromises regarding having a doorman, being in an elevator building, or settling on an earlier or later move-in date.
Always be on the lookout for hidden costs; some rental quotes include wifi and utilities and housekeeping, but others don't. Do your homework.
11 resources for furnished, short-term rentals in NYC
The following agencies and companies (presented in alphabetical order) are well-reviewed and worth a try.
Backed by a multigenerational (and multi-billion-dollar) real estate company, AKA's claim to fame is having "the world's most livable hotels," with a mission of providing an elevated alternative to weekly and month-to-month apartment rentals.
Accommodations: Choose among studios, one- and two-bedroom suites, and penthouses at one of three NYC locations: AKA Central Park, AKASutton Place, and AKA Times Square. A fourth location, Hotel AKA NoMad, is opening in spring 2023 (and taking reservations now). 
Amenities: These "hotel residences" are based on an extended-stay model rather than a rental agreement, with all the luxury amenities you expect from high-end lodging—complimentary wifi, valet laundry service, housekeeping, grocery delivery plus a fitness center, cinema, café, lounge, and business center.
Costs: You'll have to make a formal inquiry to find out the rates—meaning if you have to ask, they are probably out of your price range. (Or you can reserve through a third-party service like Booking.com, where the total 30-day fee at AKA Central Park was $11,590 for a studio and $17,370 for a one-bedroom suite plus taxes.)
The upshot: If proximity to cultural attractions and living in the lap of luxury are your top priorities (and budget is not in your vocabulary), you are AKA material.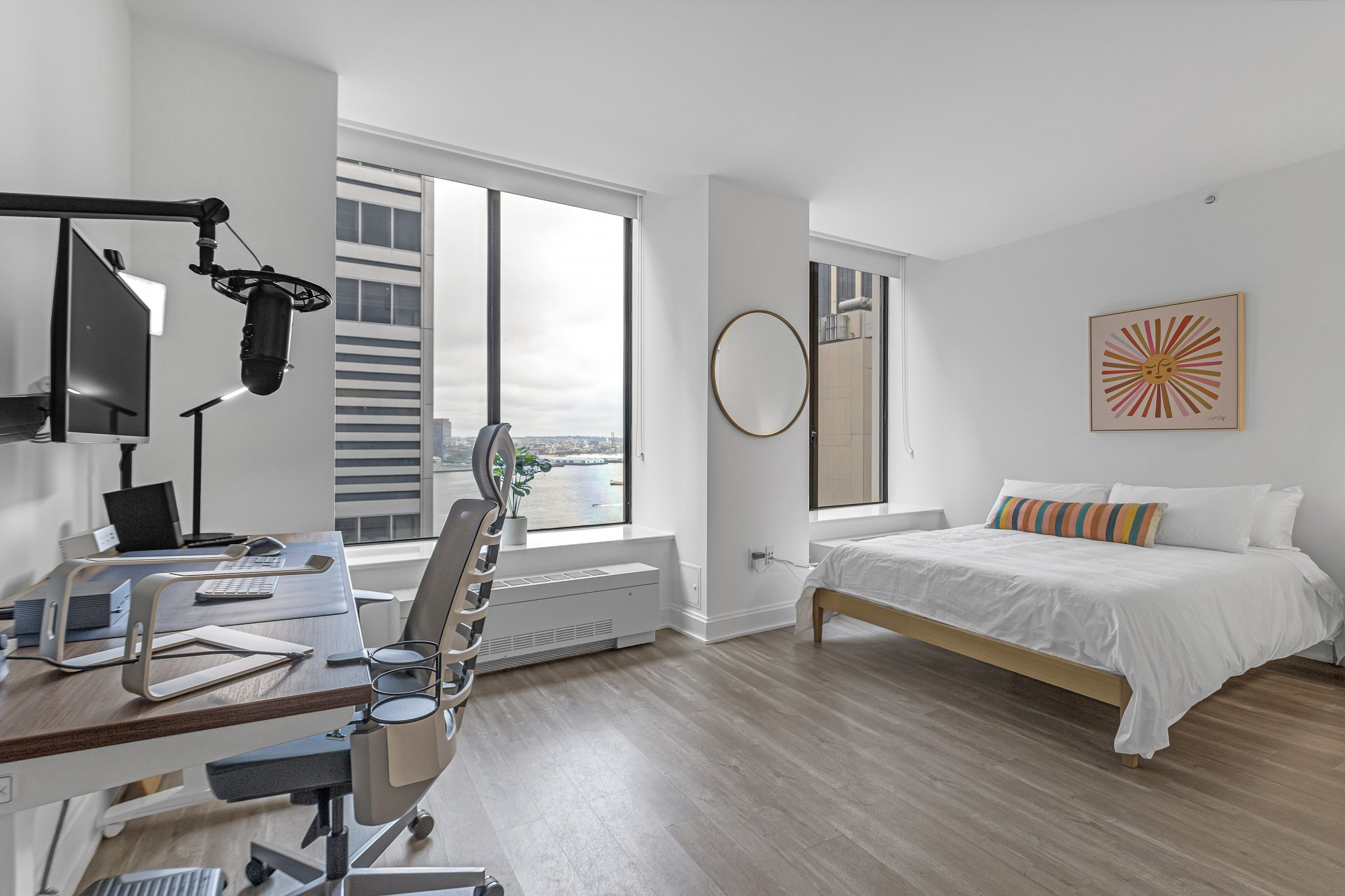 With "Live Anyplace, Work Anywhere" as its slogan, Anyplace provides furnished rentals in three buildings in Manhattan—one in Chelsea (West 21st Street) and two in FiDi (on Wall Street and Hanover Square). 
Accommodations: Each furnished studio or one-bedroom apartment comes with in-unit laundry as well as plug-and-play workplaces equipped with a height-adjustable desk, ergonomic chair, wide-screen monitor, and wireless keyboard and mouse for your laptop. Plus, you get everything you need for Zoom meetings, including a background screen, mic, light, and webcam. 
Amenities: The modern buildings have co-working spaces, recreational lounges, fitness centers, swimming pools, and rooftop decks. 
Costs: Rates start at $3,870 per month with a minimum 30-day stay. Not ready to budge after that? You can extend your stay at any time. Booking is as easy as reserving a hotel—all done online, including a free credit and background check.
The upshot: Remote workers are the target market, so if that doesn't sound like you, consider looking elsewhere. 
As the name implies, Apt212 zeroes in on the Manhattan market, specifically the Midtown and Downtown areas. What started as a traditional real estate brokerage in 2010 has morphed into a "tech-infused company specializing in investment sales and new developments," though it still has a rental division that matches renters with short-term stays. 
Accommodations: The listings include rooms for rent in shared apartments along with private units in luxury buildings and there were 275 listings as of this writing (and only four no-fee properties). The filters don't seem to work properly—if you choose Laundry or Health Club, you likely get zero results and yet browsing the listings reveals many rentals in luxury developments with all the bells and whistles. Prepare to do your own digging, but you can find some real gems.
The costs: Besides a one-time $100 application fee, Apt212 charges a service fee for each lease based on 15 percent of the reservation subtotal before taxes, similar to a brokerage fee. (Hosts are charged a service fee to cover the cost of processing payments and apartment maintenance.) A security deposit equal to the first month's rent is also required at booking and held by the landlord.
Rents for a one-bedroom, one-bath apartment ranged from $4,200 to $16,000 per month, with the bulk of the 83 listings between $7,500 and $8,500. 
Transparency is a bit lacking and it can be hard to know what's included or not in the quoted price. Depending on the property, other costs compound the base rental: Cable, wifi, and electricity may be extra. Some landlords require monthly cleaning to keep apartments in good condition (at an additional charge) and a one-time move-out cleaning, which can be deducted from the security deposit.
No credit checks are required, though you will need to submit to a criminal background check, as with most other agencies.
The upshot: Apt212 may not be the most economical choice but, thanks to a no-credit-check policy and guarantor acceptance, it can be a viable option for students, recent grads, and others with zero (or poor) credit history as well as international visitors.
Of the companies included here, this self-described "real estate tech company" is the one most credited with disrupting the extended-stay industry with its digital-first business model, seamless transactions, and proprietary app.
Accommodations: Blueground rents new or renovated units from private owners in specified areas, sends in its own design team to fit them out with custom furnishings and appliances, and then handles all the leasing and maintenance.
The listings are predominantly in Brooklyn and Midtown and Downtown Manhattan, with upward of 150 Uptown options and some apartments in Long Island City, Hoboken, Jersey City. Most rentals are in elevator buildings, and many are pet friendly.
Amenities: These depend on the specific listing, but you can filter your search for an elevator, doorman, laundry (on-site or on each floor), gym, parking, rooftop deck, pool, and/or courtyard. And amenities are included in each listing. 
The costs: A few searches for one bedrooms resulted in monthly rates ranging from $5,090 at The York in Midtown to $12,570 at properties in Chelsea and LIC. (At $17,080 a month, a one bedroom at 1 Union Square in the Flatiron was an outlier.). 
Know that the monthly rate that shows up in your search results is the cheapest available based on a 12-month lease (or rather one day shy of 12 months).
The upshot: If the idea of tech-enabled efficiency and stylish, full-service accommodations speaks to your own sensibilities, Blueground is a safe (albeit high-priced) bet.
With over 30 years in the business, Churchill Living is a respected leader in the luxury corporate housing market, helping with employee relocations and business travel as well as insurance-policy accommodations and home-renovation placements. More recently, the company has rebranded itself as providing temporary accommodations to regular folks, too, from students and interns to families and solo visitors who are not on an expense account. 
Accommodations: The apartments are in 17 luxury buildings that are mainly situated in Midtown and Lower Manhattan as well as Murray Hill and Lincoln Square, with one each in the Bronx and Brooklyn. Most feature floor-to-ceiling windows, granite countertops, custom cabinetry, and Italian tile in the bathrooms, among other bespoke details. 
Amenities: Expect best-in-class offerings at full-service buildings, with 24/7 attendants, fitness clubs, swimming pools, spas, kids' playrooms, and even things like a skydeck and pro-sized basketball court (Sky), or bowling alley and dog run/spa (555 Ten Apartments). 
The costs: Starting prices range from $179 to $399 a night, with a couple of higher-priced exceptions for a four bedroom on Renwick Street and a three bedroom at 50 UN Plaza. 
The upshot: Churchill is still the default for discerning tastes and deep pockets.
Founded in 1998 by two real estate developer brothers who owned two brownstone apartments in NYC, Furnished Quarters is the largest independently owned and operated provider of global temporary housing, and not just for corporate clientele.
Accommodations: Working in conjunction with various landlords, Furnished Quarters has its own design team that furnishes the units, including signature wallpaper, sheets and towels, and even their eco-friendly cleaning supplies. Additionally, the company rents out units in its own buildings (mostly brownstones and townhouses). Properties are spread across Manhattan—including on the High Line—with a handful in Brooklyn and into White Plains and Hoboken and
Amenities: Its diverse portfolio comprises properties in a wide range of prices and with a wide range of amenities, with affordable mid-tier buildings and full-service high-rises with all the desirable perks. 
Costs: Studios and one bedrooms start at around $139 a day—rates for larger apartments and buildings with amenities are higher. 
The base rental cost includes wifi, utilities, twice-monthly housekeeping, and maintenance—basically everything but city taxes. And because there's no security deposit or any service fees, there's less of a barrier to entry.
The upshot: By bundling the costs, Furnished Quarters makes it easy to predict your monthly expenses. You also get 24/7 service without an extra fee. Their FQ Green initiatives (reusable shopping bags and paperless billing) mean you can feel good about your stay.
Leasebreak aggregates listings for shorter leases, sublets, lease takeovers, and shared apartments across the five boroughs of NYC and New Jersey. According to founder Phil Horigan, the inventory is split between units rented directly from landlords and agents (including some of the companies on this list), and units posted by tenants looking for subletters or new renters in case of a lease assignment, where the new person takes over an existing lease. (Note that in the case of a leasebreak, a new tenant will be required to sign a new lease, usually for a full year.)
Leasebreak provides the source of the listing and whether a fee is involved or utilities are included. If the post is by a broker or company, such as Blueground or Sonder, you will be connected to them via the online inquiry form.
To avoid scammers, Horigan says one of his staff (or he himself) reviews every posting during a 24-hour waiting period. He requires all posts to provide a street address so prospective renters can check with the landlord or property manager directly.
Leasebreak also asks all tenants whether they have their landlord's permission to sublet or re-rent, and then publicly display that answer in the post—and you can filter your search to only include the ones that said yes. You can also look for stamps of approval from the landlords themselves, though that is not yet a search filter.
The costs: This varies as widely as regular rentals do. A recent search for an entire (pet-friendly) apartment in Chelsea/Hudson Yards for a month-long March rental where the tenant has landlord's permission turned up 33 results, ranging in price from $4,960 for a one bedroom on West 34th Street to $7,101 for a one bedroom on West 21st Street (both happen to be from Blueground), with some studios and two bedrooms in between those rents. 
The upshot: Leasebreak lets you cast a wide net in hunting for legitimate short-term rentals, going beyond even other aggregate sites to include tenant posts that might otherwise fall under the radar.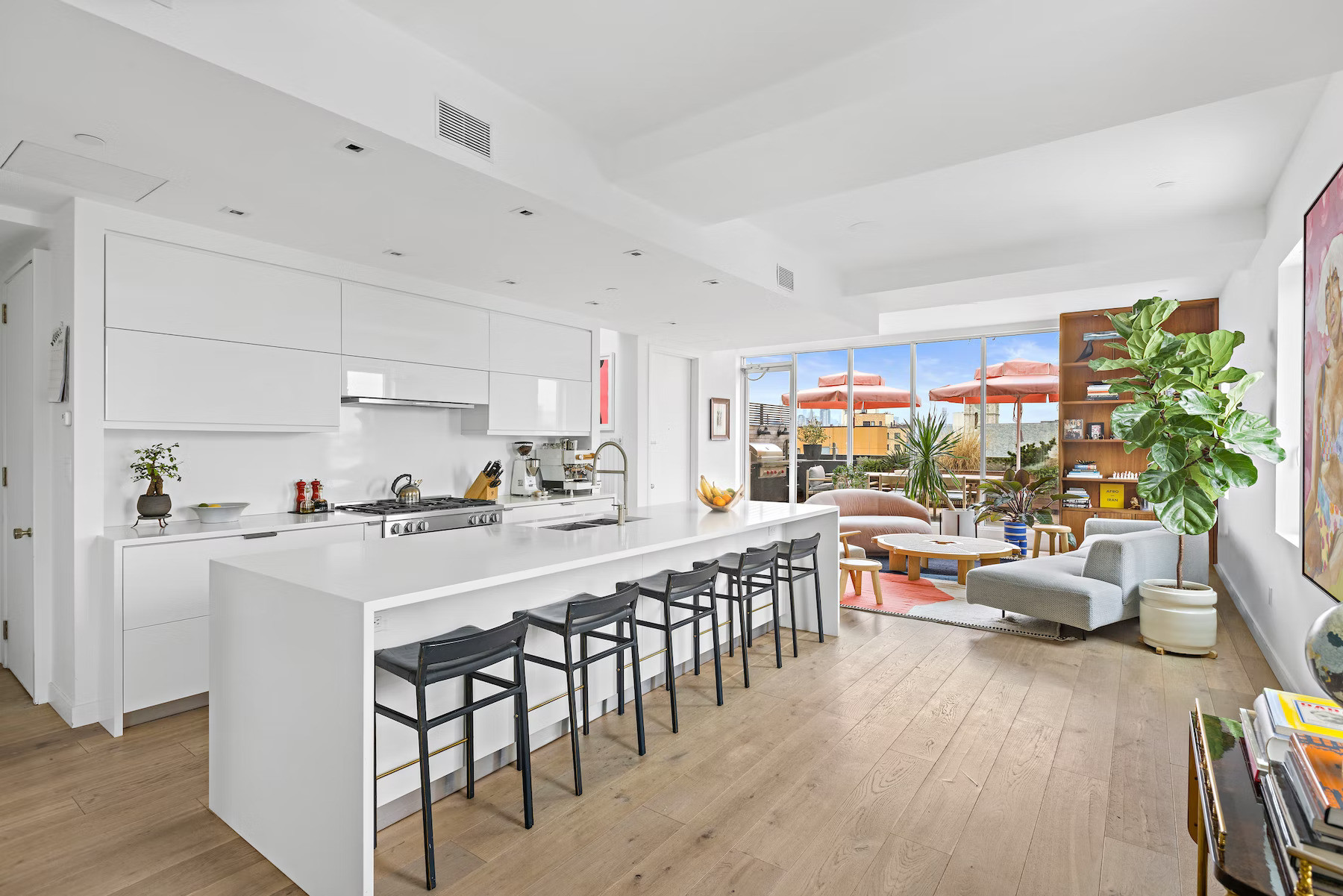 Admittedly on the high end, onefinestay—a leading rental agency since 2010 with a portfolio of private high-end homes—has monthly stays available at 16 luxury properties in NYC and more being added over the coming months. 
Accommodations: NYC listings include addresses in the East Village, West Village, Soho, Chelsea, Park Slope, and Williamsburg and range from one to six bedrooms.
Amenities: The bookings come with onefinestay's concierge service and guest support: Guests can add on additional services like housekeeping, private chefs, and in-home spa treatments.
Costs: Be aware that rates are nightly and based on a 30-day stay, with the opportunity to extend and rent by the day after the initial month-long booking. For example, a search for apartments for March resulted in nine listings, including a five-bedroom, seven-bath townhouse on Waverly Place for $4,167 a night (that's a total of $125,010!).
The upshot: Because these are all private homes, it's similar to staying at an Airbnb, only to the nth degree thanks to onefinestay's wraparound services. Read: This is how celebs do it.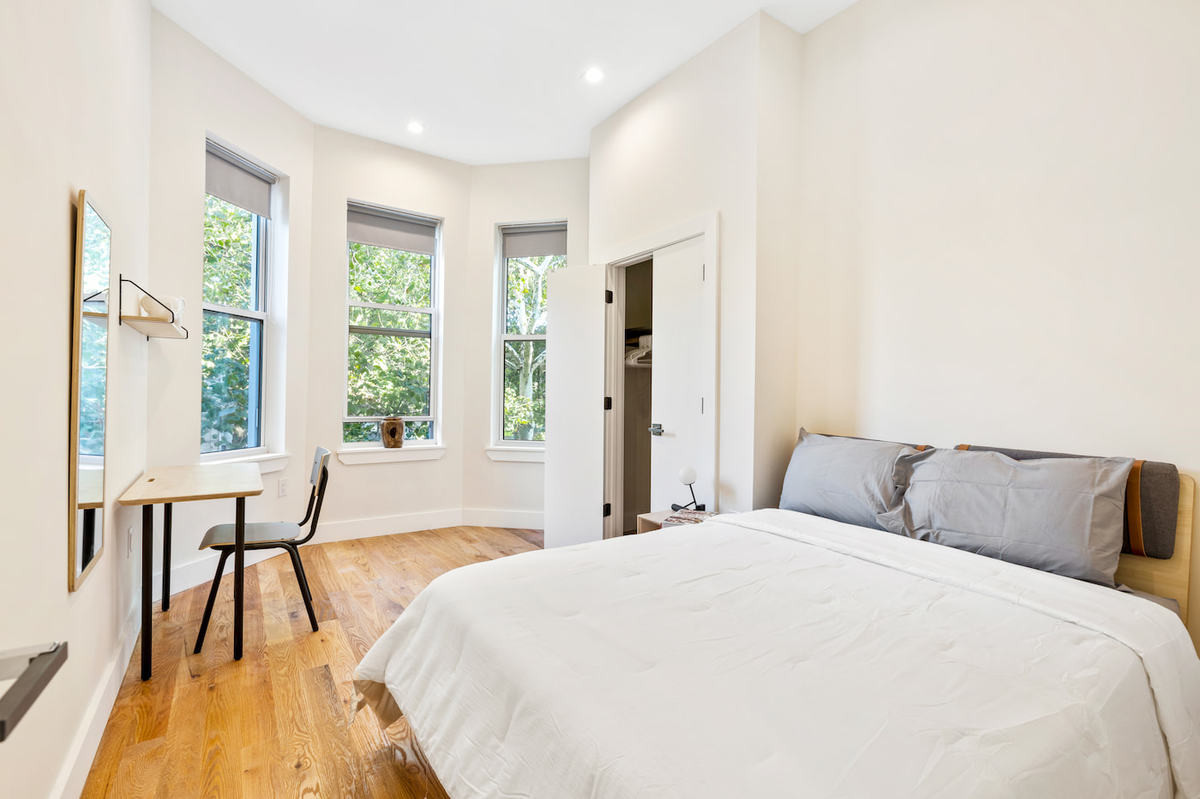 If you are open to a shared space, Outpost Club is an option. The co-living company has furnished short-term rentals in mostly Brooklyn neighborhoods but also Queens (Ridgewood and Flushing) and Harlem. (Outpost Club acquired some of Bedly's buildings in 2019 after that company closed abruptly.) 
New "houses" are in Bryant Park, Gramercy Park, Washington Heights, and Hell's Kitchen.
Like other co-living companies, Outpost Club handles the entire rental process, including matching you to roommates. 
Accommodations: Choices include a bed in a shared room as well as private rooms in standard, large, executive, and combinations like "standard large" and "executive extra large," though the terminology is based on each property. Some private rooms have their own bath. Lease terms are one to 12 months. There are also a handful of full-apartment rentals for longer stays (typically six to 12 month minimum). 
Amenities: Common areas vary by house, but generally include a common kitchen that's stocked with essentials, lounge area with flat-screen TV, and co-working space. Some properties (like The Hancock House) have on-site laundry and outdoor space.
The costs: The application is free but all leases require a refundable security deposit, though if you cannot afford that upfront amount, you can apply for financing to cover the deposit. Utilities and wifi cost an extra $149 per month but twice-monthly cleaning is included in the rent. 
Price and square footage can vary, and by a lot. Sample one-month stays cost $1,440 for an economy twin in a shared room at The Woodbine in Ridgewood, $1,630 for a standard private room at The Hancock House in Bushwick, and $4,500 for an "extra-large" studio at The Gramercy Park Studios. 
The upshot: You're not just renting a room, you're "building communities around shared spaces like kitchens and living rooms." You can also try out the different neighborhoods (especially if you are Brooklyn-bound) before establishing more permanent roots.
Premier Furnished Solutions specializes in professionally designed short-term leases for corporate relocators and business travelers, namely in entertainment, tech, finance, law, and oil and gas, according to the website. The multilingual staff is also tailored to diplomats, consular officers, and other international clientele requiring cultural sensitivity.
Accommodations: All properties are in Manhattan—namely Battery Park, Tribeca, Lower East Side, Chelsea/Hudson Yards, Midtown, and Upper West Side. Listings include studios, one bedrooms, and fewer two bedrooms. 
Amenities: The mid- and high-rise buildings feature what you'd expect—health clubs, resident lounges, laundry facilities, sundecks, playrooms, bike storage, and the like, plus billiard rooms and clubhouses at certain locations.
The costs: Prices are only available upon request but are all-inclusive of utilities and housekeeping, and there are no service fees or security deposits. There are, however, available add-on "amenity packages" including a pet package for $500 (for toys and essentials) and a chef package for $350 (if you require an espresso machine or a food processor, for example).
The upshot: If having to submit an inquiry doesn't turn you off, and you are looking for a Manhattan address, then Premier Furnished Solutions's all-inclusive rates are probably worth the company's boutique white-glove service. 
Founded in 2012, California-born Sonder has expanded globally, entering the NYC market a few years back. Currently it has 12 properties in six nabes: Long Island City, Gowanus, Tribeca, Financial District, Flatiron, and Midtown East.
Accommodations: As the most hotel-like service of the bunch, you can book rooms (or entire apartments in some locations) or on a nightly basis with a two-night minimum or by the month—or any length of time in between. And as a hotel-like environment, lodging comes with house rules: No smoking, no parties, no pets, and a suggested quiet time from 10 pm to 8 am. On the flip side, no credit or background checks are required.
Amenities: The über-modern buildings offer eclectic, design-forward furnishings, top-notch amenities such as rooftop lounges and fitness facilities, and fully equipped kitchens.
The costs: Prices are in the $175 to $500 per diem ballpark and are assessed a nightly tax and a $35 fee to cover the post-checkout cleaning. Regular housekeeping can be arranged for an additional fee. 
The website posts all pricing, so it's easy to browse: A studio and one-bedroom apartment at Court Square in LIC costs $180 and $244 per night respectively, while rooms at Henri on 24 in the Flatiron start at $166 a night (and up to $237 for a superior king room with balcony city view). 
The longer you stay, the better the deal, with a 25 percent discount off of a seven-day stay and a 35 percent discount off of 30-day bookings (so you would pay $4,875 on a room that costs $250 a night and would normally be $7,500). You may have to pay a refundable security deposit depending on the property.
The upshot: Sonder apartments combine hotel convenience with the comforts of home. And, unlike the others listed here, you can book for shorter than a month
Brick Underground articles occasionally include the expertise of, or information about, advertising partners when relevant to the story. We will never promote an advertiser's product without making the relationship clear to our readers.