Renovation
How to carve out a chic, comfortable home office in your NYC apartment or townhouse
Enclose the space with glass instead of sheetrock for privacy, not seclusion
Design the space so it can evolve into a nursery or playroom in the future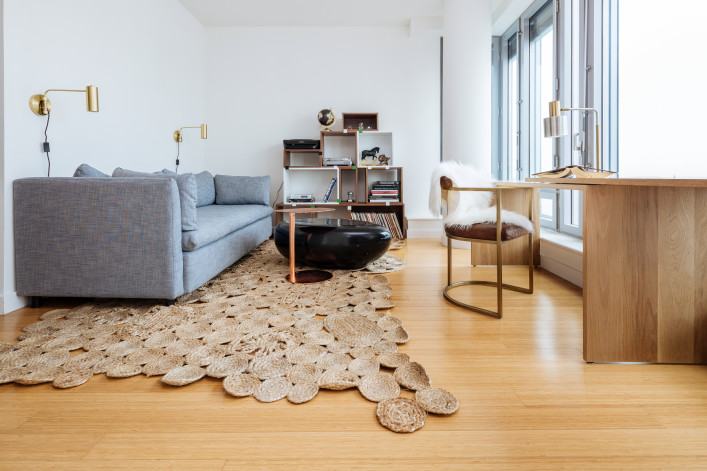 More New Yorkers are working from home than ever, at least on a hybrid basis. Avoiding the hectic commute is a great perk, but trying to carve out an "office" in typically tight quarters can stump even the most organized apartment and townhouse owners (and renters!). And who wants to stare at that pile of papers and computer monitor 24/7? 
One solution is to have the space do double duty as a media room or the kids' playroom. Another is to have a space that can evolve—like a small bedroom that can go from a work-at-home station to a nursery or vice versa.
Or you can just have it hide in plain sight by making it stylish, which is what some owners are opting to do in their renovations. After all, having a real-deal workspace can be a selling point now that luxe developments are showing model apartments with spacious home offices in second (or third) bedrooms. 
Brokers are reporting a similar focus on having a designated home office. Kimberly Jay, a broker at Compass, says people are passing on floorplans that can't accommodate an extra room. Instead, "buyers are converting dining alcoves and large walk-in closets into offices, and families especially are prioritizing an office or play area, which can be closed off or opened into the main living area." 
Leave the heavy lifting to Brick—we compiled the following tips and tricks for nailing your own work-at-home solution, whether it's a shared space (cue the kiddos) or your own private headquarters.
Don't close it off
"Home offices are part of another big trend around opening up spaces," says Jorge Fontan, principal of Chelsea-based Fontan Architecture. For example, he converted a dining room into a home office in a Chelsea loft (above) and a spare bedroom for a lawyer in another project using the same black-metal-and-glass panels to create "a very modern and sleek look. It lets light in and makes the apartment seem open even though the space is closed off—adding privacy but not seclusion."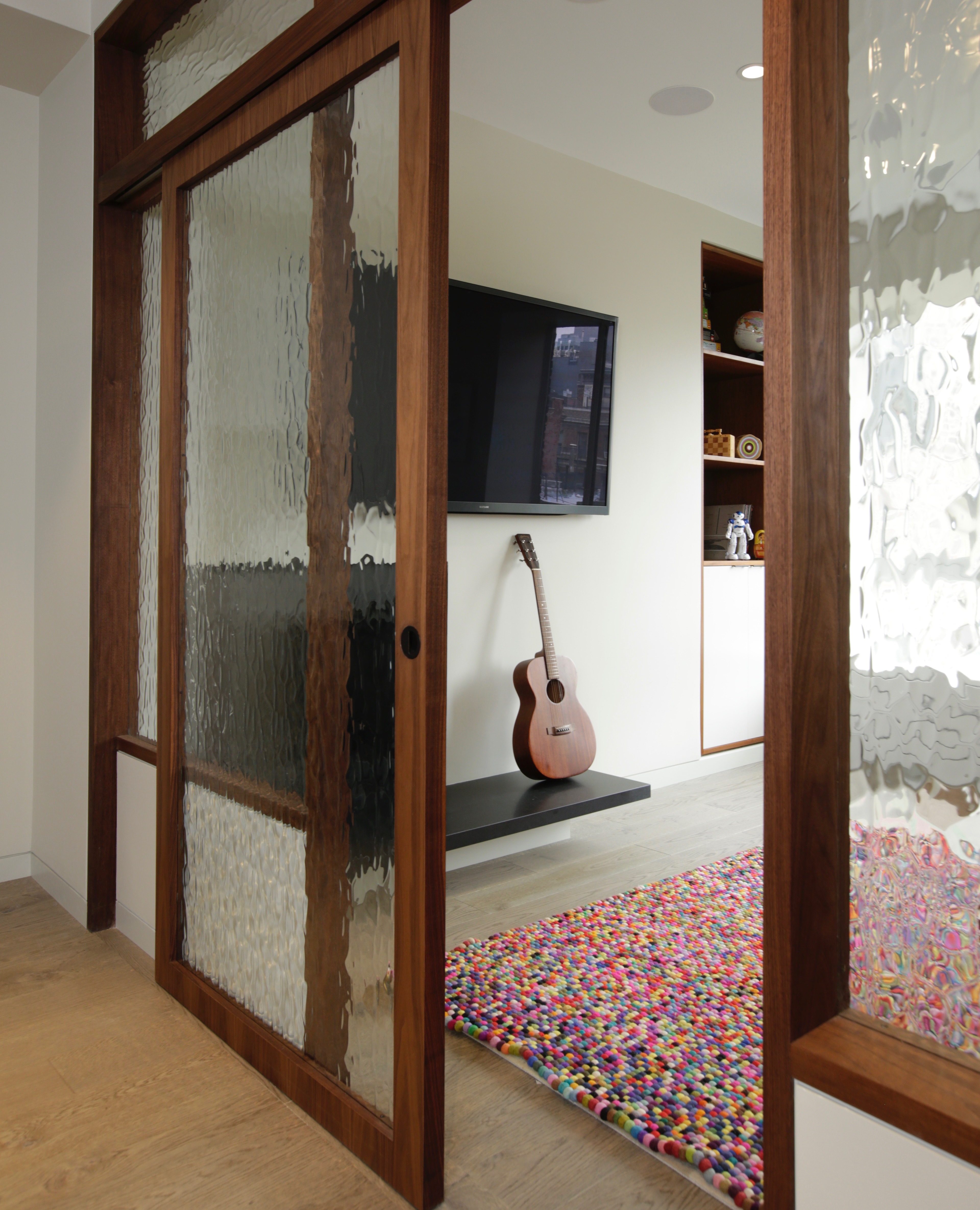 Peter Holtzman, principal architect and founder of Harlem-based Bespoke Architecture, did something similar for a converted bedroom that now functions as a home office, playroom, and family den. Only he opted for custom sliding doors with millwork that befitted the building's age as well as semi-transparent glass.
"We wanted a room that had some privacy and acoustic separation while allowing us to borrow light from this space for deeper into the apartment," he says.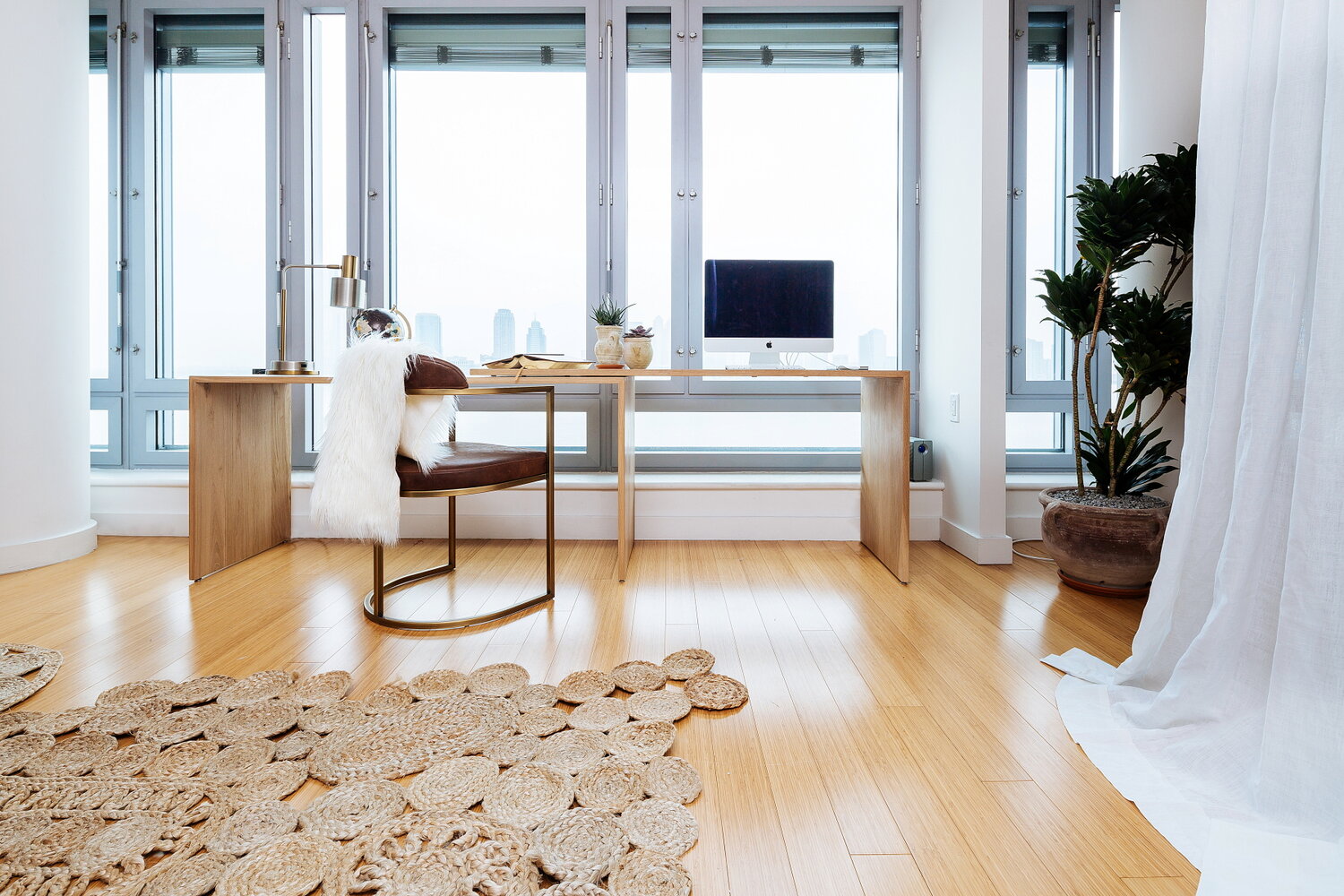 What if you are in a rental, where you aren't allowed to knock down (or put up) walls? Maryana Grinshpun, founder of NYC design-build firm Mammoth Projects, solved that problem in a rental loft in Battery Park City (above and at top). She parked a barely-there desk in front of the window and a pull-out sofa on the opposite wall, then added a curtain that can be drawn for privacy in lieu of a wall when guests stay over.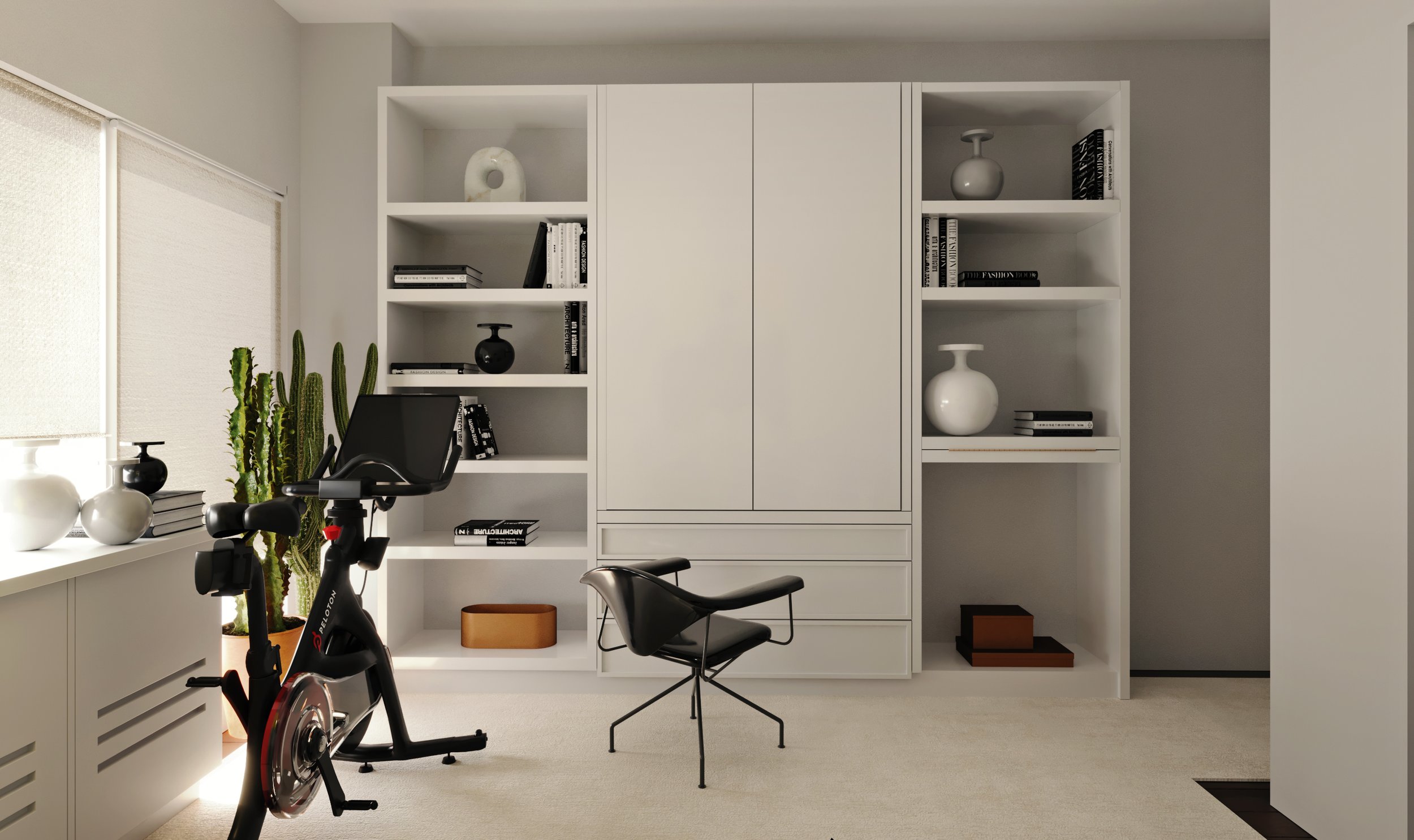 Hide it in plain sight
Whether the home office is doing double duty or not, you might want to be able to close up shop at day's end—or whenever you want to segue to something else. 
"People miss the natural boundary between work and home life," says Peter Holtzman, founder of Harlem-based Bespoke Architecture. His favorite solution is to build the office into custom cabinetry that allows you to fold it all away at the end of the day and avoid wasted set up/take down time. 
Grinshpun did something similar in the Williamsburg renovation shown above, converting a bedroom into a multifunctional space with a hide-away workstation, Peloton bike (or other workout gear), and comfy sofa (not shown) opposite the made-to-order unit for reading and lounging.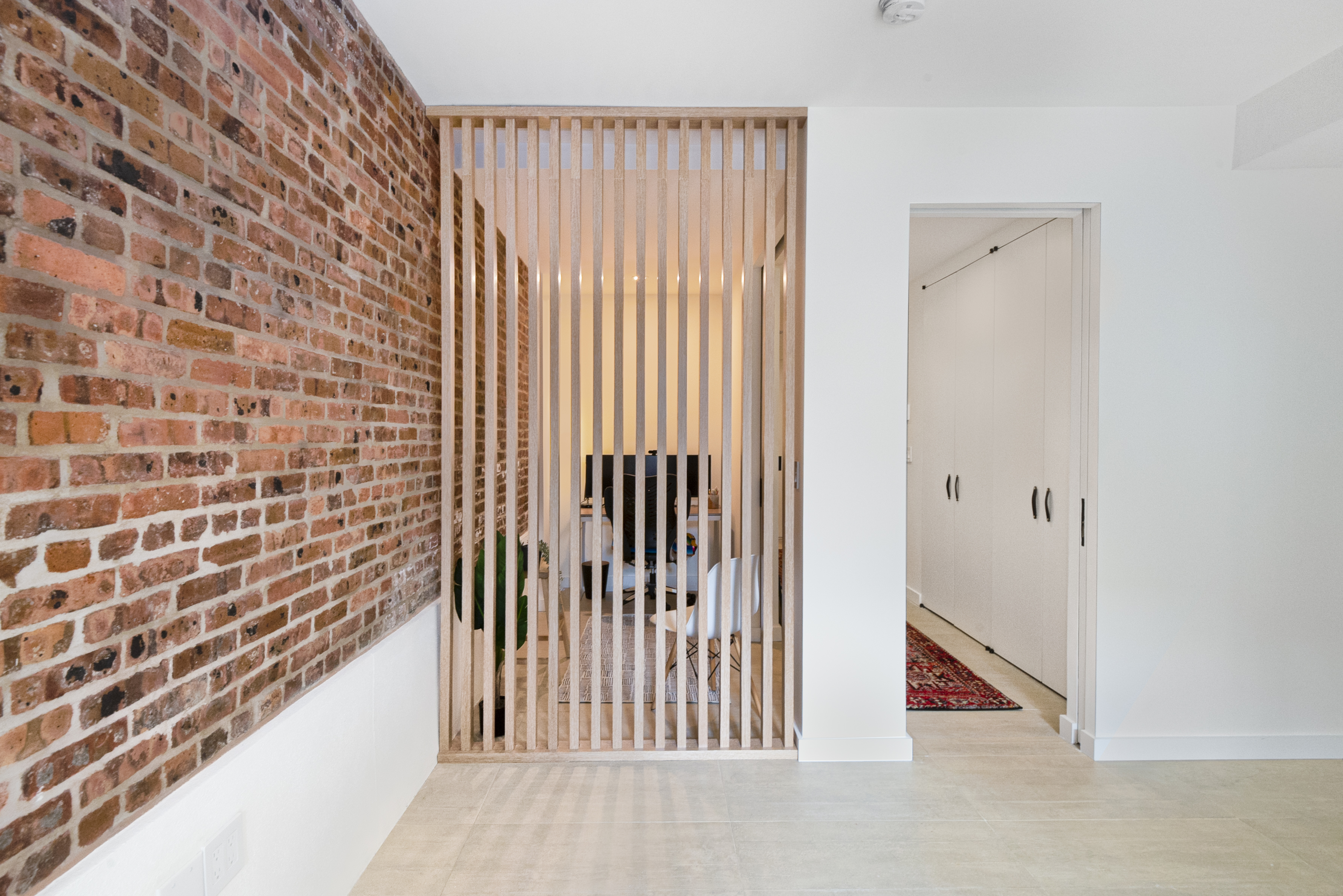 Rather than having an office in the primary bedroom, designer Juliette Spencer, principal of Atelier rO, and Intrabuild (fyi, a Brick sponsor) created an adjacent nook that's concealed behind bespoke wood slats in a Brooklyn apartment renovation (above and at top); storage built-ins along the hallway keep it tidy. 
Grinsphun's curtain idea could just as easily work in keeping a desk out of sight, out of mind in a primary bedroom, too.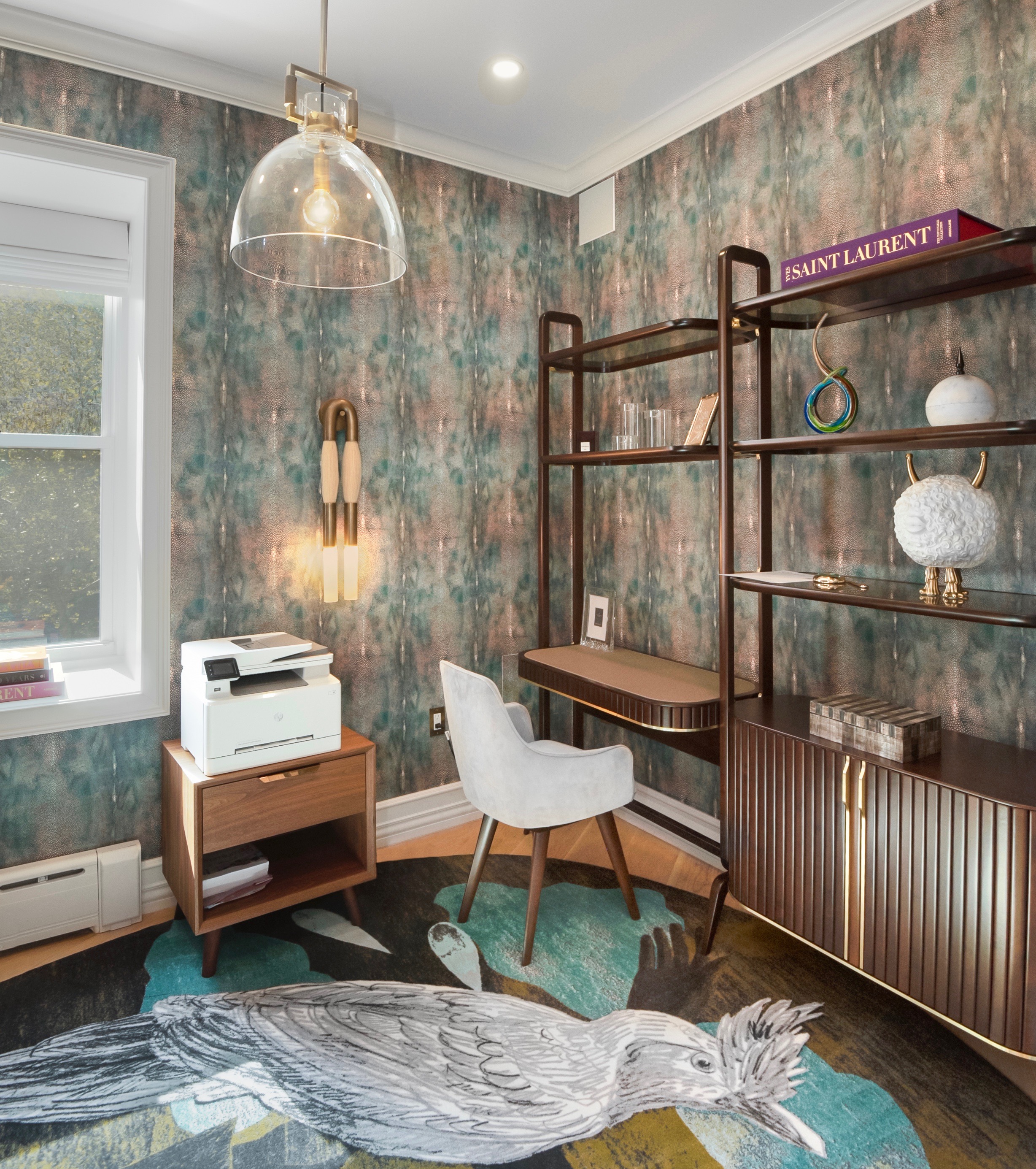 Make it versatile enough to evolve over time
Even if you have a spare bedroom (or closet) that can function as a home office, your needs might change in the future—maybe you're planning to start a family or you land a new job that's 100 percent in-person. 
The designers Brick spoke to said they always bake flexibility into any home-office conversion in recognition of the ever-changing dynamics of NYC life. For Fontan, those glass panels can accommodate a home office, nursery, playroom, or the original purpose as a dining room. Holtzman's custom cabinetry, admittedly expensive, could just as easily house a flat-screen TV or audio setup—or be a way of keeping games and toys in check should it need to become a playroom or family hangout space. 
Meanwhile, as long as you are going to punch the clock there, why not make the whole thing super stylish? Take the above Chelsea duplex home office by integrated design firm Space Exploration and Intrabuild, where a midcentury modern-style wall unit (and printer stand) take up minimal space, and graphic wallpaper and an area rug keep it fresh and lively and a far cry from "cubicle." (On a practical note, a laptop and files can be tucked away in the credenza.) It would be easy to envision this space morphing into a nursery without even swapping the decor!
Buyers want room for a home office
Flexibility is something that's resonating with buyers, too, including at luxe new condo developments.
Kayla Lee, a broker at SERHANT and sales director of The Huron in Greenpoint, says the building has select one-bedroom residences that are oversized, or what she calls "one-bedroom plus" and can function as two bedrooms. "The owners have the flexibility to create a unique space to use as they wish. They can partition it with a sliding door or keep it open—we've seen it used as a nursery, a place to install a twin Murphy bed, a zen studio, and, of course, a home office. It's always ideal to have a room that can be so versatile and change with your needs." 
According to Marzena Wawrzaszek, an agent at SERHANT, the layouts at Jolie at 77 Greenwich St. are versatile and filled with natural light. "If owners don't need the nursery/second bedroom, these days, it typically becomes a WFH space—especially since we have such robust amenities in the building that people do not turn the extra bedroom into a gym or yoga space," she says.
David Harris, an agent at Coldwell Banker Warburg, reports that two of his most recent sales, a condo and a co-op, both hinged on having a work-from-home space. 
He recently sold a fifth-floor walk-up in Cobble Hill that was advertised as a two-bedroom (narrowly meeting the requirements due to the window in the second bedroom, which barely fit a twin bed). "However, the room fits an office setup perfectly. So, despite the five long flights up and multiple offers, my clients (both remote workers) took one look and decided a very aggressive offer of $1.425 million for this co-op was well worth it." (He notes the private rooftop deck also made it a "no-brainer" as a second work-from-home space during the spring and summer.)
Key takeaway: Investing in a designated home office will serve you well as you work remotely and likely pay off when you decide to sell—always worth considering in the competitive NYC real estate market. 
Brick Underground articles occasionally include the expertise of, or information about, advertising partners when relevant to the story. We will never promote an advertiser's product without making the relationship clear to our readers.