The Search
What are the pros and cons of staying in a short-term rental in NYC?
They're cheaper than hotels but more expensive than long-term rentals
You get a turn-key set-up but you're on the hook for any damages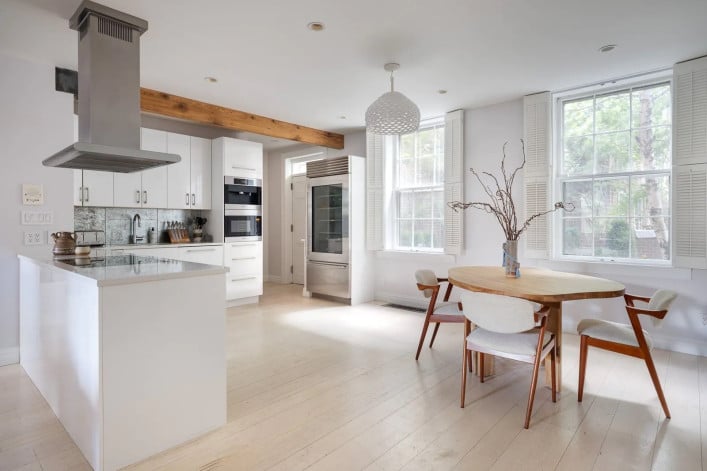 If you are contemplating staying in a furnished short-term rental in New York City, you likely have lots of questions and concerns. How do you go about finding one? What do they cost? Are they even legal? And what about the furniture—will it be dated or banged up?
Here's the answer: There's a range of options available, despite the city's crackdown on Airbnbs and other vacation properties, so landing a furnished, short-term rental is entirely possible as long as you play by the rules—namely, a minimum stay of 30 days. Now that working remotely is the new normal, more companies are responding to demand from digital nomads who don't need a full-year lease and don't want to pay steep hotel prices by providing temporary residences in an array of price points and neighborhoods.
There is still a lot to consider when deciding whether this interim living arrangement is for you in terms of cost, convenience, and creature comforts. That's why Brick scoured its own extensive reporting on the subject—and spoke to trusted brokers—to pull together the following checklist. Right off the bat, you'll see the pros outnumber the cons, so that's saying something.
Pro #1: 
Temporary housing only when you need it
Rather than having to commit to a 12-month lease, a short-term rental lets you stay for a minimum of 30 days or a finite term like three or six months. 
For example, Monisha S. Rana, an agent at Coldwell Banker Warburg, says it's an option for college-students here for a semester or summer internships—university housing options often fill up fast and aren't the most enticing. "So finding a temporary apartment where they can settle in and have a 'real life experience' seems to be the best option," she says. 
So if you aren't putting down roots in the city yet, this solution offers flexibility, and some agencies even let you extend the lease after your initial 30-day period ends. 
What if you don't plan to stay a full month? Extended-stay residences such as AKA and Sonder operate on a hotel model, meaning you can book by the night. Only unlike a hotel room, these accommodations have all the creatures of a home away from home (including decked-out kitchens).
And if you only need (or can afford) a room with a bed, you can find listings for that too at co-living companies such as Coliving.com and listing agencies like Leasebreak or Apt212. 
Pro #2: Cost-savings over staying in a hotel
As with regular rentals, short-term rates vary depending on whether you are renting a room or a three-bedroom apartment and also the location and building type—like a five-story walk-up or full-service high-rise. 
For those on a budget, a short-term rental will cost less than your average $285-a-night hotel room for a 30-day stay (which would be $8,550).
Make that lots of affordable short-term rentals: On Leasebreak, there were over 1,000 search results for entire apartments with a monthly cap of $5,000 (including those that have been vetted for landlord permission; more on that below). Looking for just a room? Count about 475 of those for less than $2,500.
There are some co-living companies that cater to those on a budget. For example, Outpost Club has rooms in a shared apartment starting at $1,500 per month and you can even get a private studio for around $4,500 (plus $149 for wifi and utilities). At the time of this writing, Node had a room in a three-bedroom duplex in Brooklyn starting at $1,500 (all included).
Agencies that specialize in short-term rentals can be a gold mine of less-costly alternatives to hotel accommodations. A search on Blueground (a sponsor, fyi) turned up 242 listings that came in at or under $5,500, including in hot-spot Brooklyn neighborhoods. You can even find monthly stays for as "little" as $4,170 (at $129 a day) through the high-end corporate housing service Furnished Quarters. 
Pro #3: 
Bundled pricing for predictable monthly expenses
Knowing what your out-of-pocket costs will be from the get-go has its obvious advantages. 
Some short-term rental agencies (including Furnished Quarters, Premier Furnished Solutions, Anyplace, and Nice Stay) have all-inclusive rates that bake all those costs—wifi, utilities, twice-monthly housekeeping, and maintenance—into the base rent. 
These and others also don't charge fees for background checks or even securities deposits, though a number do, so read the fine print or ask!
This will generally not be the case if you are subletting from a landlord or owner, but you can always try and negotiate. 
Pro #4: 
Easy turn-key living 
Furnished short-term rentals are move-in ready—just bring your personal belongings and settle right in. Not having to buy (or rent) furniture is a huge bonus. Same for not having to deal with setting up utilities and wifi. 
That idea is appealing to people across the board, but agent Rana sees it as especially helpful when dealing with the stress and strain of a renovation. "Being able to live in a furnished short-term rental while renovating is something I have seen amongst my network (myself included)," she says. "These turn-key operations, which offer you the comforts of home, seem much more desirable than the idea of signing a 12-month lease, contacting movers, and moving or buying furniture. Since Covid, people are willing to pay slightly more for convenience and ease."    
Rachel Lustbader, a broker at Coldwell Banker Warburg, can vouch for this idea. Her family rented a two-bedroom unit at the Bristol at 210 East 65th St. while they were renovating their apartment. "The unit was clean and well-kept, and the lease included twice-weekly housecleaning service. Although we were living in much closer quarters than usual, we found the space to be very cozy." (For more intel, read Brick's guide to finding a short-term rental during a renovation.)
That same one-stop shopping is also good for professionals with short-term projects that bring them in and out of town, says Ellen Sykes, a broker at Coldwell Banker Warburg. "In general, however, short-term rental apartments are pretty basic and not abounding in charm. The quality of fixtures and even the furniture is not high-end or even close to it."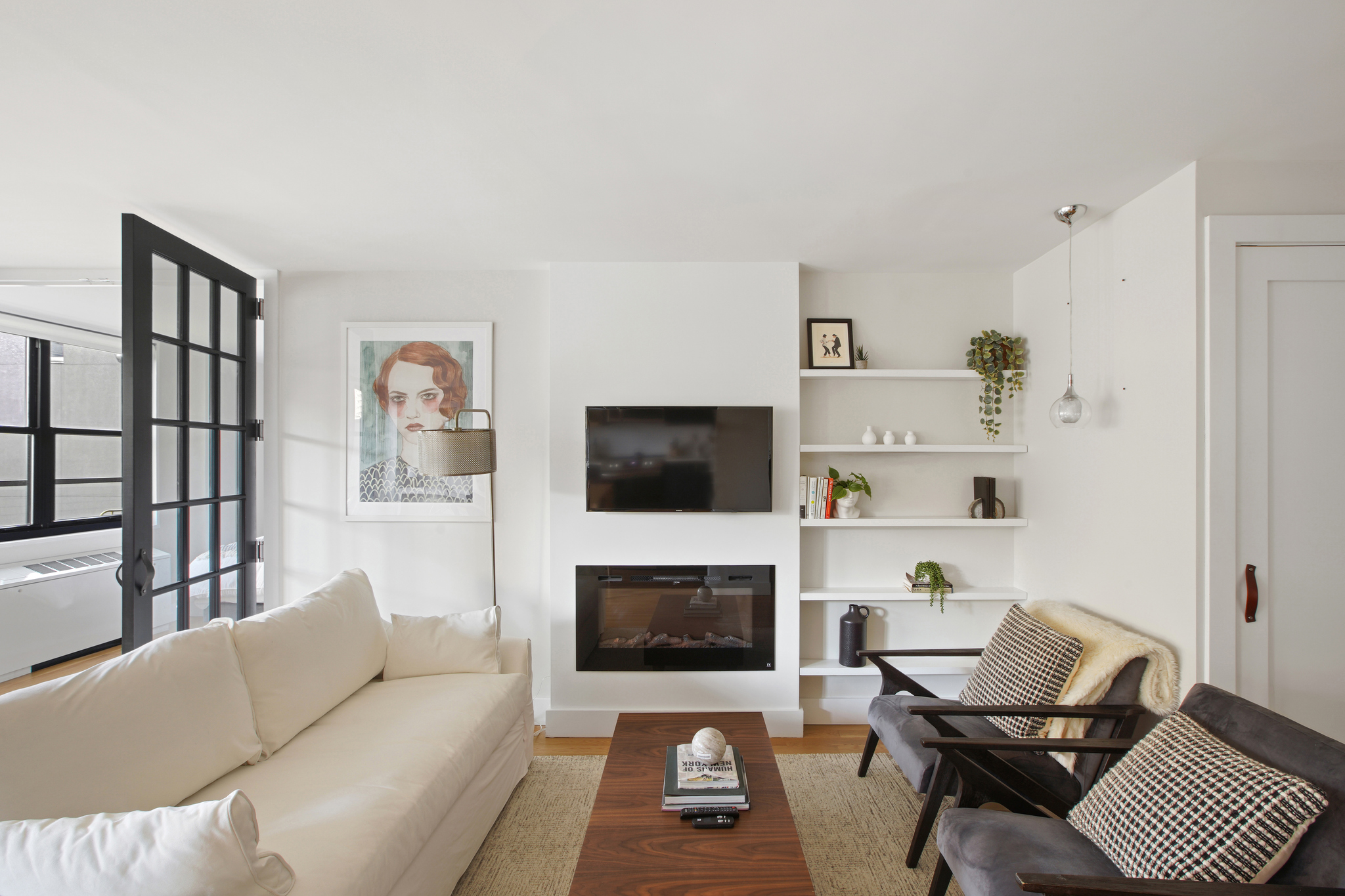 Pro #5: 
Design-friendly accommodations
That said, if you go with a short-term agency, you can get seriously stylish digs.  
Blueground and Furnished Quarters for example send in their own design teams to paint and wallpaper the units and outfit them with furniture and appliances. Most Churchill Living rentals feature floor-to-ceiling windows, granite countertops, custom cabinetry, and Italian tile in the bathrooms, among other bespoke details. The apartments managed by Nice Stay rock a modern aesthetic (like the one shown above, complete with gas fireplace and terrace). 
Working remotely? Anyplace furnishes all rentals with a height-adjustable desk, ergonomic chair, wide-screen monitor, and wireless keyboard and mouse for your laptop. Plus, you get everything you need for Zoom meetings, including a background screen, mic, light, and webcam. 
With four extended-stay buildings in Manhattan, AKA will even stock the fridge with your favorite food (and arrange for a private chef to prepare your meals).  
Want a luxury experience? Consider staying at private homes from onefinestay and Rove, both newcomers to the NYC short-term rental scene.
Some short-term guests become long-term tenants. 
Lustbader leased a unit through Furnished Quarters at 30 Park Ave. for her daughter when she was in between long-term leases. Apparently she liked the building so much that she ultimately signed a long-term lease, which she has renewed several times since then.
"If you stick to these well-known providers—others include The Philips Club in the Lincoln Center area and The Marmara Park Avenue—you will likely be very pleased with the experience," she says. 
Pro #6: 
Potential high-end amenities
Of course, your average studio sublet might not even come with a doorman or elevator, much less a package room for your online deliveries. But if those features are important to you, then you can focus your search accordingly. 
Blueground lets you filter your search for an elevator, doorman, laundry (on-site or on each floor), gym, parking, rooftop deck, pool, and/or courtyard. On Apt212, you can choose the type of building (walkup, high-rise, doorman/elevator, etc.) and other "advanced amenities" including pool, health club, and garage. You can also look for units with a terrace and in-unit laundry. Similar search filters are available on Leasebreak. 
And you can expect the usual perks of high-end lodging—complimentary wifi, valet laundry service, housekeeping, grocery delivery plus a fitness center, cinema, café, lounge, and business center—at upscale agencies like Churchill Living and Furnished Quarters and co-working spaces, recreational lounges, fitness centers, swimming pools, and rooftop decks at Anyplace and others listed here. 
In the market for indulgence? The bookings at onefinestay come with its concierge service and additional services like private chefs and in-home spa treatments. 
Pro #7: 
No credit check required (maybe)
If you haven't established a credit history or yours is a bit tarnished, know that some short-term agencies (including Apt212 and Nice Stay) and most extended-stay residences (such as Sonder) do not run credit checks. But a criminal background check is usually required. 
Pro #8: 
The chance to check out a building or neighborhood
"One of the major benefits of a short-term rental is the housing equivalent of taking a new car for a test drive. The only real way of experiencing the vibe of a building or neighborhood is by actually living in it for a few months without a long-term commitment," says Josh Tepper, an agent at Coldwell Banker Warburg. "I had a customer who signed a two-year lease only to find out that every weekend loud motorcyclists would congregate at a bar down the street until 3 am. A short-term rental would have prevented this unfortunate situation." 
Leasebreak and Apt212 have sublets across the five boroughs (and beyond). Many firms—particularly those that got their start in corporate housing, like Churchill and Premier Furnished Quarters—specialize in luxury buildings that are mainly situated in Manhattan. Others, like Blueground, onefinestay, Rove, and Outpost Club, have a foothold in Brooklyn. 
And some agencies like Outpost let you rent-hop among properties so you can experience different nabes. 
Pro #9: 
Buys time before signing a 12-month lease
With NYC rents at all-time highs, you might be understandably hesitant to lock into a peak rate. Finding a one-, three-, or even six-month rental lets you hedge your bets until rents settle down again. What goes up must come down, right? 
That flexibility can be a real strategy for renters, says Tracie Hamersley, a broker at Douglas Elliman. You might be able to extend the lease month-to-month, depending on the situation, which can be helpful if your plans are up in the air—or your dates are flexible and you can find more inventory during the summer months. "It definitely can help avoid signing a lease in the peak rental season of April/May to September, as you can almost always get the best deals for an annual lease in the months of November through February," she says. 
But rents are higher during peak months when listings are plentiful. Derek Milhem, an agent at Coldwell Banker Warburg, says, "Historically, rents and demand are higher in the spring and summer. Consequently, if the tenant is planning on looking for permanent housing at the end of the temporary lease term, the season in which the lease terminates should be taken into consideration." 
Pro #10: 
Provides a buffer before buying
Similarly, if you are waiting for more inventory to come on the market or mortgage rates to come down before buying a property—a short-term rental may make sense for you.
Or if your current lease is up or you are moving here for the first time, John Walkup, co-founder of UrbanDigs, a real estate data analytics firm, says, "Short-term rentals can be a good, albeit expensive, option for future buyers to bide their time and explore before bidding. However, for the extra cost, short-term renters get not just increased flexibility but often a turn-key residential solution."
Con #1: Potential for illegal rentals
Budget aside, the biggest downside to the short-term rental experience is making sure you are on the right side of the law—and co-op/condo board requirements.
For starters, owners or renters cannot rent an entire apartment for fewer than 30 days, even if the host owns or lives in the building. Short-term rentals are only allowed if the host remains in the same unit as guests, and no more than two guests are permitted. (Note that this does not apply to hotel-like companies such as AKA, which is based on an extended-stay model rather than a rental.) And Local Law 18, which went into effect in January 2023, mandates registration of short-term rentals with the city.
Illegal listings can be easy to spot if you know what to look for and check photos carefully. Avoid rooms without windows or very small windows, which may indicate they are in converted basements or attics that have neither windows or two means of egress to exit in case of emergency. It's for your own safety. 
But the biggest red flag is found in the listing itself: If the rent is significantly low, odds are it might not be legit. And good luck getting your money back if your stay gets cut short by a city inspector.
Con #2: 
More expensive than long-term leases
"You definitely have to pay a premium for a shorter-term lease—the shorter the term, usually the higher the rent per month," Hamersley says. "Some condo buildings make you complete a full application and charge the same fees as if you were signing a year lease. The costs, which are often included in a broker's fee, can also be higher than for an annual rental—or you have fewer months to amortize the extra costs over."
Svetlana Choi, a broker at Coldwell Banker Warburg, says high demand is to blame. "In busy seasons (fall, winter holidays, summers), a short-term rental can cost as much as a hotel room, and for stays less than 30 days, hotel tax is added. This is on top of cleaning fees, a security deposit (in case of damage), and broker fees," she says.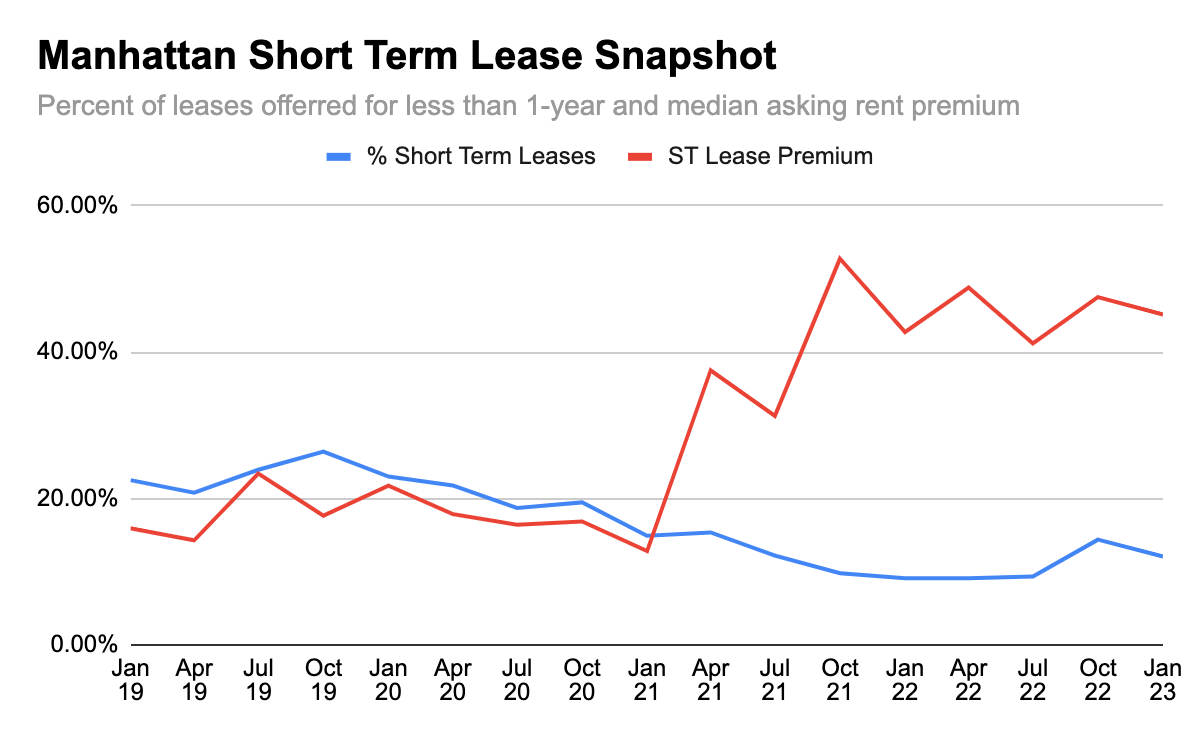 Walkup backs up the idea that short-term rentals are typically more expensive with findings (see above chart): "So far this year, the median short-term rental asking rent is more than 40 percent above the median asking rent for units with a minimum 12-month rental," he says.
Sykes suggests the math might still make sense for one- to three-month rentals; after six months, a full-year lease is probably cheaper.  
Con #3: 
Hidden costs 
Always be on the lookout for hidden costs; some rental quotes include wifi and utilities and housekeeping, but others don't. Do your homework.
Also, when doing your initial search on a company's website, the quoted price is sometimes the cheapest available based on a 12-month lease. 
Transparency is a bit lacking and it can be hard to know what's included or not in the quoted price. Depending on the property, other costs compound the base rental: Cable, wifi, and electricity may be extra. Some landlords require monthly cleaning to keep apartments in good condition (at an additional charge) and a one-time move-out cleaning, which can be deducted from the security deposit.
For example, Apt212 charges a one-time $100 application fee plus a service fee for each lease based on 15 percent of the reservation subtotal before taxes, similar to a brokerage fee. A security deposit equal to the first month's rent is also required at booking and held by the landlord.
Con #4: 
Potential property damage costs
The flip side of living in a turn-key rental is that you will be held accountable for any wear and tear caused during your stay.
"Aside from higher rents, another potential downside can be harsher penalties since there may be more damage to floors and walls," Walkup says. 
That might mean losing your security deposit or even having to pay out of pocket—well worth considering when bringing along your sofa-scratching cat or teething puppy, or have little kids in tow. And watch out for red wine spills on marble countertops!
Con #5: 
Prone to lots of scams
Alas, you'll need to beware of short-term rental scams. The easiest way to avoid them? Consider the source. Unless you're working with a reputable firm or agent, proceed with caution.
Be especially aware of postings from tenants rather than the landlord. Don't be afraid to ask questions to make sure a renter has the ability to sublet the apartment—some leases will prohibit subletting. You also have every right to speak directly to the landlord. If the answer is no, walk away.
Searching on Leasebreak lets you limit your search to tenants who have the landlord's permission. To avoid scammers, founder Phil Horigan says one of his staff (or he himself) reviews every posting during a 24-hour waiting period. He also requires all posts to provide a street address so prospective renters can check with the landlord or property manager directly.
Go with your gut: If a listing looks too good to be true, it most likely is. Size up the photos, floor plan, and price. Skip any that don't have all three of these elements (and be wary of fake photos). 
And because furnished rentals are always going to be more expensive than unfurnished, don't fall sway to unreasonably low rates. Always compare the price to similar apartments. 
Con #6: 
Living with someone you don't like
Renting a room in a shared apartment with strangers is ultimately a roll of the dice. You just never know how it will all play out.
But you can at least take steps to mitigate a disaster: For starters, never—ever—move in without meeting all potential roommates, preferably in person at the site visit (or on Zoom if not all of them can be present). Not sure what to say? Here are Brick Underground's 21 best questions to ask to find a perfect match. 
Brick Underground articles occasionally include the expertise of, or information about, advertising partners when relevant to the story. We will never promote an advertiser's product without making the relationship clear to our readers.