Renovation
The 7 best ways to find a short-term rental while you renovate your NYC apartment
Short-term rentals can be difficult to find and cost 20 to 30 percent more than regular long-term leases
To increase your options consider corporate housing, leasebreaks, and extended-stay properties
You'll find the most listings in spring, but that's also when asking rents are highest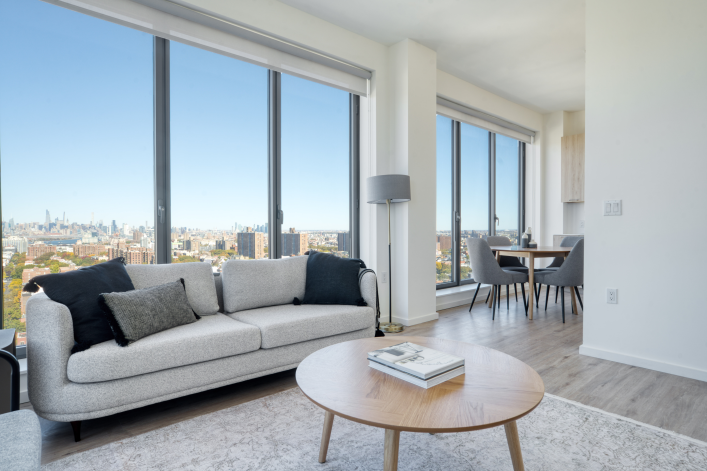 Renovating your New York City apartment involves more than finding a reputable contractor and choosing your finishes and appliances. It also typically requires you to relocate, at least while the bulk of the work is being done—and your kitchen and bathroom are off-limits. 
But short-term rentals tend to be difficult to find and typically cost 20 to 30 percent more than regular long-term leases.
The reason? "The higher turnover, which is expensive for landlords. Most landlords are looking for longer-term tenants," says Philip Lang, co-founder and chief business officer at the real estate brokerage The Agency (fyi, a Brick sponsor). Plus, renters seeking short-term stays are competing with people who need corporate housing (paid for by their companies, of course) who are willing to pay more for flexible leases, he says.
---
Editor's Note: An earlier version of this article was published in August 2022. We are presenting it again with new information for January 2023.
---
You'll find the most listings for short-term rentals in spring, but that's also when asking rents are the highest, says Philip Horigan, founder of Leasebreak, a short-term rental listing site. Rents for summer start dates are also notoriously high thanks to all the interns that swarm the city.
Pro Tip:
With Blueground, you'll shave weeks off finding and furnishing your new home. From studios to two-bedroom spaces, each of our turnkey apartments is thoughtfully designed and fully equipped from top to bottom. We provide a hassle-free experience and the flexibility to stay as long as you want—30 days, a year, or longer. During your stay? You'll enjoy reliable support through our app, where you can request everything from a home cleaning to extra towels. Check out over 500 unique apartments in Williamsburg, Midtown, and other top NYC areas and compare prices here.
Typically, NYC rental buildings don't allow short-term stays. There are some landlords that will rent furnished apartments directly to renters on a short-term basis, but the overwhelming majority of buildings have a one-year minimum. And most co-ops frown on short-term stays and some condo buildings also prohibit them.
However, you don't need to depend on the flexibility of landlords and co-op and condo buildings to find a short-term rental.
Thanks to the influx of hosting sites and industry disruptors like Blueground (fyi, a Brick sponsor) and Sonder, New Yorkers looking for short-term rentals have more options today than in the past. Even corporate housing is an option (with you picking up the tab).
Whichever route you take, it pays to be strategic about timing your renovation. Co-living companies and even traditional landlords may offer concessions or allow shorter terms during the winter, when they may want to fill up unoccupied units. If your short-term lease ends in the spring or summer, landlords are better able to find a new tenant—and charge that person more. 
Keep the above in mind and use these seven methods for finding the best short-term rental while you renovate your NYC apartment.
1) Explore your neighborhood
It helps to rent in your immediate neighborhood so you can stick to your regular routine (like walking your kids to school or visiting the dog park)—and avoid having to spend time learning where to shop for food and other essentials. Just as importantly, it will be that much easier to keep an eye on the reno work to make sure it is proceeding at an appropriate pace. 
Use your local knowledge of where the big rental buildings are and stop by and ask the doorman or concierge about any current or upcoming vacancies (they always know). If you play your cards right, they just might be able to hook you up with the landlord or tenant even before a unit is officially on the market—just be transparent about looking for other than a regular yearly lease. 
2) Search for apartments online
Like regular rentals, many short-term rentals are posted on the usual listing websites, though you may need to do a little sleuthing to find them. 
On StreetEasy and Realtor.com, for example, you can use the advanced search option to select the filter for furnished apartments and/or sublet apartments, both of which are more likely to allow short-term rentals. 
NYHabitat recently launched a new feature that lets you search for short-term rentals in its no-fee apartment database, with plenty of listings across Manhattan and Brooklyn. RentHop also lets you search for sublets/leasebreaks, furnished apartments, or even short-term rentals. Or you can head to Leasebreak. 
"One great way to get a short-term rental is to take over the remaining months on someone's lease," Horigan says. (In that scenario, a new tenant will take over someone else's active lease, with the landlord's approval.)
Changes to the rent laws in 2019 make it a little easier for renters to get out of a lease early if necessary. Landlords have what's called a duty to mitigate, which means they are required to try to re-rent the apartment instead of taking you to court for unpaid rent. And as leasebreaks become more accepted and common, there will be more shorter-term lease opportunities for renters to take over the remaining months of someone's lease—often at a much lower rent than market rate, Horigan says.
Besides leasebreaks, this site has grown to include other legal short-term options such as furnished month-to-month rentals, unfurnished sublets direct from a tenant for a specific time frame, and rooms for share. "We are known as a 'short-term marketplace'— with thousands of leasebreaks all in one place! We also have sublets, rooms for rent, and companies like Blueground and Furnished Quarters who specialize in short-term rentals list with us directly." (Those and other firms are discussed below.)
When possible, seek out a short-term lease with the option to extend in case the renovation takes longer than planned—it inevitably will. Find out in advance how much notice you need to give and if that is at all negotiable. It's safe to say you'll need to let them know at least 30 days in advance of the extension.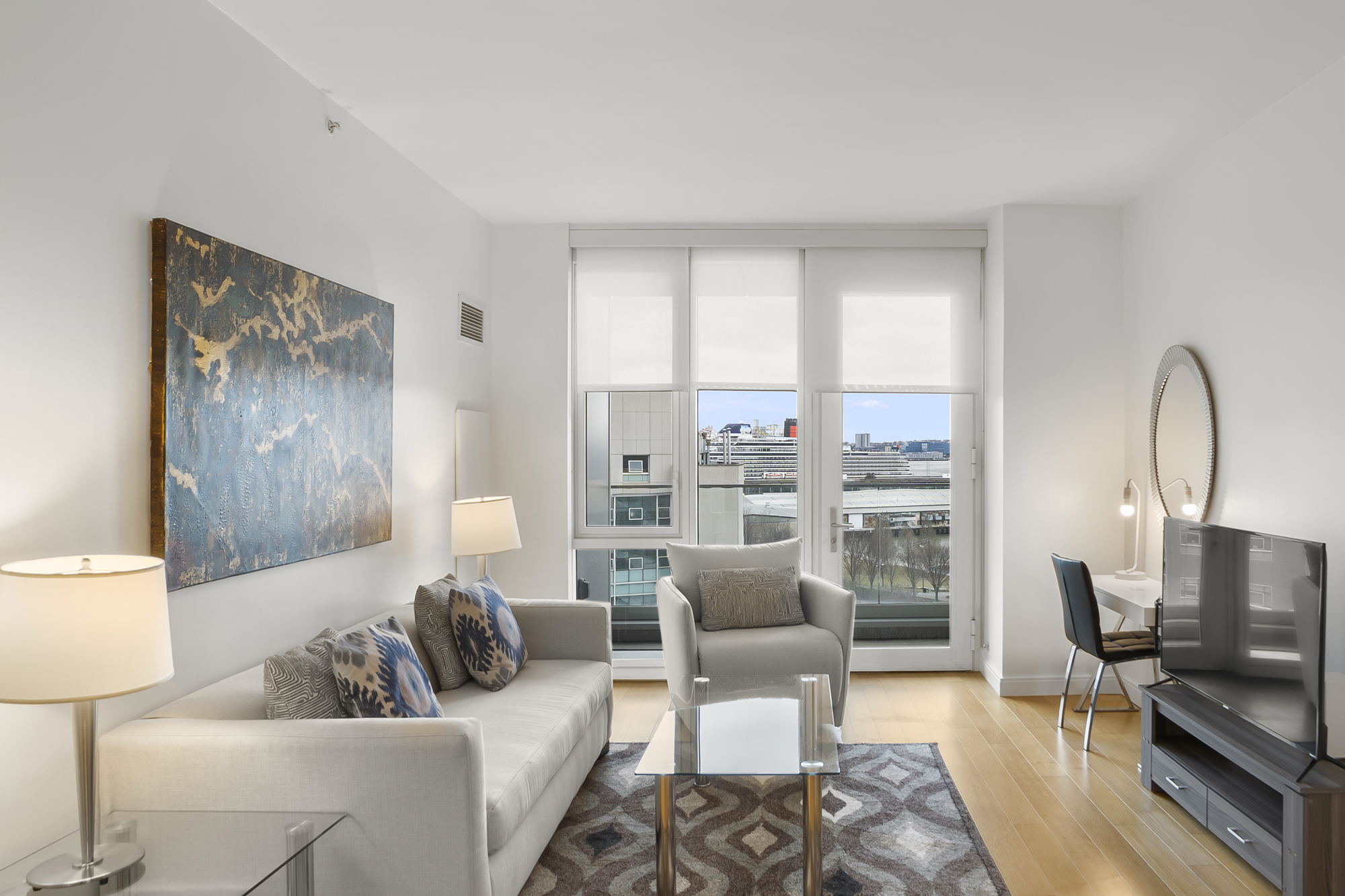 3) Move into corporate housing
As the epicenter of so many industries, NYC has long been flush with corporate housing providers who help companies find short-term accommodations for their executives and employees. 
Furnished apartments are move-in ready and ideal for New Yorkers in the middle of a renovation project who are not looking to take on yet more decorating decisions. Those that come with utilities and wifi baked into the rent alleviate the chore of setting those up. 
More recently, these established companies have been rebranding themselves as suppliers of long-term stays for students, international travelers, and even families, with ample multi-bedroom units for the latter.
Prices are still steeper than unfurnished rentals but if a fitness center, children's playroom, rooftop lounge, and other such amenities are important to you, these mostly Manhattan properties might be your best bet. Be sure to factor in a 30-day minimum stay.
Most of these places require you to submit an inquiry form to see actual pricing and availability. For example, Premier Furnished Apartments has units at some 80 buildings across Manhattan (no pricing information on its website). Churchill Living has 15 properties in Manhattan (and one in the Bronx); starting prices range from $179 to $399 a night (with a couple of higher-priced outliers). At Furnished Quarters, which has a handful of properties in Brooklyn in addition to extensive listings in Manhattan, studios and one bedrooms start at around $139 a day—rates for larger apartments and buildings with amenities are higher. 
Executive Plaza in Midtown West is another spot for furnished monthly rentals with studios starting at $169 a night, one bedrooms at $219, and two bedroom/two baths at $349. 
An opulent option is Cipriani Club Residences in a Beaux-Arts building at 55 Wall Street in the Financial District with 106 furnished apartments. Pricing and availability is only granted upon request. 
4) Think like a tourist
There are a growing number of extended-stay options that are based on a hospitality model, and you can pick the one that best fits your budget. You may even be able to negotiate a lower rate, especially during the off-season.
AKA has extended-stay properties in four Manhattan neighborhoods (Central Park, Times Square, and Sutton Place, plus Nomad as of spring 2023). It offers a hotel-like experience, with free wifi, housekeeping, coffee and tea service, and access to gyms, lounges, a screening room, and business center. Rooms range from studios to penthouse suites, all with gourmet kitchens. 
Anyplace has furnished studios and one bedrooms in Manhattan (Chelsea and FiDi) that have equipped workplaces (complete with monitor and wireless keyboard and mouse for your laptop) and the buildings have co-working spaces, so you don't miss a beat while you decamp if you work from home full or part time. Other amenities include in-unit laundry and access to fitness centers, pools, and rooftop decks. Rates start at $3,870 per month with a minimum 30-day stay. 
Both Sonder and Blueground lean as much toward residents as tourists, with stylish spaces in desirable neighborhoods (mostly in Manhattan). Rates start at $4,350 a month for a one bedroom through Blueground and anywhere from $172 to $379 a night for a Sonder one bedroom with a minimum 30-day stay ($5,160 to $11,370). 
These prices are not all inclusive; some amenities require a fee—but if you're not using a gym or pool, you might appreciate not having to pay for it. Note: Blueground has significantly more properties than Sonder in NYC—as in close to 800 (60 in Brooklyn) compared to just 12 (one in Brooklyn) respectively as of this writing.
On the high end, onefinestay has monthly stays available at 16 luxury properties in NYC and more being added over the coming months. The bookings come with onefinestay's concierge service and guest support: Guests can add on additional services like housekeeping, private chefs, and in-home spa treatments as well as extend their stays and rent the home per day after the initial 30-night booking.
NYC listings include addresses in West Village, Soho, Chelsea, and Williamsburg for one to six bedrooms, ranging in price from $960 to $5,000 per night (!) for a 30-day stay.
5) Apply for a co-living space
If you have kids and/or pets, proceed to #6. 
But if you fit the profile (20- or 30-something professional working in tech or creative sectors) and don't mind sharing your temporary home with strangers, consider the city's numerous co-living opportunities. These "adult dorms" offer a private bedroom in a stylish space, complete with access to a stocked kitchen, housecleaning, and buildings with modern perks. Most companies also create opportunities for networking and socializing through pop-up events and happy hours. 
Places like SharedEasy (with listings in Manhattan and Brooklyn), Outsite (Chelsea, Murray Hill, Prospect Heights), Node (Bushwick), and Dwell (Crown Heights) will let you stay for as little as one month; Goal House (Prospect Lefferts Gardens) requires a minimum three-month stay. 
You can expect a private bedroom (yes, you are only renting a room!) to start at around $1,100, slightly more for one with a private bath. A few companies require an additional membership fee. Utilities are usually bundled with the price, though a security deposit may be required. 
6) Let a broker do the work
Finding a broker who is well-versed in short-term rentals is another option, especially if you want someone to do the heavy lifting for you. 
"There are a few agencies that specialize in short-term furnished inventory," Lang says. Apt212 and Manhattan Management Group are a couple. "Most of the larger brokerages also have relocation specialists or agents with experience in short-term rentals," he adds. 
You will have to be willing to fork over a fee, usually a month's rent for shorter leases or 15 percent for anything over six months. 
"Working with a reputable broker may save you money in the end because we can negotiate on your behalf and broaden your options," says Tracie Hamersley, a broker at Douglas Elliman. Plus you can capitalize on their connections. "I called a property manager who had just happened to speak to a tenant who was looking to sublet her apartment, and I was able to place my client in a short-term lease. That serendipity happens all the time." 
Hamersley also has a valuable resource in the firm's internal bulletin board, where she can reach out to all 4,000 agents across the city to find leads on rentals that may be off market or broker-to-broker. "I can post what I am looking for and quickly get a match," she says.
Over the past 19 years, Michelle Sedlitz, an agent at Corcoran, has helped people rent out their furnished apartment for the summer or while out of the country for half the year, including a six-month sublet of a three-bedroom, two-and-a-half-bath condo (with the board's permission). "I always tell renters these furnished short-term rentals will be expensive, but every now and then I find a tenant/landlord willing to come down quite a bit on the price."
Sedlitz also finds that if there is a walkup that is a lot less expensive, "many renters are willing to forego the bells and whistles to save money on the rent."
7) Tap your social networks
Word-of-mouth recommendations are often the best way to find a temporary landing place. Ask ALL your friends, neighbors, co-workers, workout buddies, and whoever else you know if they (or someone they know) will be vacating or subletting their apartment. Post your request on social media. Be creative and persistent. You never know. 
—Earlier versions of this article contained reporting and writing by Lucy Cohen Blatter and Donna M. Airoldi.
Brick Underground articles occasionally include the expertise of, or information about, advertising partners when relevant to the story. We will never promote an advertiser's product without making the relationship clear to our readers.