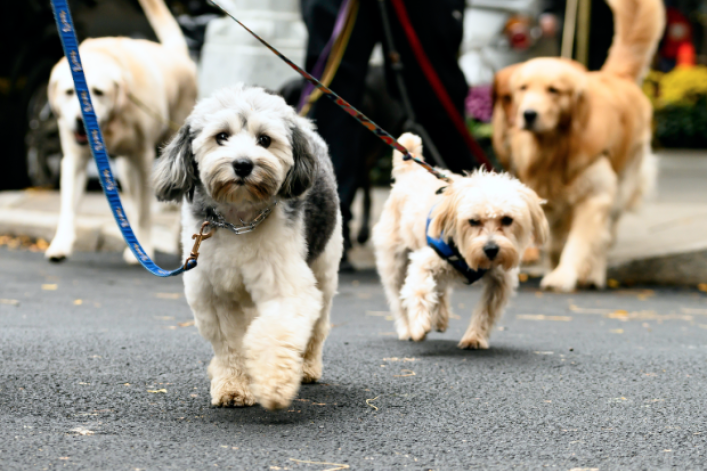 More New York City landlords now allow renters to have pets because of the pandemic, but that's not the case in every building. If you're a pet owner on the hunt for a new rental, or a tenant who wants to add a new furry family member, there are strategies you can use, such as preparing a "resume" to document your dog's health and training, to persuade a landlord to approve your pet.
A lot of the new leniency towards pets—particularly dogs—was a result of building owners who wanted to attract renters when the market was slow during the height of the pandemic, a time when many New Yorkers adopted pets. 
Now concessions from landlords have largely disappeared, thanks to fierce demand for apartments. This means it may be more difficult to find a pet-friendly rental because there are fewer apartments on the market. If you're already renting, it may be more difficult to persuade your landlord to let you have a pet—but there are some tactics you can try. 
---
[Editor's note: An earlier version of this post was published in July 2021. We are presenting it again with updated information for July 2022.]
---
Landlords are often concerned about the additional wear and tear that comes from a dog or cat, and so it can be helpful to address those concerns up front. For example, you can explain that you plan to crate train your dog instead of letting them roam the apartment at all hours.
And keep in mind, landlords cannot ask for a deposit in order to approve your pet—changes to the rent laws in 2019 prevent landlords from collecting additional money upfront other than one month's rent for a security deposit—making "pet fees" illegal. 
Here are some more tips that may persuade your landlord to allow pets.
1. Document your pet's health and training record
Pet approval depends on the animal and the applicant. For instance, if you have sparkling references, stellar credit, and a small, well-behaved dog, you might well get the green light.
Putting together a pet resume consisting of a reference letter, health history, training certificates, and a photo can help make a case by not only proving that you're serious about pleasing your landlord, but that you are a responsible pet owner. It's also important to have a letter from your vet saying your dog (or cat) is up to date on vaccines, especially the rabies vaccine, which is required by NYC law.
Getting a pet past the landlord is a lot like online dating: It's not uncommon for hopeful tenants to fudge the weight of their dog, presenting the picture they want people to see. Obviously, you can't say your Great Dane weighs what a Corgi does, or the landlord will call your bluff. But neither are they likely to begrudge a few pounds. 
2. Build a good relationship with your landlord or management company
Nothing gets you more bonus points than actual friendship and camaraderie with your landlord. This is more likely to happen in a small building but the same principle works for landlords with larger portfolios.  
Jane Katz, an agent at Coldwell Banker Warburg, managed to find a rental for a family with four dogs on the Upper East Side recently and thinks the landlord showed flexibility because they had previously lived in other buildings under the same ownership.
If you've been living in a non-pet building and decide it's time to get a pet, your best course of action is to be honest about your desire for a pet. If you've been a good tenant—you pay your rent on time and you look after the place—your landlord is more likely to bend the rules. "Honesty is the best policy," says Kimberly Jay, a broker at Compass. "In a nice way, ask your landlord. I really think it's that simple," she says. 
When you're looking for a place that's pet friendly, consider looking in the slower winter months. The market often determines how selective a landlord is. 
3. Exercise your rights with the three-month rule
Having a pet in your building without approval can be stressful and puts you at risk of eviction. That said, there are side doors to getting pets into non-pet buildings. One is the tricky "three-month law," which says that if you have a companion animal in your apartment "openly and notoriously" for three months, "any no-companion animal clause in a lease is considered waived and unenforceable."
This means you have to live your life as you normally would, just with your new pet—so no smuggling your Yorkie out the door in a handbag or hiding pee pads and water dishes. If, after three months, your landlord hasn't said anything or filed a suit, they cannot do a thing about the newest tenant. The city recommends keeping detailed notes about when and where an employee of the building saw you with your pet and who else witnessed the encounter. 
The law states that you shouldn't fear threats of eviction if you're discovered, and even if you lose your case in a lower court, you can appeal. And even if the court rules you have to get rid of your companion animal, you can still likely keep your apartment, albeit after some hefty legal fees, which, if you think about it, is an awful lot of stress and hassle just to keep a dog around.
4. Get a letter from a health professional saying you need a support animal
Although some people abuse this to get around their building's pet policy, if you need a pet as a support animal, the rules are different. Under various discrimination laws, people with a disability are allowed to have a service animal even if the building has a no-pet rule. 
Service animals typically have certification from the facility where they were trained. Online certification of a support animal is often a scam. What you need is a letter from a licensed mental health professional stating you need an emotional support or service animal.
Brick Underground articles occasionally include the expertise of, or information about, advertising partners when relevant to the story. We will never promote an advertiser's product without making the relationship clear to our readers.