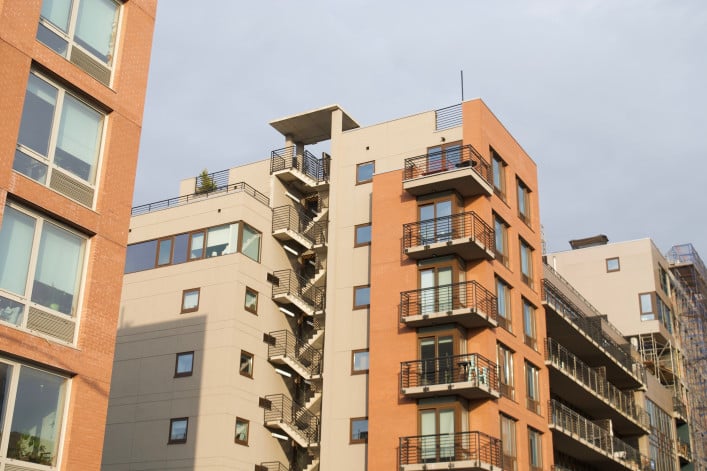 Emily Myers for Brick Underground 
In New York State, you don't need to come up with as much as three months rent to secure a rental apartment, thanks to a 2019 change in the rent laws. Instead, renters are on the hook for the first month's rent and the security deposit—essentially two month's rent.
In the past or in other states, you might have been told to pay "first, last, and security" in order to get an apartment, but it is now illegal for landlords here to require you to pay more than one month's rent as a security deposit when you sign a lease—which effectively eliminates "last month's rent" from the equation.
The rent laws now say that in nearly all cases, "no deposit or advance shall exceed the amount of one month's rent." 
Pro Tip:
To rent an apartment in New York City, most landlords require you to earn an annual salary of at least 40 to 45 times the monthly rent. If you don't—or if you're an international employed person, self-employed, non-employed with assets, retired, or an international student or US student—you'll need to find a guarantor for your lease who earns at least 80 times the monthly rent and lives in New York, New Jersey or Connecticut. Or you can turn to Insurent Lease Guaranty. Accepted at more than9,000 buildings across the city representing over 825,000 apartments, Insurent Lease Guaranty is a quick and easy way to get the apartment you want. Click here to learn more.
The financial barriers to renting an apartment in New York City are well known: Rents are some of the highest in the country and landlords have steep income requirements, which can make the process particularly complicated for students and retirees. Capping the security deposit to one month's rent and making it illegal to take payment for rent in advance is aimed at reducing the excessive funds you need to pay up front. 
But these changes mean landlords can no longer offset the additional risk of taking a tenant with poor credit by asking for additional rent up front.
---
[Editor's note: An earlier version of this article was published in June 2019. We are presenting it here with updated information for April 2022.] 
---
This leaves many looking for solutions and most of the time that comes in the form of a guarantor—someone who guarantees for your landlord that your rent will be paid for the duration of the lease. 
Typically a guarantor must live in the tri-state area and earn an annual salary of around 80 times the monthly rent. Another option is to use an institutional guarantor like Insurent (a Brick Underground sponsor), which charges renters a fee for the service, usually 70 to 85 percent of one month's rent for U.S. renters and 90 to 110 percent of one month's rent for international renters without U.S. credit history for a 12 to 14 month lease.
What's the difference between a security deposit and last month's rent anyway?
Your first month's rent and your security deposit payment are typically due at lease signing. The security deposit is not supposed to be used as your last month's rent. Even though they typically have the same dollar amount, they are two separate entities and are not interchangeable. 
If you don't pay your last month's rent with the assumption your security deposit will cover it, you could face legal action, particularly if the landlord ends up paying for cleaning, lost keys, repairs to your apartment, or any unpaid utilities.  
That's because a landlord is entitled to deduct money from the deposit for any costs associated with the apartment when a tenant moves out. Your lease will make clear what the security deposit is for.  It's designed to make sure you leave a clean, undamaged apartment with a working set of keys so the landlord can easily rent it to someone else.
In most buildings with more than six units, the landlord is required by law to put the security deposit in escrow, giving the tenant more protections than if the money was in a private account.
Pro Tip:
Need help renting the perfect apartment in the perfect neighborhood? Looking for a landlord who is flexible about guarantors, pets, or "flexing" a space with temporary walls?  Put your search into the capable hands of The Agency, a tech-savvy real estate brokerage founded by a pair of Yale grads in response to the frustrating apartment-search experiences of classmates and colleagues. The Agency will charge a broker's fee of 10 percent of a year's rent on open listings instead of the usual 12 to 15 percent if you sign up here. Bonus: The agents at The Agency are a delight to deal with.
The practice of not paying the last month's rent 
If you've ever struggled to get your security deposit back from your landlord you'll understand why some New Yorkers say they never pay their last month's rent, figuring the security deposit can cover it. 
Adam Frisch, managing principal at Lee & Associates Residential NYC, a real estate company representing building owners in Manhattan, says a tenant might well tell a landlord, "I'm not going to initiate the final rent payment and you can keep my security and there's nothing you can do about it." He says they are right, "there isn't much we can do about it," but if there's damage to the apartment, a landlord would be entitled to sue to recover the costs. 
"Tenants have gotten away with this and will continue to do so, but they are not supposed to," he says. Certainly, in situations where the apartment needs nothing more than a lick of paint, there's no loss to the landlord.
Getting landlords and tenants in sync
When the law changed and capped advance payments to a landlord at one month's rent as security, there were also changes aimed at making it quicker and easier for renters to recover their deposit. 
Landlords must pay back the security deposit within 14 days of the end of the tenancy and there are financial penalties for those who don't meet these rules—landlords lose the right to keep any portion of the deposit and could be liable to damages up to twice the amount. 
Filing a complaint with the New York Attorney General if your landlord doesn't return your deposit is also, anecdotally, an effective remedy if you're not getting the money back in a timely way. The AG's office also offers free mediation services. 
If asked by a tenant—so be sure to ask—landlords must also do a walk-through at the end of a tenancy to itemize damage and offer an opportunity to correct any issues. Perhaps you removed a lampshade or painted a chalkboard wall, you need to return the apartment to its original condition or get the landlord to approve in writing of the changes. 
As walk-throughs allow renters to work towards correcting any issues and if they know they will get their deposit back promptly, the thinking is landlords may find it cuts down on the practice of using the deposit as the last month's rent.
Brick Underground articles occasionally include the expertise of, or information about, advertising partners when relevant to the story. We will never promote an advertiser's product without making the relationship clear to our readers.