The Search
How retirees can qualify for a rental apartment in NYC
An income of 27.5 times the rent may allow you to qualify with an institutional guarantor
Smaller landlords are often more flexible than large buildings run by management companies
Play the long game and apply to every affordable housing lottery for which you are eligible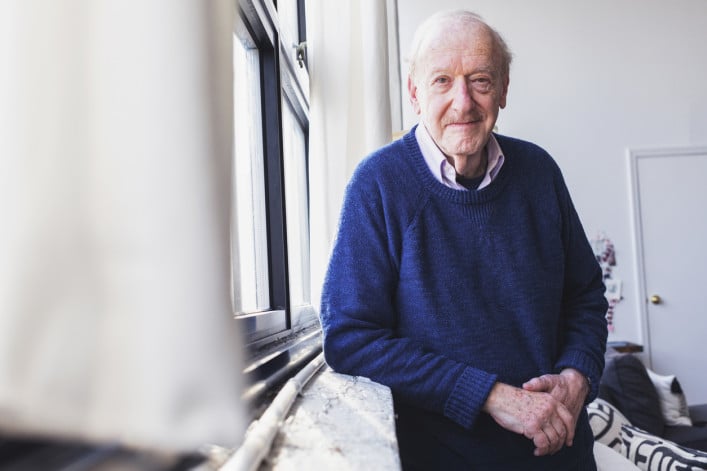 Meeting a NYC landlord's standard annual income requirement of 40 times the monthly rent is challenging enough when you have an income—when you're retired it's even more difficult. What's making the situation worse for many retirees is the current market where rents are seemingly stuck at close to record levels. 
If you don't collect a pay check anymore, you'll need to show you have the income generated by your social security, pension, or investments to satisfy a landlord's concerns that you can pay the rent reliably.
And if still you don't meet a landlord's financing requirements—in addition to an annual income of 40 times the rent, most want to see a credit score above 700—there are still some workarounds. You can find a guarantor or a small mom-and-pop landlord—they are often more flexible than large rental buildings run by management companies. Another option is to play the long game and apply to the NYC's affordable housing lottery. 
Here are your options if you're retired and looking for a rental.
---
[Editor's note: A previous version of the article ran in July 2021. We are presenting it again with updated information for April 2022.]
---
Meeting a landlord's income requirements
Adrian Savino, director of leasing and business development at Living New York, says retirees typically submit a CPA letter to a landlord in lieu of an employment letter. In addition, they can present investment statements or bank statements that show liquidity, as well as tax returns from previous years to give an idea of their payment history. 
Scotty Elyanow, an agent at Compass, points out that rent reforms passed in 2019 have made it more complicated for renters who don't meet income requirements but have plenty of money in the bank. In the past, a landlord would take additional security—either several months or even a year's rent in advance—but that is now against the law. A landlord can only take one month's security from a tenant—a measure designed to reduce the upfront costs of renting in NYC. 
Using a personal or institutional guarantor
If you don't meet a landlord's income requirements you may need to find a personal guarantor. This is an individual who can guarantee the rent if you default. Elyanow says for some retirees this can be their son or daughter.
A personal guarantor needs to have an income of 80 times the rent in order to qualify. So on a $2,000 rental, a guarantor's income needs to be $160,000. They'd need to be prepared to supply documents like proof of employment, a CPA letter if they are self-employed, their most recent tax returns (usually the past two years) as well as an asset statement showing funds in a checking or savings account. There's also the standard credit check.
If you don't have a friend or relative who can step in as a guarantor, you still have options. Institutional guarantors are widely accepted throughout the city. You still need to show a level of income but it's much lower than a landlord's requirements. For a fee, typically one month's rent, they will guarantee your lease. 
Jeffrey Geller, founder and chief operating officer of the lease guaranty company Insurent (a Brick Underground sponsor), says his company can qualify retirees on their pension and social security, and their income in these cases needs to be a minimum of 27.5 times the gross monthly rent.
"Insurent qualifies retirees on their cash at banks or marketable securities or IRAs being a minimum combined of 50 times the gross monthly rent," he says. For retirees the fee normally averages between 75 and 90 percent of one month's gross rent for a 12-14 month lease.
Working with a small landlord
If your credit score isn't in the 700s and you fall short of the income requirements, you may still find landlords willing to rent to you, Savino says. 
That may mean approaching landlords individually and presenting yourself and your financial package. "If you find a private landlord who is willing to look at the overall package and say 'yes,' then you are fine," Elyanow says. 
Where do you find a landlord with that kind of flexibility? Brooklyn and Queens are usually a better bet than Manhattan, Savino says. Some of the bigger management companies will simply look at the numbers and say yes or no but if you find a rental in a co-op or condo building or an owner who rents out apartments in a townhouse, Elyanow says, "you may have a better shot" at success.
An experienced broker will also be able to do a lot of the legwork in terms of finding a landlord with flexibility. 
Apply for an apartment through the lottery
Another option is to apply for a rent-subsidized apartment through NYC's affordable housing lottery. Landing one of these apartments allows you to lock in a low rent and ensures you get automatic lease renewals. 
Eligibility for each lottery depends largely on your income and your household size and there are some lotteries exclusively for seniors over the age of 62. Like any lottery, to land one of these apartments you need plenty of luck and persistence to be successful. (You can only apply once for each building lottery for which you are eligible). 
The income bracket for the affordable housing lottery is calculated using the median income in the area (known as the AMI). The current AMI for New York City is $93,400 for an individual. The apartments offered through Housing Connect are based on a percentage of the AMI, which varies by building. Some buildings have eligibility requirements of 40 percent of the AMI, which would mean an income of $37,360 would make you eligible. 
Brick Underground articles occasionally include the expertise of, or information about, advertising partners when relevant to the story. We will never promote an advertiser's product without making the relationship clear to our readers.