In case you missed it
How to land a rent-subsidized apartment through NYC's affordable housing lottery: Brick's best advice
Being eligible to apply starts with your salary, so confirm you fall within the guidelines
In some buildings, priority is given to those who already live in the neighborhood
You'll have to show pay stubs, W-2 tax forms, bank statements, and your current lease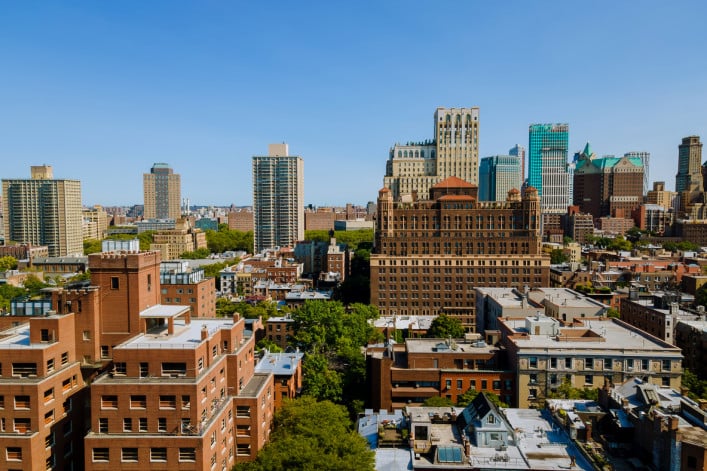 Landing a rent-stabilized apartment through New York City's affordable housing lottery is the equivalent of hitting the jackpot in the rental game. That's because not only do these apartments come with capped rent increases, they also offer the benefits of automatic lease renewals, providing long-term affordability for renters. Of course, this makes available apartments much more difficult to find. 
So how do you get one of these apartments? It starts with how much you make. If your salary falls within a specific income bracket, you can apply for an apartment through the website for New York's affordable housing lottery, NYC Housing Connect, which uses a randomized selection process, so landing an apartment requires both luck and persistence. 
It's compelling to read about New Yorkers who have successfully found affordable apartments through the lottery and many of them have tips to share. One major change to the process is there is no longer an in-person (or even remote) interview. If you are selected you'll be emailed a notification to upload any relevant documents.
Below, we've gathered some of the best advice for snagging an apartment through the lottery.
---
[Editor's note: A previous version of the article ran in April 2022. We are presenting it again in case you missed it.]
---
Be persistent and keep applying
The randomized selection process means it really is a lottery, so if you don't get a place the first time, you have to keep trying. Also, if you applied for an apartment as a student with nothing in the bank but didn't get a place and then consequently found work, you need to re-apply, because you will no longer qualify for the original lottery.
It took one New Yorker from the Bronx five years of applying for every apartment for which she was eligible before she landed a studio in Long Island City. For more on her persistence, check out: "I won a $908 studio in Long Island City in NYC's housing lottery, but I didn't count on the culture shock."
For some other applicants, the process was even longer. Although some of the application details are out of date in this next article, check out one couple's collective 25-year search for an affordable NYC apartment here: "How I won an affordable housing lottery apartment in Manhattan."
Only submit one application per building
You can submit your application online through the Housing Connect website or you can have a paper application mailed to you. The document will have instructions about where the completed form should be sent. One important reminder: Make sure you submit only one application per household for the specific building you've chosen. Multiple applications for the same building will disqualify you. That also means you can't submit applications for the same building by mail and online, so just choose one way to apply.
Keep your information up to date
Once you register via Housing Connect, you will provide information about everyone in your household including their incomes, assets, and disability status. If there are any changes to this information during the process—for example, you get married, change your job, or someone in your household leaves or brings in a different salary—you need to keep the records fully updated. If your information is incomplete or you qualify based on inaccurate information, you'll end up being rejected. For more read: "Steps to applying for NYC's affordable housing lottery."
To that end, always keep a hold of paperwork confirming changes to your status. This is the case even if you win the lottery and get an apartment. Some developers ask you to re-certify your status each year—this is for their records, not because they will kick you out if your status changes—but can still be a headache. Read: "No, you won't lose your housing lottery apartment for making too much money." 
Apply to apartments in your community board
In some buildings, priority is given to those who already live in the neighborhood. Use these preferences to your advantage. One lottery applicant found success applying for apartments in the South Bronx, where she and her son were already living in an overcrowded apartment with her mother and siblings. 
For more information read: "How I won a two bedroom in the Bronx for $655 a month in NYC's affordable housing lottery." Also listen to this episode of the Brick Underground podcast: "How to (hopefully) win the NYC affordable housing lottery."
Be realistic about your application
If your income is very close to the upper range of eligibility, you might get selected only to find out that your assets or income mean you are above the highest eligibility range. So make sure you really do qualify. If the building has stated preferences and you know they don't include you, you can still apply but be realistic about your chances. 
If you are applying based on a disability, make sure your condition meets the criteria for apartments set aside for this use. For example, there are degrees of visual impairment and if you apply based on this, you may need to prove you need an apartment wired with support features like audio alarms and other assistive technology. 
According to information on the Housing Connect site, if you are given a low number—say 28—it means you may hear back sooner about your selection. A higher number—something like 20,000—means you are less likely to get selected. However, you should keep checking your online dashboard to see the status of all the applications you've submitted. 
Now there's no longer an interview, if you're selected and can prove you meet the eligibility requirements—which includes income, asset, household size—and there is a unit available, you will be approved.
Get your paperwork together
If you are selected, you will be invited to upload documents to confirm your eligibility. Among the many documents you'll be asked for will be pay stubs, W-2 tax forms, bank statements, and a copy of your current lease.
For one successful applicant, it meant providing divorce papers and a military discharge form. Avoid any last minute panic by getting all your relevant paperwork organized and if necessary ordering copies well ahead of time if the original is lost. And check out: "How I won a $444 UWS studio in NYC's affordable housing lottery."
If you need help providing alternative documents, can get support with your application through a local Housing Ambassador—these are tenant organizations with staff trained to help with the lottery application process. 
Keep your email inbox clear
If you've got lots of unread emails it is a good idea to clear your inbox—and make it a habit to check for new email regularly. You don't want to miss any important emails about the lottery. Once you've submitted your application, you should also keep an eye on your spam folder—in case any important correspondence ends up there. If you don't respond to communications about your eligibility, you can miss the deadline to submit your paperwork. For more, read: "Having trouble applying to NYC's affordable housing lottery? Housing Ambassadors can help."
Did you win a housing lottery apartment? Have any advice for Brick readers? Drop us an email. We respect all requests for anonymity.
Brick Underground articles occasionally include the expertise of, or information about, advertising partners when relevant to the story. We will never promote an advertiser's product without making the relationship clear to our readers.