Best of Brick
The insider's guide to rent-stabilized apartments: Essential knowledge for New York renters
The Rent Guidelines Board approved the steepest rent increases in nearly a decade
Rent increases for upgrades to the building are now capped at 2 percent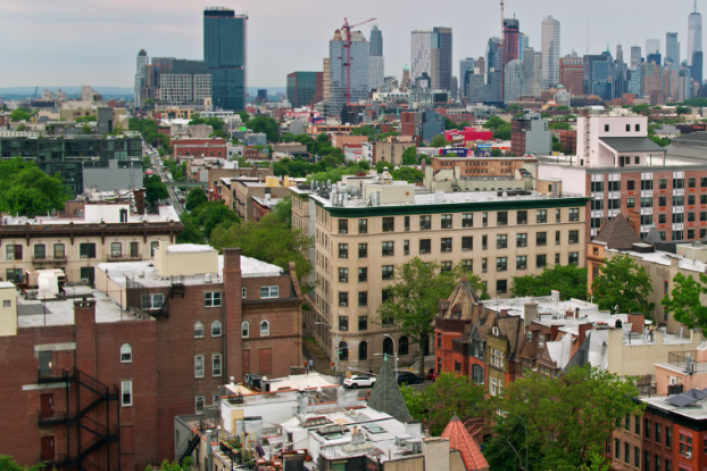 Finding a rent-stabilized apartment in New York City can be a lifeline for renters who would otherwise struggle to afford to rent here. Unlike market-rate units, with these apartments, annual rent increases are generally capped at only a few percentage points and in most cases you are entitled to automatic lease renewals. 
The rent-stabilization program is one of the city's initiatives aimed at preserving affordable housing. In 2019, protections for tenants in rent-stabilized apartments were increased under the Housing Stability and Tenant Protection Act, making it more difficult for landlords to cycle affordable apartments out of the program. 
So how do you find one of these coveted apartments? Around one million of the city's apartments are rent stabilized, which is about 44 percent of NYC's total rental apartments. They are snapped up quickly and those renters tend to stay put, but you can still find one—if you know where to look.
If you want to land a rent-stabilized apartment or merely hang onto one, it's useful to know the ins and outs of the program and your rights when you secure one.
---
[Editor's note: This article has been updated for 2022. A previous version was published in November. We are presenting it again as part of our winter Best of Brick week.] 
---
1) How to find a rent stabilized apartment 
You have to really look to score a rent-stabilized apartment. Tenants in stabilized apartments usually hang onto them, so there's not a lot of turnover. 
You can search the Division of Housing and Community Renewal by zip code to get a list of buildings with rent-stabilized apartments in a particular neighborhood. This list won't show you vacancies in the building but you can plug those addresses into apartment listing sites and see if apartments are available. 
While there are some important exceptions, the rule of thumb is that just about any apartment in a building with six or more apartments that was built before July 1st, 1974 and not "substantially rehabilitated" is stabilized. In Manhattan, these buildings are usually walkups or prewar elevator buildings north of 96th Street in places like Washington Heights, Inwood, and parts of Harlem. You'll also find rent-stabilized apartments in small, multi-family buildings in the South Bronx, the eastern parts of Brooklyn including Crown Heights, and Queens. However, not all apartments in these buildings are necessarily rent stabilized.  
Sometimes developers of new rental buildings receive tax breaks and in return must designate some units as rent-stabilized apartments. You can check online whether an address has received a J-51 or 421a abatement, which is a sure sign a building has stabilized apartments.
You can also do a general search on apartment listings sites like StreetEasy, renthop, and openigloo to check what's available. Some rent-stabilized apartments will come up on listings sites if you add "rent stabilized" to the keyword field.
Another route to a rent-stabilized apartment is through NYC Housing Connect, otherwise known as New York's affordable housing lottery. These apartments are in brand new buildings, often with popular amenities like outdoor space, gyms, and even pools. In order to qualify for these apartments, you need to meet specific income requirements, which differ for each building. In many cases, the building will still be under construction when you apply and the process can take a long time. Most successful applicants apply lots of times to many different buildings and are only successful after years of persistence.
Pro Tip:
To rent an apartment in New York City, most landlords require you to earn an annual salary of at least 40 to 45 times the monthly rent. If you don't—or if you're an international employed person, self-employed, non-employed with assets, retired, or an international student or U.S. student—you'll need to find a guarantor for your lease who earns at least 80 times the monthly rent and lives in New York, New Jersey, or Connecticut.  Or you can turn to Insurent Lease Guaranty. Accepted at more than 4,700 buildings across the city representing over 475,000 apartments, Insurent Lease Guaranty is a quick and easy way to get the apartment you want. Click here to learn more.
2) How do I know if my NYC apartment is rent stabilized?
You may be living in an apartment that you suspect is rent stabilized. To check the status of an apartment, check out the aptly-named site Am I Rent Stabilized and look at the databases maintained by the DHCR. Aside from investigating the status of the building, you'll want to make sure the rent for the individual apartment is, in fact, the legal rent. To find out, request a rent history from DHCR, which will show you every time the landlord has increased the rent and why. Keep in mind there are myriad ways an unscrupulous landlord might have tried to illegally remove an apartment from rent stabilization, so you might need to do some digging.
Another change in the past few years is that it is now easier to challenge the status of your apartment—if you signed a market-rate lease but think your apartment should be stabilized, there's a better chance of successfully proving the apartment was illegally deregulated. If that's the case you may successfully have your rent rolled back.  
Landlords are supposed to include a rent-stabilization rider in all new leases and renewals informing tenants of their legal rights. In practice, landlords don't always tell prospective renters about the status of the apartment. 
Newcomers often don't know to ask if an apartment is rent stabilized. It's not uncommon to get misinformation from either brokers or landlords about what their protections are in a particular apartment.
In fact, you may want to avoid asking the landlord about the status of the apartment altogether, says Sam Himmelstein, a tenants' rights lawyer with Himmelstein, McConnell, Gribben, & Joseph (also a Brick Underground sponsor). It's best to do some of the legwork in finding out whether an apartment is rent stabilized on your own. If you're asking the landlord about rent stabilization, Himmelstein says it's possible they may be concerned about your motives and if they can, might rent to someone else. 
3) How are rent-stabilized apartments maintained?
In the past, landlords raised the rent in return for building and apartment renovations to the point where apartments could be taken out of the program. This is now illegal but landlords say one unintended consequence of the 2019 law is that apartments will fall into disrepair. There are now caps on raising the rent for building and apartment upgrades and so they say they are less incentivized to remodel and renovate them. 
It is true that most stabilized apartments are in older buildings, and also that landlords have been known to skimp on repairs for renters who aren't paying market-rate, and even to sabotage their own buildings to force stabilized tenants out. But evictions are more difficult under the new laws and have, of course, been complicated by the pandemic. Incentivized by tax breaks—specifically the 421-a exemption—developers have continued to build affordable housing so it's equally possible to get a rent-stabilized apartment in a brand-new building through the affordable housing lottery, known as NYC Housing Connect. 
Separately, hundreds of buildings across the city are rent stabilized because their owners received a J-51 property tax abatement, a tax break that landlords get for significantly rehabilitating or converting a building from another use. 
In a far-reaching 2009 court decision in which an appeals court found that Tishman Speyer Properties, the owner of Stuyvesant Town and Peter Cooper Village, illegally raised rents and deregulated thousands of apartments after receiving a J-51 tax break, more than 3,000 apartments in these buildings were retroactively stabilized.
Keep in mind, though, that tax abatements eventually expire—after anywhere from 10 to 35 years—at which point the apartments' rent-stabilized status also expires. Unless, that is, the landlord hasn't followed guidelines for alerting tenants about this—in which case, you are entitled to stay put and your apartment continues to be stabilized.
The Rent Guidelines Board has information on whether a building that receives a tax abatement will eventually lose coverage.
4) How much can rent increase in stabilized apartments in NYC?
Annual rent increases are set by the Rent Guidelines Board, a city agency that meets every June to vote on hikes for one- and two-year leases.
This year, the RGB approved the steepest rent increases in nearly a decade, voting in favor of a rent increase of 3.25 percent for one-year leases that begin between October 1st, 2022 and September 30th, 2023; and 5 percent for two-year leases that start during the same period. (In 2020, because of financial hardships caused by the pandemic, there was a rent freeze on one-year leases.) 
It's possible your rent could also rise as a result of Major Capital Improvements (MCI)—upgrades to the building like replacement elevators, fire escapes, and water tanks. Before the changes to the rent laws, tenants might have expected to see a 6 percent annual rent increase to pay for renovations, now it is capped at 2 percent per year. A landlord must apply to DHCR to have an MCI approved and a tenant is also allowed to challenge or fight an MCI application.
There are two kinds of Individual Apartment Improvements (IAI): One where work is carried out when a unit becomes vacant and another where work can be done while you are residing there. For this second type of IAI, landlords must get your written permission to make the upgrades. 
The cost to a tenant for improvements to a specific apartment is capped at $15,000 over a 15-year period, if the work is carried out. 
Affordable rent is undoubtedly a life-changing benefit for tenants, but rent-stabilized apartments aren't always cheaper than their market-rate counterparts. Landlords sometimes charge a "preferential rent" that is lower than what's technically allowed, because the legal rent would be too steep for the neighborhood. This is particularly prevalent in less expensive parts of the city, especially in the outer boroughs.
In the past, a preferential rent might be offered to a tenant, only for the rent to be hiked when the initial lease expired. The rent law changes ended that—making sure that tenants who are offered this type of rental situation will keep the preferential rent for the entire tenancy.
5) Are rent stabilized apartments based on income?
Most affordable housing programs in the city—such as Mitchell-Lama co-ops, 80/20 rentals, and Section 8 vouchers—come with income restrictions for residents. This is not the case for rent stabilization. Getting a rent-stabilized apartment has nothing to do with the amount of money you earn—unless you are applying to the lottery—and everything to do with your luck unearthing one of these places. Although, of course, a landlord will still want to verify that you make enough to pay the rent.
"It has everything to do with the apartment and nothing to do with the tenant," says landlord Arik Lifshitz, CEO of DSA Property Group, a firm that rents out a mix of rent-stabilized and market-rate apartments.
If you win an apartment through the lottery after meeting the income requirements and over time earn more than the qualifying limits, you don't lose the apartment. In these situations your rent will be stabilized regardless of how your income changes during your tenancy.
(In the past, a tenant who earned more than $200,000 a year for two years consecutively and whose rent was above the $2,744.76 or earlier thresholds was vulnerable to having their apartment deregulated but the changes to the rent laws put an end to that.)
"In general, the longer you've been in occupancy, the lower your rent is going to be," Himmelstein says. 
6) What are the benefits of a rent-stabilized lease?  
A crucial feature of rent stabilization is the security it gives tenants, since landlords are required to renew leases every year and there are only certain circumstances where you can be booted from your apartment. 
For Lynn, a stay-at-home mom who pays less than $2,000 a month for an East Village one bedroom where she lives with her husband and two young kids, the feeling of stability is one of the main advantages, allowing her to plan her budget every year.
"Once you get a rent-stabilized apartment, you feel like this is for the long term," she says.
Of course, to get that sense of security, you need to understand your rights.
"People think when the lease expires they can be brought into court and evicted, and that's just not the case," Himmelstein says. Ninety to 150 days before your lease expires, your landlord should offer you a renewal or, if there's a valid reason not to renew—like a plan to move a family member of the owner into your apartment or if the landlord claims the apartment is not your primary residence—they need to provide you with a notice of non-renewal.
If you don't get either, you're still covered by all the protections of rent stabilization and, in fact, your landlord can't raise your rent until the lease is renewed (or hike it retroactively), so in some ways it's a benefit to renters not to get an official lease renewal, Himmelstein says. That said, if you want the document, you can file a complaint with DHCR.
There are instances in which a landlord can evict you. If you're breaking the terms of your lease—like not using your apartment as a primary residence, for instance, or keeping a pet when it's against the rules, or illegally subletting on Airbnb—you make yourself vulnerable to getting kicked out. In most cases, though, a housing court judge will give you a chance to "cure" (that is, fix the problem) before ruling to evict you. If a court determines that an apartment is not your primary residence however, you won't be given the chance to fix it.
The changes to the rent laws have made it more difficult for you to be evicted even if the landlord wants to use the apartment for their own family members. In the past, a landlord could recover as many apartments as they liked for owner use. Now they are limited to one apartment per building and must prove an immediate and compelling necessity. "That is a much harder burden to meet," Himmelstein says. 
In addition, anyone who has been renting for 15 years or more would have to be relocated to a superior or equivalent rent-stabilized apartment close by and changes to the rent laws allow tenants to sue for fraud if they give up the apartment and the landlord's family member doesn't occupy the apartment. 
You may have to leave if the landlord plans to demolish the building—but that might not be entirely bad news, some stabilized tenants have negotiated lucrative buyouts in such situations. 
7) You can be evicted if it is not your primary residence
One way a landlord can kick out tenants is by proving that their apartment is not their primary residence. 
If a landlord suspects you live elsewhere, he can take you to court and get access to your bank statements, credit card records, flight records, and more, all to convince a judge that you don't actually live in the apartment and evict you. These records create an electronic footprint showing whether you have been physically present in NYC. Being physically present in the apartment for at least 50 percent of the time is the most important factor used by the courts in determining whether an apartment is a tenant's primary residence.
If your paperwork, like voter registration and tax filings, supports your claim that the apartment continues to be your primary residence, courts will tend to look favorably on you if a landlord pursues a non-primary residence claim, so long as you also meet the physical presence requirement. 
"Since the passage of the Housing Stability and Tenant Protection Act of 2019, which abolished vacancy destabilization, landlords generally don't have the financial incentive to pursue these cases," Himmelstein says. Even if they recover the apartment they cannot deregulate it and cannot raise the rent more than $89 per month for the next tenant. "The exception is apartments located in co-ops or condos where even after the new law, the apartment would be immediately deregulated upon a vacancy," he says. 
8) You should not overcharge your roommates 
While you can share your apartment with a roommate, you must split the rent evenly—half for two people, in thirds for three people, and so on—even if a roommate has a bigger room or other perks.
Rent-stabilized tenants must charge roommates by evenly dividing the total rent by the number of tenants. However, charging your roommate extra is not grounds for eviction. You'd only get evicted if you were subletting the apartment, i.e. renting it out and not living there at the same time.
9) Who can you add to the lease? Who can take over the apartment?
The only person you can add to an existing rent-stabilized lease to share in all the benefits and responsibilities of the apartment along with you is a spouse, provided they live with you.
"Not a live-in lover, not a partner, not a domestic partner, just a spouse," Himmelstein says.
However, if you leave the apartment, you can hand it over to a family member who's been living with you as their primary residence for at least two years (or one year if your family member is 62 or older, or disabled). That person can be a parent, child, grandparent, grandchild, sibling, or a person with whom you have a close financial and emotional relationship, such as a partner who shares your bank account or other legal and financial connections.
Earlier versions of this article contained reporting and writing by Leigh Kamping-Carder and Alanna Shubach.
Brick Underground articles occasionally include the expertise of, or information about, advertising partners when relevant to the story. We will never promote an advertiser's product without making the relationship clear to our readers.