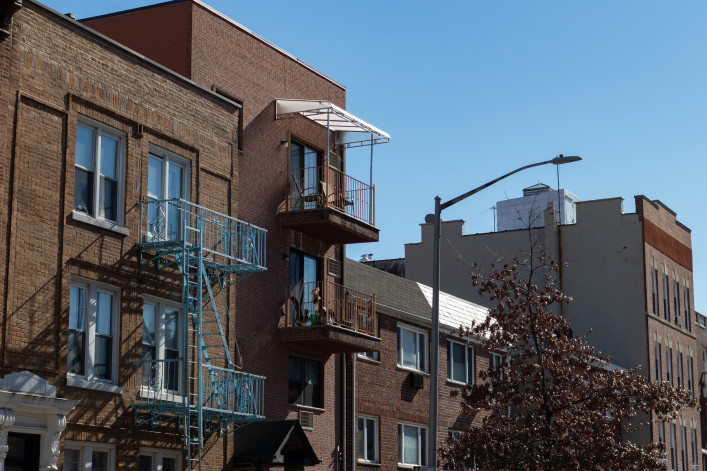 A year ago, when the lease on our studio apartment was ending, my boyfriend and I debated moving. Everyone we knew, it seems, was taking advantage of the pandemic to trade up to bigger apartments or houses in New York City or beyond. But we felt stuck.
Even though it was tough spending lockdown in such a small space, moving seemed impossible because Alejandro was unemployed (thanks Covid) and I wasn't eager to go apartment hunting when NYC was mostly shut down.
We wondered how long we could keep living in a studio without going crazy and contemplated giving it up and living with family until we figured things out. But we decided to stick it out in our Rego Park studio apartment until we became more financially secure. 
Once our lease ended, we became month-to-month renters. Without the commitment of a lease agreement, we would be free to move as soon as the city was back to normal. But a few months later, in October, our landlord asked us to renew our lease, which would lock us in until the end of June.
---
Editor's Note: Brick Underground's Inside Stories features first-person accounts of interesting, real-life New York City real estate experiences. Have a story to share? Drop us an email. We respect all requests for anonymity. The names in this article are pseudonyms.
---
We didn't want to stay that long so we rushed to look at apartments. After seeing several apartments and doing some calculations, we decided not to strain our budget—since my boyfriend still wasn't working much. It was important for us to do everything on our own, without the help of a broker, family, or even a loan. So we stayed put.
Luckily our landlord agreed to include a clause in our lease that allowed us to move out early if we gave her two-months notice. And that's what we did: Five months later, when we were more prepared to move, we told her we'd be out by the end of May. We started looking and soon found our dream place: A renovated, rent-stabilized apartment in Astoria.
Unless you are completely in love with your place and have a great deal, my advice is to find a way to move, however daunting it may seem. NYC became much more affordable for renters during the pandemic, but that won't last for very long. Here are six takeaways from our process of finding, applying, and moving to our new place.
1. Take advantage of the market to upgrade 
Right now, New York City rents are still relatively low (compared to rents before the pandemic), and landlords are still offering concessions so it's a prime time to get an apartment now and even lock in a longer lease. For us, we knew it was the perfect time to finally trade up from a studio to a one bedroom. 
We spent lots of time searching for no-fee apartments, mostly on StreetEasy, because I refused to pay a hefty broker fee with so many no-fee options. You can find many apartments with landlord-paid broker fees—landlords often cover the broker fee as an incentive to get you to sign a lease when they have lots of vacant apartments. 
After looking at many apartments online, when we saw what is now our apartment in person, we knew it was the one. So we applied the next day without seeing other apartments in person.
Skipping the broker fee was the only concession we got, but we did get a deal on our rent. I checked out the previous listing and it rented for a couple hundred dollars more just two years ago. You've got to take what you can get, and sometimes an apartment is too good to pass up, even if another apartment is offering better concessions.
2. Find a rent-stabilized apartment
Finding a rent-stabilized apartment gives you a lot of security, especially if you're renting a place that might otherwise be out of your budget. For us, finding a rent-stabilized apartment wasn't a requirement, but when we found an apartment that checked most of our boxes that was also stabilized, it was a major plus. Mostly because our rent can only be increased by a small amount each year. And we're pretty much guaranteed a lease renewal. If you're not big on moving every couple of years (like me), a rent-stabilized apartment is the way to go.
Pro Tip:
Need help finding a landlord who is flexible about guarantors, work history, rental history, or "flexing" your space with temporary walls? Place your search into the capable hands of The Agency, a tech-savvy real estate brokerage that's helped hundreds of Brick Underground readers find their ideal NYC apartments. Bonus: The agents at The Agency are not only a delight to deal with, they will charge a broker's fee of 10 percent of a year's rent on open listings instead of the usual 12 to 15 percent if you sign up here. 
When you sign a lease for a rent-stabilized apartment there is an extra form to sign. It explains the conditions and laws regarding stabilized apartments, like the difference between the legal and preferential rent. 
3. Get to know the area
You really need to do your homework on a place before you move there, even if you are familiar with the neighborhood. I lived in Astoria for several years before, but our new place is on the other side of the neighborhood. So we checked out the building and the block several times at different times of the day to make sure it was quiet. This was especially important because I still work from home.
We explored the area to find the closest bodega, grocery store, and coffee shop—and timed the walk to the closest subway station. That is a compromise we had to make: The closest subway station is about a 12-minute walk, but it's a much shorter commute into Manhattan compared to our old place, so it was a trade-off. It's important to have your list of must-haves, but you should also be prepared to make at least one compromise. 
It worked out for us because there are several other commuting options nearby like the Astoria Ferry, which we both really like. The ride to East 90th Street is only four minutes. There are also Citi Bike stations, several bus lines, and quick Uber rides. After a decade of living here, it's nice to discover other ways to get around besides the subway.
We also used websites like Localize and RentCity to make sure the building had no violations and that the block was safe. Everything checked out. 
4. Negotiate a move-in date
Landlords are more flexible these days when it comes to a move-in date because they have so many empty apartments. The broker who represented the landlord said they preferred a May 1st move in, but we were able to negotiate to May 15th, which was only two weeks before our current lease ended. We were hoping for a June 1st move-in, but we felt like meeting in the middle was a decent compromise. And we only had to pay half of the first month's rent since we were moving in mid-month, so this saved us money during the application process. Any savings counts.
We did lose some money since we moved out of our old place before the end of the month, but the flexibility was worth it. 
5. Sign a lease in advance  
We signed our lease a month and a half before our move-in date. We wanted to lock in a place as early as possible, especially since the rental market would likely heat up in the early summer before our lease ended. It's a good way to go if you find an apartment you really like but cannot move in right away. The apartment wasn't on the market very long, and I saw that not many people saved it on StreetEasy, so it worked out for us and the landlord.
It gave us peace of mind not having to worry about finding a place at the last minute and it gave us a lot of time to pack and get ready to move—and start to buy all of the things we needed for a bigger apartment.
6. Save but splurge on some items 
When you move in this city, you should know that application and moving fees are just the beginning. We were able to save money during our move, but we still had to spend a lot more cash to fill our new place. More space means more hardwood floors to cover, so we had to buy a large area rug for our living room. More windows means more shades—and the list goes on.
The apartment also has a different layout, so, for example, we lost our built-in bookshelves, which meant we had to buy a bookcase. My advice: However much you think you will spend on your new apartment, double it, and know that you don't have to buy everything at once (even if you want to). And splurge where it's important: You don't want cheap furniture that will fall apart but there's no need to spend lots on things like blinds because they probably won't fit the windows at your next place.
Brick Underground articles occasionally include the expertise of, or information about, advertising partners when relevant to the story. We will never promote an advertiser's product without making the relationship clear to our readers.