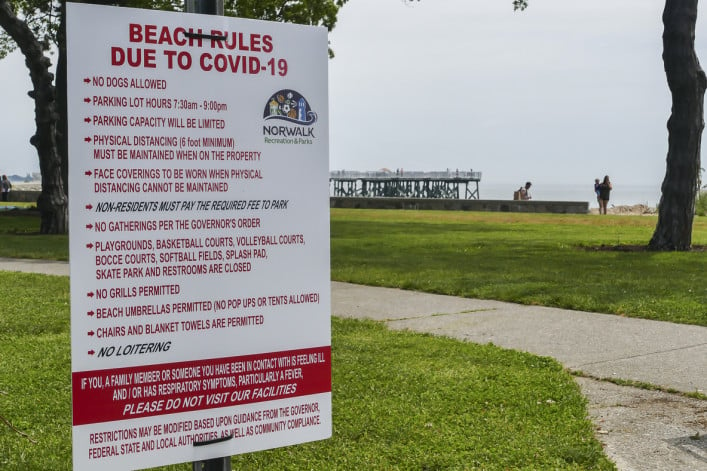 Like a lot of New Yorkers, Deborah and her family made the decision to leave the city in the early part of the pandemic. But now, as NYC takes steps toward fully reopening, her family decided to stay put in a house in a small town in southern Connecticut that they bought in July. They're not turning their back on NYC permanently but remaining in place for another year to avoid uprooting their children and dealing with the uncertainty of whether classrooms will remain open. Here's her story.
Until the pandemic arrived, my family—my husband Paul and our two elementary-school-aged kids, Hayley and Jonah, were living in a two-bedroom rental on the Upper East Side that we liked a lot. But the first few months of remote learning and both of us parents working from home—we work in media and tech—were daunting and an apartment that was really quite roomy during normal times became claustrophobic.
We had always hoped to buy a house to use as a weekend and summer retreat and were pretty sure that we wanted it to be in a certain small town in Connecticut where I spent summers when I was growing up. I had a strong attachment to the town; my husband didn't have that same history but he liked the area. It was near a beach and two hours from NYC.
---
Editor's Note: Brick Underground's Inside Stories features first-person accounts of interesting, real-life New York City real estate experiences. Have a story to share? Drop us an email. We respect all requests for anonymity. The names in this article are pseudonyms.
---
We started looking for a house in May 2020 and found one: A Cape that was well under $400,000 and we closed on it in July. It has four bedrooms with a huge basement that we are converting into an office/family room. Lots of pine and maple trees and flowers and grass surround the house and the back deck faces what is best described as a mini-woods.
When we bought the house, we never thought that we would live here full-time for a year and now, for another year! But when we made the decision to stay the first year, the pandemic was running everyone's lives. We moved in August and the month was like a whirlwind—getting the kids enrolled in school, unpacking boxes, figuring out what's involved in running a house after being used to NYC apartment living.
Once we were settled, we had time to enjoy what so many New Yorkers were craving in the pandemic—space, quiet, a room for each kid, an overall feeling of calm, and the beauty of the grass and trees or, as one New Yorker put it, "having nature on the first floor."
Breaking our lease
There were financial considerations, of course. Because we lived in a NYC rental, we had to make sure that we could break our lease, which was scheduled to be up in February. That was easier than we thought; all we lost was the security deposit. Our apartment was renting for below market rate, so I think the owner was pleased with the idea of bumping it up. (However, on a recent visit to NYC, we went by the building and it looked like the apartment was still empty.) We could have been really stuck because the building doesn't allow subletting.
We had always wanted to buy some real estate so we could build equity but didn't think it would happen so soon and so quickly. The cost of buying in New York City made that option impossible so we figured that a weekend/summer place would be perfect. We just never thought it would become a permanent home for two years.
Why we decided to stay a second year
When the first year was almost over and it came time to think about what middle school our daughter would go to in NYC and what would be involved in making the move back to the city (because we definitely plan on coming back) we decided to spend another year in Connecticut.
We're not afraid to come back to the city. Of course, I would feel more comfortable if Covid wasn't still a threat. We lived through the worst of the pandemic in NYC so it's not fear, it's practicality that's keeping us here. We're not convinced that school will be back to normal in the fall in NYC—we don't want to live through the uncertainty, the starting and stopping that could happen. The kids' school here hasn't had to close at all. They've got big classrooms and lots of outdoor space that they use as much as they can.
It took some time to decide but both of us were pretty much onboard with the idea of staying, so ultimately it was an easy enough decision. We floated the idea of a second year by kids, not because they were going to make the decision, but as a way to gauge whether they were okay with it. And they were. If we hadn't thought that they were having a good experience in the first place we wouldn't have considered staying. The school here is excellent and they have adapted to it very well. Kids are resilient.
Socializing in the suburbs
One downside is that because of Covid restrictions, there hasn't been any chance to meet people and socialize, except for our wonderful and amazingly helpful next-door neighbor. We're looking forward to being able to do more socializing next school year. Everyone tells us what a warm community it is. We'll find out. What's most important to us is for the kids to have a good social life.
Of course we all miss our friends in NYC—we had an active social life in the city. And friends are one of the big reasons that we plan to go back to the city to live. Friends and the energy that's uniquely New York are what we miss the most. On a recent one-day round-trip visit to the city, we could feel the New York vibe and I realized how much I really love it.
But my husband doesn't long for the New York vibe as strongly as I do, but that may be because he's not a native New Yorker like me, a certified city kid. Our oldest daughter also considers herself a city girl and our son is the type of kid who seems to be happy wherever he is.
Returning to NYC 
When we go back, I know the change will be jarring but it will be exciting and since we are hoping to keep this house, too, we'll have a place to escape to when we need it. And there's always the option of renting it.
The exact timing of when we go back depends on whether and when I need to go back to the office full time. Now, if I need to spend some time in NYC, I can take the train and stay overnight. Fortunately the old room in my parents' apartment on the Upper West Side is available.
When we do go back, we would likely go back to our old neighborhood but we're flexible. We'd be open to other places too. It's all about the schools. Schools and costs. No one can tell what the rents are going to be next year.
How it worked financially
Financially, it's worked out well for us. Our monthlies are half of what we were paying in the city, where a big chunk of our salaries went towards our rent.  We like the idea of saving money for another year and recouping some of our costs.
Was the decision to stay another year hard to make? Not so much. I mean there are a lot of moving parts and things to work out (mostly about my work and my daughter's middle school next year) but everything seems doable. And one year doesn't feel like such a big commitment. We think that it's all stuff that can be navigated somewhat easily, it all seems doable. I feel certain that we've absolutely made the right decision to stay here.
Brick Underground articles occasionally include the expertise of, or information about, advertising partners when relevant to the story. We will never promote an advertiser's product without making the relationship clear to our readers.