Greg McVay and Scott Topel started dating about two years ago. The couple, who had plans before the pandemic to rent a one bedroom together, decided instead to quarantine in Scott's 550-square-foot studio along with Greg's miniature poodle and Scott's cat. Pooling their housing costs in a smaller space enabled them to save enough to buy a luxury condo in Williamsburg. The couple were represented by Warner Lewis, a broker at Brown Harris Stevens. Here's their story.
Greg: In early 2020, I was living in Midtown in one of Related's rental buildings. Scott and I had been dating for a year and we'd talked about moving in together. The rental market was so hot then that I told Related I was moving in with my boyfriend and if they found a tenant I'd move out even earlier. The same day they called me and asked me how quickly I could move out of the apartment. Talk about a different time! So I was able to end my lease two months early and move in with Scott.
Scott: So Greg moved into my studio on the Lower East Side last February and we were planning on staying there about two months and then renting a one bedroom. But then the pandemic hit and of course we couldn't move. We were locked down with Greg's miniature poodle and my cat in my 550-square-foot co-op.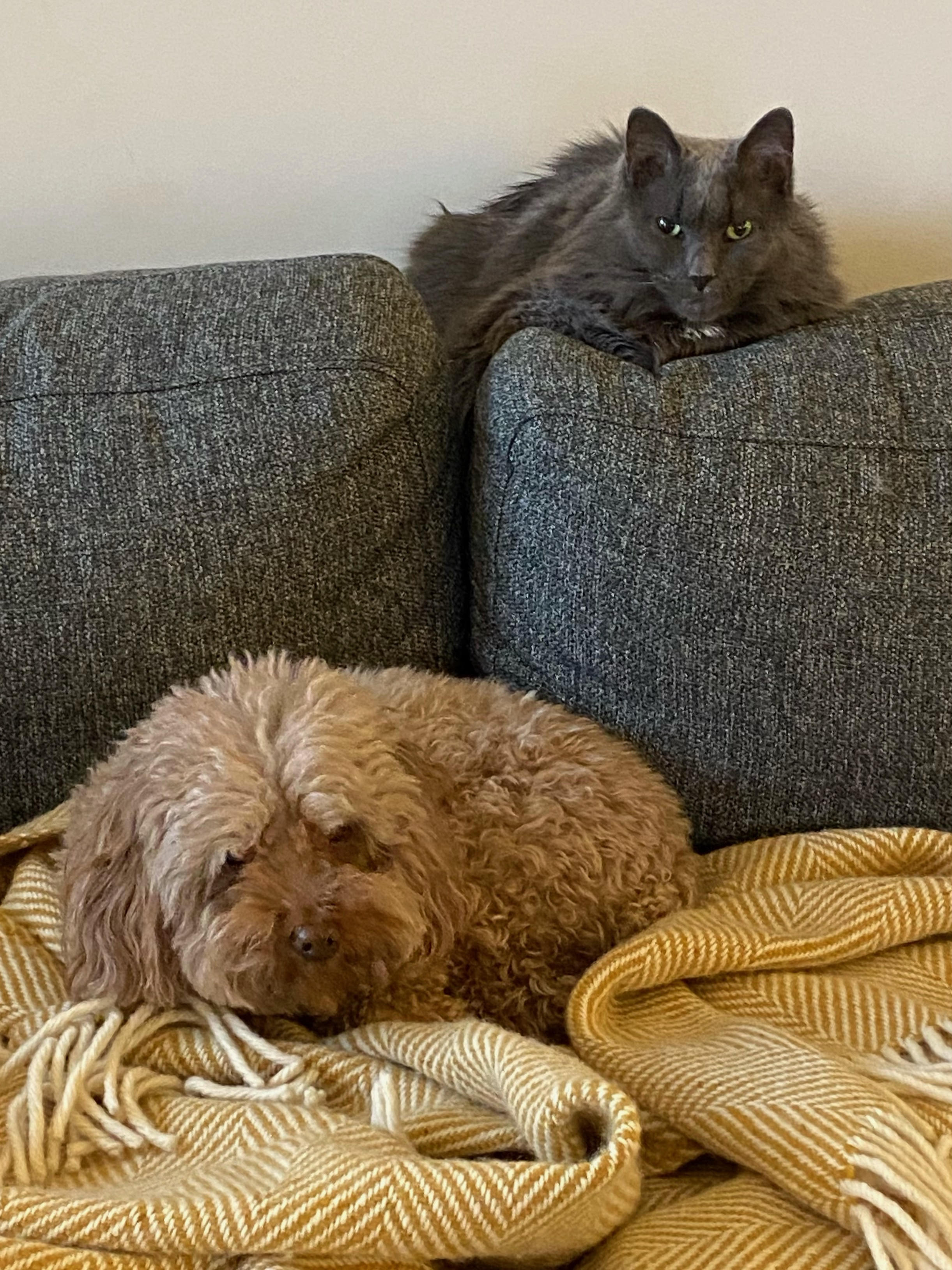 ---
Editor's Note: Brick Underground's Inside Stories features first-person accounts of dramatic, real-life New York City real estate experiences. Have a story to share? Drop us an email. We respect all requests for anonymity.
---
Greg: I work in medical sales and every time I had to take a private call I'd have to go into the bathroom. 
Scott: But the longer we stayed in the apartment the more we were saving and after a couple of months Greg was like, 'If we do this through October, we could buy a place.' So we spent the lockdown looking at real estate online and crunching the numbers. We realized we could buy and started viewing real estate right when things opened up in July. We saw this apartment at The Edge and put an offer in. We were still testing the market because we weren't sure what was happening so we put in a really low offer and they countered but we decided just to leave it. We kept looking all around Williamsburg and saw most of the one-bedroom listings and then came back to this one. We put in a another offer and they said they had a better offer that they had accepted. However, that person wasn't able to get financing so they came back to us and accepted our offer. 
Greg: The building was constructed in 2008 and we weren't buying from the sponsor. Even though it was a resale, we definitely didn't pay a premium in Williamsburg. The L train debacle really bought price per square foot down in Williamsburg but the the cool thing is that during the pandemic they fixed the L train but no-one was talking about it—everyone was talking about Covid—so I think we got a pretty good deal on the price—we paid $1,150,000—which was below asking. The sellers were quite motivated and gave us a $25,000 credit at close. It meant about 50 percent of our closing costs were paid by the seller, which is really remarkable.
I had half my belongings in storage and we had cut our expenses down significantly. My rent in Midtown had been $3,500 and Scott owned his studio and his monthlies are around $1800. So we went from two households to one, which was half the price of the other. The money that we saved went to the down payment and the closing costs—there wasn't a penny extra. 
Scott: Our place is a one bedroom with a den. It's a decent size: It's around 900 square feet with a balcony that overlooks Marsha P. Johnson State Park and we have beautiful city views. Outside space became a priority for us during the pandemic. Another aspect of the building is that even though it is 10 years old, it still has a tax abatement, which made it really appealing in terms of keeping our monthly costs down. The abatement expires in 2036. 
We are now trying to rent out the studio, which is difficult. You take your wins where you can get them! There's been some interest but obviously not as much now because there are so many apartments on the market. Hopefully in the next month or two we'll find a tenant as people come back to the city and as people get vaccinated but luckily our carrying costs there are very low. 
Greg: We only put 10 percent down on our new place. We were concerned about finding financing but what we found is that banks are still financing well-qualified buyers. I belong to a credit union that I ended up doing the mortgage with but there were mortgage brokers in NYC that were also willing to do the mortgage. It wasn't difficult to find financing but you do have to look beyond the big banks.  
Scott: I lived in Williamsburg before and when I was looking to buy my studio I couldn't afford anything because it was all luxury developments so I was excited to come back here.
Greg: Our building has the perfect harmony—we have the park that we overlook and we still see the city and are still in the middle of everything.  It was never an option for us to leave the city entirely. I think people who are leaving the city are doing so as a temporary move—to stay with parents for financial reasons—there's still nowhere else on earth that is like NYC and it's home to us. People will soon be back. 
Brick Underground articles occasionally include the expertise of, or information about, advertising partners when relevant to the story. We will never promote an advertiser's product without making the relationship clear to our readers.