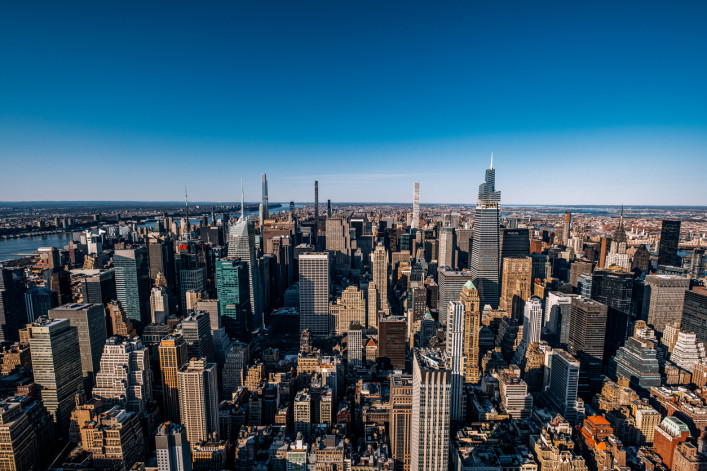 Many apartment hunters are seeing the writing on the wall and are coming to the same conclusion: New York City rents are not going to fall any lower. As a result, they're locking in longer lease terms—creating a spike in lease lengths in the past three months.
That's one of the findings in the Elliman Report for the Manhattan, Brooklyn, and Queens rental markets for the month of May. The jump in Manhattan lease lengths corresponds to a upswing in net effective median rent, according to the report. (Net effective rent factors in landlord concessions like free months.)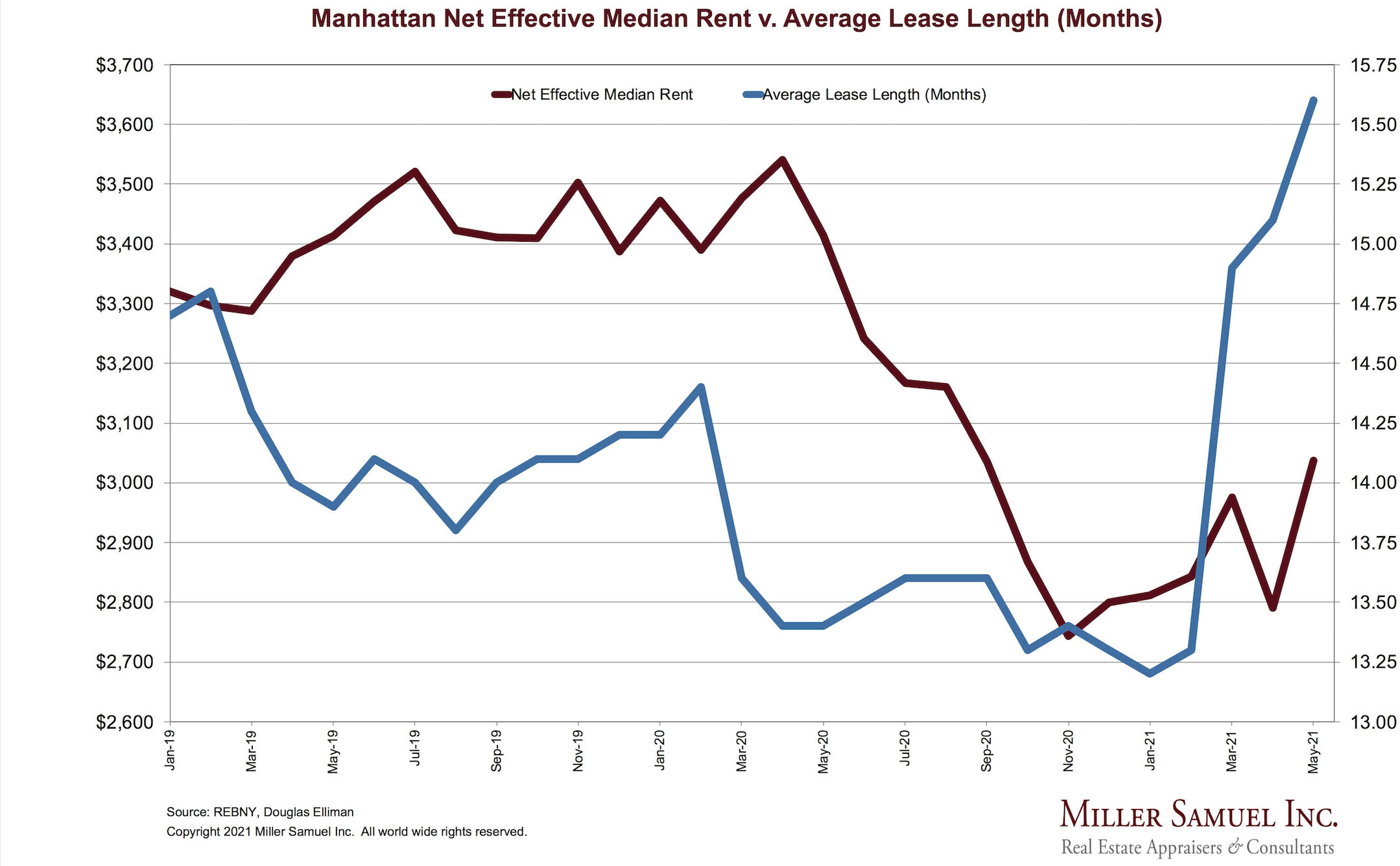 The Elliman Report just started tracking lease terms recently. "One of the patterns we notice is that beginning in March, there was a surge in average lease lengths," says Jonathan Miller, president and CEO of appraisal firm Miller Samuel and author of the report. "I look at it as a sentiment indicator: Tenants are looking to sign longer term leases because they have the understanding that rents have seen some sort of stabilization or modest uptick," he says.
This is of course an average of all different types of lease lengths—and not all landlords agree to longer leases. And the trend "does not necessarily mean the entire market is expected to return to rent levels seen pre-Covid in short order," Miller says.
Another trend also highlights how disparate the rental market can be: Some brokers are reporting "bidding wars" for new rental listings in the highly coveted neighborhoods of Tribeca, Soho, Greenwich Village, and the West Village, says Hal D. Gavzie, executive manager of leasing for Douglas Elliman.
In some instances, renters are offering to pay more than the landlord is asking, and in other cases, with multiple applications being submitted, landlords are raising the rent on in-demand listings, Gavzie says.
Rental bidding wars are a sign of strong competition for rentals and there are other signals as well, like a drop in the number of days listings are on the market. But the entire rental market is not experiencing strong demand yet.
"Midtown East and Midtown West are still struggling and will continue until corporate America is back," he says. For NYC in general: "There's still a lot of inventory. And landlords are still trying to get back on their feet," Gavzie says.
In May, Manhattan landlords saw the highest number of new lease signings since Elliman's tracking began in 2008. There were 9,491 new leases signed, an increase of 4.4 percent from April (9,087) and over four times the number of new leases in May 2020 (2,190).
That's eating into the number of vacant apartments. The vacancy rate last month was 7.59 percent, compared to 11.6 percent in April this year and 2.88 percent in May 2020. (Comparing the current market to the same time last year, which is typical, doesn't work right now. All data points appear greatly exaggerated when you contrast them with what happened during the pandemic, so month-over-month comparisons are included here.)
The median Manhattan rent for May was $3,037, an 8.8 percent increase from April ($2,791) and a 11.1 percent drop from May 2020 ($3,415).
If you're looking for some data that will give you an edge as a renter: Non-doorman rents in Manhattan are down more than doorman rentals, and rents are comparatively lower for smaller apartments. The report also found that new development saw its biggest share of the market in more than a year, and the luxury median rent was the only price segment to rise year over year.
All of these trends appear to fit the same narrative: NYC renters have been using this moment as a time to trade up and gain larger apartments, better amenities, or more a coveted address, or all of the above.
The amount of rental concessions given by Manhattan landlords rose again to the third-highest level since 2008—which is contradicting what some brokers are experiencing. Brokers have told Brick that concessions are "going away."
"Concession were [already] elevated pre-Covid," Miller counters. Case in point: the share of Manhattan leases that came with some kind of concession in May was 40.5 percent and in April it was 48 percent. Back in May of 2019, that share was 33.9 percent.
Miller says concessions have been "trending down modestly since the beginning of the year, but not plunging."
In Brooklyn, there were a lot of leases signed last month—which stemmed falling rents. Renters signed 2,506 leases last month, an increase of 15.2 percent over April (2,175)—and more than triple the number of leases signed in May 2020 (728).
The median rent hit $2,750, a slight increase from April ($2,730) and a drop of 8.3 percent from May 2020 ($2,999). The share of leases with rental concessions was 36.4 percent, slightly down from last month.
Queens also saw a flurry of leasing activity, which had a similar dampening effect on falling rents. There were 510 new leases signed last month, a drop of 10.5 percent over April (570) and more than triple the leases signed in May 2020 (149).
The median rent was $2,466 in May, a decrease of 4.5 percent over April ($2,581) and decrease of 16.2 percent over May 2020 ($2,944).
Other market reports
The Corcoran Group released its Manhattan and Brooklyn rental reports. In Manhattan, new rental listings plus older vacancies still outpaced the number of new leases signed.
"In May, many Manhattan building owners tested the waters by raising rents and pulling back on the use of move-in incentives," says Gary Malin, chief operating officer of The Corcoran Group. "In some cases, they released additional units they may have held off the market due to lower demand in previous months," he says. As a result, renters have more options, but are also like to pay more these days.  
"Our rental market is always dynamic, but we are in a period of rapid transition as the city's comeback accelerates," Malin says.
Brick Underground articles occasionally include the expertise of, or information about, advertising partners when relevant to the story. We will never promote an advertiser's product without making the relationship clear to our readers.