The Search
The best websites for finding a no-fee rental apartment in NYC
Many sites allow you to highly customize your search based on your preferences
These sites verify listings to weed out scams, duplicates, and bait-and-switch operators
If you are an artist or other creative type, you can find like-minded communities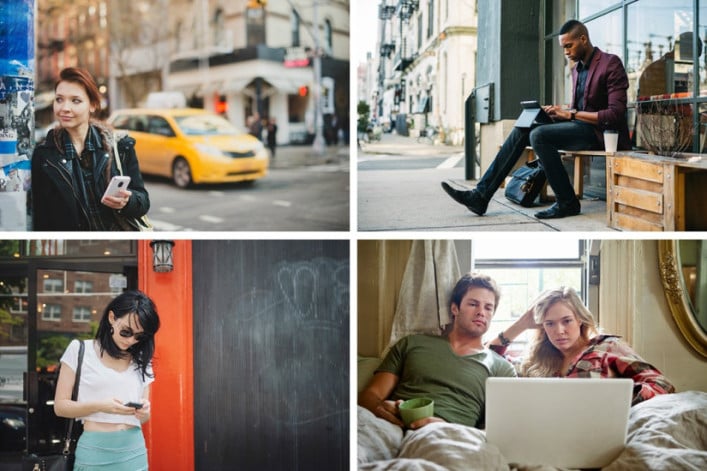 When you rent an apartment in New York City, you may be dismayed to learn that you often have to pay a hefty broker's fee, which typically ranges from 12 to 15 percent of the annual rent. It can be a bitter pill to swallow—after all, you're also putting down the first month's rent and a security deposit. 
Broker fees are paid to agents who you have sought out to help you find an apartment. But that's not the only scenario in which you pay a broker fee: Even when you find an apartment on your own, you may still be asked to pay a fee if an agent is marketing the unit on behalf of a landlord. In slower markets, landlords will often cover the fee for brokers they hire, but when there's competition for apartments, as is the case now, these owner-paid concessions dry up.
In some cases, enlisting the help of an agent and paying the broker fee is beneficial. Having an expert doing a search for you may be worth the price if you don't have a lot of time, are coming from outside NYC, can't find what you want on your own, or your employer is paying the broker fee as part of your relocation expenses.
However, if you have the time and grit to conduct your own search—and want to save some money upfront—consider looking for a no-fee apartment on websites that let you filter out fee-based apartments.
Pro Tip:
If you exhaust the DIY method—or just feel exhausted—sign up here to take advantage of the corporate relocation rate offered by Brick Underground partner The Agency, a tech-savvy real estate brokerage that's helped hundreds of Brick Underground readers find their ideal NYC apartments. The Agency will charge a broker's fee of 10 percent of a year's rent versus the usual 12 to 15 percent if the apartment is an "open" listing (versus an "exclusive" listing where the fee is split with the broker holding the listing.) Bonus: The agents at The Agency are a delight to deal with.
These "no fee" rentals come in two varieties: Apartments you can rent directly from a landlord or management company and apartments where the landlord pays the broker's fee for you as a concession. You may also want to consider a co-living situation—these are furnished apartments that some liken to upscale adult dorms. 
---
[Editor's Note: A previous version of the article ran in May 2022. We are presenting it here with updated information for May 2023.]
---
Ready to begin your search for a new apartment? Keep reading for Brick's roundup of the best websites for finding no-fee rentals in NYC listed in alphabetical order.
Pro Tip:
Have you considered applying for an affordable housing lottery? You might be surprised to learn that many middle-income households qualify for these programs. And if you're looking for a comfortable and convenient home in the heart of Brooklyn, you won't want to miss the chance to apply for 595 Dean St.—the newest luxury rental building in Prospect Heights. Simply sign up to be notified of the launch and take the first step towards securing an affordable and stylish place to call home.
The 12 best websites for no-fee apartments in NYC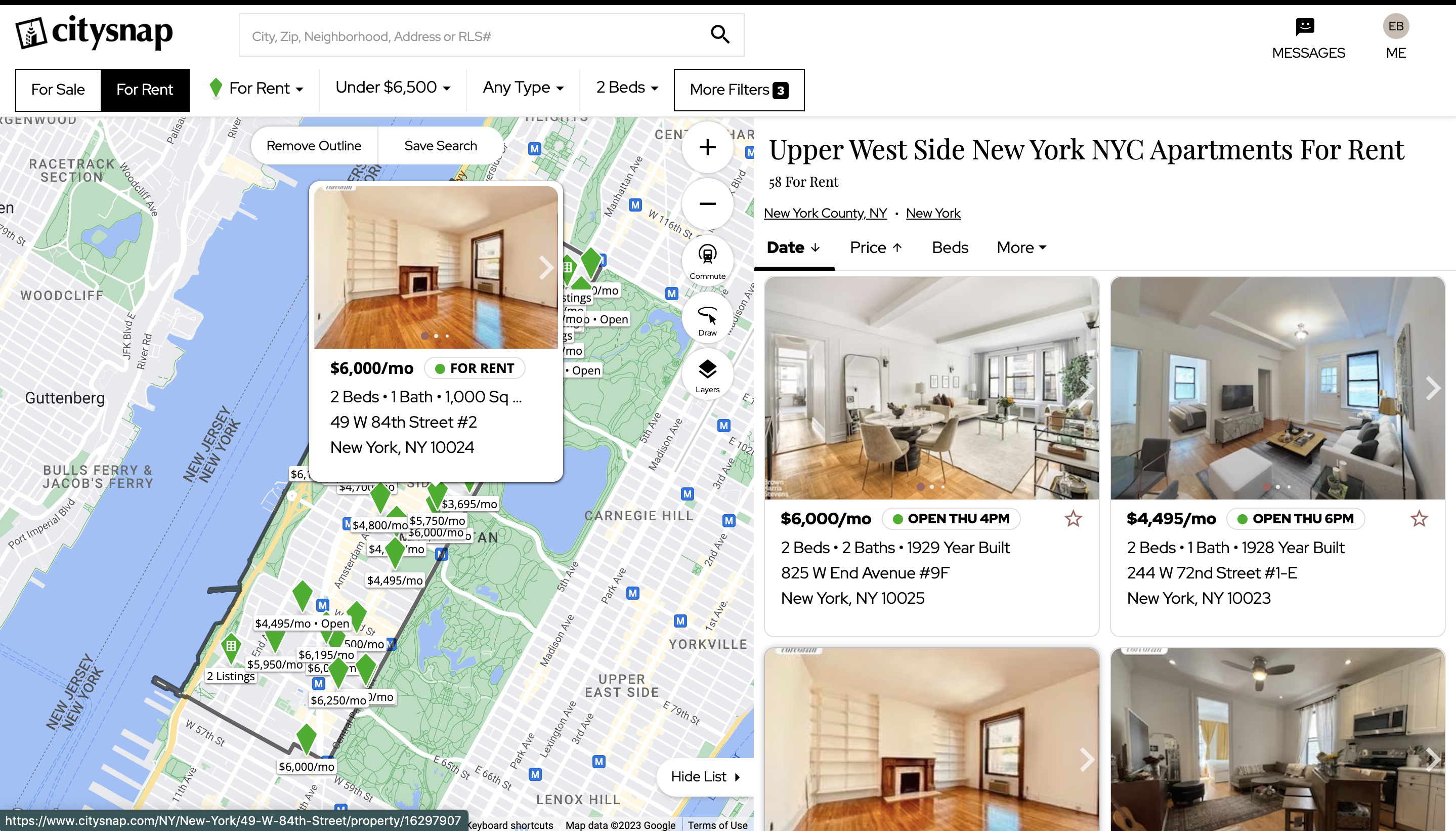 1. Citysnap
Good for: Accurate, up-to-date inventory and a handy app.
Overview: Launched in June 2022, Citysnap is the NYC brokerage community's response to StreetEasy's long-running dominance by providing renters (and buyers) access to listings from REBNY's Residential Listing Service (RLS)—the same data sourced and used by real estate agents. Listings are updated in real-time as soon as agents post them online—which is why Citysnap says it is impossible to quantify the percentage of no fees (since the market is constantly fluctuating), but there are currently 3,425 results in Manhattan, 1,005 in Brooklyn, and 295 in Queens. These listings are also bound by strict REBNY guidelines against fake listings and bait-and-switch tactics. 
What to expect: Whether you use the website or mobile app, you can filter your search for no broker fee under advanced options on the main search page. Other filters include apartment features (in-unit laundry, fireplace, accessible home) and building amenities (elevator, on-site staffing, laundry in building) as well as nearby transit lines. You can also do a keyword search. 
The primary gateway search is by neighborhood, but what's nice about Citysnap's interactive map is that you can draw your own boundary and layer on nearby schools or search by commute time.
All listings have street addresses and the name and contact information of the listing agent, who you can contact via the site or app. 
According to Citysnap, the most popular feature of the app is a nifty tool that involves "snapping" a residential building and revealing all of its details, including any active no-fee rentals or recently rented off-market properties.
2. Craigslist
Good for: Apartment listings from smaller mom-and-pop-type landlords.
Overview: The enduring popularity of Craigslist proves that you don't need a fancy (or modern) interface to make an effective real estate tool for both renters and landlords—as long as you use it with discretion.
What to expect: Not much has changed in the familiar interface, which can be a good thing if you are a creature of comfort. Under the site's housing tab, you can choose "apts/housing" and then refine your search by selecting "no broker fee" apartments on the left-hand side of the screen. You can further filter search results for things like "cats ok," "dogs ok," "furnished," and "air conditioning" (as well as "no application fee"). Then you can narrow your search by number of bedrooms, bathrooms, square footage, housing type, laundry, and parking. The (admittedly old-school) map function is also useful if you're looking in a specific neighborhood—you'll need to zoom in on your desired area—and also helps give you a sense of an apartment's actual location, versus where its poster claims it is. (This is a very common switcheroo in NYC real estate.) 
Craigslist is literally a free-for-all, so take care to avoid scams, and only search apartments with photos, which is another filter option. Some listings on Craigslist don't include the address, so you should focus on listings that do. This allows you to investigate the building and the neighborhood more closely, including information like bedbug history and neighborhood crime rate (more tips on that here), as well as plugging the address into the city's Building Information System to check on things like outstanding violations. Also, Google the name of the management company and broker to see if any red flags appear.
One final comment: Not all of the search results say "no broker fee" anywhere in the actual listing, making it hard to substantiate the veracity of that tool without checking the source. So unless you see something you really, really love, you may want to limit your initial inquiries to posts that clearly say "no fee" in the heading or elsewhere.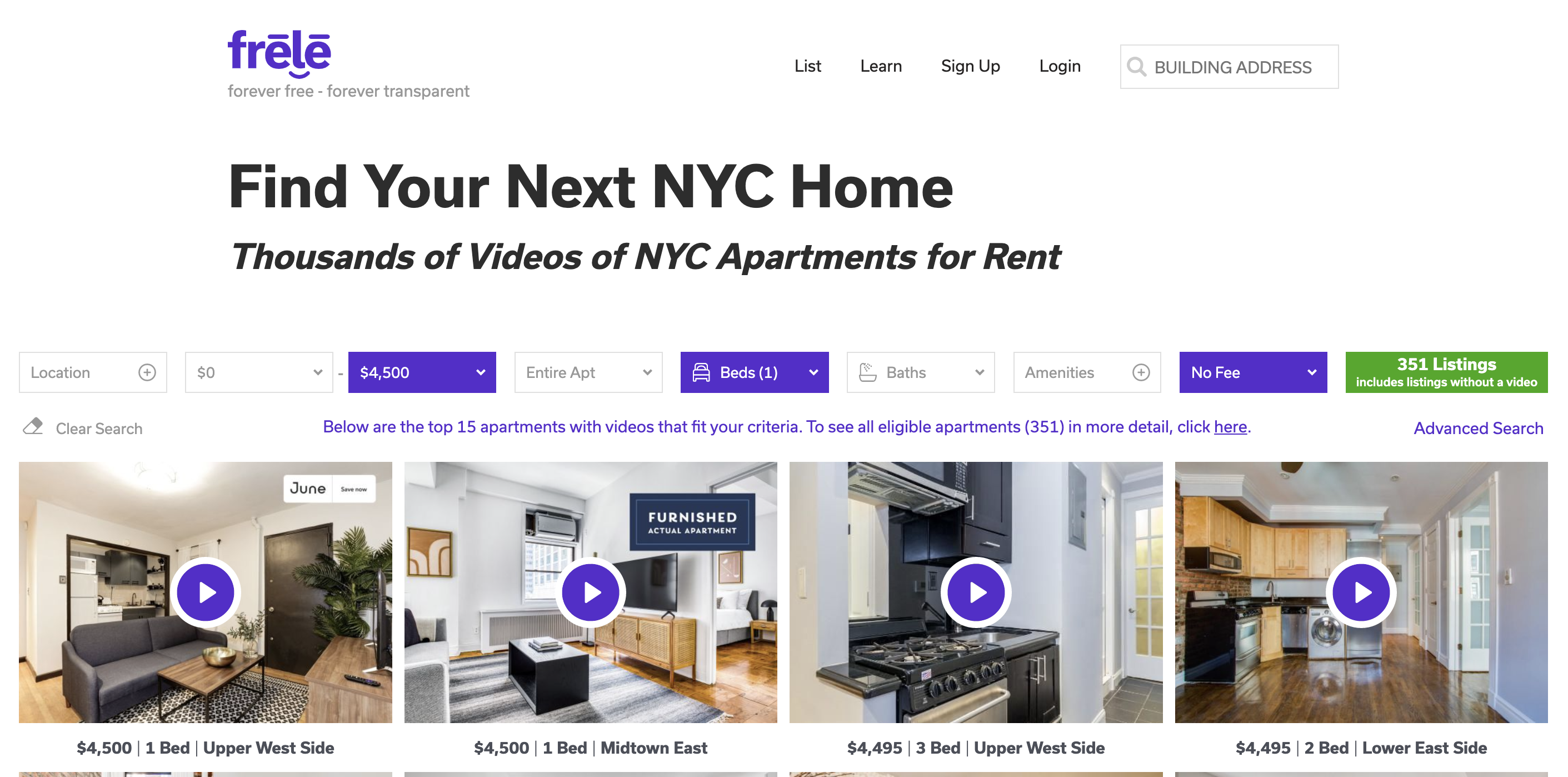 3. Frele
Good for: Browsing listings by video instead of photos. 
Overview: Frele, from the founder of Leasebreak (more about that site later), launched in 2018. It does not charge to post listings, so you will likely find rentals here that you won't find on other sites.
What to expect: The site focuses on showing listings with videos rather than photos—which may give you a better sense of the space. It also has thousands of listings with photos. There is a no-fee filter on the top right of the homepage. Out of their roughly 3,000 listings, 70 percent are no fee. Out of those, 74 percent are in Manhattan, 19 percent are in Brooklyn, and 5 percent are in Queens. 
The site uses the same algorithms as Leasebreak to detect and prevent scams from being posted on the site. In addition, it has an extra layer of security: The site is manually checked for listings that appear suspicious. Both brokers and landlords are allowed to post listings and some come from feeds.
Pro Tip:
To rent an apartment in New York City, most landlords require you to earn an annual salary of at least 40 to 45 times the monthly rent. If you don't—or if you're an international employed person, self-employed, non-employed with assets, retired, or an international student or US student—you'll need to find a guarantor for your lease who earns at least 80 times the monthly rent and lives in New York, New Jersey or Connecticut.  Or you can turn to Insurent Lease Guaranty. Accepted at more than 9,000 buildings across the city representing over 825,000 apartments, Insurent Lease Guaranty is a quick and easy way to get the apartment you want. Click here to learn more.
4. Gertie's Live Work 
Good for: Working artists who need a reasonably priced place to live.
Overview: Gertie's Live Work was founded by two artists and is intended for artists. It lists both workspaces and apartments, all of which are no-fee rentals. (And FYI: It also has a free, open-call exhibition space in the East Village, Gertie's Window Project.) You can visit the site anytime or sign up to receive a weekly email with updated listings.
What to expect: On average, there are roughly 150 listings on the site at any time (though currently, only 34 of those fall under the "Live" umbrella and 128 under "Work"), about 68 percent of which are in Brooklyn, 25 percent in Manhattan, and 6 percent in Queens. Note that some posts offer rooms in a shared space, others are for entire apartments. Lease terms vary from a few months to a year. Most (if not all) will be furnished.
All listings are provided by artists posting their own live or work spaces for rent—no brokers allowed. According to Gertie's, a site admin vets and approves each listing to ensure legitimacy. 
Searching is limited to price range, square footage, neighborhood, or keywords, though you can communicate directly with the lister through the site. There's also a "seeking" tab where artists can post housing (or studio) needs. 
Gertie's is free for now, "or at least until spring 2023, and then as cheap as possible after that. We've got your back!"'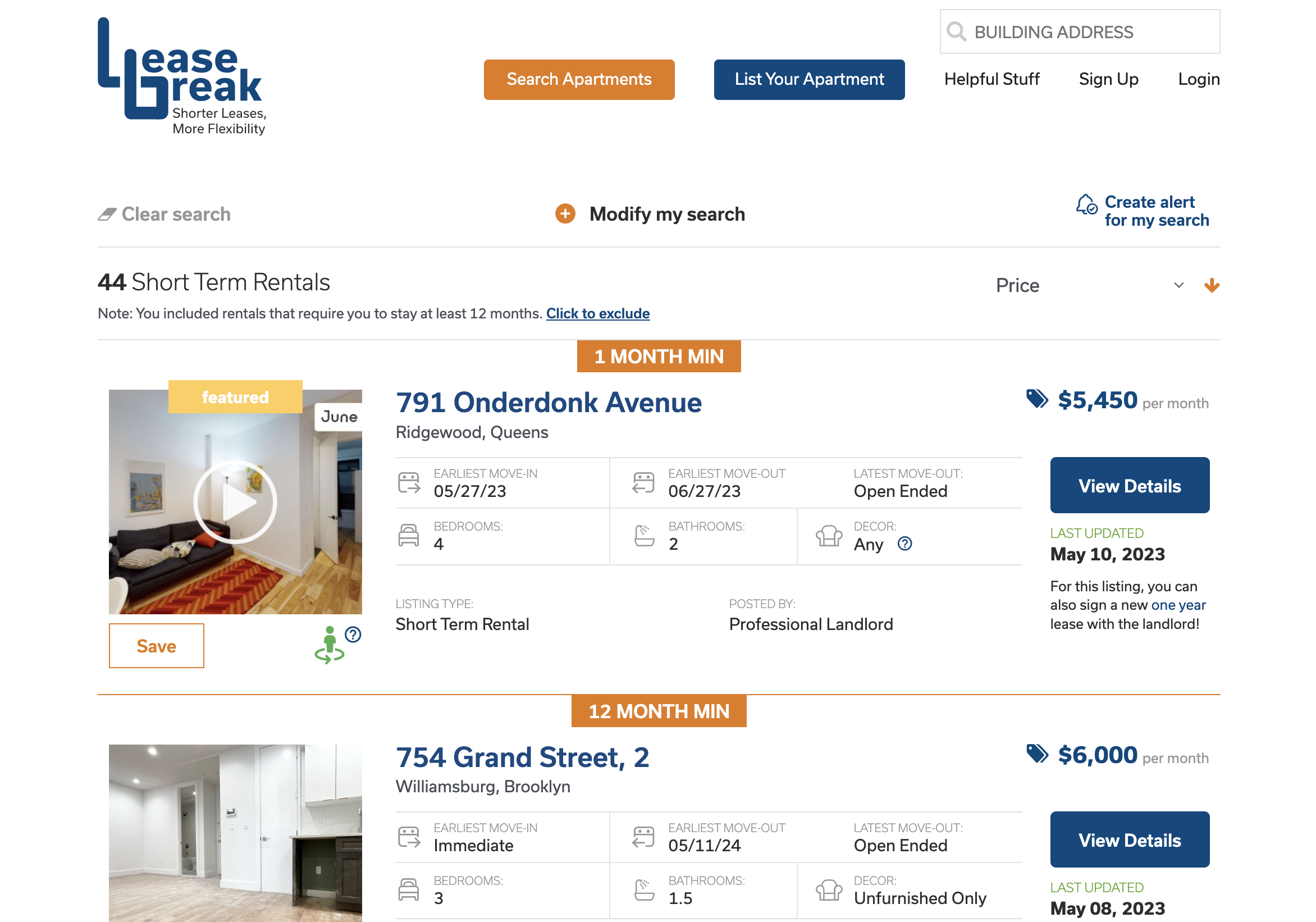 5. Leasebreak
Good for: Short-term rentals, sublets, leasebreaks, and rooms for rent. 
Overview: Taking over someone's apartment is a surefire way to get around having to pay a broker fee and get a deal if you don't need a long-term lease. Renters who need to get out of their lease list their apartments on Leasebreak, so the majority of leases here are for less than a year, which can be helpful if you're in between jobs, cities, or just looking to try a place out for a shorter period than the usual one-year lease.
However, many landlords allow new tenants to sign a 12- month (or longer) lease or renew the lease—meaning you'll score a new lease with no broker's fee. Tip: Be sure to select "include rentals which require you to stay at least 12 months" if you are only interested in long-term stays; you'll still see short-term rentals that allow 12-month leases too. And you may want to search for "unfurnished only" if you don't want to scroll past furnished options. 
What to expect: The site has both fee and no-fee listings, and it's simple to search all five boroughs using the "no fee" filter. According to Leasebreak, about 70 percent of its listings are no-fee. There are approximately 3,000 short-term listings at any given time, which include not just leasebreaks from tenants, but also short-term furnished rentals and sublets from landlords and agents. It is free for someone to post their listing on the site, so you might find inexpensive rentals here that aren't on other sites. Short-term furnished rental companies like Furnished Quarters and Blueground also post listings here.
Leasebreak has a mobile and desktop site, and listings are searchable by lease term (including short-term rentals), move-in and move-out dates (including a flexible option), and whether you want an entire apartments or just a room. Other filters include building amenities (pet-friendly, doorman, elevator, gym)  and to only see results with 3D tours. A neat fact is that listings usually show what direction the unit faces—and you can tick the search box for "exceptional light" to rule out dark and dreary spaces. 
And, per Leasebreak, now there's a new feature: You can fill out your search criteria—including choosing "no fee"—and then wait for multiple agents to reach out with Leasebreak's listings as well as with potential listings from other sources all over the city.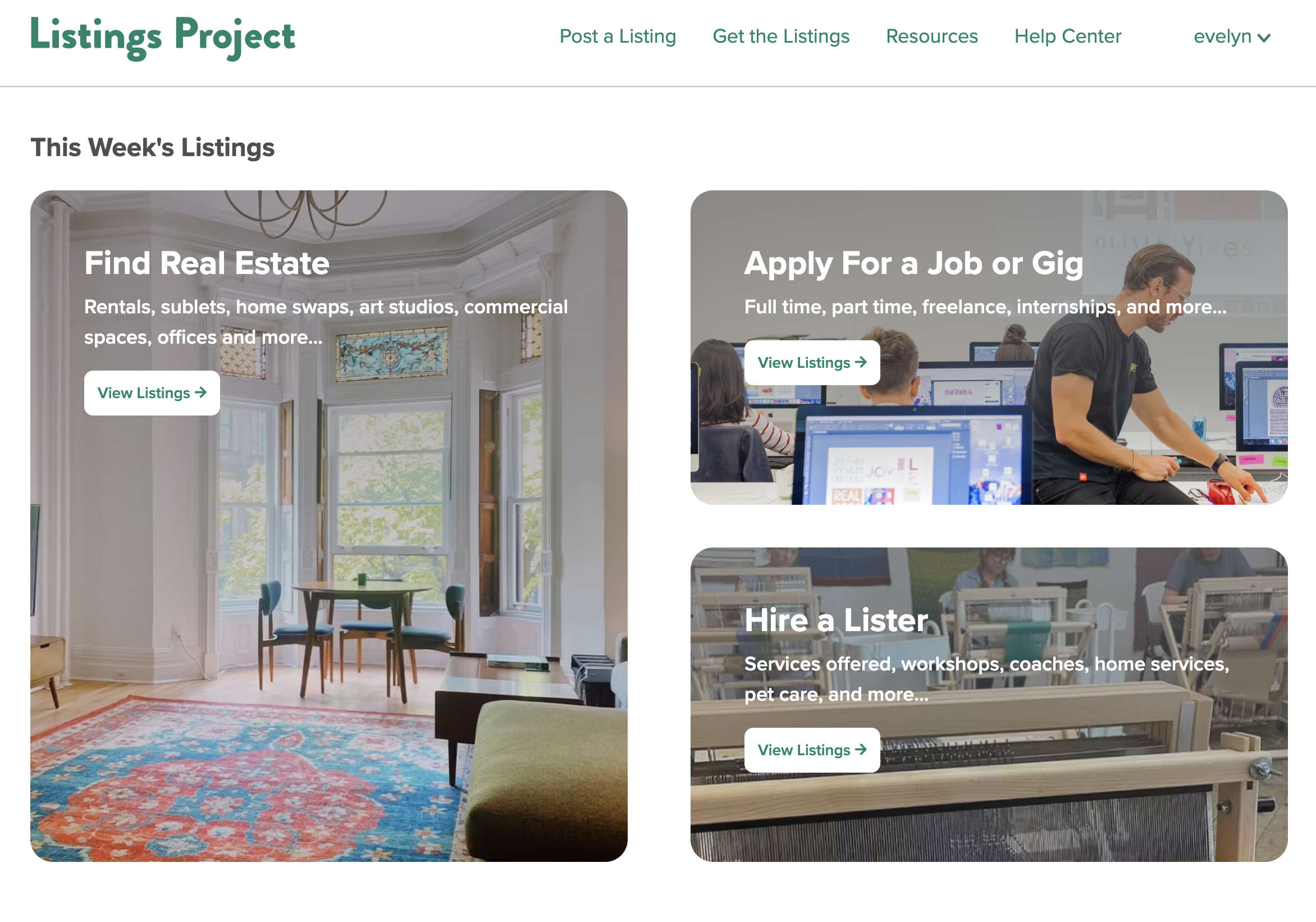 6. Listings Project
Good for: Carefully vetted no-fee listings for artists and creative types. 
Overview: Listings Project is a free, mission-driven site curated by Stephanie Diamond and a small team that's "committed to building a justice-focused community rooted in collective self-care" and caters to artists and other creative types searching for housing such as studio space, sublets, and long-term rentals. 
What to expect: Depending on the season and market, there are between 300 and 600 no-fee listings posted each Wednesday. All listings are posted by individual owners or tenants who create their own custom posts and pay a small fee (starting at $39) for each week a listing is posted. They do not take postings from brokers, professional management companies, corporate landlords, developers, or third parties posting on behalf of someone else. In other words, only actual leaseholders or owners pass muster.
Diamond says most listers find out about the site through word of mouth—and that subscribers who initially use Listings Project to find an apartment or studio often go on to be listers. 
Most rentals are in Manhattan and Brooklyn (though they cover 43 states and 70-plus countries). Every listing is personally vetted by staff to make sure it meets its equity and inclusion standards and is free of discriminatory language. (For example, the word "safe" is banned outright because of how it has been traditionally been used in a "coded and discriminatory way." Diamond says.)
Besides banning any listings that violate Listings Project's community agreements and terms of use, Diamond explains the goal of vetting is "to make sure the spaces themselves are what we would consider a welcoming home for a lister." 
Brick Underground's
Gross Rent Calculator
What's this?
Some New York City landlords offer a free month (or more) at the beginning or end of a lease. The advertised rent is the net effective rent.  The net effective rent is less than the amount you will actually have to pay --- known as your gross rent --- during your non-free months.
Brick Underground's Gross Rent Calculator enables you to easily calculate your gross rent, make quick apples-to-apples comparisons between apartments and avoid expensive surprises. All you'll need to figure out your gross rent is 1) the net effective rent, 2) the length of your lease, and 3) how many free months your landlord is offering.  [Hint: Bookmark this page for easy reference!]
To learn more about net effective versus gross rents, read What does 'net effective rent' mean?.
Months
If the landlord is offering partial months free, enter it with a decimal point. For example, 6 weeks free rent should be entered as 1.5 months.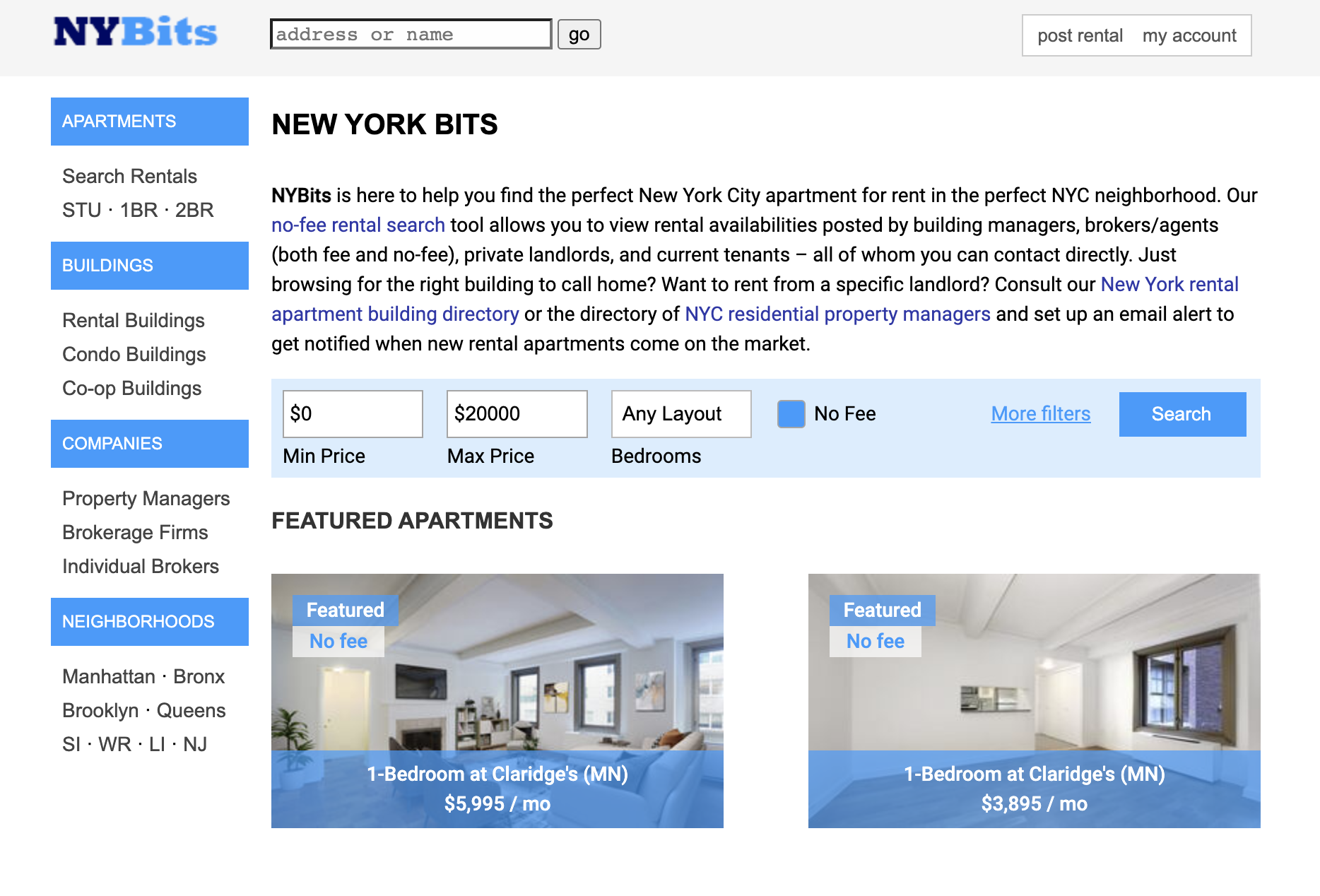 7. NYBits
Good for: No-frills searching with quality control.
Overview: NYBits is one of the oldest rental listings sites in New York, and its straightforward interface makes finding no-fee rentals easy. The team researches each post before putting it up to help cut down on duplicates and bait-and-switch scams. Postings are also limited in how long they can be active. 
What to expect: Unlike on other sites, each listing includes the full address for the apartment, which allows you to research buildings on your own. It also specifies if it is no fee. You can navigate the site by building type (condo, co-op, rental), neighborhood, and poster (brokerage, property managers, individual brokers), or  see apartments available in specific buildings. 
Other features include a map at the bottom of every search results page, making it easier to see exactly where all the apartments are located. You can sign up for rental alerts, too, and be notified when a saved search or preferred building appears on the site, a helpful feature because rentals usually move quickly.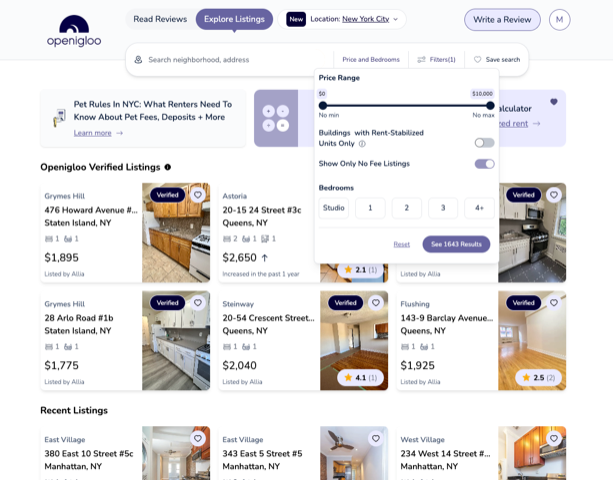 8. openigloo
Good for: Landlord reviews from other tenants.
Overview: openigloo is a digital platform where renters can anonymously read and share building reviews, browse apartment listings, apply for apartments, and access other resources. It combines open-source city data from NYC Housing Preservation & Development/HPD (updated daily) with crowdsourced tenant feedback submitted anonymously via the website. According to openigloo, reviewers self-certify their relationship with the building, and the site will only remove negative reviews when it finds evidence of abuse. 
Apartment listings are from licensed brokers, registered owners, and REBNY, and openigloo says it verifies the posters' credentials as well as the listings to ensure they are accurate. If so, it gets a "verified" badge. 
What to expect: The site provides verified listings across the five boroughs, which you can limit to no-fee (or rent-stabilized units) units, with "hundreds" of no fees posted at any given time. The inventory is updated on a daily basis, with 15 to 20 percent of the available listings usually no fee. Of those, 47 percent are in Brooklyn, 42 percent in Manhattan, 6 percent in Queens, and 3 percent in the Bronx. 
You can also filter the search by tenant ratings (one through four stars) as well as HPD-sourced metrics like bedbug violations, evictions, and pending litigation. It also offers typical filters such as unit and building amenities. Once you link to a listing, you have the option of scheduling a viewing and applying (and paying) through the site. You can even ask current and former tenants questions, which are (per the website) typically answered within 20 minutes. 
In addition to searching listings, if you are already interested in a particular building, you can read reviews by entering the address in the search bar or see if it has any available units along with other intel like annual rent increases.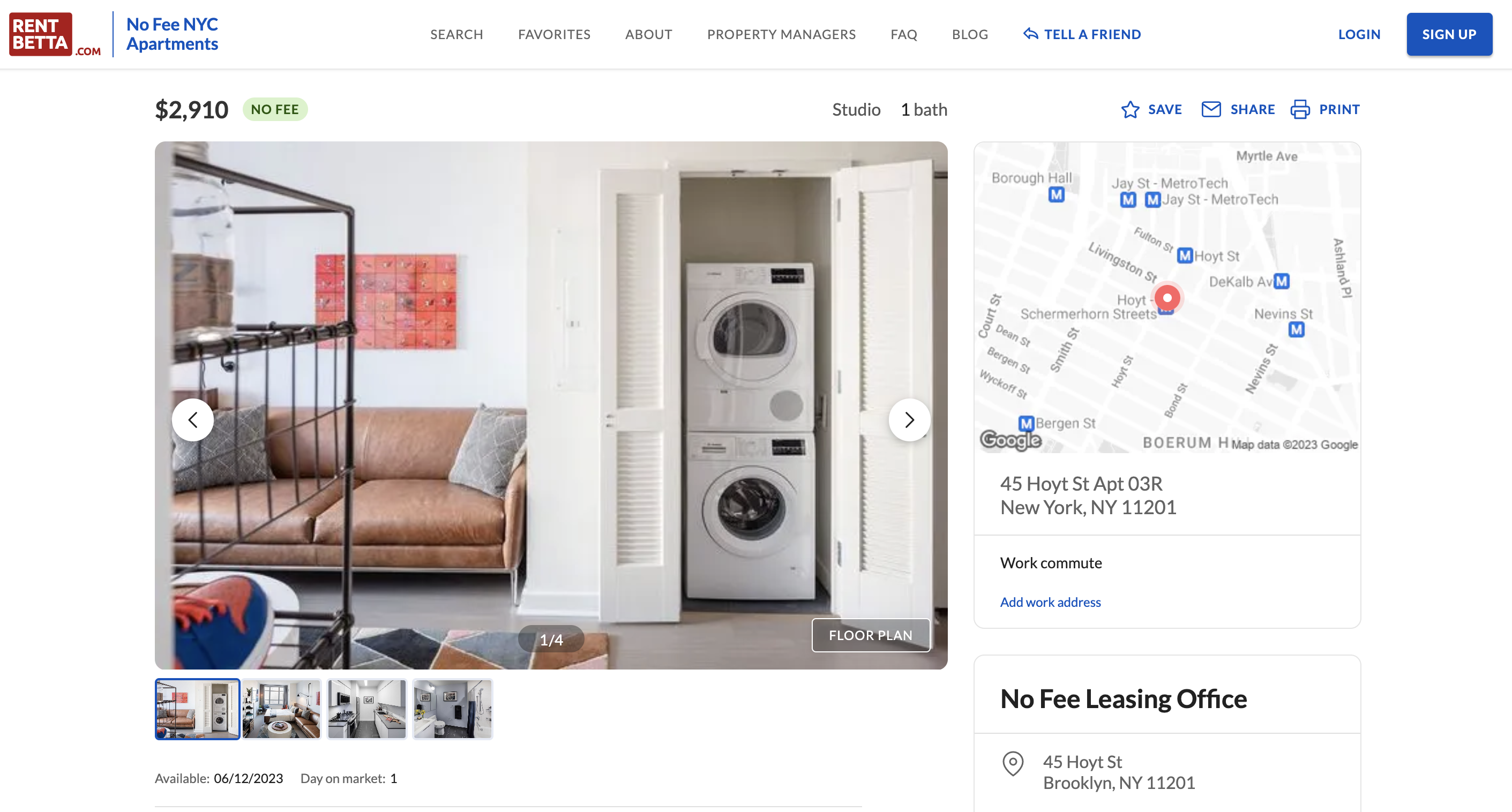 9. RENT BETTA
Good for: No-fee rentals from management companies plus building ratings.
Overview: RENT BETTA features only no-fee listings that you can rent directly from management companies across NYC. Every listing on the site connects you with a leasing office to book a tour and apply. You never have to work with, or pay, a broker. There are about 1,000 no-fee listings, which are updated daily.
What to expect: The startup has scoured NYC for every management company that lets you rent straight from their leasing office, making it easy to see what's available from dozens of different sources. It also provides guidance on how to apply with each leasing office. And because brokers aren't allowed to post on the site, you won't waste time on fake bait-and-switch listings.
RENT BETTA also lets you research your next apartment so you can verify everything is as nice as it appeared during the tour. Type in a NYC residential address to see the Bed Bug History and Maintenance Rating, based on open housing violations.
You can begin your search by choosing between the map view or what it calls "card view" (shown above), with previews of all the listings. 
Then you can search by neighborhood, price, and size as well as filters for features like bike storage, pets, dishwasher, parking, and outdoor space.
What's more, you can type in a residential address to see bed bug history and maintenance ratings based on open housing violations. The best buildings are rated A+ and B+, while a D indicates the landlord is waging a war with tenants—a red flag that you will want to consider before signing a lease.
Like other sites, it allows you to save favorites or share listings with others. Unlike other sites, it doesn't show the number of results at the top so you have no way of knowing without scrolling.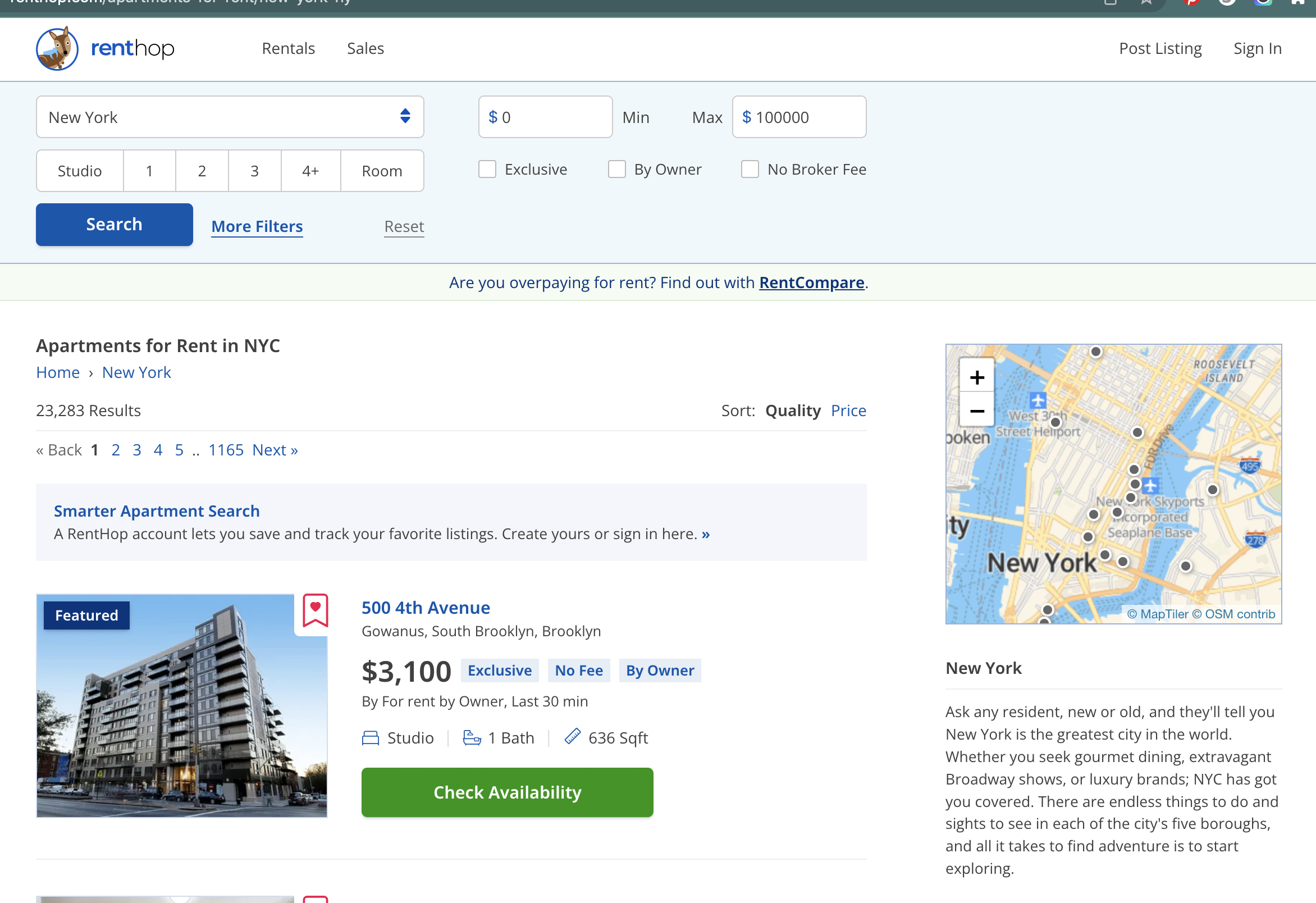 10. RentHop
Good for: Handy filters plus the HopScore feature. 
Overview: RentHop currently has over 20,000 open and exclusive listings across Manhattan, Brooklyn, and Queens, approximately 40 percent (or 8,900) of which are no fee. Breaking it out by borough, about 35 percent of Manhattan listings, 53 percent of Brooklyn listings, and 30 percent of Queens listings are no fee.
According to a RentHop spokesperson, Manhattan and Brooklyn continue to have the highest concentration of no-fee apartments. Neighborhoods known for high-rise luxury buildings and bigger/institutional landlords, such as Upper West Side, Financial District, Hell's Kitchen, and Tribeca, historically have had more no-fee listings than other neighborhoods, and this continues to be the trend this year. In Brooklyn, renters may have better luck finding no-fee apartments in Dumbo, Williamsburg, and Downtown Brooklyn, although the apartments also tend to be more expensive.
What to expect: The majority of apartments are listed by brokers, individual and institutional landlords, and management companies, though renters looking to sublet their homes can also post here. RentHop also receives listings from REBNY's feed. Each listing is marked accordingly so renters can differentiate between each type of advertiser. All accounts are approved, and it has a stringent verification process (involving real humans) to weed out fraud and scams, with violators being suspended or permanently banned from the site.
Users can filter for listings with no fee from the landing page, with the option for a map-based search. "Must have" search filters include no flexes (meaning no convertible units) or only results with photos, floorplans, video/3D tour, or open houses along with pet policies, unit amenities (washer/dryer, dishwasher, private outdoor space), and building amenities (doorman, elevator, fitness center, storage). RentHop has also implemented catch-all keyword searches; for example, "soundproof" turns up 17 results.
In addition to the website, RentHop has a mobile app for renters and subletters and has integrated virtual tours from sites like YouTube and Matterport. 
A key feature of the site is what's called the "HopScore," which was developed to identify and encourage accurate listings and ethical behavior among real estate professionals by analyzing apartment photos and determining whether they're relevant to renters—are they of the space itself, or common areas like the gym, or the building's exterior? RentHop says the HopScore allows it to take open listings because the company's quality control algorithm ranks apartment listings based on "manager responsiveness, listing quality, and freshness."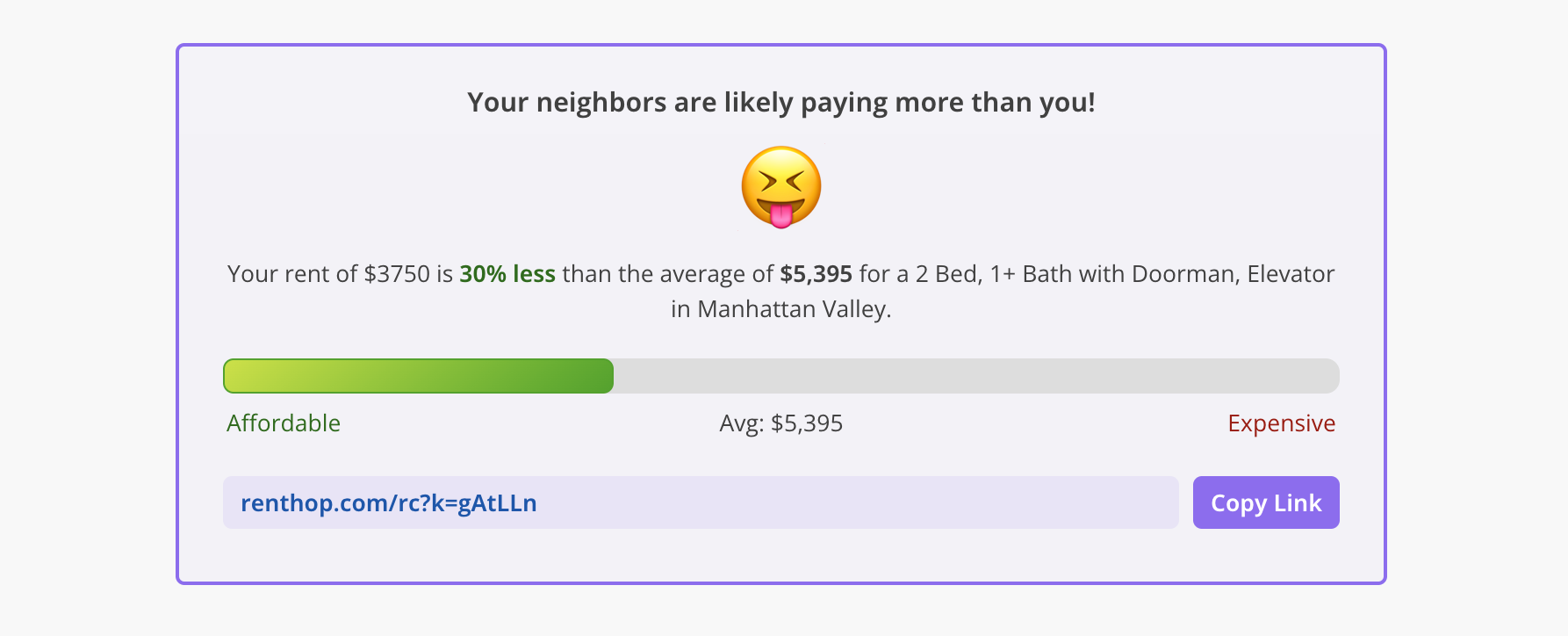 New this year is the Renthop RentCompare tool where you can enter your address, monthly rent, and number of bedrooms/baths and receive an instant ranking based on similar rentals in your nabe. 
This is one of many resources RentHop offers, such as the rent calculator, rentals stats and trends, and studies (such as the subway median rent map and heat complaints) designed to take the guesswork out of apartment hunting.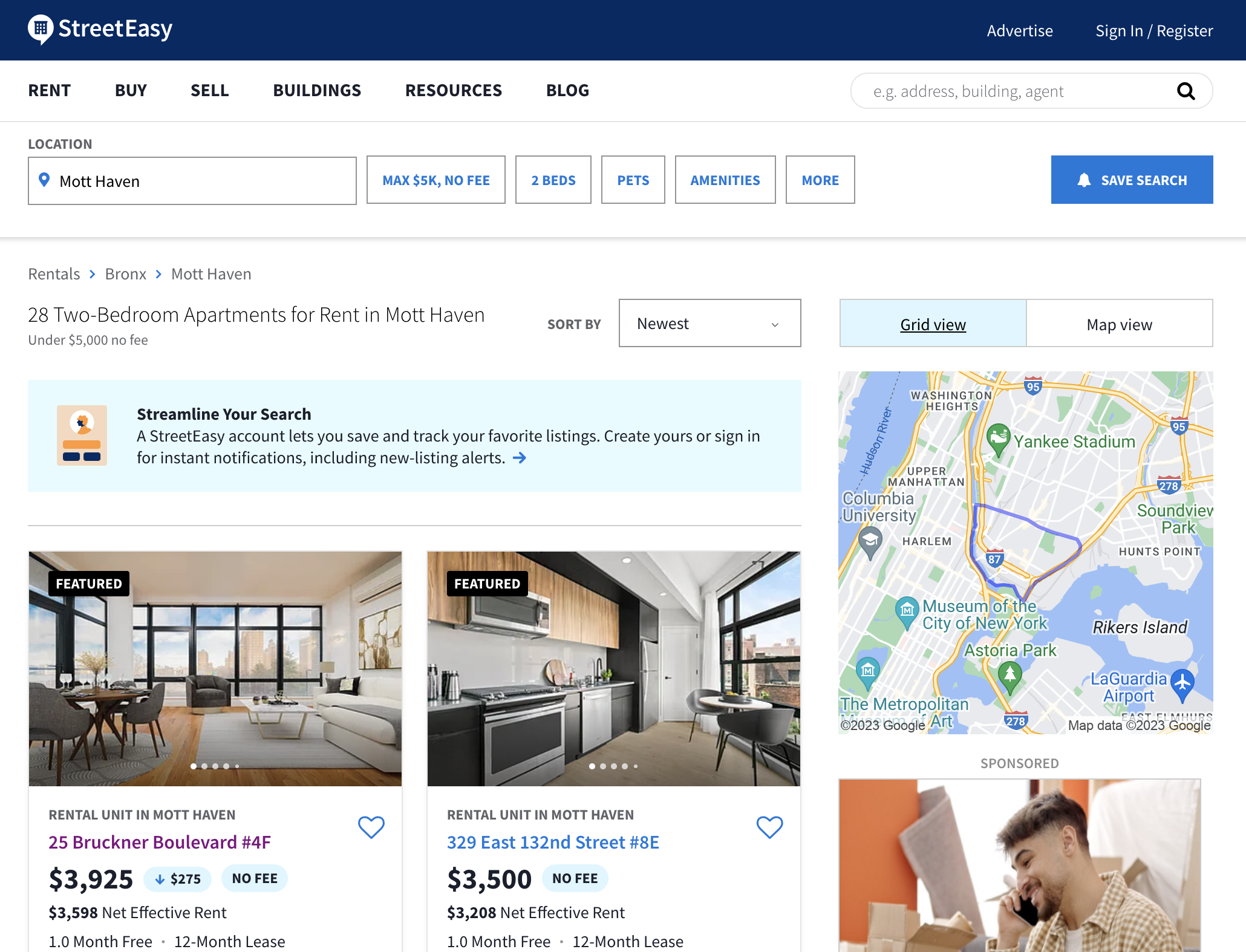 11. StreetEasy
Good for: A long track record and deep intel on buildings and neighborhoods.
Overview: StreetEasy is the best-known site in NYC for rentals (and, as of 2023, it now includes properties for sale). Built by Zillow for NYC, it is widely viewed as the go-to source for accurate, comprehensive data—including by brokers. 
In 2023, 51 percent of listings are no fee (based on year-to-date information), and they are available across all five boroughs, although Brooklyn dominates with 58 percent of all no-fee listings (specifically Downtown, Flatbush, Ocean Hill, Bushwick, Clinton Hill, and Stuyvesant Heights). That said, the number one nabe for no fees based on April 2023 StreetEasy listings is Mott Haven in the Bronx; Hudson Yards and Fidi in Manhattan took third and fourth place, and Jamaica, Queens fifth. 
What to expect: StreetEasy features a prominently placed "no fee only" check box directly next to the main search bar as well as a "no fee" banner on listings in case you opt to see both fee and no-fee results. You can also save your preferred searches and receive notifications if something new hits that market that fits your criteria. 
The site accepts listings from brokerages, agents, developers, management companies, and individual owners—but those are all exclusive as opposed to open listings that are verified with the listing provider to avoid duplicates. (FYI: Open listings allow multiple agents to market a rental at once.)
According to StreetEasy, if someone were to flag a listing as inaccurate or any listing information as questionable (which you can do via a "report listing" button), they would investigate and determine the best course of action, be it removing the listing or contacting the agent to have the information updated.
On both the mobile app and website, you can connect with an apartment's agent or landlord instantly. And the app has a useful "map view" feature that lets you see what listings are nearby—ideal for when you're out and about scoping neighborhoods. It has also launched StreetScape, whereby you can scan your surroundings with your smartphone and see floating icons for residential buildings—clicking on those will let you look inside the building and its amenities and learn about any available units, complete with photos, floor plans, and virtual tours. 
The site is also good for research thanks to its building pages, which let you find more info about a specific building, such as amenities, available units, and past rentals/sales; you can also opt into alerts when a unit hits the market. 
Another new feature is the amenities map filter, which lets you layer on popular neighborhood perks such as grocers, restaurants, bars, parks, laundry, coffee shops, and gyms. This filter is in addition to the transit map filter, which shows all subway lines denoted with stops.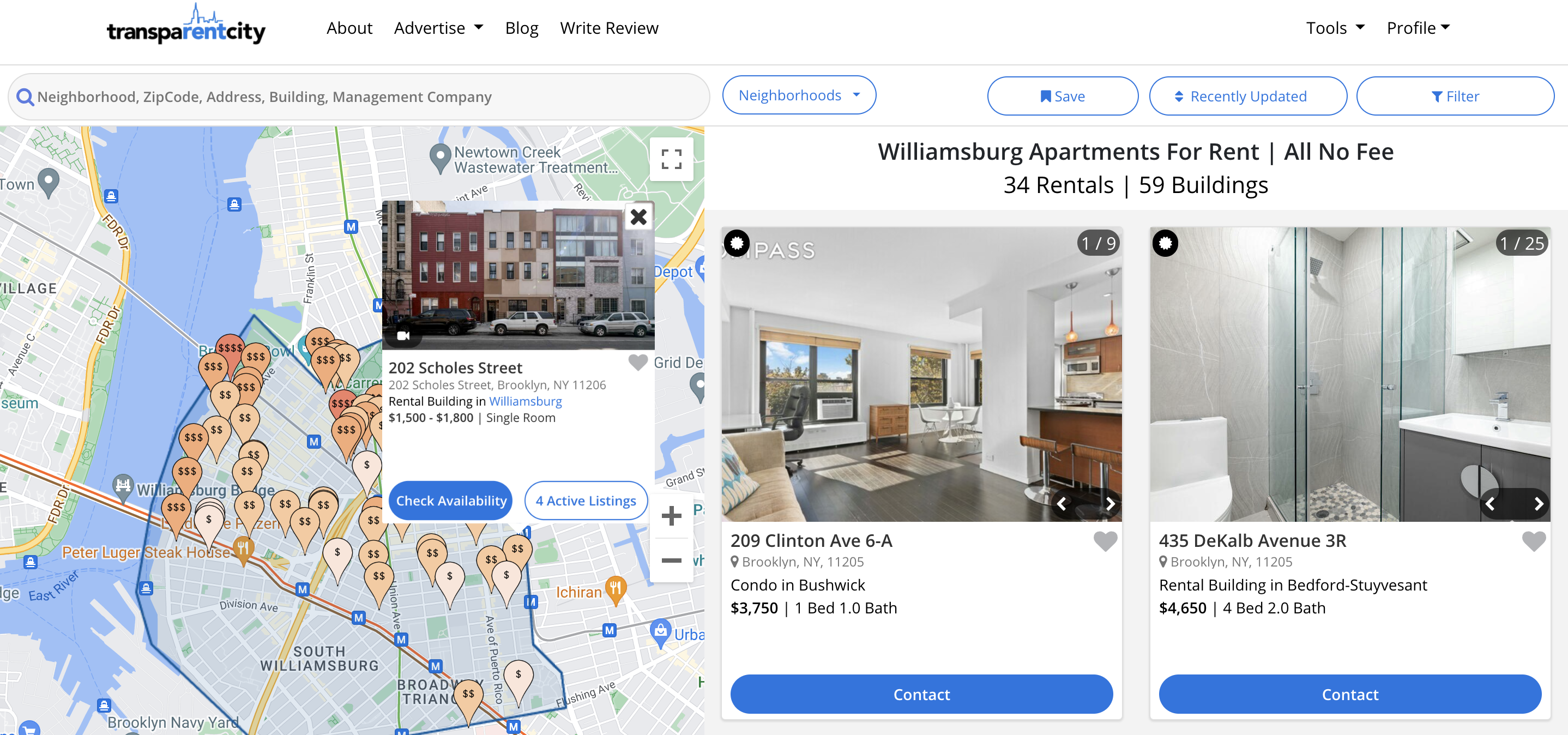 12. Transparentcity
Good for: One-stop shopping for listings from no-fee management companies. 
Overview: Transparentcity aggregates the listings of NYC's no-fee apartment management companies—literally copying the listings directly from their sites—and vets them for accuracy and duplicates. This means you can find photos, floorplans, 3D/video tours, building addresses, contact information, and sometimes links to online applications on one platform. 
What to expect: Users can browse listings by neighborhood, filtering by number of bedrooms, price range, and amenities including elevator, laundry, live-in super, gym, pool, and more; there is also the option to search for rent-stabilized apartments and those offering free months of rent as a concession. It also includes co-living companies like Roomr. 
Search results reveal listing addresses and the name and url of the management company so you can confirm it is an actual listing and not a scam; it also includes an interactive map to help you look for apartments in specific areas. There are around 5,000 to 6,000 listings on the site, all of which are no fee. Most are in Manhattan though there are currently 273 rentals in 391 buildings in Brooklyn and 165 rentals in 206 buildings in Queens. 
You can also schedule tours and apply for apartments for over 1,000 management companies directly on their site.
Honorable mention: Social media/Nextdoor
Good for: Scoring an apartment through a personal recommendation.
There are plenty of fancy apartment rental sites, but hearing through word of mouth or from someone in your online community about an available apartment is still a powerful tool in the world of NYC real estate. The best deals and nicest places are often found via well-connected friends, family members, and coworkers, so don't be shy—reach out to your network.
Post on Twitter, Facebook, or other social feeds, hit up your college's alumni network or Facebook group, or send a mass email to everyone you've ever met in the city—or do all the above. By reaching out, you're letting your network know that you're on the hunt. Maybe a friend is moving out of an apartment you've always admired, and you can scoop it up before it even hits the market.
Nextdoor is a hyper-local site organized by neighborhood, where members are verified. You need to join in order to access the site, and you can only post for the neighborhood you live in. So this is a good option if you're looking to move within the same neighborhood. 
—Earlier versions of this article contained reporting and writing by Georgia Kral, Alanna Schubach, and Austin Havens-Bowen. 
Brick Underground articles occasionally include the expertise of, or information about, advertising partners when relevant to the story. We will never promote an advertiser's product without making the relationship clear to our readers.