The Search
Don't fall for any of these rental listing scams
'Bait-and-switch' schemes lure you with photos of one listing then stick you with another
Asking for a non-refundable cash deposit before you can see an apartment is a red flag
Watch out for fake listings by fake brokers who take your deposit and disappear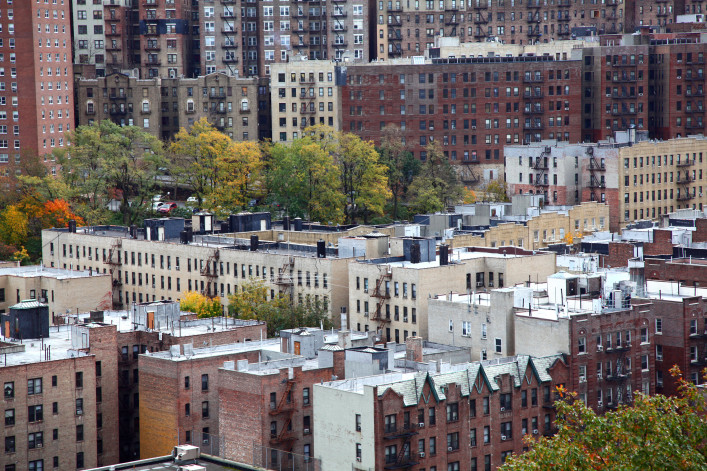 Rental apartment scams generally happen when demand is high and right now the New York City rental market is on steroids. Competition for apartments is fierce, and rents keep climbing to new highs. 
So if you're among the droves of renters looking to sign a new lease, it's important to identify situations where you might be vulnerable to fake listings or other types of fraud. Most scammers create a sense of urgency by telling you the apartment won't be available if you wait, making you hand over money quickly before you can think clearly and figure out something's not right. 
More people search for apartments online these days and unfortunately, that's where con artists lurk too—and not just on Craigslist. 
To help you avoid scams, Brick Underground offers some of our best advice on taking care of yourself—and your money. 
---
[Editor's note: This article was originally published in June 2022. We are presenting it again with updated information for June 2023.]
---
A fake listing presented by a fake broker
In some cases, scammers will try to impersonate a landlord or broker, and renters will be "led to believe they are dealing with a legitimate property owner or representative," says Aleksandra Scepanovic, managing director of Ideal Properties Group.
They may try to trick you into forking over a deposit with misleading or illegal listings or stolen photos. It's not hard to spoof an apartment listing or create a real estate agent bio that looks legit. 
One scenario might be an individual who promises you an apartment but tells you they can't yet show it because there are tenants in place, or they're building a waiting list, and you'll be the first in line if you pay a deposit. This is a red flag.
First you need to establish whether the listing actually exists. It should have a real address, so take note if there's only a street or intersection. 
As in any situation, "if something is too good to be true, most of the time it isn't," says Gary Malin, chief operating officer at The Corcoran Group. 
You should research the agent and the brokerage in the listing to ensure it is a credible firm, Malin says. "Your own due diligence is obviously very important. You can go on Yelp. You can also ensure the agent doesn't have any complaints filed against him or her," he says. 
Make sure the firm's site is up to date and not filled with broken links from years ago. If an agent doesn't list a brokerage, that's a red flag. Check to see if the agent has any other listings on a particular site—it's not a good sign if they all look the same or have the same address. 
When you contact an agent about a listing, have a list of questions to ask a broker over the phone before meeting them in person. The more questions you ask, the more opportunity you have to see if the representative you're dealing with is fully informed and professional. 
"If someone's intent is to scam you, typically the more questions you ask—they start to back away from you," Malin says. 
When you meet an agent in person, there are easy ways to make sure they're legit. You can ask to see their real estate license, which they are required to carry. It has their photo, firm, and date of issue, so they shouldn't balk when asked to present it. 
Ask them to describe the terms of the lease and details about the building, landlord, and previous apartment tenants. A professional broker should be able to walk you through the rental process and have answers to your questions. (These same guidelines apply when looking for a short-term rental, too.)
'Bait-and-switch' apartment listings
"Bait and switch" refers to a scam where you see pictures of a seemingly great apartment, but when you ask to see it physically or get the keys, the agent shows you to a different place. 
If you are trying to find a rental before actually moving to NYC and are limited to virtual tours, you can be vulnerable to this kind of scam. You assume you've rented an apartment you've viewed online but find you've signed a lease for a different place. 
Renting sight unseen isn't unheard of but is far from ideal. You can try to ask for a clause in the lease to protect you from bait-and-switch schemes. Malin suggests language like "if for any reason the representations that were made by the virtual showing are not accurate [you] have a certain amount of time to terminate the lease."
Other scenarios might involve marketing material that misrepresents the listing—for example, basement apartments that don't meet building codes or apartments that lack windows.
Pro Tip:
Looking for a rental agent you can trust—and a landlord with a good reputation? Put your search into the capable hands of The Agency, a tech-savvy real estate brokerage that's helped hundreds of Brick Underground readers find their ideal NYC apartments. The Agency will charge a broker's fee of 10 percent of a year's rent on open listings instead of the usual 12 to 15 percent if you sign up here. Bonus: The agents at The Agency are a delight to deal with.
A demand for cash to see the place
Let's say you attend an open house, and the person showing you around asks for a non-refundable cash deposit. That's a huge no-no.
"Renters need to know not to fork over a cash deposit to be shown a property," Scepanovic says. This also applies to virtual tours. "No reputable agent or broker in NYC will require money to be paid for them to show you a property—it would be illegal for them to do so," she says. 
An agent can ask for a broker fee, but you won't pay this until you've signed the lease. An owner is only allowed to ask you for the first month's rent and a security deposit equal to one month's rent. 
Also, brokers cannot ask for checks to be written out to them as individuals. Payment must go through a brokerage. If someone asks for a deposit, unless you are being reimbursed or it is being applied to the security deposit, it's illegal. 
"If someone is asking you for a cash deposit, they are looking to take your money and move on," Malin says. "If they look like they are pocketing the money, it tells you they are not doing something proper. Put the brakes on," he says.
A request to wire money 
Similarly, if you are being asked to wire money for an apartment before you've even seen it or before you've been promised a lease, don't do it—this is another common scam that newcomers to NYC can fall for. (And you can be just as vulnerable to this scam when booking a summer rental—avoid wiring money and instead make sure payments are made over the vacation rental platform where you found the listing). 
One of the best ways of protecting yourself from illegal or fraudulent demands for money is to have a good grasp of the law—for example you should never be asked to pay more than a month's rent as a security deposit. 
Neither should you be charged additional fees for pets or move-ins in a rental building, although there are exceptions if you are renting a condo or co-op from an individual owner, in which case the board—not the broker—may impose fees. Either way, your application fee for an apartment is supposed to be capped at $20 and you should get copies of your background or credit checks, which the fee covers.  
Relisting apartments to make them seem new
Be on the lookout for an apartment that's been on and off the market several times. Some brokers will relist an apartment with a tweak to the unit number to make it look newer, for example A1 instead of 1A, even though this practice violates REBNY's policy. 
There's lots of online data to help you better understand the current market, so before going to see a place, familiarize yourself with what a typical asking rent is in the neighborhood. This can give you a good sense of whether or not the apartment you're looking at is above or below market value. If it's way below an area's market rate, that might be a warning sign that something's not right.
If there's no floor plan shown in a listing, ask to see one because it can give you some crucial information before you waste time seeing a place in person. Brush up on the requirements of a legal bedroom, including these basic rules: Walls should be eight feet in every direction and there needs to be both a window and door.
The fake sublet scenario
Sometimes scammers will try to sublet a place (either for a weekend or an entire year) that they have no rights to—collecting deposits and then disappearing. 
Remember it's illegal for New Yorkers to rent their apartments out for less than 30 days, unless the owner or leaseholder is present during the stay. Also, know that many co-ops and condos have a no-subletting policy—and that generally speaking, you'll need to submit to a board interview in these buildings. (If not, that could be a warning sign because some owners misrepresent sublets to the board, but if caught, you're the one that will be out on the street.) 
If something seems off about a sublet—and even if it doesn't—you can ask for a copy of the lease from the tenant (or owner in a co-op/condo) to confirm they have the ability to sublet.  
Moving company hustles 
There are a few things to watch out for when hiring a mover: Moving companies also have their own version of a bait and switch, when a mover offers you a great estimate but jacks up the price, essentially holding your belongings hostage until you agree to fork over more money; worse still is a "phantom delivery," in which the movers will pack up your stuff, take your money, and disappear.
Even established companies don't always play by the rules. There are also "rogue operators" that place fake ads and reviews on their websites, provide a free estimate over the phone or email, and come in with a lowball offer—and then outsource the work after taking the down payment, leaving you at the mercy of potentially shoddy movers.  
As with your broker, research your mover: Get a recommendation from someone you trust, check reviews online, make sure their website has a legitimate address and contact info, and ask them for references.
For moves within NYC, check to see if they are licensed to operate by the New York State Department of Transportation (for verification, call 800-786-5368). The Better Business Bureau is another good source; you can search for a company by name or see a listing of all accredited movers in the area (you want to see at least an A rating). Any cost estimates should be given to you in writing, and you shouldn't pay upfront or give any type of deposit. 
Among other suggestions, the state Attorney General's office recommends getting estimates from different movers based on a physical inspection of your home or apartment. Their guidance also suggests you make sure the mover gives you a written "Order for Service" before anything is moved. This document should set out the probable cost of the move and how much you will have to pay to have your items unloaded if the actual cost exceeds the estimate. 
Using 'net effective' to advertise an apartment
You may see the term "net effective rent" while scrolling through NYC apartment listings. This is the discounted rent that factors in a concession a landlord may offer, like a free month or two, into the overall term of the lease. These concessions are offered to entice you to sign a lease and deducting them from the advertised rent isn't necessarily a red flag. 
If you are offered a concession, what typically happens is the renter gets a "free month" in the beginning, and then pays a higher gross rent for the rest of the lease term. It's important to figure out your gross rent for the year.
For example, if your budget is $3,300, and you search accordingly, and find a place with a net effective rent of $3,300 with one month free on a 12-month lease, your gross rent—the amount you actually pay each month (except for the free one) would be $3,600. 
This is not a scam, but it's confusing for even seasoned NYC renters, so it's important to pay attention to the numbers to avoid a nasty surprise. Using Brick Underground's Gross Rent Calculator, you can easily figure out the monthly rent you'll actually pay.
When something just doesn't feel right
In all cases, trust your gut. If anything seems shady, proceed with caution. Do your due diligence before handing over any money or financial information, and just walk away if something doesn't seem right. 
If you've stumbled across a suspicious listing on a particular listing site, alert the site's administrators through the help or FAQ sections that cover how to flag questionable listings. 
"If you feel uneasy, the best thing to do is put the brakes on and take some time to reflect and maybe go in a different direction," Malin says.
And if you do get scammed, it's important to fight back by filing a police report so the authorities can track this illegal behavior and potentially catch the scammers.
 —Earlier versions of this article contained reporting and writing by Emily Nonko and Nikki M. Mascali
Brick Underground articles occasionally include the expertise of, or information about, advertising partners when relevant to the story. We will never promote an advertiser's product without making the relationship clear to our readers.