The Search
9 jobs that come with free housing or cheaper rent in NYC
Building supers typically do not pay rent but have to be on call 24/7
Families often provide a private bedroom to nannies and au pairs
Some professors and teachers may qualify for subsidized housing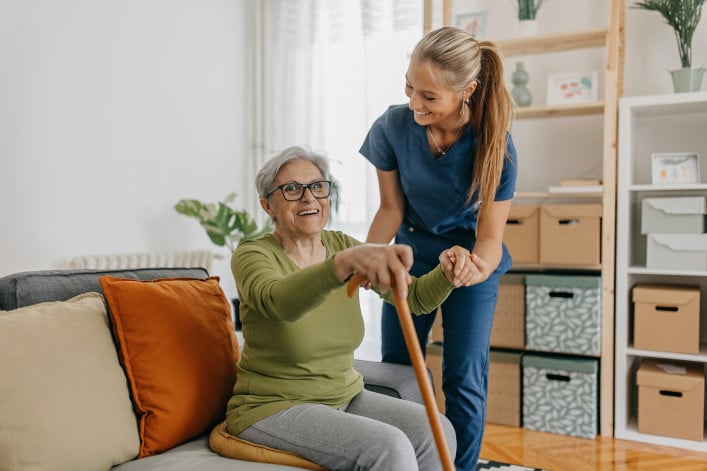 triocean via Getty Images
Landing an affordable rental in New York City is hard enough in the best of times, and even more so when rents are at all-time highs and there's so much competition for available apartments, as is the case these days.
One way around that ordeal is to find a job that covers housing costs—some fully, others only partially. But every bit helps given how over half of all New Yorkers spend at least 30 percent of their income on rent alone—and one-third of renters spend a whopping 50 percent. That doesn't leave a lot left over to pay the bills and eke out some enjoyment from all the city has to offer. 
Here's a roundup of the more common work opportunities in NYC that typically come with free housing or reduced rent—emphasis on work, since you will still be earning your keep one way or another. 
---
Editor's note: Do you have a job that provides you with free or reduced rent in NYC and want to share how you got it with Brick readers? Drop us an email. We respect all requests for anonymity.] 
---
1. Building super
If you are handy with tools and know your way around running toilets, clogged sinks, and other common apartment repairs, you may want to consider being a super for a building. These jobs are numerous and in steady supply. For example, there were over 300 postings for live-in supers on ZipRecruiter (but read the fine print: some search results actually specified "not live-in"); with an average salary of $40,000 to $78,000 on top of free housing. 
Prepare to be on-call 24/7 and to navigate relationships with tenants as well as property managers and owners. But job security is pretty high so long as you are up to par—and especially if you join the Local 32BJ arm of the Service Employees International Union (SEIU), which mandates that all supers have live-in positions. (If you are a non-union super, it's up to the building whether to offer housing.) 
Need to brush up on your skills? New York City College of Technology offers courses and training.
2. Resident manager 
Some building owners may offer free housing to resident managers, who are usually responsible for managing rentals, maintenance and repair, day-to-day operations, staff supervision and training, payroll and human resources, and communicating with the general manager and property owner.
Job skills include being able to read and understand construction plans and hands-on knowledge of mechanical systems (along with possible trade certifications, depending on the employer). Unlike a property manager, you do not need to be a licensed real estate salesperson. Three to five years of related experience is generally required, however.
Finding these jobs is not easy—a recent search for "live-in resident managers NYC" on job sites turned up only a few solid results, including an Upper West Side condo building managed by Douglas Elliman and a 958-unit residential rental community in Long Island City run by the Durst Organization with a salary range of $130,000 to $150,000 for someone with the requisite years of experience.
Otherwise, it's mostly word of mouth. Tip: Get in the door of a leading property management company and work your way up.  
For example: Andy Marks, senior vice president of new business and marketing for Maxwell-Kates, an Associa company and leading provider of community management services in NYC, says they have "many properties where the community's board of directors provides our resident manager/superintendent with a unit in which to live."
3. Nanny or au pair
Some families offer free or discounted housing as part of a live-in nanny or au pair position. This typically involves providing childcare services in exchange for accommodation and sometimes a salary.
Family-based child-care providers are supported and represented by the National Domestic Workers Alliance, which offers training and advocacy through its local chapter (and the Carroll Gardens Association).  
Yet another resource is Hand in Hand, a domestic workers alliance that fought to win the New York Domestic Worker Bill of Rights, the first legislation in the country to provide legal rights and protections to nannies (as well as house cleaners, and home attendants). Check out its guide to negotiating a nanny worker agreement, which is targeted at employers and will help you know your rights and responsibilities. 
Domestic Workers United also offers nanny training, know-your-rights forums, and community events aimed at building solidarity. 
Are you coming from outside the U.S.? A network of private agencies including Cultural Care, Au Pair in America, and AuPairCare (the big three) are in charge of vetting and matching au pairs with host families under the auspices of the U.S. State Department. It's always better to go with a sponsored agency than to answer an ad on Craigslist or Facebook. 
4. Personal housekeeper
As with other domestic workers, live-in housekeepers are usually offered free housing as part of the arrangement. In return, you will be responsible for cleaning the home and doing laundry as well as other chores like running errands, walking the dog, and grocery shopping (and even cooking if that's your thing). By becoming a member of NDWA or Domestic Workers United, you can receive assistance in negotiating the terms of your contract to ensure fair payment, including your rights under NYC's rules for Paid Safe and Sick Leave for Domestic Workers. 
Hand in Hand also offers tips on how to create a fair house cleaner worker agreement (again, it's aimed at employers but knowledge is power). 
5. Senior caretaker
Certified home health aides often live with a senior without paying rent—and you are mandated at least eight hours of rest, usually when your employer is sleeping. You don't need to be a nurse or have any medical training either; instead, you just need a big heart and certification from a reputable agency that offers ongoing training and job placement too.  
Home Instead, for example, is fully licensed with the New York State Department of Health (where you can see a list of all legit agencies) and ensures you are bonded and insured. Its home health aides provide companionship, assistance with personal care (bathing, getting dressed), meal prep and light housekeeping, shopping and doing errands, medication reminders, and escorting to doctor appointments. All housing is included.
6. Historic home steward
If the idea of living in a gorgeous estate (including Gracie Mansion) in NYC strikes your fancy, step right up—the Historic House Trust, a partnership of the city's Parks and Recreation Department, has 22 such positions where the (unpaid) caretakers live rent free in exchange for maintaining the property and keeping it secure 24/7 along with other designated tasks.
Just be warned: The positions come up infrequently (one steward has been there over 30 years), and when they do, they often get snapped up before the post is listed to the public. 
7. College professor 
While no means a given, some local universities—notably NYU and Columbia—offer subsidized housing to full-time faculty at discounted rates (based on a sliding scale, and usually never more than one-third of your income). NYU has over 2,000 apartments, mostly located around Washington Square. Columbia University has even more units throughout Morningside Heights (but only assistant professors, associate professors, and professors as well as senior executive officers are eligible). Note that new hires, especially those coming from out of state, are typically first in line. 
And at NYU, there are a few faculty fellows in residence that live rent-free in dorms but must commit to being available at all times to respond to crises and participate in on-campus activities. You'll also need to submit a plan for student engagement as part of your application (i.e., prepare to bring it). 
8. Lower school teacher
Some private schools (such as The Brearly School) invite new hires to apply for housing at nearby buildings, where you'll pay less-than-market rents. 
Public school teachers (and other city employees) are given priority in many of the housing lotteries administered by NYC's Housing Connect. These rental apartments are not free, but many (not all) apartments are more affordable than market-rate apartments. All are rent-stabilized, which means rent increases are limited and lease renewals are automatic. Learn more by reading Brick's guide to applying to NYC's housing lotteries. 
9. Artist
Residencies have long been a way to attract creative types to the city and recognize local talent through short stays sponsored by cultural organizations. 
One notable example is found on Governors Island: Shandaken Projects offers a residency program (supported by The Andy Warhol Foundation for the Visual Arts) to one artist at a time for two to six weeks, with free room and board, studio space, and access to its printmaking studio. Residents live in an apartment (with a private bath but shared kitchen and dining room) inside Shandaken's multi-use headquarters in the Nolan Park section.
Governors Island Arts has hosted other live-in artist residencies in collaboration with its Organizations in Residence program, with a rotating roster of two dozen organizations. So be sure to check for future opportunities.  
Why not spend the summer in Montauk? The Edward B. Albee Foundation sponsors residencies at The Barn (literally a big white barn), where five creatives can stay free for either four- or six-week periods between June and mid-October. Writers stay in a large bedroom equipped with a desk; visual artists get a slightly smaller room and a large studio space (with 40-foot ceilings). Note that the program was put on hold for 2022-2023 while extensive renovations were underway but should resume soon. 
And even though you'll only get weeks, not months, of free rent, that's still money you can take to the bank. 
Brick Underground articles occasionally include the expertise of, or information about, advertising partners when relevant to the story. We will never promote an advertiser's product without making the relationship clear to our readers.