Have you heard the term "classic six," but don't know what it means? It's simple, really. A classic six is a six-room apartment in a prewar building with old-school features such as large rooms, high ceilings, wood floors, and solid-core doors. They're mostly found on the Upper East and Upper West sides of Manhattan.
In this week's Buy Curious, Marcy Pedas Sigler of Compass tells you more about this New York City listing term, plus describes the benefits and drawbacks of buying one.
---
[An earlier version of this post was previously published in August 2019. We are presenting it with updated information for August 2020.]
---
The question:
I've been looking at apartment listings, and I keep running into the phrase, classic six (and classic five, classic seven, and so on). What exactly does that mean, and why is it desirable? Will I pay more to live in one? Where are they located?
The reality:
"This term refers to a prewar apartment with six rooms, generally including the kitchen and bedrooms, and excluding the bathrooms, pantries and entrance galleries," Sigler says.
A classic six has a living room, a formal dining room with a window, a separate kitchen, two full bedrooms, and a maid's room that's usually located off the kitchen with its own full bathroom or half-bath.
A classic five lacks the maid's room, while a classic seven has an extra bedroom, and the rare classic eight has a room for a second maid.
What are classic sixes like?
They're known for classic prewar features, such as oak floors, thick walls, solid-core doors, generous room proportions, and the ultimate status symbol: a working wood-burning fireplace.
Where should you look for them?
"You'll often find classic apartments in co-op buildings that date back to the 1920s through 1940, primarily on the Upper East Side and Upper West Side," Sigler says. 
But developers of new construction are incorporating this kind of detail into their projects.
"In recent years, developers of new condos like 520 Park Ave. in Lenox Hill and 220 Central Park South in Midtown have co-opted the classic layout, combining those old-school embellishments with modern extras like garages, gyms, pools  and screening rooms," Sigler says. "So, if you're enamored of the prewar style, you don't have to confine your search to decades-old buildings (or pass a co-op board)."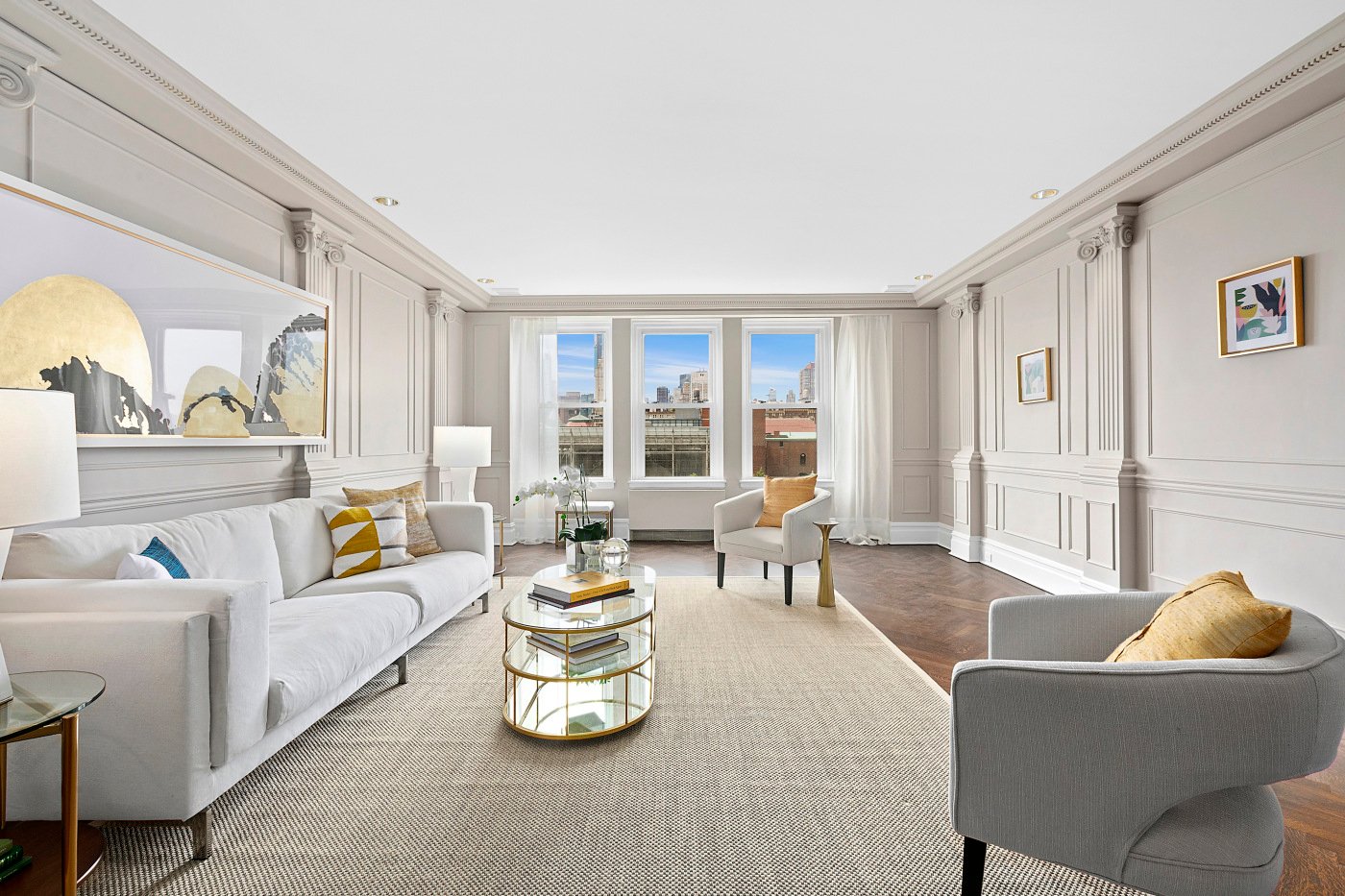 How many classic sixes are for sale at the moment?
When it comes to Manhattan apartments that are described as classic sixes, less than half of the 212 available prewar co-ops have classic six features. The average asking price for prewar six-room co-ops is $2.8 million, according to data from Compass. The average asking price of six-room, post-war co-op and condos currently on the market is $4.1 million.
For comparison's sake, according to the Compass Manhattan Market Report, the average sales price for a Manhattan condo in the second quarter of 2020 was $2,843,620 and for co-ops it was $1,230,103. (Sales prices tend to be lower than asking prices.)
Why would someone want to buy a classic six?
According to Sigler, pros of purchasing a classic six include high ceilings of at least nine feet, she says, as well as charming prewar details such as moldings and cornices.
Some people also like the fact that classic sixes have defined living areas. "The apartment is divided into three zones—public (living room, dining room, library), private (bedrooms), and servants' quarters (including the kitchen)," Sigler says, noting that hallways help to separate the spaces.
Looking for the perfect class-six, but haven't seen one yet? Discover off-market properties in your dream neighborhood that suit your needs and budget.  Meet and deal with sellers before their apartment hits the market.

Let Triplemint's off-market team give you exclusive access to apartments in your price range and desired neighborhood that no one else has seen. More options, less competition, no bidding wars. 
Why wouldn't someone want to buy one?
Some people prefer more flexible layouts. "The lack of an open layout could be a downside if you have small children that you want to keep an eye on," Sigler says.
Finally, while a maid's room might have been all the rage back in the day, it's now more likely to be an annoyingly-small closet-sized bedroom. The space can often work well as an office or a guest room, Sigler points out.
Brick Underground articles occasionally include the expertise of, or information about, advertising partners when relevant to the story. We will never promote an advertiser's product without making the relationship clear to our readers.