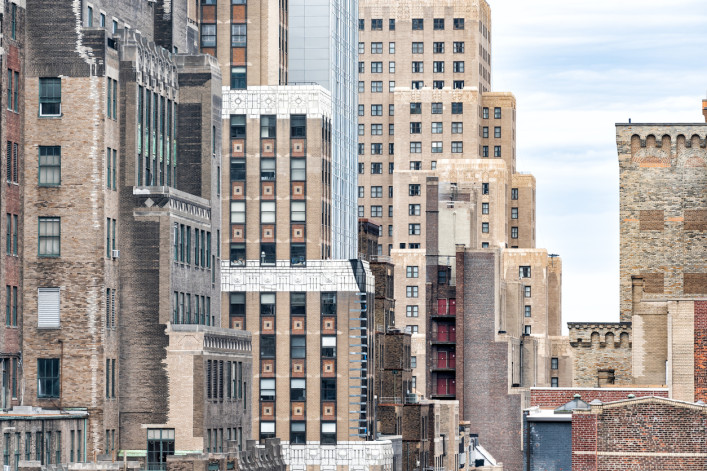 One buying strategy to cope with the high cost of housing in New York City is to consider purchasing a unit that might be smaller than you'd like but has potential in terms of increasing the room count. The design trend is towards open plan but sometimes putting a wall up can improve the functionality of a unit especially if it creates an additional bedroom. But how to find this unicorn in the city's real estate menagerie?
There's a unit called a junior four, which is a one-bedroom with some extra space that isn't a fully-fledged second bedroom but could work as a nursery or office. The classic six or classic seven are larger versions of the junior four. They're often listed as flexible because a buyer could open up more of the usable space in the apartment. 
It's rare to find these types of layouts in new development because the designs are so economical but they can still be found. Junior fours, for example, are typically found in post-war buildings of the 1950s and 60s. Keep in mind a legal bedroom in NYC must be eight feet or more in all directions (including ceiling height) and at least 80 square feet in total and have a window. You'll also want to avoid apartment with windows on just one wall that would be blocked off by the addition of a bedroom.
Search terms will include flex, alcove, and convertible
If you're scouring listings, you'll want to add the terms flexible, flex, or convertible to any advanced search parameters. Looking for units with alcoves might also unearth layouts where you can eke out some extra space. Jordan March is a director of sales with Mirador Real Estate and says older prewar buildings usually have more "generous space;" for example, there may be a maid's room or alcove whereas it's often a challenge to get more space from the "square box" style units of new development.
March says the days of the unfinished loft layouts are "long gone" but while that may be the case in Manhattan, it is still possible to find these units in the outer boroughs. It is fair to say that lofts and attics will likely have already been mined for their sales potential even if the renovations are yet to take place. Take, for example, this Williamsburg studio loft. The asking price is currently $2,100,000, which is well above the median of $1,390,500 for a two bedroom in the neighborhood.
Junior fours, and classic sixes and sevens will also be useful search terms. 
Windows, dining rooms, and spacious entryways
Window placement is going to be important if you're trying to create more rooms in an apartment. "If you're cutting up the space, you need light," says March, who recommends looking for corner units or apartments with multiple exposures. Windows on just one wall of a unit usually make it hard to partition an apartment and add a room. You "sacrifice light in either the living room or bedroom," he says. 
A formal dining room with a window can lend itself to conversion, says Elizabeth Kohen, broker and co-owner of Garfield Realty. Another opportunity is a listing "with an eat-in-kitchen that can be converted into a windowed nursery," she says. 
If a buyer doesn't particularly mind lack of light in the living room, Kohen says they can convert the windowed portion of a large living room into a second bedroom.  
Generous foyers are another item to look for. "Some prewar units have large enough entryways that a nursery or guest room with a transom for natural light can be housed in that space," says Kohen. "Whether one creates a functional second bedroom or legal second bedroom, all of the options would enhance resale value, as the space would then lend itself to a wider pool of potential buyers," she says. 
There are layouts where you can easily make sense of a partition to create an extra room, says March. However, sometimes an agent will market a unit with an alternative layout which, he says, can be "very misleading." 
A look at some layouts
It will be helpful to analyze the layout of a potential purchase with your broker. 
An important factor in whether you might be able to expand a unit is knowing what the building will allow in terms of renovations. Condo and co-op boards will have to sign off on plans and employ their own attorney and architect. As a general rule, condo boards are more flexible and it's easier to get changes approved. March says co-ops can be "skittish about alterations," so it's worth knowing which buildings will be open to changes before you buy.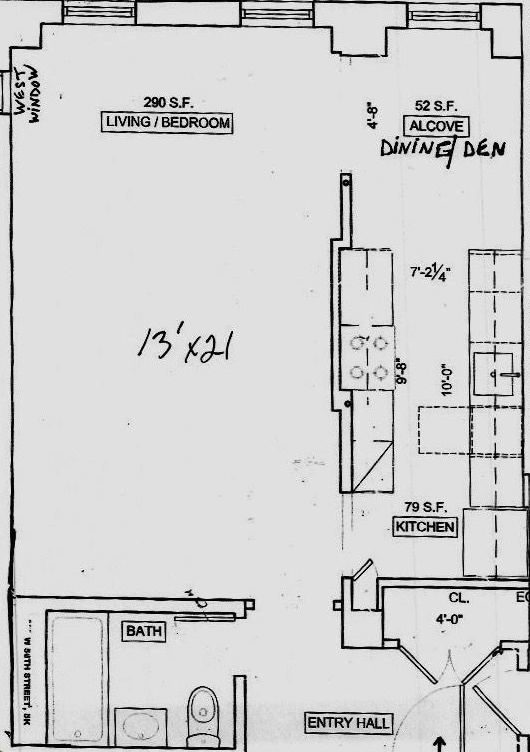 This condo, 353 West 56th Street, #5K, in Hell's Kitchen is offered at $649,000, which is above the median sales price of $620,000 for studios in the area. Closing off the dining area or den wouldn't create a legal bedroom (with a minimum of 80 square feet) unless you incorporated space from the living room. It's possible, says March, but would leave you with a very narrow living area. The unit does benefit from having a second exposure with the west window.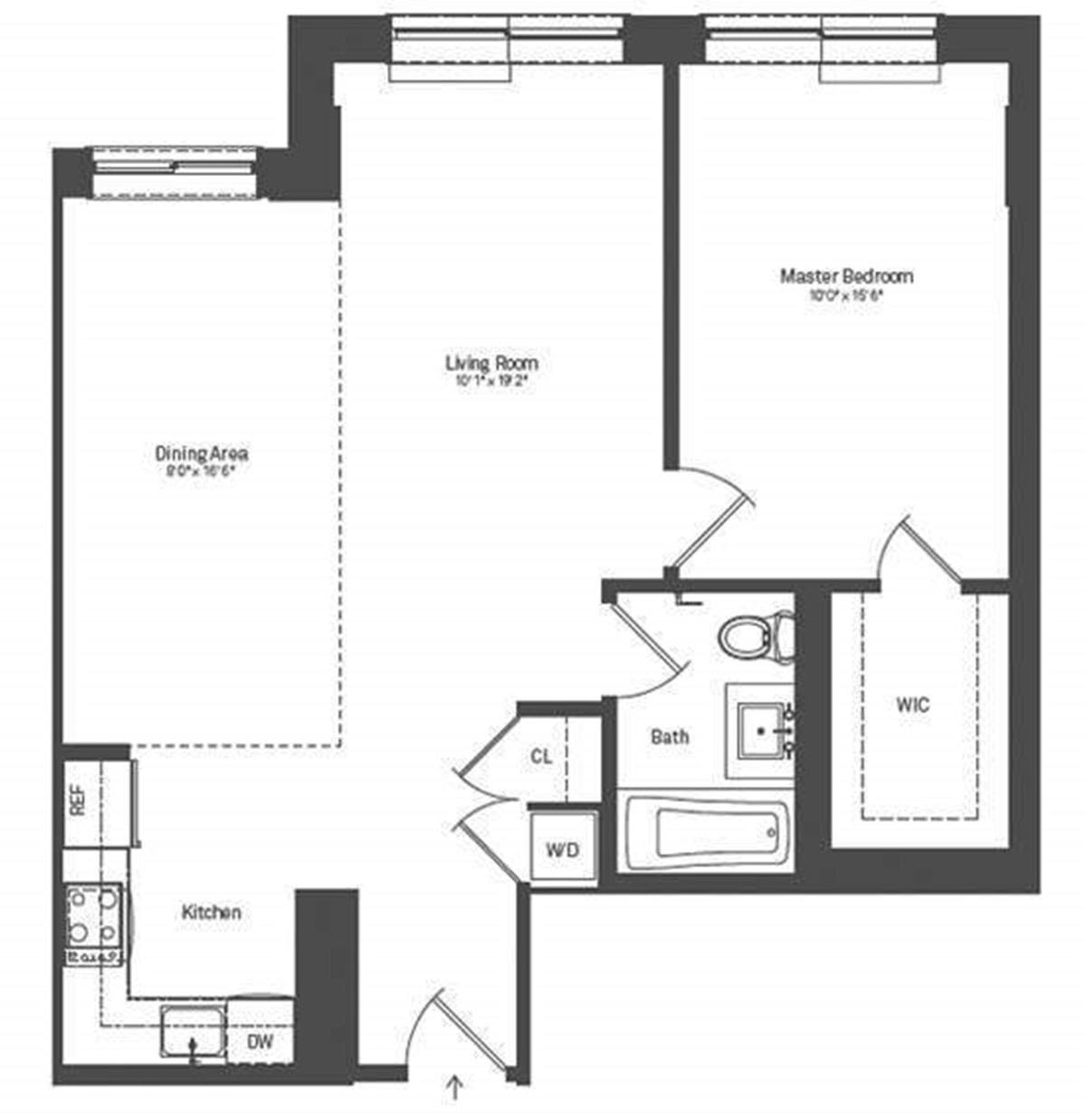 This Hell's Kitchen condo, 505 West 47th Street, 4HSouth, is a "slam dunk" when it comes to conversion from a one to a two bedroom, says March. It would be possible even though the windows are all aligned along one wall. The second bedroom would be narrow at the legal minimum of 8 feet, but it would be 16 feet in length. The median sales price for a one bedroom in Hell's Kitchen is $980,000, and this unit is priced well above that at $1,200,000, suggesting the potential of the unit is already built into the price.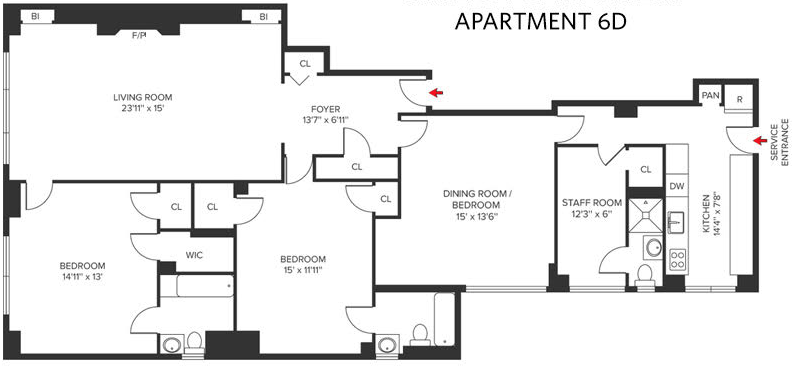 This unit, 444 East 57th Street, #6D, is already being marketed as a three bedroom even though that third bedroom is one you have to walk through to reach the kitchen. It's offered at $1,825,000, well above the median sales price of $1,300,000 for a two bedroom in Sutton Hill but also well below the median sales price of $2,495,000, for a three-bedroom unit in the neighborhood. 
The unit is "already fairly choppy," says March, but converting the dining room into a true bedroom is possible by adding corridor between the two doorways to avoid it being a "railroad" room, which you have to pass through to reach the kitchen. "Adding a wall is easy," says March, but relocating the kitchen to create additional space would mean overhauling the unit's electricals, which could get "complicated," he says, not to mention, expensive. 
Brick Underground articles occasionally include the expertise of, or information about, advertising partners when relevant to the story. We will never promote an advertiser's product without making the relationship clear to our readers.