Once or twice a week, when our schedules align, our family of four sits down to dinner. It's nice to be together, but the best part happens after the meal, when the kids scatter down the hall to the living room, and my husband and I can talk about our day, undisturbed by the sound of the television, or squabbling. 
I bet you can't do that in your open-plan apartment.
That's right, we're lucky enough to have a separate dining room and living room, because we're renting the top floor of a Brooklyn brownstone. But we're not so lucky in other parts of this very old apartment—the kitchen is small, and the bathroom is ancient. The girls' shared room is so tiny they've colonized the living room.
So we're ready to move. I want us to be someplace spacious, where my teenager won't wake up by hitting her head on the ceiling because she's in a bunk bed.
I've been scanning apartment listings for new buildings in our area. The amenities are breathtaking: Gyms, lounges, roof decks and much more. One place near us has a dog washing station. "We could get a puppy!" My 9 year old is ecstatic.
But something is holding me back: I want a separate dining room, because while I love my family, I just don't want to be on top of them all the time when we're home. We need separate spaces, and for that we need walls. But I can't find any new construction apartments that come with a separate dining room and living room (even the kitchens are usually part of this same space). 
I'm not the only one who feels this way—a recent Boston Globe article coined the phrase "open-concept remorse" for buyers who regretted the lack of walls in their houses and apartments, and notes that a search on Houzz for "open concept" generates over 220,000 photos. Just try searching for open-plan apartments on any NYC listing site—you can't, even though that's what you find pretty much exclusively with new construction.
I know I could look at pre-renovated co-ops, where I'm more likely to find a layout with a separate dining room, but I've had it with cramped prewar design. Curved doorways, built-ins, and moldings make walls appear heavy to me and make me feel claustrophobic. I crave someplace new with clean lines. I'm tired of living in old and quirky places where the doors have been painted so many times they have multi-colored blisters and the moldings and other decorations trap dust. 
But architects tell me I'm out of luck. Open plan is what developers are delivering because it's what most people want. But that's not the only thing driving this trend: Certain building code requirements for light and ventilation also favor open concept.
"When you have a kitchen more than 30 feet from a window, it must be open to the living/dining area, and considered a 'kitchenette,' which is a cooking area that is under 80 square feet. There are some exceptions but this is the general rule," says Tim Fryatt, director of Marvel Architects.
With this rule, it's easy to see then why new construction or renovated apartments, especially for mid-block buildings, will have open-plan layouts.
Most of the projects Marvel designs have open floor plans. But some of the larger units in the firm's One Clinton project have some separate rooms, as did apartments in another project, but they didn't stay that way, Fryatt says. 
"We did recently do some separate rooms at our Prince Street Residences. The client felt it would be attractive to luxury buyers, but in fact, all of the buyers asked for modifications to make them more open," he says.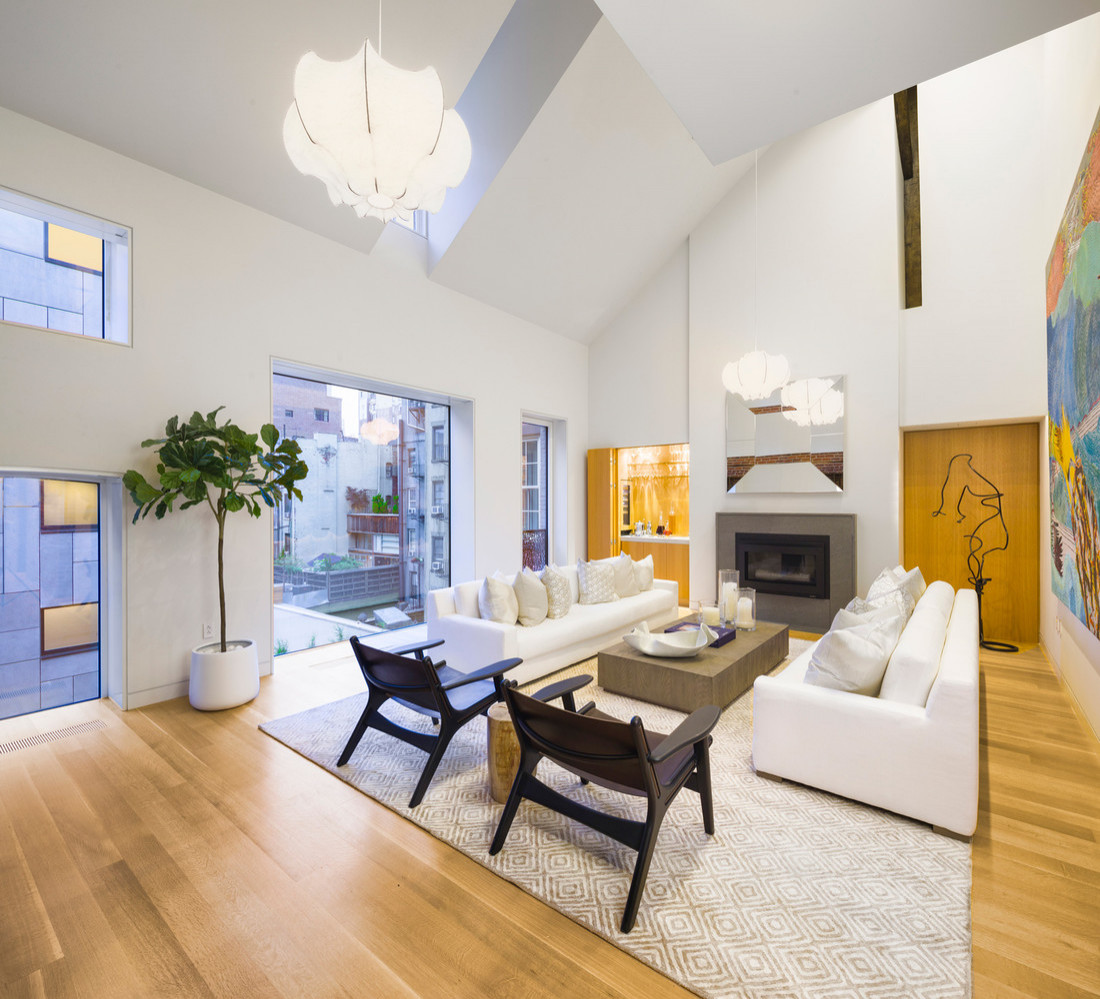 Fryatt put to rest my fear that apartments with open layouts tend to be smaller. 
"Kitchens are still spacious, dining areas are still spacious. These apartments are not smaller just because the walls have been removed," he says.
Open plan has not won out completely, though. Interest today in a separate kitchen, living and dining room comes from higher-end buyers looking for large units where they can entertain and cater private parties, Fryatt points out.
And while you may not be missing square footage, you are undeniably missing walls, and that means decorating is more challenging. There's less space for artwork. Storage is also a challenge: With no walls to align storage pieces, or place to put shelves, where do you store your stuff?
"My biggest problem as an architect," says Rosario Mannino, principal of the design-build firm RSMannino, "is that clients want open concept, but then they say, 'give me more cabinets.' I say, 'give me more walls.'"
You have to compromise, Mannino says, and you have to find creative ways to incorporate storage space with an open concept, like putting cabinetry on all four sides of an island.
"People don't even use the kitchen as much these days, but they want the view, they want the presentation and 'wow' factor. There's a perception of having more space," he says. When the kitchen is closed off, it doesn't work so well for entertaining at home.
Truth be told, I'm warming up to open concept. After all, my children will be in college someday. I hear an open layout is delightful when kids are not around.
Brick Underground articles occasionally include the expertise of, or information about, advertising partners when relevant to the story. We will never promote an advertiser's product without making the relationship clear to our readers.