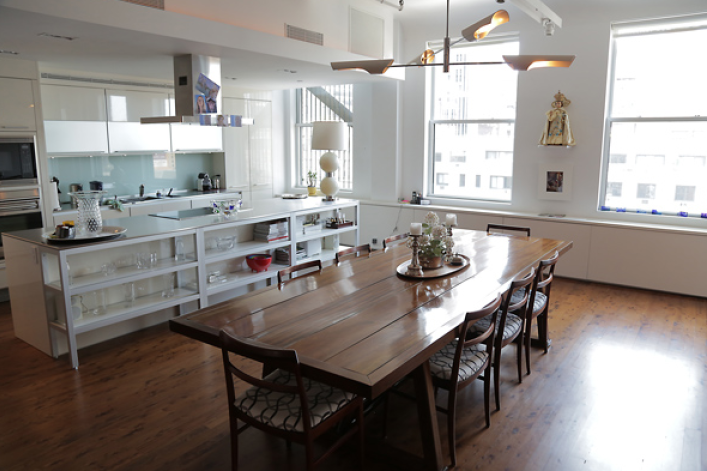 Loft-like living spaces may be all the rage, but there's something to be said for a classic floorplan where the kitchen has its own four walls. We asked five New Yorkers which layout they'd rather have:
Open house: I love, love, love, an open plan kitchen. It's absolutely how things should be in a home. When our friends or family are over here for dinner, we all participate in the cooking. Some do prep while others cook or clean up. I love an informal dinner party or brunch! So much better than having your guests wait in a whole other room, getting hungry and bored. And as the person who does most of the cooking, I really like hearing all of the conversation, instead of just hearing people laugh while I slave in the kitchen. - Peter, Astoria
Hide the dishes: I think separate kitchens give an apartment a real graciousness. I'm thinking of the larger holiday parties, where the kitchen is a total mess from cooking several dishes at once. It's nice to not have to eat next to the mess! And as for the hosts being separated from the guests: During large family gatherings, most of the time, the kitchen is packed with people regardless. It's nice to have another room where people can group together. In such a full house, I need a quiet spot to myself even if it's just for a minute! - Clemence, Financial District
 Wishing for an island: I love the modern airiness of a properly planned out open living space. But what I hate is when the kitchen is an afterthought in the room, then it becomes an eyesore. I've lived in enough cheap rentals to know it's the kitchen that makes a place look worn and grimy. In that case, I'd rather have a separate space altogether. However, if I could choose and plan the kitchen I want, I'd definitely go for an open kitchen, with a gorgeous island in the middle! - Tracy, Harlem
Motivation to tidy up: An open kitchen is really nice when you have kids running around. You can keep an eye on them while you do stuff in the kitchen. Plus, I know from experience that I tend to keep the kitchen cleaner when it's open to your common areas! When we had a separate kitchen with a door, it was all too easy for us to shut the door at the end of a long day and forget about the mess. Coming to a dirty kitchen first thing in the morning can ruin the rest of your day. - Jonice, Harlem
Space to rearrange: I love the layouts of prewar apartments partly because they all have a separate kitchen with a window. It's a nice feature to a home, I think. You can kick guests out, if you want. And it won't make guests feel like they should help you in the kitchen, just because they see you slaving away. I want my guest to relax. Having said that, we're really strapped for space in our place and we're thinking about converting the kitchen to a bedroom, and just having an open kitchen/dining room. But in an ideal world, kitchens would be separate. And I'm glad we have this option to renovate and gain space. Wouldn't be possible in another layout. - Mike, Upper West Side
Results: "Open" minded: 3; Separate kitchen: 2
Winner: Open space
Related:
See all Would You Rather
Would you rather have a kitchen or bathroom of your dreams?
If these (nonexistent) walls could talk: The downsides of living in a loft
7 NYC dwellings with with eat-in kitchens big enough for a crew
Brick Underground articles occasionally include the expertise of, or information about, advertising partners when relevant to the story. We will never promote an advertiser's product without making the relationship clear to our readers.