Affordable Housing
Home sharing with a senior: Roommate matching program makes living in NYC more affordable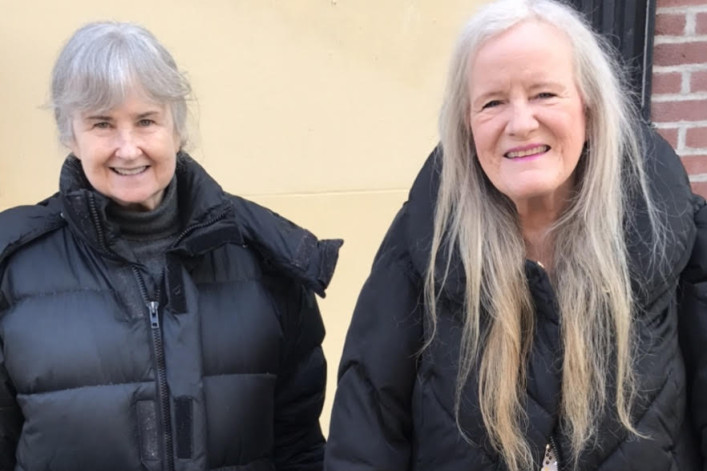 Having a roommate has long been a way to make living in pricey New York City more affordable. For seniors—a roommate can mean an even bigger lifeline: Getting help with the rent or mortgage can make all the difference in holding onto your home and independent lifestyle.
But as anyone who has ever tried to find a roommate knows, it's a lot of work to make a successful match. That's why there's careful vetting of participants in the Home Sharing Program from New York Foundation for Senior Citizens, a non-profit, non-sectarian organization that has been pairing hosts and guests—which is how roommates are referred to—since 1981. 
Help with housing expenses is not the only reason to participate in the program. Some hosts offer a place to live in exchange for help with chores and shopping or because they want another person in their home at night. (Guests who are contributing to the rent cannot be asked to pay more than half.)
During the pandemic, with in-person socializing cut off and Covid-19 a greater risk for seniors, hosts and guests found a new appreciation for having a companion on hand.
That what Debbi Campbell, who is nearing her 70th birthday, says. She has lived with Loretta Halter, 71, in her one-bedroom, rent-stabilized apartment in the West Village since the Home Sharing program matched them in 2018.
At first they had nice collegial relationship—doing their own thing during the day and meeting up at night. Then the pandemic arrived and Campbell's job at the NYC Department of Education ended and they were spending much more time together at home—and enjoying each other's company.
"She's been a godsend to me," Campbell says in a telephone interview. She says Loretta's humor and adventurous spirit compliments her homebody tendencies. "I feel very lucky," she says.
"Thank goodness Debbi came along," Halter chimes in from an extension elsewhere in the apartment. "She puts up with me when I'm grouchy," she adds.
How home sharing participants are matched
Linda Hoffman, president and CEO of NYFSC, says the organization makes a minimum of 25 matches a year and invariably has more applicants to be guests than hosts, she says.
She emphasizes the careful work that goes into making a match. There are social workers on staff who do home visits (virtually during the pandemic), conduct interviews, and check references, including background checks. Hosts are required to provide a copy of their current lease or deed and guests must show proof of income.
Initially the program focused on pairing seniors, but then years ago, a number of younger people started inquiring about participating. NYFSC received approval from the NYC Department for the Aging to change the eligibility requirements.  
Now only one of the participants, either the host or guest, must be age 60 or above, and the other can be 18 or above—for example a student in need of housing. The program also serves adult hosts age 55 or older who are interested in sharing spaces with developmentally disabled adult guests capable of independent living.
Amy Ronek is a 32-year-old Home Sharing guest who lives in Manhattan. She moved here from Iowa and the program matched her with Maxine, a host who lives in Manhattan. Ronek says home sharing allows her to have a "comfortable, affordable" place to live.
The program takes determining compatibility very seriously: They match lifestyle preferences with 31 criteria—for instance whether alcohol or pets are allowed—through a proprietary database.
What makes a good match? It comes down to people who have a common interest, Hoffman says, such as reading, music, or theater.
Another New Yorker in the program is Mrs. C., a 71-year-old widow and retired medical assistant, who has rented her Prospect Heights two bedroom for 25 years. She's the president of her block association and likes to walk in Prospect Park. She needed help with household expenses and has been matched a couple of time through the program, most recently with Ms. E., an outgoing 75-year-old divorcee and retired patient advocate who was looking for an affordable housing situation.
What are the rules for home sharing?
"After the host and guest agree to live together, we work with them on a license agreement that outlines the terms of the share, including kitchen use, Hoffman says. If either the host or guest wants to undo the match, they must give 30-days' notice, she says.
New Yorkers in both market rate and rent-subsidized apartments are entitled to have a roommate under section 235-f of New York's Real Property Law, known as the roommate law—that's even if your lease says otherwise. You don't need to ask your landlord's permission, but you do need to notify them within 30 days that you have a roommate and provide your landlord with their name.
Thinking of finding someone on your own to help you share expenses? It's always a good idea to create a roommate agreement. It can cover who pays what in rent, and also how utilities are paid, as well as things like who takes out the trash or cleans the bathroom.
Why use a matching program to find a senior roommate?
When Campbell met Halter, she was grieving the loss of her long-term partner to cancer and Halter was in need of an affordable, safe place to live.
"When I met Loretta, I was still mourning," Campbell says. "I might not have stayed in NYC if it hadn't been for her."
Halter moved to NYC from Georgia after retiring from a management role with the Kroger grocery chain. She had decided 25 years ago that when she retired she wanted to move to NYC, where she had vacationed many times.
In 2010, she sold her three-bedroom house on six acres and lived with relatives for a few years. She came to NYC about 10 years ago. "I gave away everything and came here with just two suitcases. I just wanted to live here for the rest of my life," she says. 
Before being placed by the Home Sharing Program (she's had a couple of placements) she was in a NYC building where one of the tenants terrorized neighbors with loud music until 3 a.m. and no one could sleep. 
"The Home Sharing Program allows for a less anxious search," Halter says. You can be placed quickly—in a matter of weeks and without feeling like you are jeopardizing your safety, she adds.
Campbell relied on the vetting system to do the work for her.
"When I asked Loretta to live here, I wanted to ask her through the program. They ask all the questions. I didn't do a formal interview, but someone came to visit and check out the apartment. All those things were taken care of," she says.
The two face some minor challenges. Because the apartment they share is a one bedroom, the living room has been converted into a bedroom for Halter. They try to give each other as much privacy as possible. The apartment's layout, with a bathroom that's accessible from both the bedroom and the living room, makes sharing the space doable.
The pandemic was the biggest challenge so far—a test, as Campbell calls it. "It was a very stressful time but we came through it very well," she says.
Brick Underground articles occasionally include the expertise of, or information about, advertising partners when relevant to the story. We will never promote an advertiser's product without making the relationship clear to our readers.