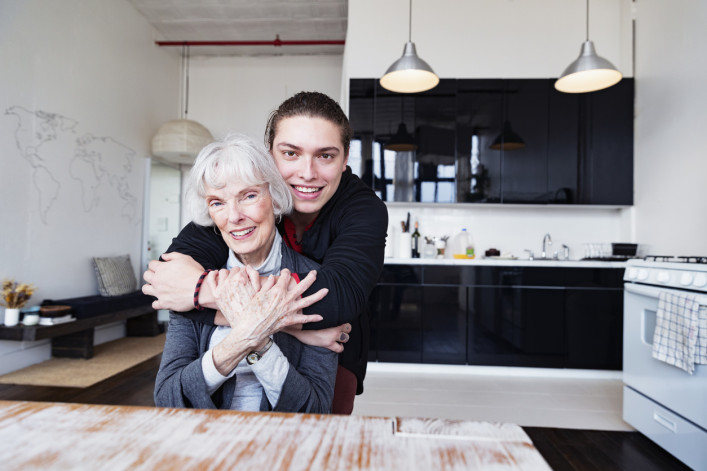 Has the term "aging in place" infiltrated your consciousness yet? If not, it probably will soon, given that the generational behemoth, the Baby Boomers, are now hitting retirement age and becoming citizens of the senior variety. (The first Boomers hit 65 in 2011; there are about 75 million of them overall.)
With a significant percentage of the population getting older, there's growing awareness—as well as products and technology—for making NYC apartments and houses safe for seniors. (It also pays to follow the money: A recent industry report found that households age 55 and over accounted for half of all home improvement spending in 2017.)
And while it makes sense that anyone would want to stay in their home as long as possible, Boomers are especially known for their individualism and self-actualization, and as they hit their senior years, have shown a preference for living at home, as opposed to moving to a facility.
So how can NYC seniors (and the people who love them) make apartments suitable for aging in place? The good news is that there are lots of ways, and many don't even have to cost a fortune. Although if you wanted to, you could of course drop some serious cash on a senior luxury development. For example, the brand new Inspīr Carnegie Hill at 1802 Second Ave. is a 23-story luxury building with 215 apartments —all designed for seniors. The building opens in December of 2019, offering several levels of care, as well as on-site physicians, high-end amenities, and senior-friendly features like voice-controlled lighting, fall-detection, and a voice-activated menu of services and activities.
Brick Underground talked to executives at Inspīr, as well as a home renovation expert to determine the eight things to consider when making an NYC apartment more suitable for seniors and aging in place. Read on.
Flooring
Falls are the number one safety hazard for seniors, leading to fractures and even death, so anything you can do to prevent them is key. Safe flooring is obviously of paramount importance.
At Inspīr, all floors are non-slip, and made of materials designed to reduce reflection of light and potential visual disturbances. Of course, New York apartments feature a lot of area rugs; Dan DiClerico, Home Expert at HomeAdvisor, recommends making sure any area rugs have non-slip backings or are tacked to the floor.
Clutter
Another factor that can contribute to falls, it clutter. Make sure pathways are cleared, and that there is enough room around furniture (for example, between a couch and a wall) to navigate easily. When storing items, DiClerico recommends the "nose to knees" rule, keeping heavy or awkward pieces within that range to avoid bending and reaching.
Think about thresholds
The threshold, or where you cross from one room to the next, is another danger zone for falls. (The thresholds in Inspīr apartments have no height variation.)
While it's more difficult to retrofit an apartment's thresholds from room to room, if you're renovating a bathroom, it's worth considering installing a curbless shower, which DiClerico says HomeAdvisor's True Cost Guide estimates to be about $3,500. "But you might be able to bring that cost down by choosing inexpensive materials, such as simple ceramic wall tiles," he says.
Grab bars
Speaking of the bathroom, this is a good place (but certainly not the only one) to install grab bars. Not only are bathrooms at Inspīr equipped with grab bars, additional fixtures such as towel bars are quadruple reinforced. "You can now find sleek towel bars, toilet paper holders, and even soap dishes that are grab bar-rated, so the upgrade won't turn your bathroom into a hospital room," says DiClerico, who estimates the cost at about $120 per grab bar.
Lighting
Good lighting is key, says Brian Geyser, chief clinical officer at Inspīr, particularly in the home of someone with sight issues. "Someone with cataracts may see a shadow and perceive it as something on the floor, which could lead to a fall," he says.
DiClerico, who notes that the average 60-year-old needs three times more light than when they were in their 20s, recommends swapping out all the bulbs in the apartment with LEDs for improved light quality and brightness. Another suggestion: Motion-sensor lights in more dangerous areas of the house, such as a dark hallway or staircase.
At Inspīr, pathway lights illuminate when a person gets out of bed at night, and gradually turn off when they return.
Contrast
High contrast between elements in a room can also be helpful, says Geyser. For example, "If you have a white toilet, it's good to have a darker color floor or walls. You want to make sure they 'pop.'"
Easy-open
Another upgrade is to replace doorknobs with easy-open door levers, the cost of which DiClerico estimates at about $100 per handle. "Ideally, the handles will be in contrasting colors from the doors so they're easy to see," he says. "And choose a lever with a return on the end to prevent the snagging of clothes, purses, and the like."
Smart devices
Smart home devices such as Alexa or Google Home make little things in life easier for everyone, seniors included. Lights, locks, and appliances can be controlled via a smartphone app or voice command, alarms can be set as reminders (for appointments, medication), and phone calls can be made to other smart device users via the speakers/screens. (All apartments at Inspīr are equipped with Alexa Show, Amazon's smart home screen device.)
That's basic tech. More advanced options include wearable tech, which monitor vital signs and activity level and alert a specified party is there is an unexpected change in the data. Inspīr  is equipped with such tech, and can also monitor a person's location. (Sounds creepy, but not so much if you know your elderly relative or friend suffers from dementia and has a tendency to wander off.)
Diclerio names the Hive, a group of smart home products, as another option for connecting appliances and simplifying some tasks. The company was an Innovation Award Honoree at CES this year.
Additional reading
This document, while prepared for building owners by the NYC Department for the Aging, could also be helpful for making a space more senior-friendly. 

 
Brick Underground articles occasionally include the expertise of, or information about, advertising partners when relevant to the story. We will never promote an advertiser's product without making the relationship clear to our readers.