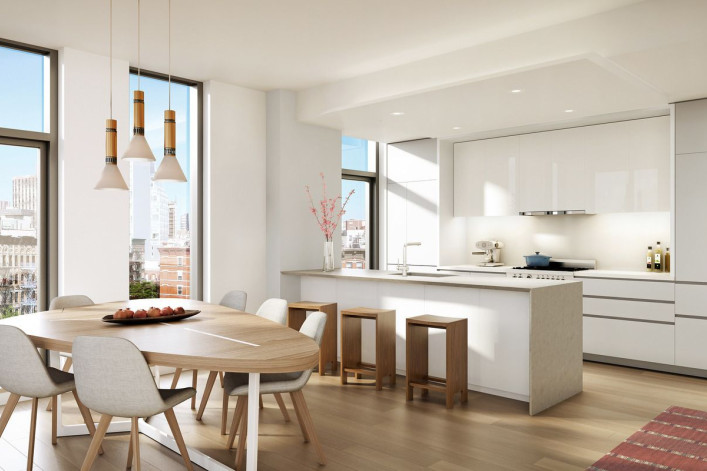 Recently, Americans nearing retirement age have been upending expectations: Rather than moving to the traditional locales for older adults—say, Florida or Arizona—they've been heading to cities, reports CBS. Gary and Bonnie (names changed to protect their financial privacy) are one such example. Empty-nesters, they followed their adult children to New York City, and since 2015, have been renting a one-bedroom loft-like apartment on the Lower East Side.
The couple loves the neighborhood and is thinking of putting down roots by buying there, for the stability and potential to build equity for their children. They would consider either paying cash or taking out a small mortgage. 
Other needs: Gary works in Albany part of the week and telecommutes the rest, so they'd like an apartment with a decent office space; Bonnie is an artist who needs display space for her installations, which is why lofts are a good fit.
To explore Gary and Bonnie's options, we enlisted the help of Sunny Hong, a sales manager with Citizens Bank, and Susan Fishman, director of sales at Warburg Realty. 
The finances
Income: $210,000
Retirement: $2.5 million
Other savings: $2 million
Cash on hand: $850,000 in cash (without selling investments that are part of savings)
Debt: None
Regular monthly expenses: $10,000 (includes $4,600 rent)
Other: Gary and Bonnie are expecting $1.2 million in inheritance, which is currently in probate. 
The analysis
Gary and Bonnie say that they would consider simply continuing to rent, provided that their landlord doesn't raise their monthly rent or decide to sell the apartment. But according to Hong, they'd probably be better off owning, as they could buy and pay just a little more per month—net–than they do now as renters (more on that below), and get benefits associated with home ownership.
Furthermore, even though Gary and Bonnie feasibly could pay for an apartment in cash, a mortgage might still be a smart choice. "Currently, if they are making $210,000 and paying rent, then they don't have a lot of tax write-offs and are paying more taxes than someone in their income range that has a mortgage," she explains. 
Hong adds that a general rule of thumb is that someone earning an income of $210,000 can qualify for a mortgage of four to five times that amount. She calculates that if Bonnie and Gary could take out a 30-year fixed loan of up to $924,000 (4.4 times their income), with their cumulative mortgage payments, common charges, and taxes, they'd still be paying about the same monthly as they are now (see the table below for the breakdown.) "They can keep their net payment around $4600 and pay down their own mortgage instead of someone else's," Hong points out.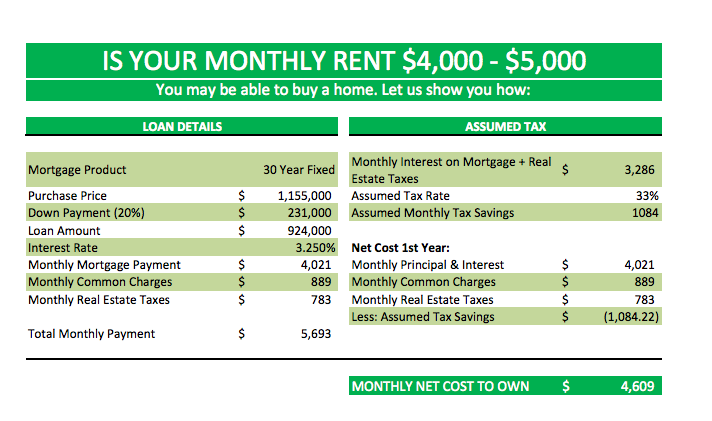 Fishman has good news for Bonnie and Gary: Their substantial liquid assests give them plenty of purchasing power. With a number of options on the table, one major thing to consider is whether they prefer a co-op or condo. 
Previously, Gary and Bonnie lived in Albany and owned a pied-à-terre in the city, which Fishman points out many co-ops don't allow. But since the new home will be their primary residence, this won't be a barrier to ownership. She says that a majority of the co-ops on the Lower East Side are part of Coop Village, a development built in the 1960s featuring large brick buildings. These are appealing, Fishman says, for their "beautiful, landscaped gardens, and many apartments are high floor with sweeping views." 
If Gary and Bonnie are inclined toward a co-op, there are specific financial restrictions to note. Co-op boards look for buyers whose debt-to-income ratio does not exceed 25 to 28 percent, and who can demonstrate that they have post-closing liquidity to cover at least two years' worth of mortgage and maintenance payments.
To remain at a debt-to-income ratio of 28 percent, Fishman says the couple's monthly costs cannot exceed $5,000; at this level, their post-closing liquidity would have to amount to at least $120,000 (that is, $5,000 times 24 months, the amount needed to prove to co-op boards they could cover their monthly payments for two years). Fortunately, between their savings and retirement, Gary and Bonnie are covered. 
Discover off-market properties in your dream neighborhood that perfectly suit your needs and budget.  Meet and deal with sellers before their apartment hits the market.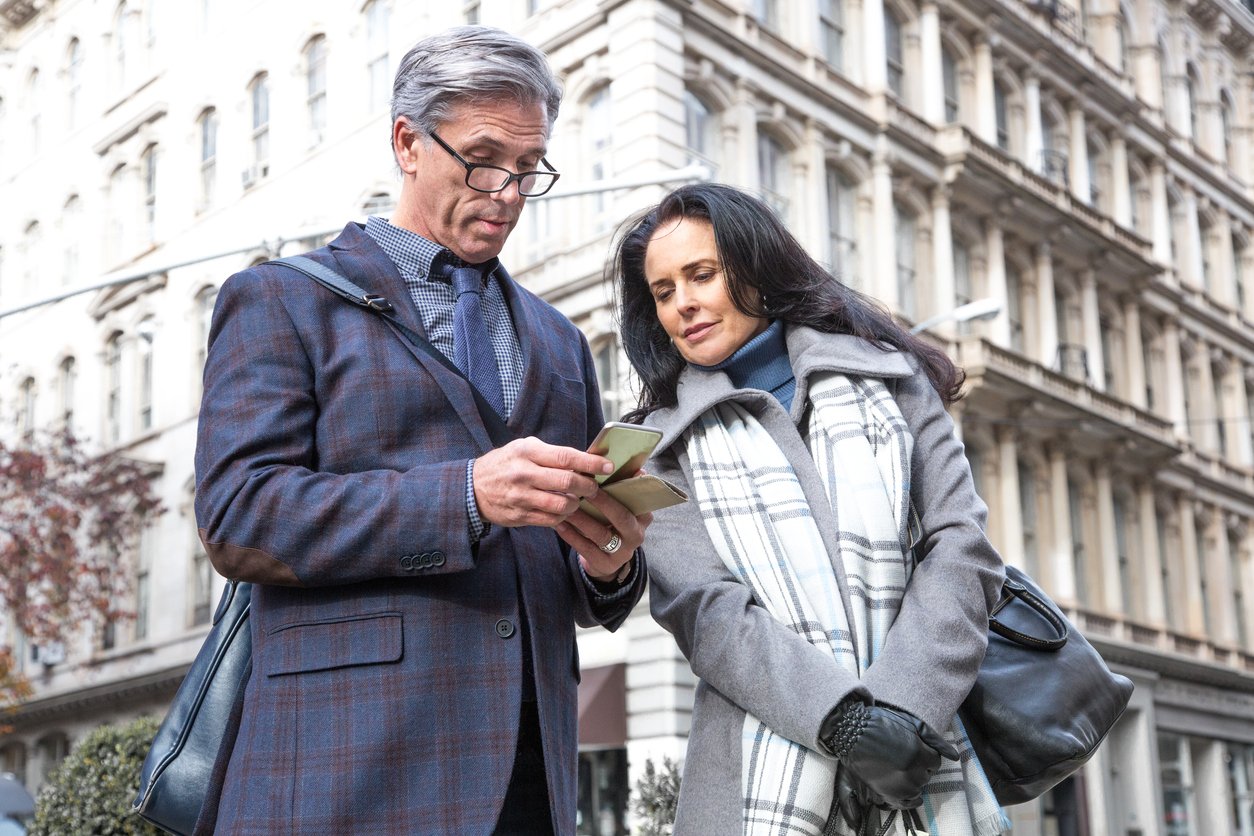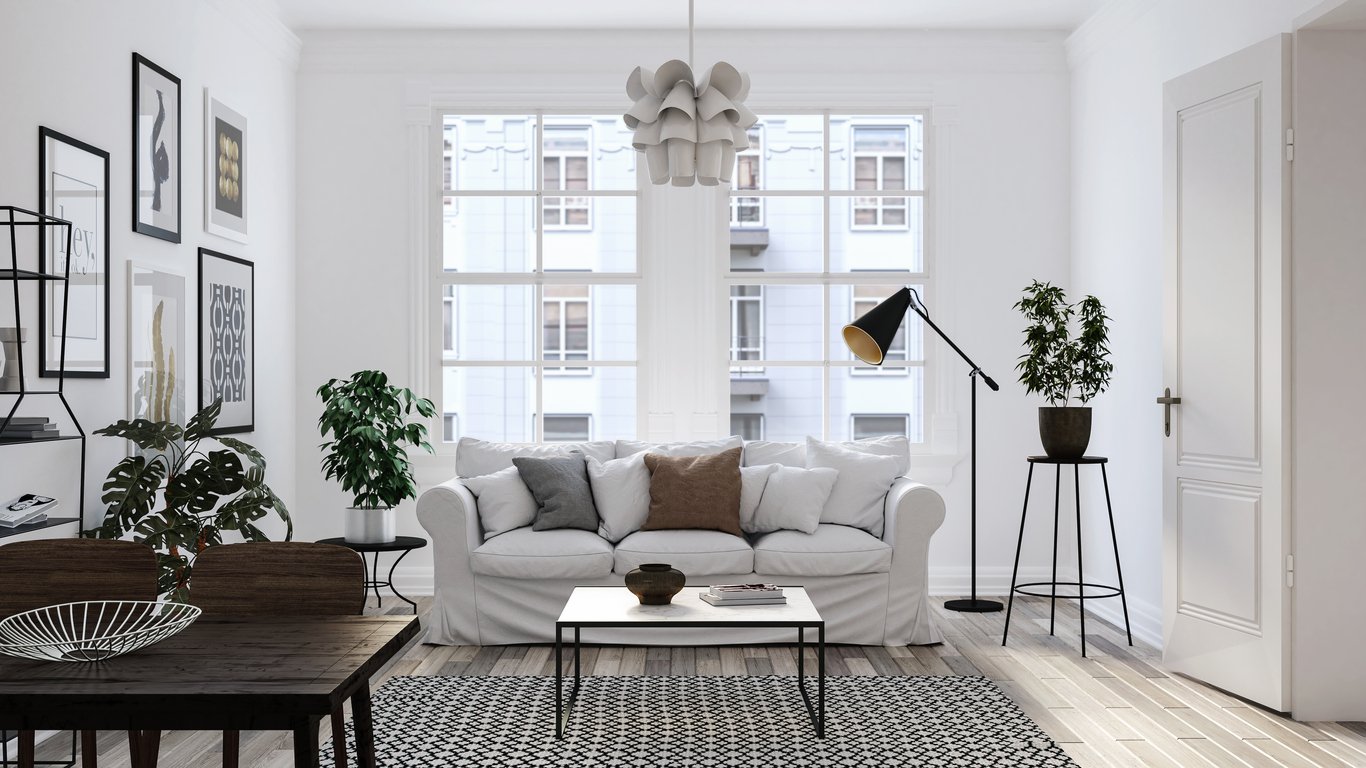 Let Triplemint's off-market team give you exclusive access to apartments in your price range and desired neighborhood that no one else has seen. More options, less competition, no bidding wars. 
As for condos, there are fewer restrictions: Buyers can finance as much as they like, whereas co-ops often typically require down payments of 20 percent of the purchase price. Plus, buyers who are financing a condo purchase can have a debt-to-income ratio of up to 43 percent.
However, condos also come with higher closing costs, as buyers will have to pay additional taxes on their mortgage and get title insurance. One option for mitigating these expenses would be to look for condos that have tax abatements in place, which would mean serious savings on monthly payments—more on that here. 
In either case, Fishman says, Gary and Bonnie have enough cash on hand for a sizable down payment. "They can put a substantial amount of money down on the apartment (and potentially pay cash depending on the size) that will lower their monthly costs," she says. "A small mortgage would give them more purchase power and give them the opportunity to deduct some taxes." 
If the couple doesn't want to put down all of their cash, then, a small mortgage—or waiting for their inheritance to come through—will open up their options.
Ultimately, what kind of loan Gary and Bonnie take out, if any, will depend on the size of the apartment they want to purchase, Fishman says. The Lower East Side offers a number of two-bedroom co-ops for under $1 million, while condos of that size tend to be closer to $2 to $2.5 million. (We share some sample listings below.) 
The would-be buyers react
Bonnie says that while she and Gary were initially planning to pay cash for a home, they do see the tax advantages of a mortgage. They'd be interested interested in an adjustable-rate mortgage, that would mean lower interest rates and flexibility: They could pay off the mortgage in full if they went past the rate adjustment period. They could also opt to pay it off before that point: Hong confirms that ARMs can be paid off at any time with no pre-payment penalty.
As for Fishman's questions about the size of the home they are looking for, Bonnie says that she and her husband would prefer a two-bedroom, two-bath, but would also consider a one-bedroom if it had a large living room for her installation, and office space for Gary. 
She also says that they would consider looking beyond the Lower East Side. "We've also looked at places in the East Village, Greenwich Village, Gramercy, Soho, Nolita, and Chelsea, and before moving to the city full-time, we rented a pied-a-terre in Hell's Kitchen," she says. "Besides the space itself, we cook a lot at home, and for location, the biggest priority is proximity to locally-owned specialty food stores."
Below, Fishman shares some options for homes currently on the market that meet these criteria. 
What's available to the buyers now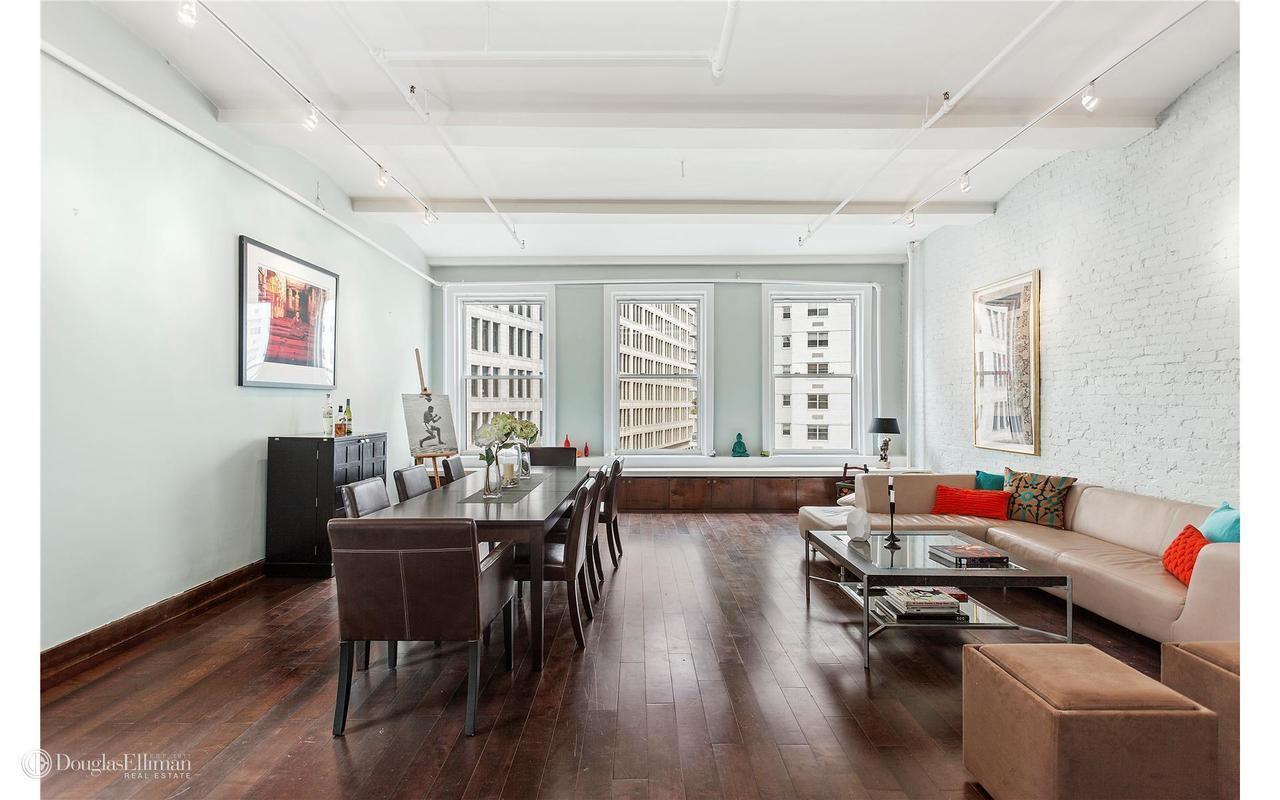 EAST VILLAGE: This two-bedroom, two-bath co-op hits many points on Gary and Bonnie's wish list: It's a loft that offers ample space for Bonnie's installations, as well as a small office for Gary. There are eye-catching prewar details like vaulted ceilings, plus a washer and dryer in the unit and access to a furnished roof deck. The asking price is $1.995 million, which means the buyers could afford to pay cash, but the high monthly maintenance ($3,321) could prove an obstacle when it comes to demonstrating that post-closing liquidity.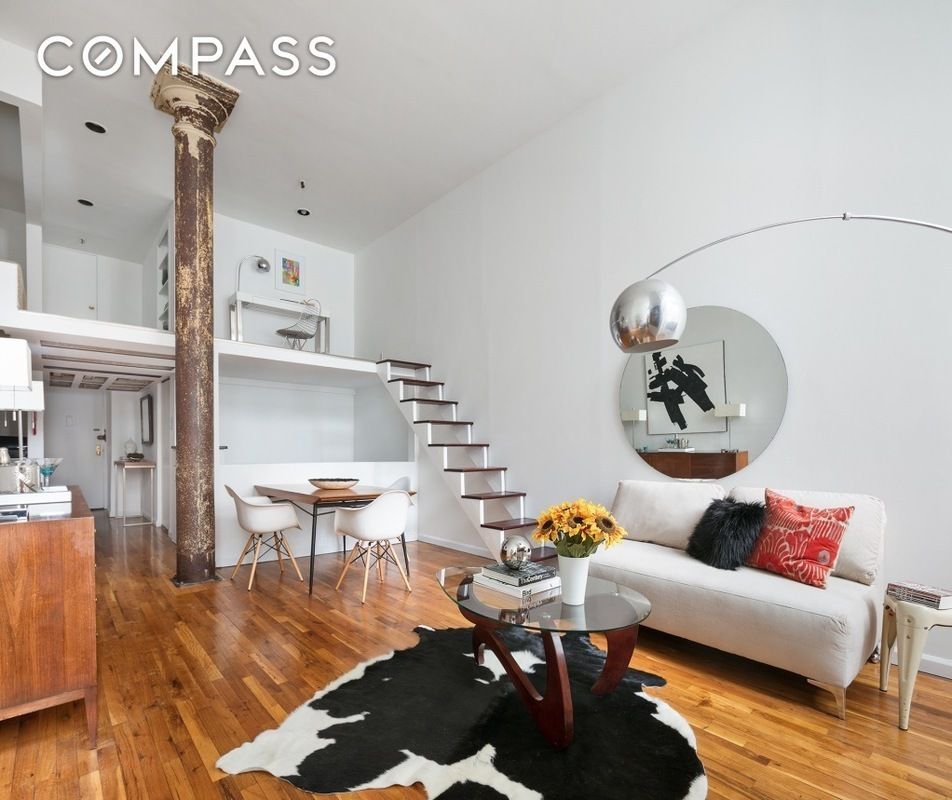 GREENWICH VILLAGE: While not on the Lower East Side, this two-bedroom, two-bath co-op loft delivers plenty of space for displaying art, and there is an office. Plus, the apartment is just a couple blocks from Washington Square Park, near loads of restaurants and retail. Asking price: $1.599 million. Monthly maintenance: $2,024.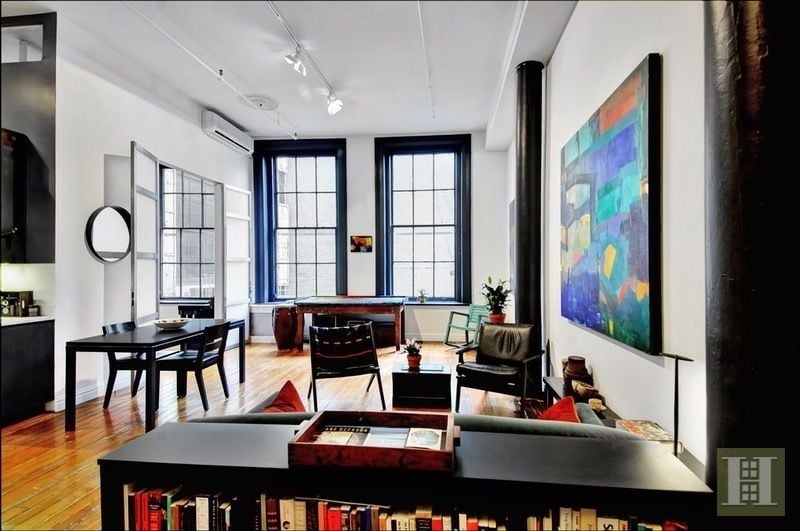 SOHO: A bit pricier is this two-bedroom, two-bath loft that also comes with an office; Gary and Bonnie might opt for financing here. Listed as a live-work space, the apartment is in a classic Soho cast-iron building designed specifically with artists in mind. The home has both restored historic features like original factory windows, and a contemporary, recently renovated kitchen. Asking price: $1.945 million. Monthly maintenance: $1,907.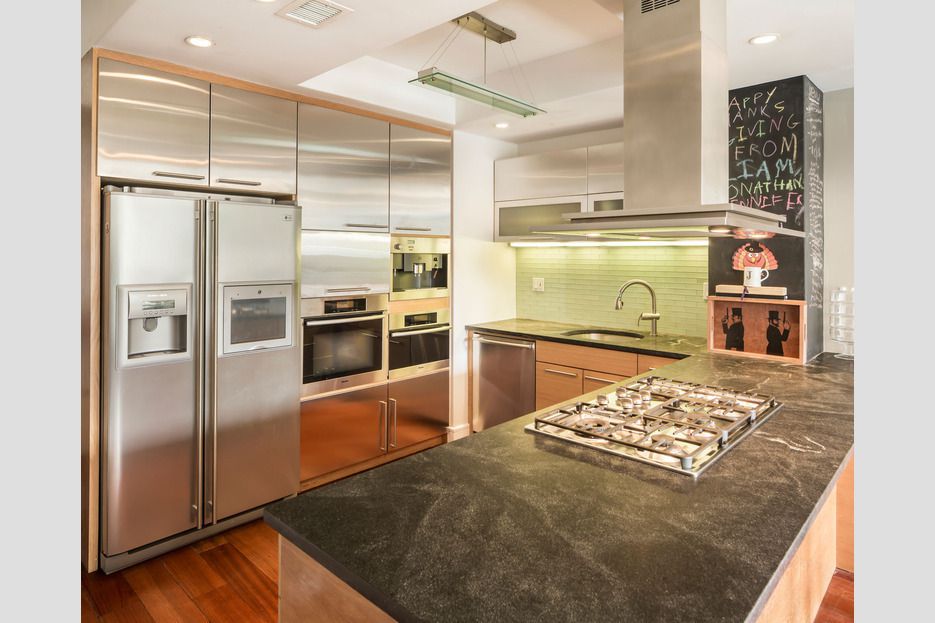 CHINATOWN: While not a loft, this one-bedroom, one-and-a-half-bath condo comes with an office, and a spacious, luxe kitchen that would likely please the buyers, who love to cook. There's also a large wraparound terrace that looks like a sweet spot to lounge in the summer. Asking price: $1.45 million. Common charges and monthly taxes: $2,319.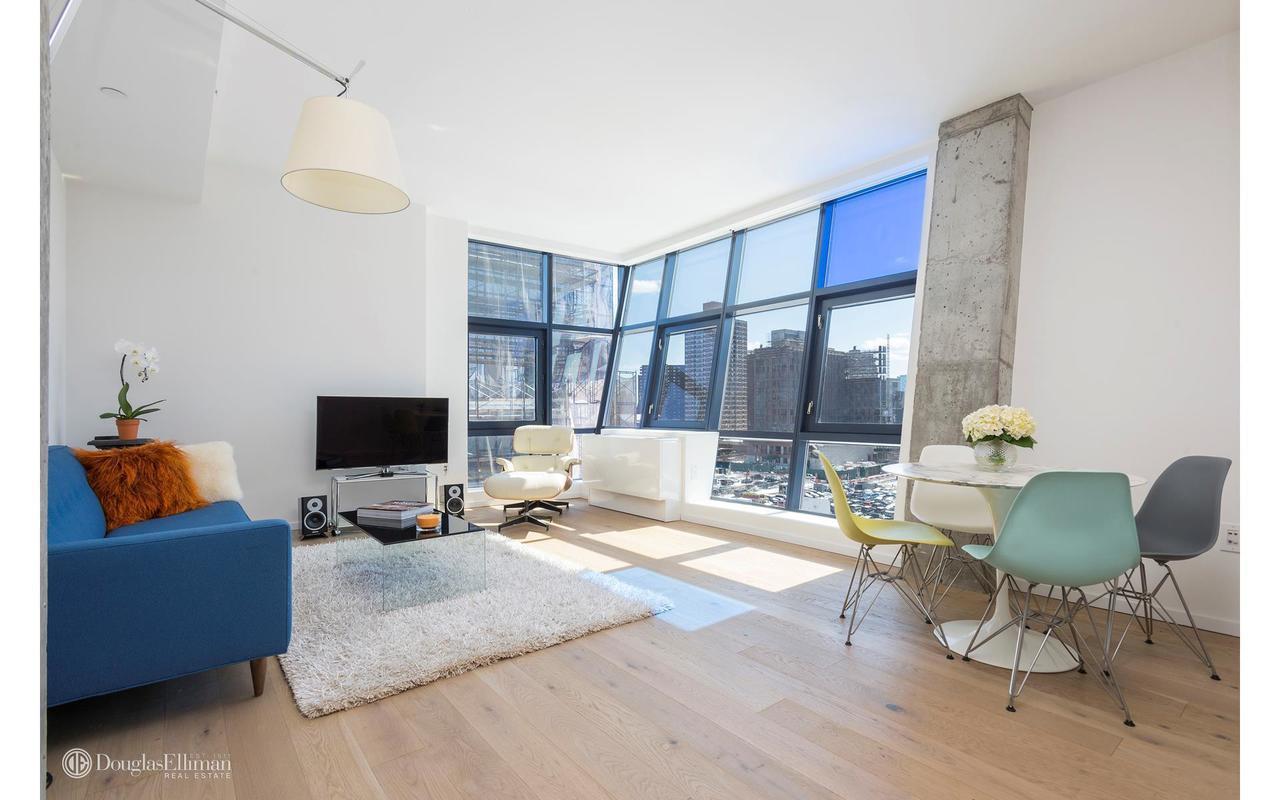 LOWER EAST SIDE: This two-bedroom, two-bath condo features the high ceilings Gary and Bonnie are looking for, as well as oversized windows and expansive views of downtown, plus full-time doorman and concierge service and an outdoor terrace. On the other hand, it's lacking an office, and the kitchen is rather small. Asking price: $2.175 million. Common charges and monthly taxes: $3,284.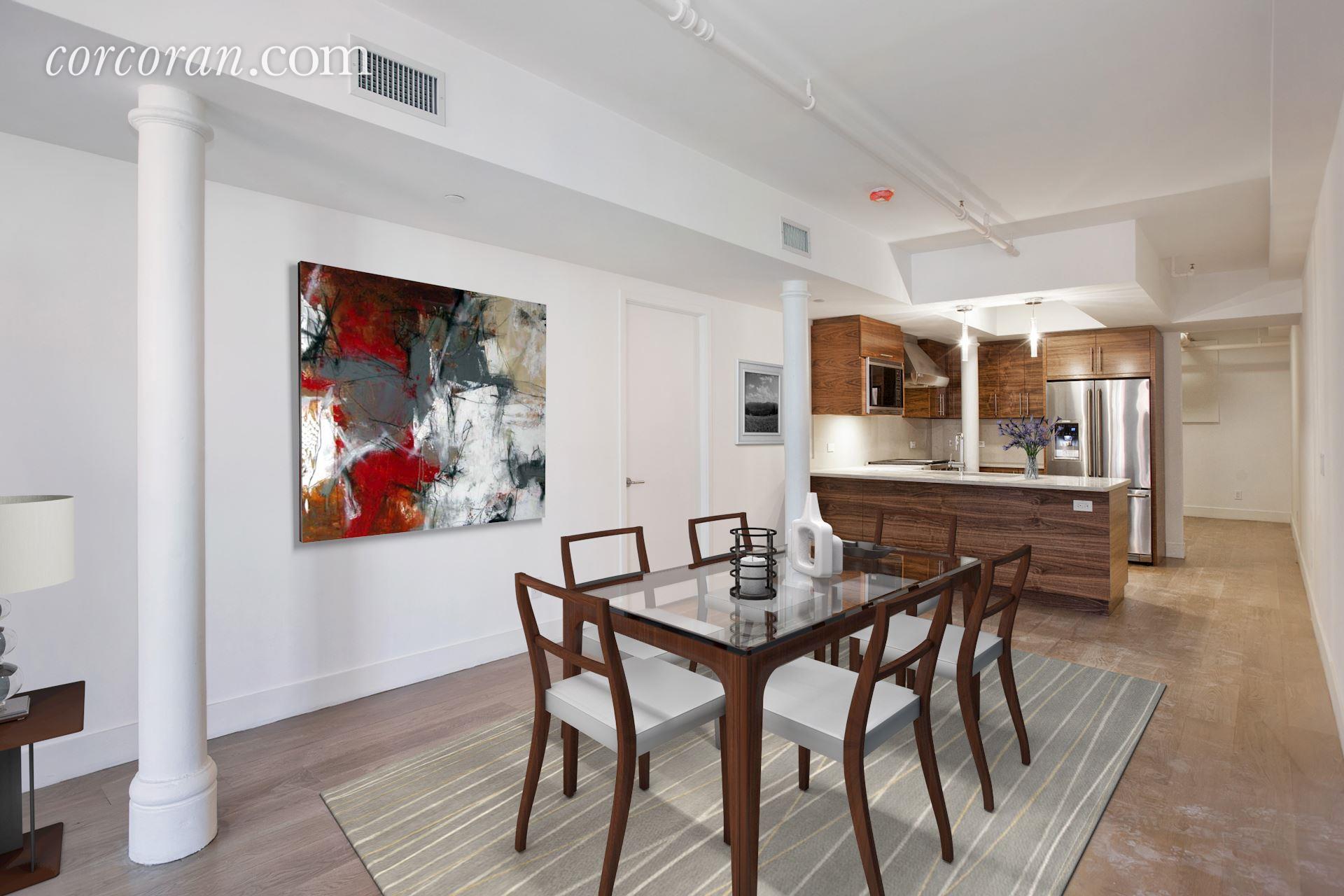 LITTLE ITALY: A one-bedroom, two-bath condo with high ceilings, an office, and a chef-friendly kitchen with high-end appliances; the property also boasts doorman service and a roofdeck. Asking price: $2.4 million. Common charges and monthly taxes: $2,785. 
Brick Underground articles occasionally include the expertise of, or information about, advertising partners when relevant to the story. We will never promote an advertiser's product without making the relationship clear to our readers.