What Can I Afford?
What can I afford? After a stint in the suburbs, a buyer contemplates NYC pied-à-terres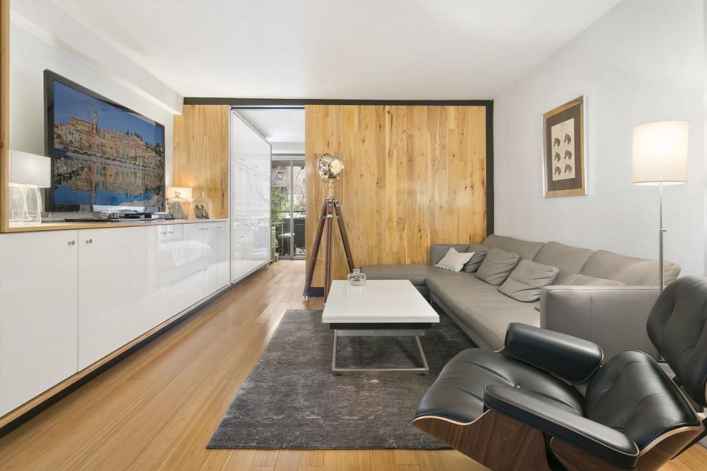 To be clear: This week's subject for our What Can I Afford? column isn't your classic first-time buyer. He is, however, looking to buy in the city for the first time, which, as anyone familiar with the New York City market will tell you, could still be a shock to the system, even if you've been down a similar real estate road elsewhere. Our city comes with its own set of rules and expectations.
Shaun (name changed to protect his financial privacy) has been living in the suburbs, where he owns a home, for a few years, and commuting into the city for work. He's getting tired of the daily journey, though, not to mention the occasional hotel stays that make working and socializing in the city easier. Shaun is ready for a lifestyle change: He's considering downsizing to a smaller house in the burbs, purchasing a pied-à-terre in NYC, and dividing his time between the two places. 
For his city apartment, Shaun prefers to stay close to Penn Station, since he'll be coming and going from the transit hub fairly often. Koreatown is an appealing option as it's close to the station and he has friends who live there; he's also interested in neighborhoods like NoMad, Gramercy, the West Village, and SoHo. 
"I'm open to quirky spaces," he says. "It just needs to be clean and have a washer and dryer, or at least the ability to put one in." Shaun says he plans to live in the city for at least four years, but ultimately sees the apartment as an investment opportunity, and may want to re-sell for a profit or rent it out in the future. He adds that he's comfortable with both co-ops and condos, though if he opts for a co-op, it will need to be one with a board that isn't too strict: Some don't allow pied-à-terres or sublets. 
To determine what his options are for his first purchase in NYC, we asked Shaun to share his finances. Then, we spoke to Julie Teitel, a mortgage loan officer at Everbank, Tali Berzak, an agent with CORE, and GieFaan Kim, a broker with TripleMint (fyi, a Brick partner) to explore his options. 
The finances
Income: $250,000, plus a discretionary bonus of $150,000
Retirement: $400,000
Cash on hand for a down payment: Shaun estimates he'll have $1 to $1.2 million in liquid assets after the sale of his current home. 
Regular monthly expenses: $13,000 to $14,000; this amount includes the cost of staying at hotels in the city, as well as his monthly mortgage, homeowner's insurance, and property taxes. Once he sells his home, Shaun expects his monthly expenditures to drop quite a bit. 
The analysis 
The maximum amount the buyer could take out for mortgages for both properties, says Everbank's Teitel, is $2.56 million. Provided he sells his current home for at least $1 million, that would mean a total of $3.56 million to devote to a smaller property in the suburbs and an NYC pied-à-terre. 
That said, Shaun doesn't necessarily want to spend the maximum amount his liquid assets allow. Plus, he'll need to set aside additional funds for closing costs and demonstrate post-closing liquidity, whether he opts for a co-op or a condo in the city. 
Since he intends to hold onto his pied-à-terre for a few years, Teitel says that a five-year adjustable rate mortgage makes the most sense. For these types of mortgages, the interest rate is 2.875; on a mortgage of $1 million, Shaun's monthly payments would amount to around $4,148.92. And if Shaun were to split his money for down payments evenly in half, that would leave him with $500,000 to put down for the NYC property. 
As to what this all means in terms of what's available to Shaun right now? "There are a couple ways to skin a cat when trying to understand what a purchaser can afford," says CORE's Berzak. "You can look at the desired locations and explain the average price points, then calculate the cost to buy and monthly expenses based on the average. Or you can take a purchaser's desired down payment and monthly expense and see what he can afford." 
In Shaun's desired locations—NoMad, Gramercy Park, and the West Village—one-bedroom condos typically sell for $1.25 to $1.5 million, Berzak says. (A StreetEasy search reveals that some go for far more: This Gramercy one-bedroom, for instance, is listed for $2.46 million.)
As Berzak explains, "A rule of thumb for calculating mortgage is for every $100,000 borrowed, a purchaser will pay $500 per month for her mortgage." For a $1.5 million property with a $500,000 down payment, Shaun could take out a mortgage for $1 million, leaving him with monthly payments of $5,000 per month. In this case, there could be some challenges when it comes to monthly expenses. Given that Shaun may be taking on monthly mortgage payments for two properties--the NYC pied-à-terre and a smaller suburban home--Berzak points out that there may be little left over for carrying costs on the city apartment (maintenance fees for co-ops, or common charges for condos) on top of his other regular expenses.
"There are three options here," Berzak says. "Either the purchaser is comfortable with $6,500 to 7,000 per month expenses for his NYC apartment, he can put more money down, or we need to reduce the mortgage amount by at least $300,000 to recapture $1,500 per month to use toward the carrying costs." (She notes that $1,500 per month is the average carrying cost for a 750-square foot one-bedroom).
"This means that given the desired monthly expenses and $500,000 down, the purchaser's best bet is to focus on the Financial District or see if there are co-ops that work," Berzak continues. "However, if the purchaser is open to putting more cash down or having higher monthly expenses, then he can buy his 'unicorn': a one-bedroom condo in his desired area." 
Shaun could also opt to devote more of his $1 million in down payment funds to a city property than to a suburban home, or even consider renting rather than owning in the suburbs, if that lowers his monthly expenditures. Futheremore, he could search for properties in his desired area that are listed for below $1 million, of which there are several--take this one-bedroom Gramercy Park condo, for instance.
Another potential hurdle is the closing costs and post-closing liquidity that Shaun will need to demonstrate. As Brick covered in our guide to how to prep your finances before buying, closing costs for condos typically amount to about four percent of the purchase price; for post-closing liquidity, Berzak says, condos expect to see you have enough in the bank to cover six months of principle, interest, taxes, and insurance. Co-op boards, meanwhile, want buyers who can demonstrate they have enough money available to cover two years of monthly expenses. 
"In the case of condos, the post-closing liquidity is covered by the purchaser's retirement accounts," Berzak says. "However, if we were looking into co-ops, the retirement accounts cannot be used as liquid assets. So essentially this purchaser's 'buying power' goes down significantly when looking at co-ops." On the bright side, she notes that closing costs for co-ops are lower, usually amounting to only two percent of the purchase price. Under this metric, a $1 million co-op would have closing costs around $20,000; for a condo at the same price, it would be closer to $40,000.
Kim of TripleMint says, though, that co-ops still may be worth considering for this buyer, as board rules are not always as restrictive as many New Yorkers imagine. "There are a slew of co-ops that are pied-à-terre friendly, and some that even boast that they have 'condo-like' rules," he points out. "Getting the best of both worlds is always great as you get more bang for your buck and also get the flexibility of rules." 
The would-be buyer reacts
Shaun says he'd prefer to be more cautious when it comes to the size of the mortgage he would take out, given that he also needs to budget for expenses like insurance, property taxes, and city taxes. "I would also seek a seven-year adjustable-rate mortgage so that I did not come under time pressure to sell a co-op (which is probably a bit harder than a condo) after four years, or face a very steep rate increase," he says.
As for Kim's advice, Shaun is definitely interested in co-op opportunities that offer a bit more flexibility. He finds Berzak's analysis of his options compelling, though he notes that they are on the higher end of the spectrum. Many of her suggested properties (see below) come with a high cost per square foot--up to $1,700--whereas Shaun finds $1,200 to be a more reasonable rate. 
"I am also looking for investment opportunities and less about buying the upper end and merely breaking even on a later sale," Shaun notes. "Nonetheless, that may be in my cards."
What's available to the buyer now
Co-ops: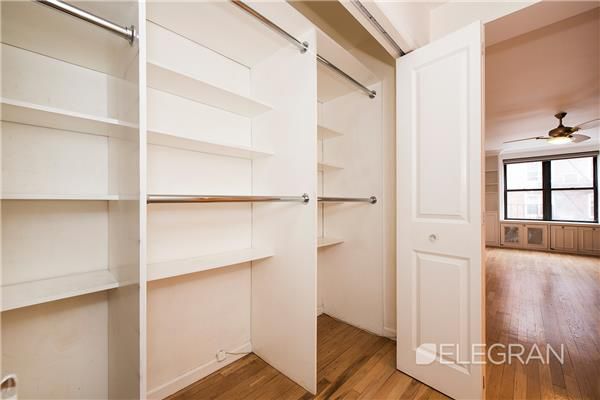 GREENWICH VILLAGE: Kim points to this studio as a great fit: Located at 25 West 13th Street, it's in a co-op building that "has investor-friendly condo-like rules but the ownership is coop," Kim says. "On top of that, some units here come deeded with parking spots that one can rent out to the public." The property also boasts 24-hour doorman service, a live-in super, a private courtyard, and a laundry room, and the board allows pied-à-terres and sublets. However, Kim notes, not all banks lend here, so this is an easier spot for all-cash buyers. Asking price: $675,000. Maintenance: $1,007.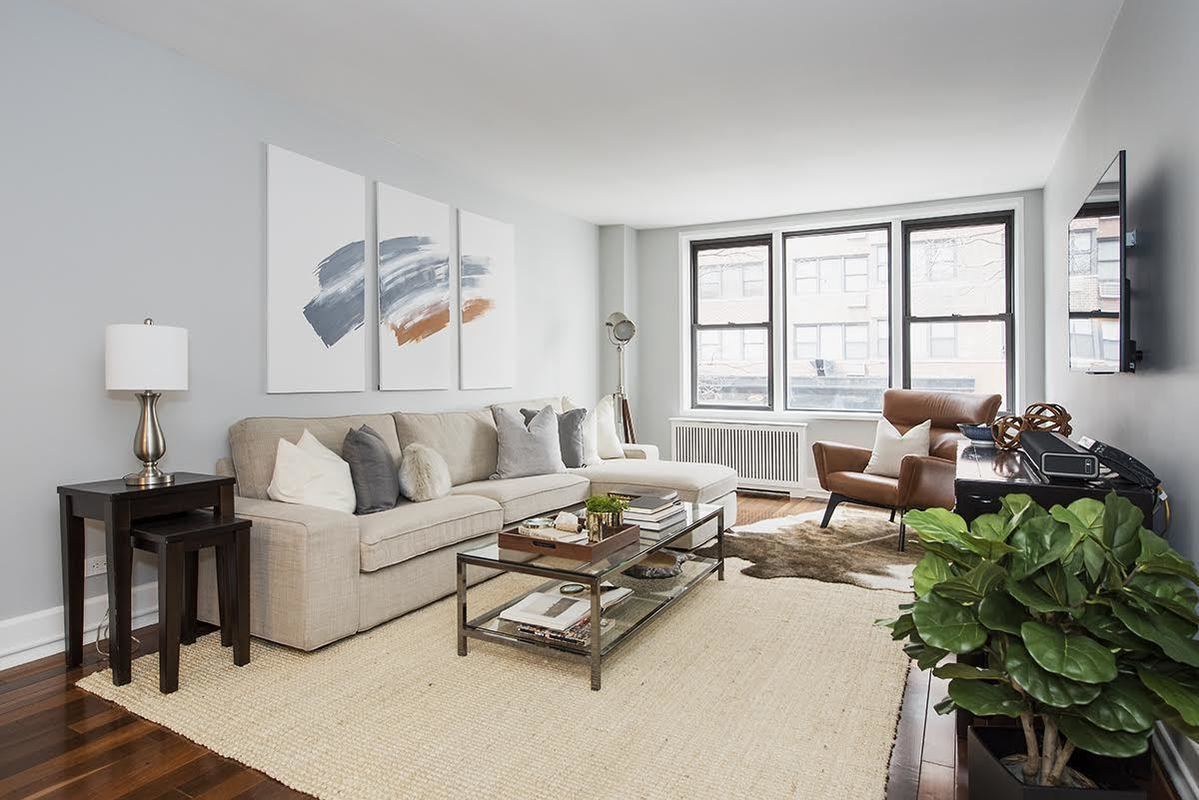 GRAMERCY PARK: A one-bedroom, one-bath co-op that was recently gut-renovated, the space is large enough for separate living and dining areas, and the galley kitchen has been updated with marble countertops and stylish lighting. Amenities include a virtual doorman and private parking; pied-à-terres and sublets are allowed. The asking price is $1.05 million, with monthly maintenance at $1,450; Berzak estimates the buyer would be expected to pay $370,000 for down payment and closing, and pay $4,950 per month between the mortgage and carrying costs.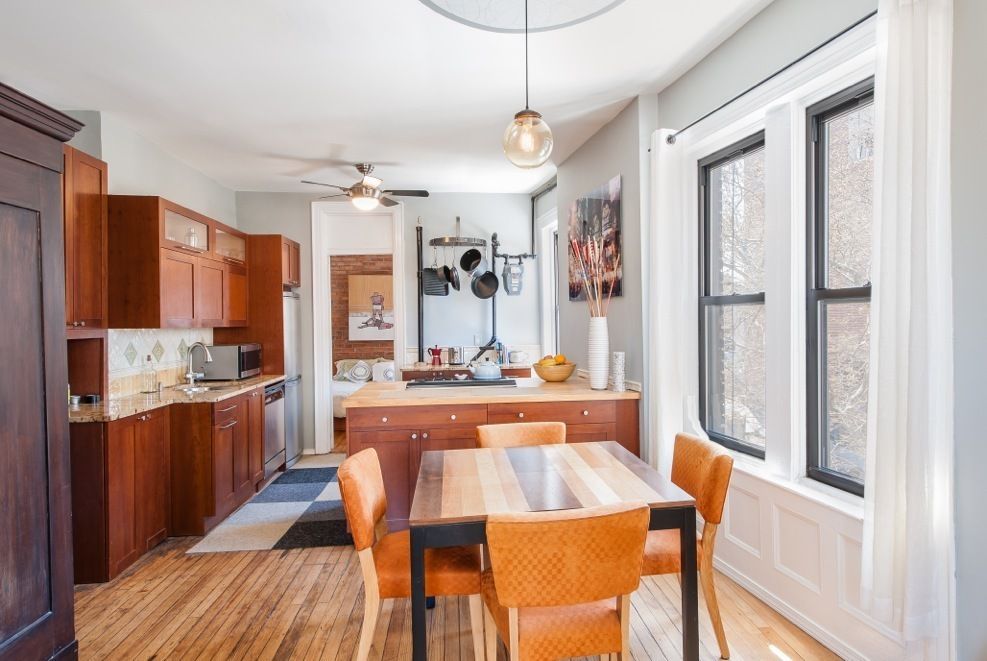 WEST VILLAGE
: This one-bedroom, one-bath Jane Street co-op is petite but cute, with a spa-like bathroom, prewar details like wainscoting and exposed brick, and an updated kitchen with new appliances; there's also a private rooftop. The listing notes that pied-à-terres are allowed and the board has a "liberal" sublet policy. With an asking price of $1.19 million and $1,285 in monthly maintenance, Berzak says that the buyer here could expect to put $374,000 down and spend $5,485 per month.  
Condos: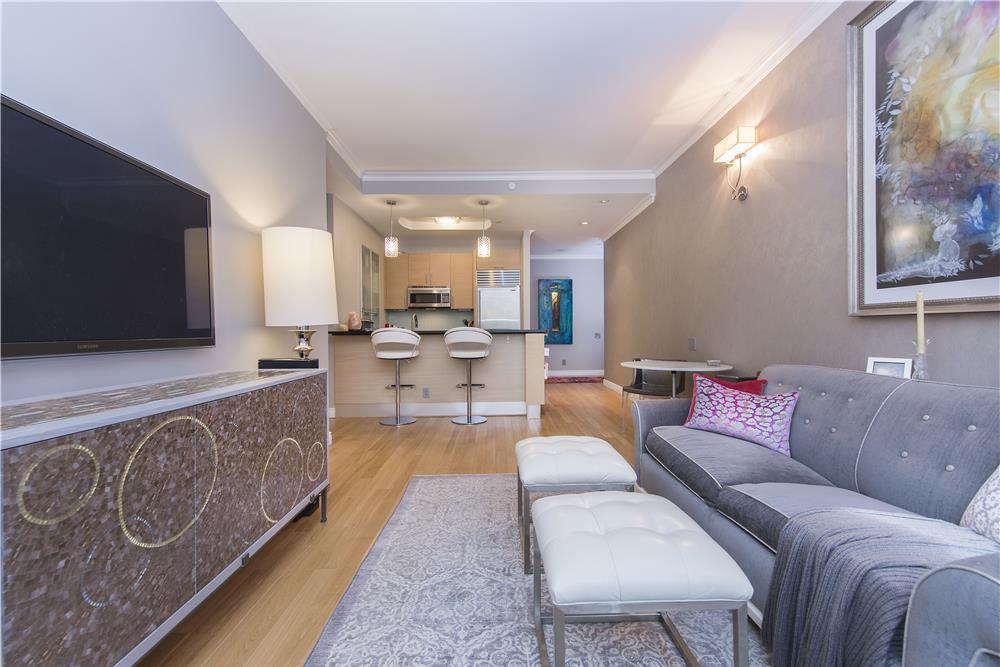 MIDTOWN SOUTH: This one-bedroom, one-bath condo is right near Koreatown, and includes some high-end features like custom lighting, closets, and window treatments, as well as upscale, stainless steel appliances in the kitchen. There are also loads of amenities, including a health club, pool, sauna, and steam room, making for a relaxing spot to return to after work. Berzak calculates that given the $1.25 million asking price, and common charges and taxes amounting to $1,844 per month, the buyer would have to put $540,000 down and spend $6,404 per month on this property.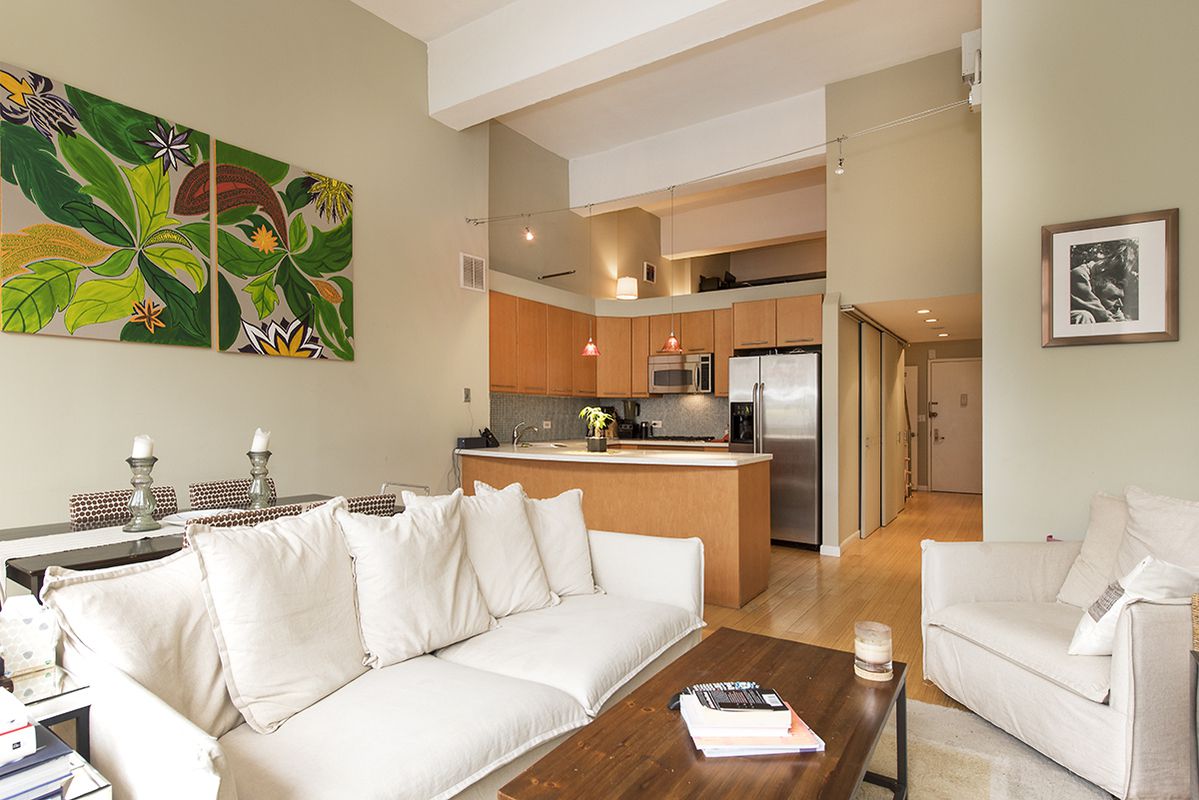 WEST VILLAGE: This loft condo has 14-foot ceilings; the bedroom is in an alcove over the living area. A recent renovation has resulted in a spacious and stylish kitchen, and there's a washer and dryer in the unit--one of the items on the buyer's wish list. With an asking price of $1.335 million and carrying costs of $1,106, Berzak says Shaun will need to put $542,000 down and spend $5,283 per month.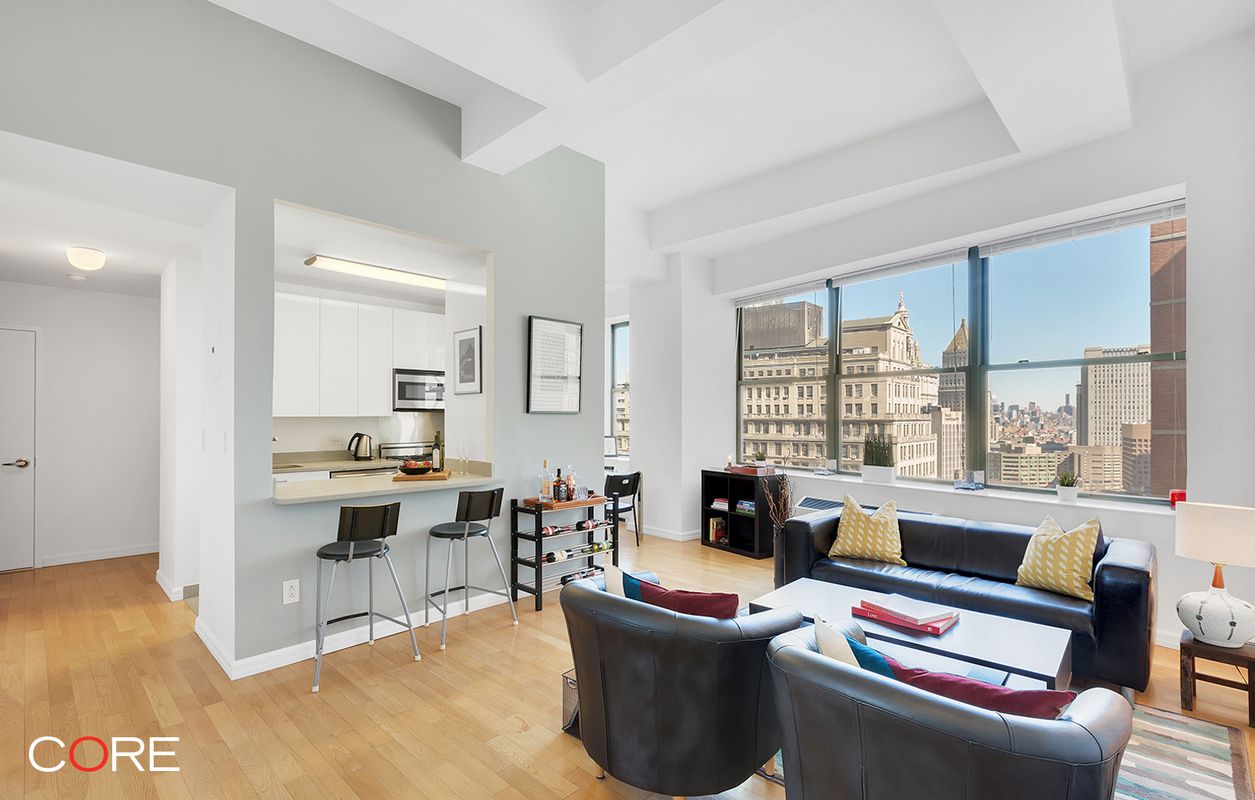 FINANCIAL DISTRICT: A one-bedroom, one-bath that boasts high ceilings and expansive city views, with an open kitchen and separate dining area, large bedroom, and bathroom with luxe fixtures and marble countertops. There are plenty of building perks, too, ranging from a roof deck with cabanas to garage parking. The asking price is $1.185 million, with $1,479 in monthly charges, which, Berzak estimates, would require putting $538,000 down and devoting $4,904 per month to mortgage payments and carrying costs. 
Brick Underground articles occasionally include the expertise of, or information about, advertising partners when relevant to the story. We will never promote an advertiser's product without making the relationship clear to our readers.