It's winter and if you live in New York City, there is a chance you can be just as cold inside as you are outside—or, on the opposite end of the spectrum, feel like you live in a tropical locale.
Whether you rent or own, when it comes to heating your NYC apartment, there very often is no happy medium, and we're not just talking about the seemingly never-ending family battle over the thermostat. Brick Underground has got you covered on a long list of topics, including what to do if your apartment is not warm, if the new landlord of your rent-stabilized apartment wants to switch your heat to a more expensive system and how to know if you have to pay for heat in your NYC rental. Or not, if you're sweating at the thought of a big fluffy blanket.
Here is some advice about heating your NYC apartment in winter.
[Editor's note: An earlier version of this post was published in November 2018. We are presenting it again here in case you missed it.]
Heating your NYC apartment 101
During the city's "heat season," which started Oct. 1, your landlord is obligated to keep your apartment at least 68 degrees between 6 a.m. and 10 p.m. if the outside temperature dips below 55 degrees. At night, your apartment must be at least 62 degrees, regardless of what the thermometer says outside.
If you don't have heat, you should first contact your building super, manager or owner to let them know. If you don't get a response or resolution, call 311, which should alert the Department of Housing Preservation and Development. Getting HPD involved can include a site visit—and a hefty fine for your landlord.
Get to know your radiator  
If you live in an older building, you likely have one or more hulking—and noisy!—radiators occupying prime real estate in your apartment, but what do you really know about your NYC radiators?
For starters, you should know that circular knob is not, in fact, used to regulate the temperature, but serves as an on-off switch. If turned all the way to the right (off) or to the left (on), it should stop those sometimes scary banging noises radiators are so known for. If the knob doesn't seem to tighten either way, reach out to your super to fix.
While these clunky heat givers are so very New York, some find them an eyesore or inconveniently located. If you're in that category, a lot of companies make radiator covers that not only hide them without hindering their heat, but also turn them into a functional part of your décor.
I'm still cold in my NYC apartment. What can I do?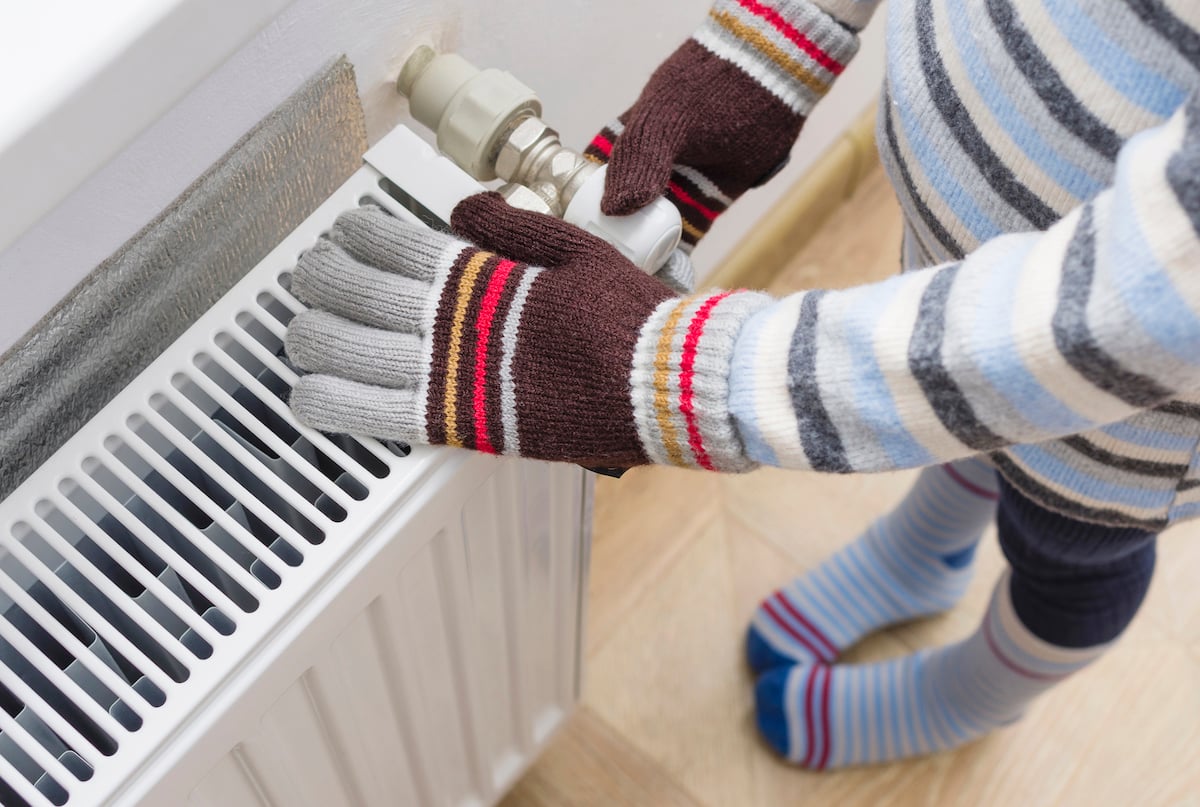 If your apartment heat is on, but you're still cold, you have a few options beyond adding more layers and burying yourself in blankets, but one of them is most definitely not using your oven or gas range.
"Such improper use could cause dangerous levels of carbon monoxide to accumulate, causing severe illness and possible death," FDNY writes in its winter fire safety pamphlet.
Do not use a kerosene or propane space heater, which are illegal and strictly prohibited in New York City. Electric space heaters, however, are allowed, but should never be used with an extension cord.
According to FDNY, you should look for electric space heaters with an automatic shut-off feature, and only use ones that have the Underwriters Laboratories (UL) Mark. You should also inspect the cord for damage before each use.
Electric space heaters should be kept away from children and pets, and be at least three feet from combustible material such as bedding or furniture. They should not be used in bathrooms or other places they could come in contact with water, FDNY warns. Be sure to turn off and unplug the heater when you go to bed or leave the room.
If you're thinking of using an electric blanket, it, too, should have an auto shut-off feature and the UL Mark. If it's more than 10-years-old, it should be replaced, as should blankets with frayed or broken cords or scorch marks. Never tuck the blanket into the side of the bed or cover with other bedding while in use.
The heat's on, but now I'm too hot!
If your heat is on, but you're too hot, opening a window is the first thing you might want to do (and, bonus, it's free). But as the weather outside gets more frightful, that might not be the most ideal fix.
Some tips Brick Underground suggests for keeping cool in NYC without air conditioning during muggy summer days could be a better option.
Whether you use choose the classic box shape or a tower, a good fan is a reasonable expense that can come in handy year-round. 
Does no heat equal a rent discount?
If you have no heat, whether due to a broken boiler or another factor that's out of your hands, you may be entitled to a rent abatement for that time period.
"A failure to provide heat during the cold weather season would undoubtedly be a breach of the warranty of habitability that a landlord owes a tenant," real estate attorney Jeffrey Reich of Schwartz Sladkus Reich Greenberg Atlas tells Brick Underground.
Withholding rent automatically, though, is a no-no, as you could wind up in housing court, which could be costly even if you win—and be a red flag for potential future landlords.
Negotiate an abatement with your landlord the next month, and be sure to get it in writing.
Overhauling your heating system
If you're a homeowner, upgrading your HVAC, or heating, ventilation and air conditioning, system in your NYC apartment could be a worthy renovation. Not only could it mean ending that yearly hassle of installing, removing and storing in-window air conditioners, it also could save you from fighting over the thermostat season after season—and be more efficient and quieter, too.
Such an undertaking, however, is dependent on several factors, from the age, landmark status, and board rules of your building to its electrical capacity, ceiling height, and where construction will take place in your apartment compared to the apartment below you.
As with any type of in-home work, consult with your building management before starting the project.
Brick Underground articles occasionally include the expertise of, or information about, advertising partners when relevant to the story. We will never promote an advertiser's product without making the relationship clear to our readers.