Realty Bites
Can my landlord give me a space heater instead of fixing the heat?
In most cases, space heaters do not satisfy your landlord's legal obligation to provide heat
If your landlord refuses to solve the issue, you should report the problem to the city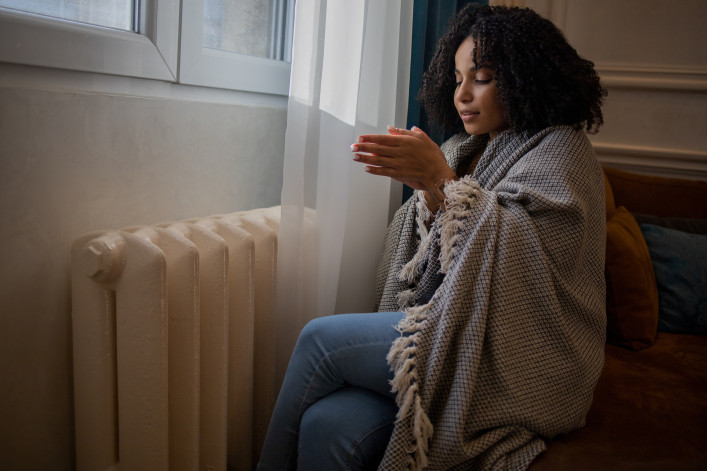 My apartment's heat isn't working, and instead of fixing it, my landlord decided to just give me two electric space heaters at the beginning of October. I've asked him repeatedly to repair the boiler, but he hasn't. By giving me the space heaters, is he meeting his responsibility to provide heat, and is there anything I can do to get him to fix the heat?
Space heaters are not an adequate source of heat during the winter months, and in most cases, they cannot replace a building's heating system, according to our experts. 
Landlords are obligated to keep apartments warm from Oct. 1st through the end of May, a period known as heat season. Your landlord should have fixed the heat within 24 hours of when the issue first occurred, says Jennifer Rozen, managing attorney at law firm Rozen Law Group. 
"Generally, buildings must have central gas or electric heat for the building," Rozen says. "Lack of heat or hot water is a Class C, rent-impairing violation that landlords are required to fix within 24 hours."
While there are very rare cases where electric space heaters are permitted, your landlord is likely violating their legal responsibilities under chapter two of the Housing Maintenance Code.
---
[Editor's Note: Realty Bites tackles your NYC rental questions. Have a query for our experts? Drop us an email. We respect all requests for anonymity.]
---
A short-term solution
Space heaters can be used as a temporary fix if a building's heat is out, but the apartment must be as warm as it would have been if the heating system was functioning under the Housing Maintenance Code, says Jason Blumberg, a staff attorney at Mobilization for Justice, a free legal assistance service for New Yorkers.
Regardless of the heating method, your landlord is required to keep your apartment at 68 degrees if outdoor temperatures drop below 55 degrees during the day, from 6 a.m. to 10 p.m., throughout heat season. At night, the temperature inside must be at least 62 degrees—regardless how warm it is outside. 
It's likely your landlord would need special approval from the NYC Department of Housing Preservation and Development, which enforces the Housing Maintenance Code, before making a permanent switch to electric space heater heat, Blumberg added. 
Only buildings that used electric heat systems before July 14th, 1967, with permission from the department, or those with approval from another city agency can use electric or gas heating for individual apartments, according to the Housing Maintenance code. Otherwise, buildings are required to have heat from a "central heating system," according to the code.
Getting your landlord to turn on the heat
If your landlord does not fix the issue, you should call 311 or the Housing Preservation and Development department (HPD) to report the problem, or submit a complaint online. The department may come to your building to inspect the heating system and can stick your landlord with fines between at least $250 and $500 per day until the problem is fixed. 
HPD can also send a contractor to fix the problem and bill the property—something your landlord likely wants to avoid. The department issued 4,800 heat violations last year, and completed $4.4 million in heat-related emergency repairs.
If your landlord still doesn't fix the problem, you can file an HP action with the housing court clerk's office in your county. The legal proceeding requires your landlord to make repairs, but beware that your landlord could retaliate by not renewing your lease if you reside in a market-rate apartment.  
You can also try to negotiate a rent abatement with your landlord for the days you spent without adequate heat, but be careful about withholding rent, which could land you in an expensive and time-consuming court battle.
"Tenants should be aware that non-payment of rent could prompt the landlord to file a non-payment proceeding, where the tenant would have to present evidence of the lack of heat to get an abatement," Rozen says.
You would have to prove that your landlord violated the warranty of habitability—a list of requirements that every landlord must provide regardless of whether it's stated in the lease. That includes adequate heat, safe living conditions, and a bug and mold-free apartment.
Use caution in the interim
In the meantime, you should be extremely careful when using space heaters. Never keep the device near anything that could burn, keep them away from running water, do not place them on uneven surfaces, and plug them directly into an outlet—not a power strip. And never hang clothes over a space heater to dry.
Faulty space heaters can kill; just last year, a Bronx fire sparked by a malfunctioning electric space heater killed 17 people, including eight children, in the worst blaze in NYC's history. After the fire, Governor Kathy Hochul signed legislation to require electric space heaters sold in New York state to have a thermostat and the ability to automatically shut off.
Brick Underground articles occasionally include the expertise of, or information about, advertising partners when relevant to the story. We will never promote an advertiser's product without making the relationship clear to our readers.